25+ Stores Like ModCloth With Vintage-Inspired & Quirky Clothing You'll Love!
If you're searching for the best online stores like ModCloth, this is the post for you! As an avid ModCloth shopper for the last decade, I've rounded up my favorite online sites like ModCloth to find quirky, vintage-inspired clothing and accessories.
I had originally written this post back in 2017 when ModCloth was bought out by Jet.com (Walmart). I was getting loads of questions from readers wondering where they could shop instead of ModCloth. Over the years, ModCloth has since been bought and sold by Go Global Retail, and is now (as of 2022) owned by Noggin.
Though I still occasionally still shop on ModCloth, after all of these changes over the years, I haven't had as much luck shopping their site. I figured I couldn't be the only one looking to fill the void the new version of ModCloth has left and went ahead and updated this list with some of my favorite stores that are similar to ModCloth in style and price.
I hope you enjoy my list of stores like ModCloth! I also know there are loads more out there, so feel free to let me know some of your favorites in the comments. Enjoy!
*Disclosure: some of these links are affiliate links. Meaning, if you click a link and make a purchase, Have Clothes, Will Travel gets a very small commission at no extra cost to you. Thank you for supporting the brands that make this blog possible!
25+ Online Stores like ModCloth
1.) Unique Vintage
Unique Vintage carries a great range of retro-inspired designers with a variety of clothing, shoes and accessories to choose from. They also carry plus sizes too. I would say they are the store most like ModCloth in terms of pricing and style.
I've been ordering from Unique Vintage for years and can say without a doubt that their clothing is fantastic. I have tops, dresses and swimsuits by Unique Vintage that are holding up incredibly well over the years of constant wear.
2.) Lilly Pulitzer
Lilly Pulitzer has been creating top-notch clothing since the 1950s. I am absolutely obsessed with Lilly Pulitzer midi dresses right now. They fit perfectly, and I LOVE the volume their midi dresses have (like the one above, I have it and it is my current favorite dress). The silhouettes are super flattering, and the sizes range from 00-16.
If you're a lover of ModCloth's fun and colorful prints – you'll love Lilly Pultizer. Their clothing is a little more expensive than ModCloth's, but the quality is much higher. I also think their clothing looks SO much better in person than it does on their website. Their website photos do not do the color and quality of their clothing justice!
3.) Joanie Clothing
Joanie is a UK-based site that features timeless silhouettes, retro prints and unique designs that define each decade. Don't let their UK roots discourage you if you're US-based, though… their international shipping rates are affordable as are their prices! Most of Joanie Clothing dresses are $50 USD or less.
4.) Princess Highway
Princess Highway is an Aussie-based brand that features beautiful vintage-inspired styles that are unique and easy to style. Just like ModCloth, their styles are quirky yet classic. They are also known for their wonderful selection of cottagecore dresses!
5.) Anthropologie
I love shopping on Anthropologie. They have such beautiful, boho-chic clothing. But, they are pricier than ModCloth. However, when a special occasion arises, I head to Anthropologie to check out their dress selection! (They also have cute, retro swimwear!) I think other ModCloth-lovers will appreciate their clothing as much as I do.
6.) Hearts and Found
Hearts and Found is a fabulous little shop known for their beautiful vintage-inspired clothing – and all of their items can be made to your exact measurements! Even better, they have a mission to support local businesses and tailors and source all of their fabrics from local Vietnam markets. (They're currently supporting an independent tailor in Vietnam named Co Thanh (Auntie Thanh). She has a small tailoring shop in an area called District 5 and currently employs 3 people.) How awesome is that?
7.) Chicwish
Chicwish has THE cutest skirts and dresses out there, in my opinion. They have plenty of fun prints, but I also love their selection of tulle and chiffon ones. Plus, they're affordable, with most skirts coming in at less than $50. (They also have plenty of cute tops too!) They have a VERY similar style and price point to Modcloth. I recently did an entire review post on Chicwish, too.
8.) Zappos
Zappos is most known for its incredible selection of shoes and impeccable customer service. However, they also have a great selection of clothing and accessories with free shipping and free returns! Many of the brands mentioned in this post can also be found on Zappos. You can also link your Prime membership to your Zappos account to get exclusive benefits, like free upgraded shipping! (Seriously, some orders arrive in less than 24 hours.)
9.) Marchesa
Marchesa is a luxury brand based out of New York that features the most stunning dresses. (Celebs like Scarlett Johansson, Cate Blanchett, and Anne Hathaway are known for rocking their dresses.) They feature romantic and timeless silhouettes and designs that ModCloth fans will love. Prices are higher than ModCloth, but again, quality is also much higher. I have the dress pictured above, and it is absolutely divine!
10.) Mango
Mango is quickly becoming a favorite of mine, thanks to their classic, effortless ensembles. They are similar to ModCloth's price point and actually carry stylish clothing for the whole family!
11.) Amazon
I know this one may seem a little crazy. But lately, I have been having awesome luck finding vintage-inspired clothing and shoes on Amazon. I even ordered some decent petticoats from them! (Belle Poque on Amazon has some fun retro options!)
12.) Ted Baker
Ted Baker has very recently been filling the hole in my heart that ModCloth had left. So, I'm adding 'em to the list! Ted Baker has the CUTEST, most feminine, classic attire ever (This is my favorite dress from there.)
I LOVE Ted's shoes as well! They are pricier than ModCloth, though, but they run some phenomenal sales that bring their prices closer to ModCloth's. (Sales are how I've bought all of my Ted Baker clothes so far.)
13.) Tara Lynn's Boutique
Tara Lynn's Boutique is a family-owned clothing shop in Utah that ships worldwide. They make custom clothing for women of all shapes and sizes and work with top designers across the country to bring you one-of-a-kind pieces, without compromising comfort. Their sizes range from XS-6X and have a very boho and timeless style to the majority of their pieces.
14.) Nordstrom
Nordstrom also has many beautiful dresses and skirts to choose from, like ModCloth. Their return policy is phenomenal too. (I had an issue with a pair of sandals I had for 6 months, and they let me return them with no hassle!)
15.) ASOS
ASOS has some fantastic pants, skirts and dresses. And even though they are a British-based company, their international shipping rates are very reasonable. They also carry a wide range of sizes like ModCloth – such as petite, tall, plus and maternity.
16.) & Other Stories
& Other Stories carries BEAUTIFUL and timeless clothing with a hint of boho flair. Their price point is a wee bit higher than ModCloth's (but not as high as Anthropologie's).
17.) H&M
H&M is my other go-to store for dresses. If I'm not finding what I'm looking for on ModCloth, I head on over to H&M. I love their selection of dresses and inexpensive accessories. (Most of the dresses I order from them are around the $34 mark!) They also have fabulous international shipping options.
18.) Review Australia
Review Australia was my favorite clothing store when I was living in Sydney. They have the most incredible vintage-inspired skirts and tops! Their quality is fantastic as well. I'd argue it's way higher quality than ModCloth's, too. The prices on average are slightly higher than ModCloth, though. They also ship worldwide now and offer free shipping if you spend over $150.
19.) Collectif
I have had numerous requests to add Collectif to this list – and after spending many moons browsing their stock, I have to agree! The vintage style and quirky prints are the perfect addition to this list. And my next midi skirt is totally getting ordered from here! (I also have started doing my own shopping here! Check out my new favorite swing coat and cape from Collectif.)
20.) Chi Chi London
This is a brand I was introduced to via ModCloth. They carry several of their dresses on their website. I don't personally own any Chi Chi London dresses, but I have seen them in person and they are a DREAM. So gorgeous! (And perfect for a wedding or the holidays!)
21.) Nasty Gal
Nasty Gal is certainly a bit edgier than ModCloth's usual stock. However, they carry some beautiful, classic-looking clothing…and some rather sexy options as well. Nasty Gal has a very similar start-up story to ModCloth as well – which I always enjoyed. "Nasty Gal started in a tiny San Francisco apartment stacked with killer vintage, a single laptop and an eBay account… "
22.) Miss Patina
"Vintage-inspired fashion with a modern twist for women who enjoy the little things in life." Miss Patina's entire website is brimming with gorgeous designs that make my heart go pitter-patter. I can't get enough of their adorable kitty cat designs. If you can browse this website and not buy anything… you have far more self-control than I do!
Even celebrities such as Taylor Swift, Elle Fanning, Sienna Miller and Emilia Clarke, (just to name a few) are fans of Miss Patina's delightful designs.
23.) eShakti
eShakti has a great range of cute dresses, skirts and pants in a wide variety of sizes. They also have started adding a lot of quirky prints! Oh, and if that's not enough, they also have the option to customize your sizing and the style of the clothes you order! It's pretty nifty, actually. I have really loved my dresses from eShakti (and they have pockets)!
24.) ZAPAKA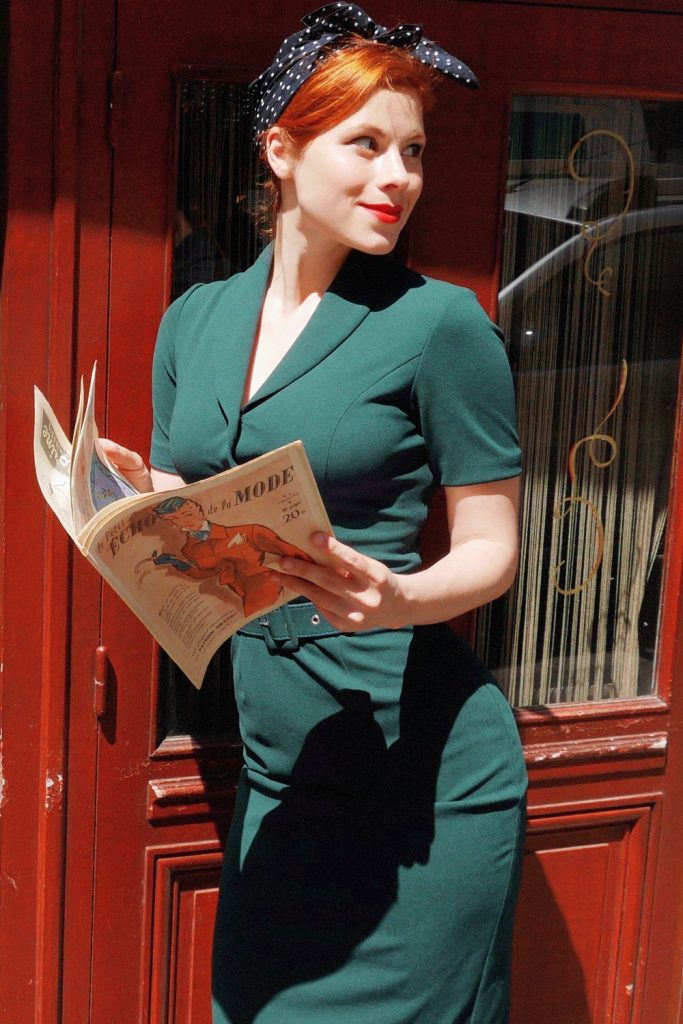 I was only recently introduced to ZAPAKA, and I can't believe I hadn't heard of them sooner! They've been around for a while and are similar to ModCloth in the sense that they carry many different retro designers on their website, but they also have their own ZAPAKA private label. Their retro dresses are absolutely stunning and, the prices are far lower than what you would pay on ModCloth! (The majority of dresses are less than $40! I also think this is a great alternative to everyone who is missing LindyBop, too.)
25.) Madewell
Madewell is most known for their great jeans. However, they also make some fabulous dresses, skirts and tops! They are a little bit more casual than the average ModCloth outfit…but I still think they deserved to be mentioned. (My ModCloth-loving heart is swooning over quite a few pieces on Madewell right now!)
26.) Sister Jane
Sister Jane is a London-based fashion brand that creates unique, vintage-inspired designs. They combine whimsical eccentricity with a distinctive style signature. Pieces emphasize unique, unexpected details that are colorful, fresh, and trend-led while carrying a retro nod. Shipping to the US is free if you spend over £100.
27.) Simple Retro
Simple Retro focuses on creating pieces that are effortless and transcend seasonal trends, fitting seamlessly within any modern wardrobe. Six times a year they release seasonal collections including Pre-Spring and Pre-Fall. Their prices are on average, about the same as ModCloth too.
28.) Shinesty!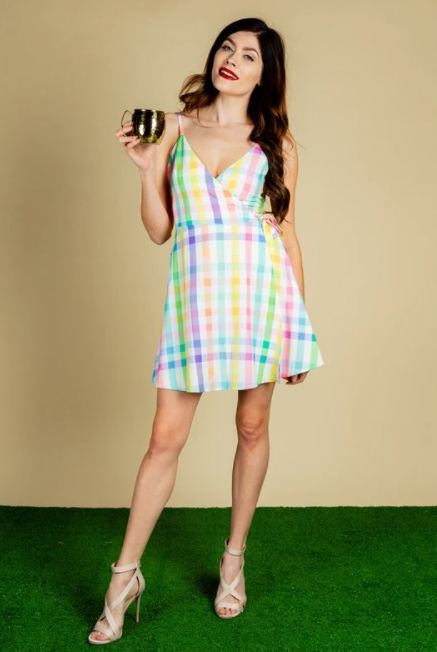 Shinesty is a goofy clothing company that specializes in quirky/loud prints…and sometimes downright outrageous clothing. However, their collection of dresses is something I think most ModCloth-lovers will love! They also have fun jumpsuits this year. (The dress above is from their Kentucky Derby collection and is one of their more subdued prints. Haha.)
Oh, and their pajamas are the softest things on the planet. My husband and I have matching PJs from here, and we live in them.
29.) Armoire Style
If you like many of the brands listed in this post – you can now have them delivered to your door each month for a flat monthly rate! Armoire Style is a monthly rental clothing subscription service for busy professional women. They offer access to high-quality designer clothing starting at $49 for your first month!
*Bonus Accessories: Kelley Hollis Jewelry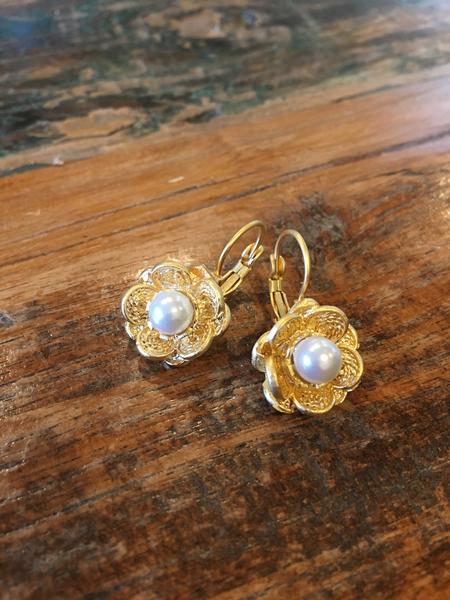 If you're looking for a unique and beautiful piece of vintage jewelry to complete your outfit – look no further! Kelley Hollis Jewelry breathes new life into vintage jewelry by expertly restoring pieces by hand and repurposing them with the modern wearer in mind. Kelley's talents don't end there, though. She also creates her own limited edition designs in 18 ct and 22 ct gold. I wrote an entire review post on Kelley's designs, here.
*Bonus Accessories: Carry Courage
Carry Courage is a small US-based company that creates sustainable clutches & travel bags made from vegan materials, such as cork fabric and linen. All of their products are hand-sewn in their Portland, Oregon studio too – so you know you aren't receiving a mass-produced item when you order from them. They pair really well with ModCloth-style clothing! (I wrote a full review of their products, here.)
*Bonus Accessories: Irregular Choice
Love out-of-this-world quirky shoes? Look no further! Irregular Choice has you covered. (This is another U.K. brand also carried by ModCloth.)
Click here to check out Irregular Choice.
I know there are many more sites out there as well. So, if you have any more sites to recommend please let me know in the comments section, below!
I am a participant in the Amazon services LLC Associates Program, an affiliate advertising program designed to provide a means for us to earn fees by linking to Amazon.com and affiliated sites.