1st Time Styling Overalls (for Summer)
Overalls c/o* Use Code LP15 for 15% off | Top | Flats
There's a first time for everything! And this is my first time styling overalls. I haven't worn overalls since I was a child, and my mom had creative control of the styling back then, haha. I honestly never thought I would wear them again…but I was curious to try them one more time after seeing all the different styles and patterns available.
This pair is from my friends over at Eva Trends. They helped me pick them out, as I had no idea how to go about getting a pair I would actually like. This pair ended up being the winners because they are a bit more fitted, and they have adjustable straps. I also love how soft and breathable they are (they're made out of cotton). I don't think I could get myself to wear a pair of jean overalls in the summmer!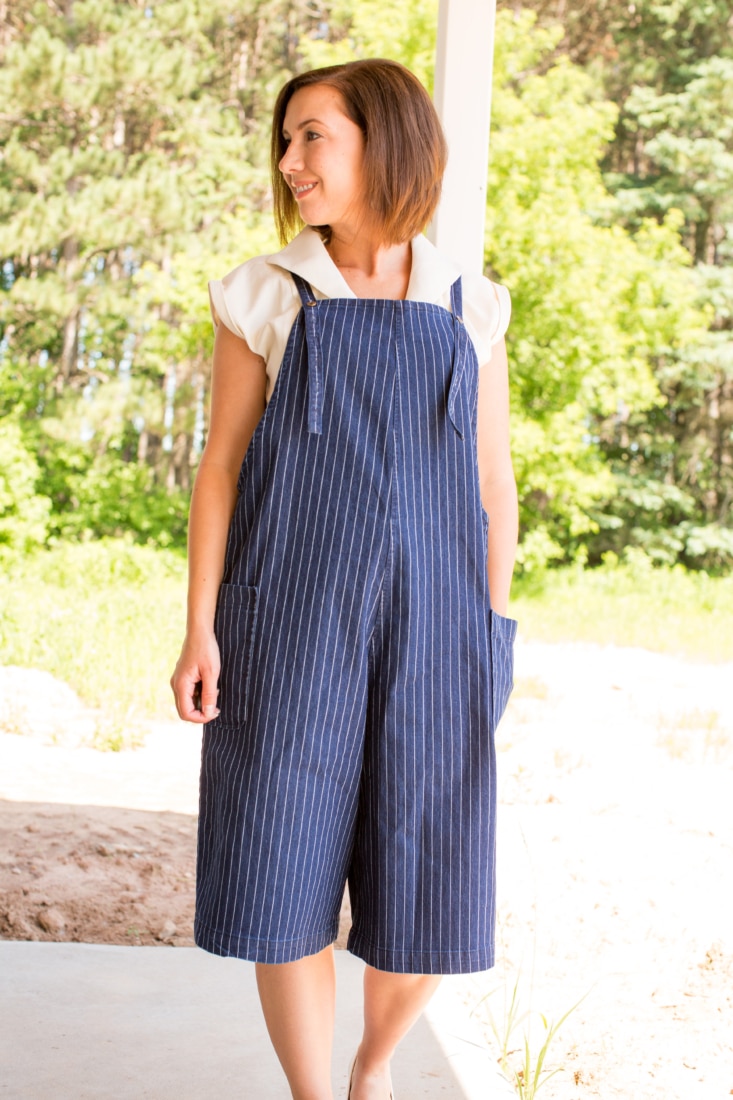 For me? Or not for me? Still deciding…
I'm still a bit undecided if I'm a fan of overalls for my personal style, but I have to admit, they sure are comfortable! I really like how deep the pockets are for this pair. (And if you use code LP15 you'll get 15% off your Eva Trends order.) I don't love that I basically have to get undressed everytime I want to use the restroom, but it's not the worst by any means. (And it has to be better than wearing a playsuit/jumpsuit – which I refuse to buy for that reason alone, haha.)
Question time!
Now, I also have two questions for you lovely readers! 1st up, do you call them overalls? Or do you call them dungarees? I've always called them overalls, but I know they're called both…and I'm pretty sure they're the same thing? (But let me know if I'm wrong in the comments!)
And, question numner 2! Do you think you can style baggier overalls (like these) with a belt? Or is that a no, no? I was going to wear them with a belt (I can't stand not having a cinched waist). But I took it off before I left the house for the day because I couldn't decide if it actually worked with overalls.
I'd love to hear your thoughts on these two questions in the comments! And what are your overall thoughts on overalls? (Didn't even mean to do that! Ha!)
Overalls: c/o* Eva Trends use code LP15 for 15% off your order
Top: Unique Vintage
Flats: Amazon – size up at least one full size. These run small!
Belt: Amazon
*Deal alert for my blogging friends! If you're running a blog for profit (or any other form of self-employment), I highly recommend using QuickBooks Self-Employed to keep track of your finances and write-offs (+ you can create invoices using their program too). It made doing my taxes this year a cinch! If you click here, you'll get 50% off for 12 months – which is just $5 a month!
Links à la Mode, June 21st, 2018
*Disclosure: some of these links are affiliate links. Meaning, if you click a link and make a purchase, Have Clothes, Will Travel gets a very small commission at no extra cost to you. Thank you for supporting the brands that make this blog possible! I am also a participant in the Amazon Services LLC Associates Program, an affiliate advertising program designed to provide a means for us to earn fees by linking to Amazon.com and affiliated sites.
*c/o = courtesy of, meaning the company gave me the product to be used on my blog, and I did not pay for it. All opinions are my own, and I am not being compensated for a positive review.