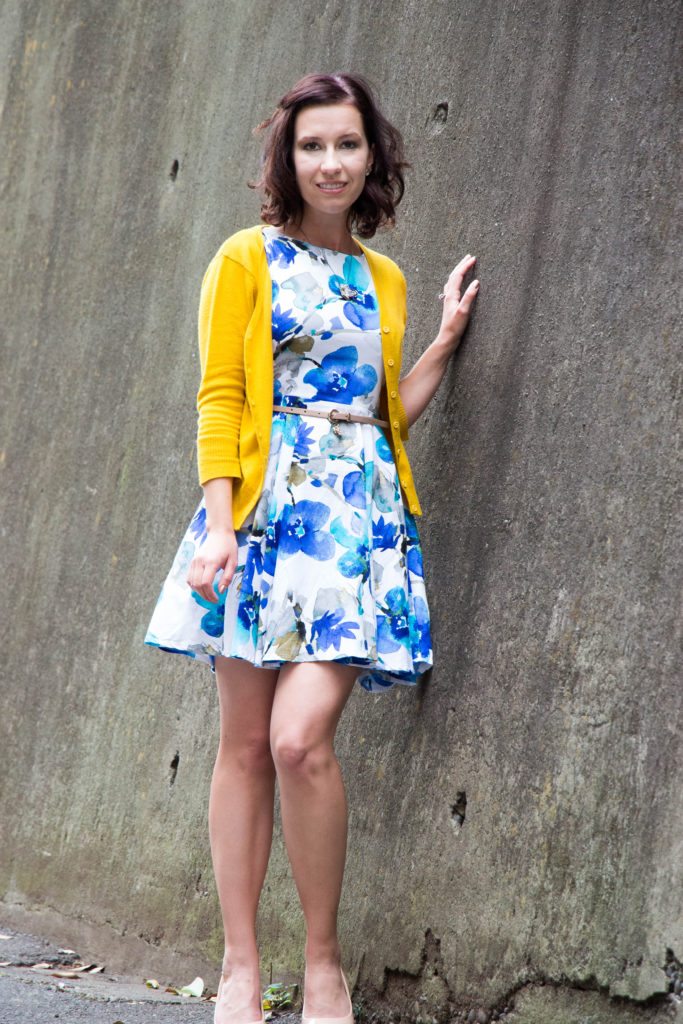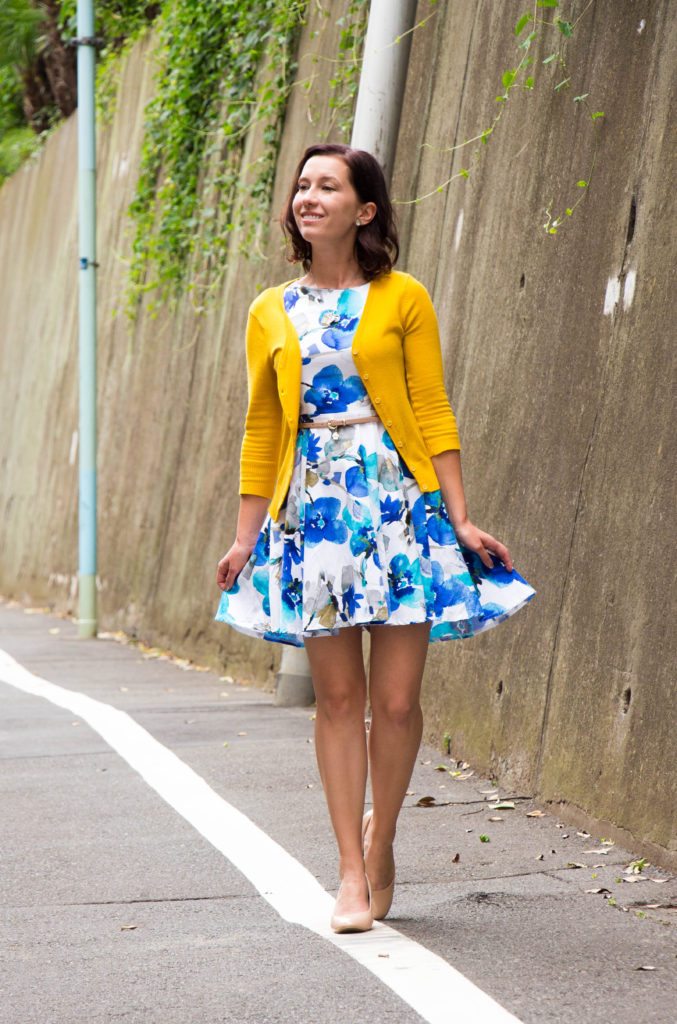 Dress (Similar here & here) | Cardigan | Pumps | Earrings
You probably can't tell by these photos, but I swear I'm in Tokyo. Haha. This little alley is right next to my apartment and was the first quiet place I had noticed when looking for spots to take photos. I have since found a whole bunch of out-of-this-world beautiful locations to take photos. So, I swear, from here on out…my backgrounds will do Tokyo some justice.
I had also promised to talk a little about what I think of Tokyo so far. So, here we go! First of all, I can't get over how clean, quiet and just all around nice Tokyo is. The last major city I had lived near was New York City. And don't get me wrong, I love New York (and would live there again in an instant)…but it's crazy how much more orderly and calm Tokyo is in comparison. And Tokyo has 5 million more people living here than New York! That's another thing that's surprising to me about Tokyo, it really doesn't feel chaotic or densely populated… but there are 13.5 million people living here! (Unless it's rush hour, then disregard that observation. Haha.)
The subway system is also impressive, and once again, very clean. I felt like I needed to bathe in bleach and burn my clothes after using public transportation in NYC…but that is certainly not the case in Tokyo. It's awesome!
Also, the people are incredibly kind and helpful. We don't speak the language, but we are able to communicate nonverbally quite well…thanks to how patient everyone else is! We were also able to figure the subway out, thanks to a stranger taking time out of his day to show us how to navigate buying tickets and the different lines. The only rude person I've encountered was a fellow American, who didn't like how long it was taking us to check out at the grocery store.
And the biggest adjustment, for me…so far, is the food. Everything tastes wonderful! But I've been struggling a bit to find dishes that keep me filling full because I'm such a bottomless pit. (Can I get 8 bowls of Ramen, please?) And grocery shopping is a bit interesting for me too…as I'm just guessing when I'm buying things. Haha. But I'm already getting better at both…today was a successful day in the food department, and I'm sure it'll keep getting easier. 🙂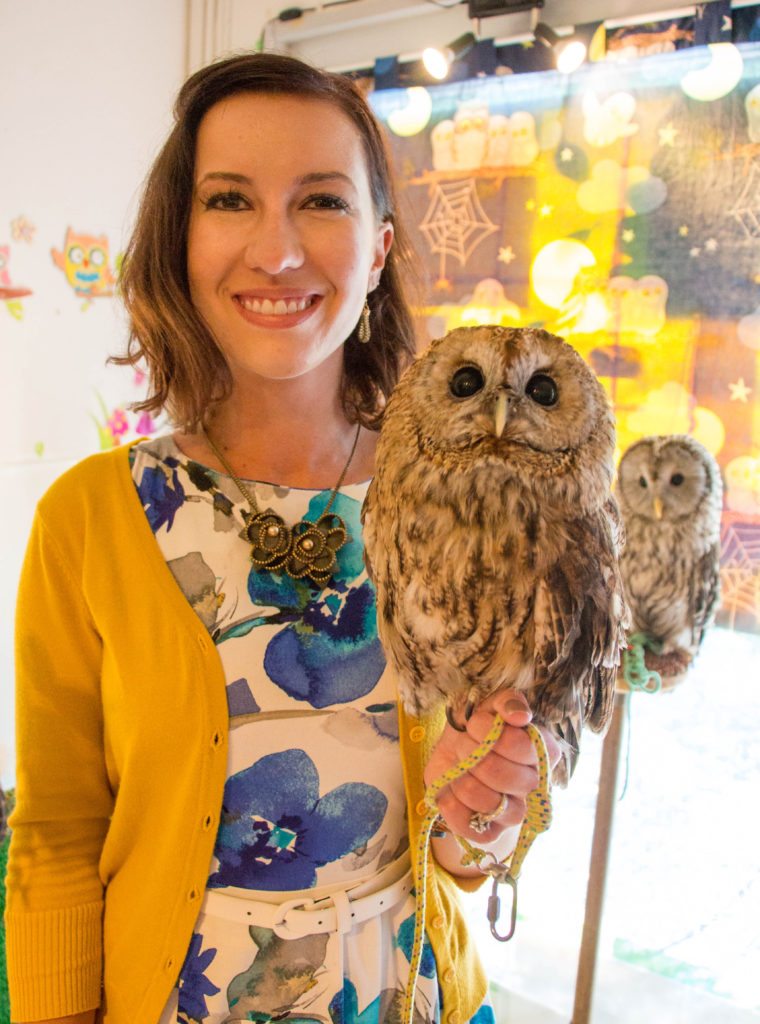 But anywho! Let's talk about this outfit! And if it looks familiar, that's because this outfit is what I had on in my previous post about Fukuro no Mise Owl Cafe. I had just swapped out my accessories (jewelry, belt, shoes, etc.) for a slightly fancier look for dinner. (I had also featured this dress a few months ago, in this post, when I was in New Orleans.)
I'm clearly getting a lot of use out of this dress…from traveling to dinner to wedding rehearsals – you name it! But the real star of this outfit post is my necklace I wore to dinner. Check out the photo of it below!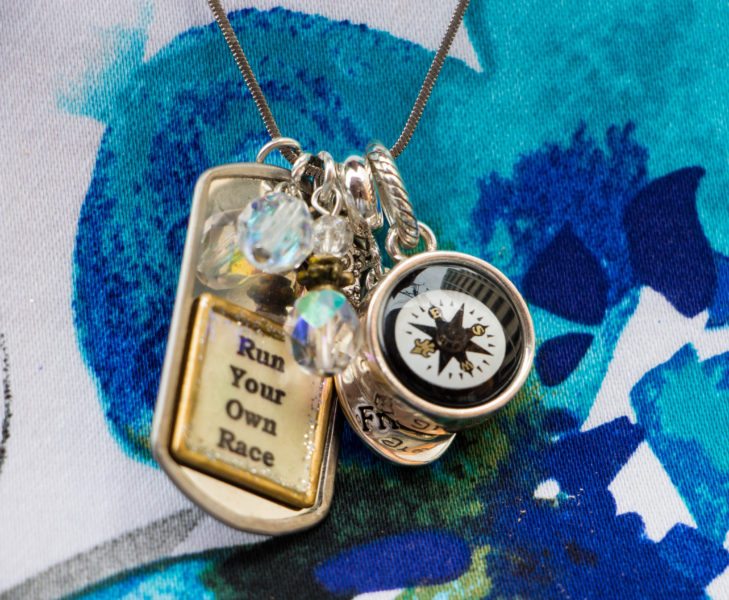 One of my best friends, Trina, had given it to me as a gift before I left for Tokyo. It's a charm necklace that has all kinds of special meanings…from my love of traveling and running, to a charm that says "friend"..it's a really special necklace to me. 🙂 And, I thought it was super cool that the compass charm actually works! That might come in handy! Thank you so much, Trina! I love getting to wear this on our adventures. 🙂
Do you have any special jewelry pieces that are near and dear to you? Let me know in the comments!
Where to find it:
Dress: Lilee Fashion (Similar here & here)
Cardigan: ModCloth
Pumps: ModCloth (No longer available. Similar here.)
Map Earrings: Etsy
Necklace: Gift from Trina 🙂

*c/o = courtesy of, meaning the company gave me the product to be used on my blog, and I did not pay for it. All opinions are my own, and I am not being compensated for a positive review.