5 Essential Tips for Surviving Long-Haul Flights
Written by Joniel Suezo
Without a doubt, flying is the most efficient mode of traveling, and the widely accepted go-to solution when you need to cover great distances in one swift swoop. However, human nature is fickle, and we can feel that even the miracle of flight can take an excruciatingly long time. It's almost a rule of thumb that, no matter what mode of transportation you use or how fast you go, the trip is painfully long if it takes more than 8 or 10 hours to reach the destination.
Funnily enough, there is to truth to that: the human body is simply not made to be stationary longer than that. Fortunately, there are reliable tips and hacks you can adopt to survive long-haul flights!
5 Essential Tips for Surviving Long-Haul Flights
1. 'Underpack'
If you're flying to a different continent, the baggage fees and limitations can get fairly unpleasant, but even if that's of no concern to you, there's still the matter of comfort to consider. It's more about the number of bags than the weight of your luggage.
Following baggage regulations, make an effort to fit all your belongings into one suitcase and one backpack. The suitcase will be checked in, and the backpack stays with you as a carry-on. Deciding to carry nothing else in terms of luggage will make your flight, as well as lugging everything around to your destination, significantly more comfortable.
2. Pick a comfy travel outfit
The first tip extends to the second one, in a way, since it is just as important to feel comfortable in your skin as it is to have enough elbow space. One the one hand, you'll want to be as presentable as possible, and on the other hand, you have to prioritize comfort.
It's a tough balancing act to find that delicate line of both stylish and functional, but the key features to look for in travel clothing are that they're lightweight and breathable. Avoid tight clothes and travel pants that aren't stretchy at the waist, since the last thing you need is to feel restricted on a 16-hour flight.
Also, bring along an extra layer to keep you warm, just in case, since it's definitely going to get chilly on that plane and even a blanket might not be enough. Whether it's a scarf, hoodie, parka, or poncho, just make sure it's something you'll also feel comfortable in.
*Bonus tip: Bring a change of clothing too! Especially if you're on a flight over 12 hours. Having a second set of clothes to change into (especially undergarments) can make you feel like a whole new person on those long international flights!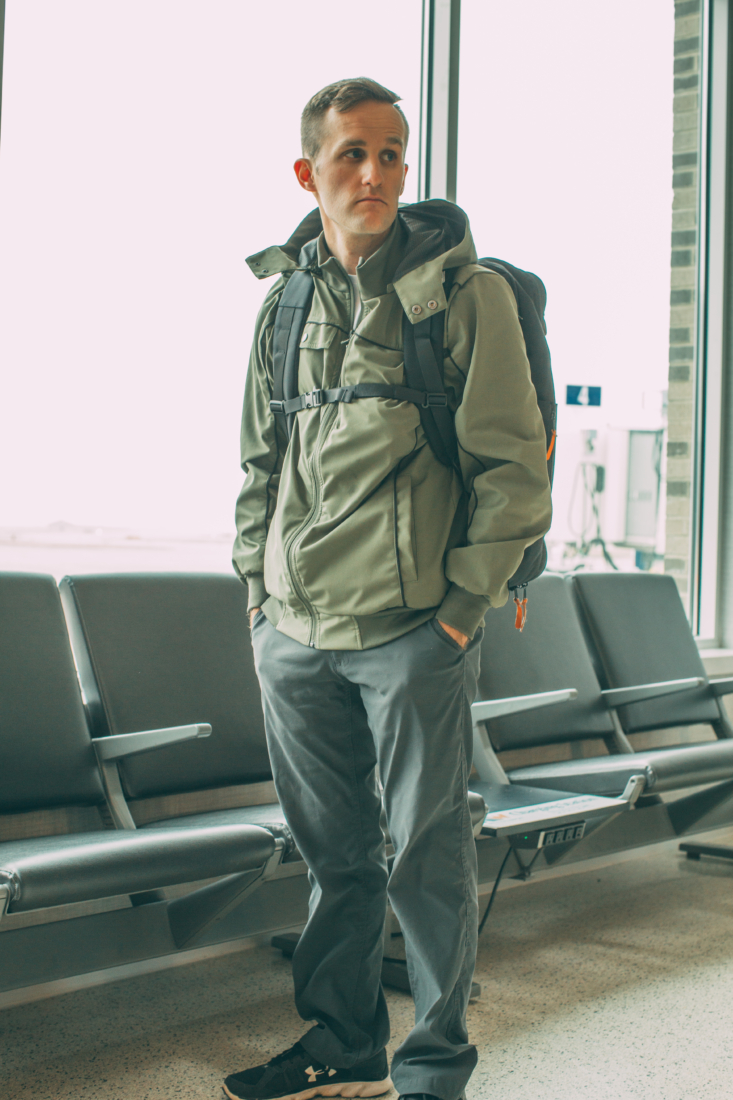 3. Keep your travel essentials at hand
The neck pillow is a life-saver on long-haul flights, and it's super practical to carry along as well. It's easily foldable when deflated, and it weighs practically nothing, so you've got no excuse to leave it at home! There are different ergonomic designs around as well and you are not really restricted to ones that support the sides of your neck alone. Here are some of the best travel pillows I've come across.
The same goes for a reliable pair of earphones that present a direct 'lifeline' to hours upon hours of entertainment during the flight. You can immerse yourself in a podcast or an album, and listen to audiobooks without bothering your fellow travelers.
Since both of these items take up minimal space in a backpack, it's best to reserve a space just for them in one of your backpack's side pockets. This way, you'll ensure you never forget them.
4. Load up on your power banks
Your phone or tablet is an obvious source of entertainment for a long-haul flight, but unfortunately, their batteries typically don't last for more than 16 to 20 hours straight. And needless to say, it can be excruciatingly frustrating to see them gradually run out of juice.
This is where portable chargers and power banks come into play. One third-party portable power bank can keep you out of the red zone for the entire flight.

5. Purchase your ticket as early as possible
If you're not prone to traveling on a whim, it's perfectly reasonable to buy the flight tickets months leading up to the trip. It will give you peace of mind and those coveted seating privileges.
This little tip also builds into the first piece of advice on this list, since booking the ticket late will probably rob you of a chance to have the most convenient seat, and you will likely end up sandwiched in the middle of the row.
The miracle of flight is an undeniable feat of civilization, but it's only reasonable that passengers get grumpy if they spend their entire day in a flight limbo.

Jet lag is another real issue that crops up when trips take particularly long, but a bit of preparation goes a long way to spare you from excessive discomfort. Learn from the thousands of experienced travelers who've passed on all kinds of nifty tips for surviving long trips. (Click here for tips on avoiding jet lag.)
A big thank you to Joniel for writing this post! I'm in the process of moving between Moscow, Russia and the United States right now. It's going to be a crazy week!