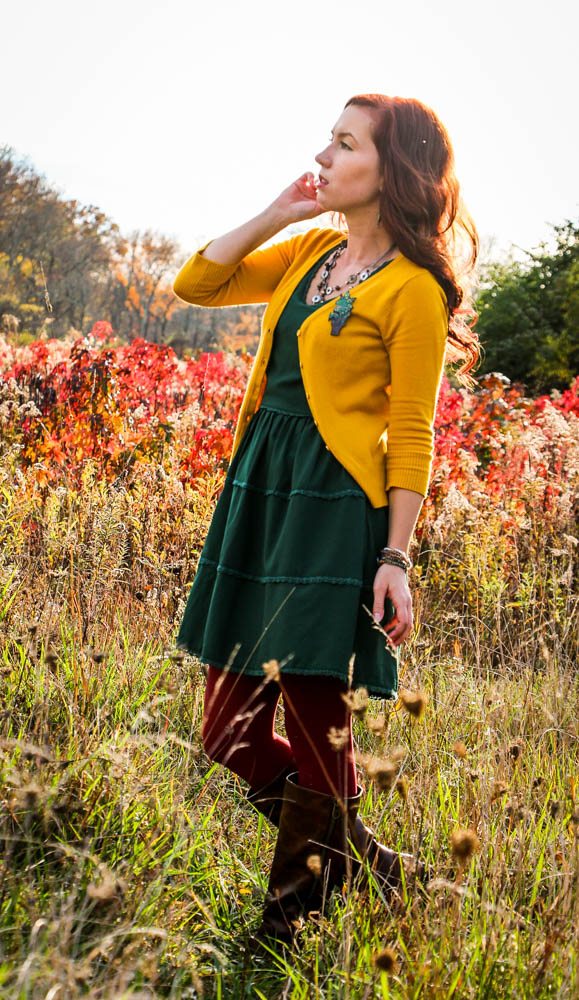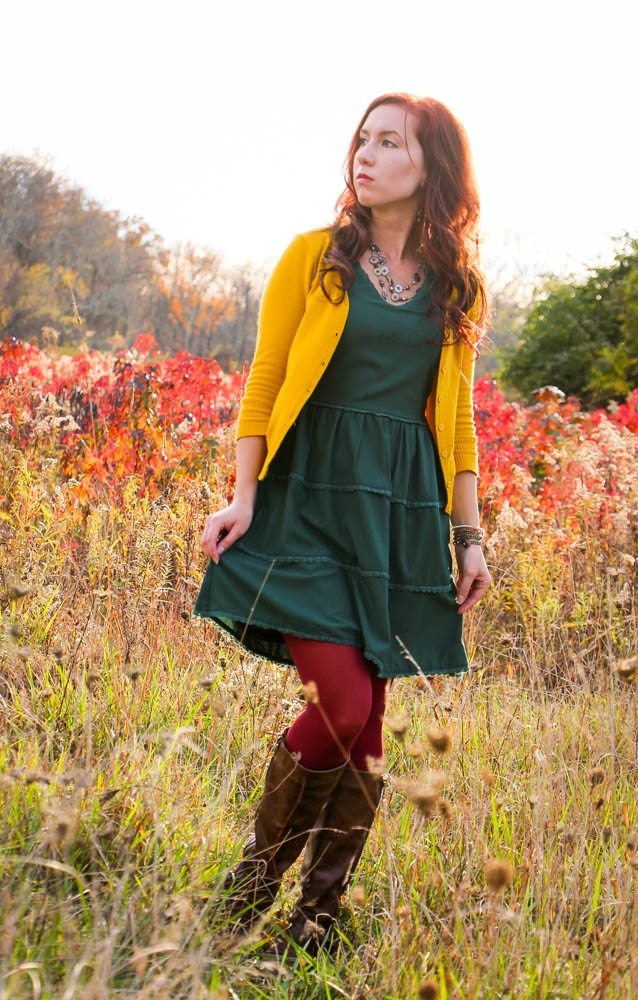 Shop the look:

"It was the best of times, it was the worst of times"….sorry, not exactly what this post is about. However, this outfit was worn in two very different cities in one week! It's actually been worn a total of three times in the last week! Once was in Dallas, and the rest were back in Princeton. (Get the title now? Gosh, I'm clever. Haha.) The reason I've been wearing this outfit so much in Jersey is because of a fun little project I'm a part of, and I'll be doing a whole blog post on that next week. But for now, let's talk about my new favorite, fall outfit!
The photos on top are from Princeton and the ones on the bottom are from Dallas. I was only going to use the ones from Dallas, but I really liked the way this outfit looked with the boots…and the fall colors are simply gorgeous in Princeton right now! (Seriously, New Jersey, you've outdone yourself on the fall foliage.) This outfit is perfect for all the fall colors! And I'm not going to lie, I also like how well it sets off my red hair. Which, by the way, did you notice in all of these pictures how many different shades of red my hair turns depending on the lighting? Haha. It looks like I dyed it 3 different times!
But anyways, I'm really excited about all of the accessories in this post. I LOVE my new Venus Flytrap brooch! Jolly Hollieday Designs actually handmade him, and he is just darling! I kind of want to buy every single brooch in her Etsy store. Haha. (I can thank Jen from Dressing With Class for my new found obsession with brooches. Haha. She gave me my first brooch!) My earrings and necklace are also handmade by C&A Leather…they are so unique, and I love that my bracelet actually fits my freakishly small wrists. It's one of the only bracelets I own that actually fits me, which is because C&A Leather takes your wrists measurements and makes their bracelets according to your wrist size. It's a fantastic idea!
My dress is from the ModCloth Stylish Surprise, which I am so happy I participated in! For $20, this is the most used dress in my closet, and I never would've bought it on my own. Thanks, ModCloth! (If you need more info on what the Stylish Surprise is, click here.) My cardigan and tights are also from ModCloth, and I honestly didn't think I would wear them that much either, just because they are kind of odd colors. But they go with a ton of my outfits!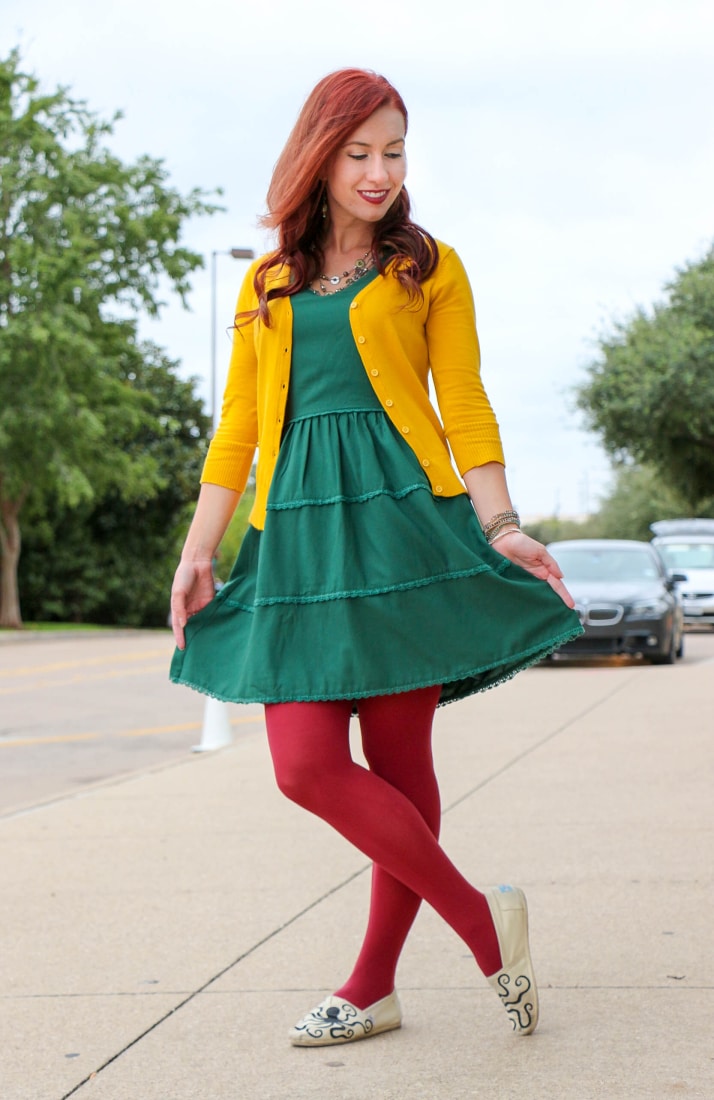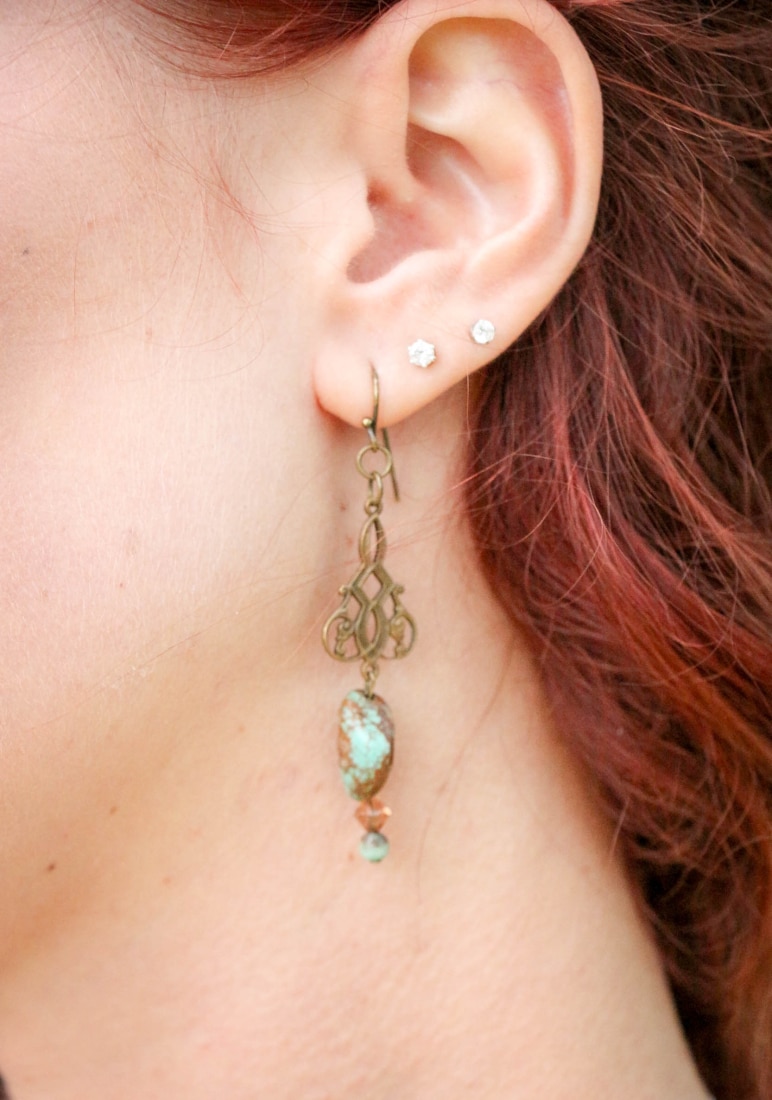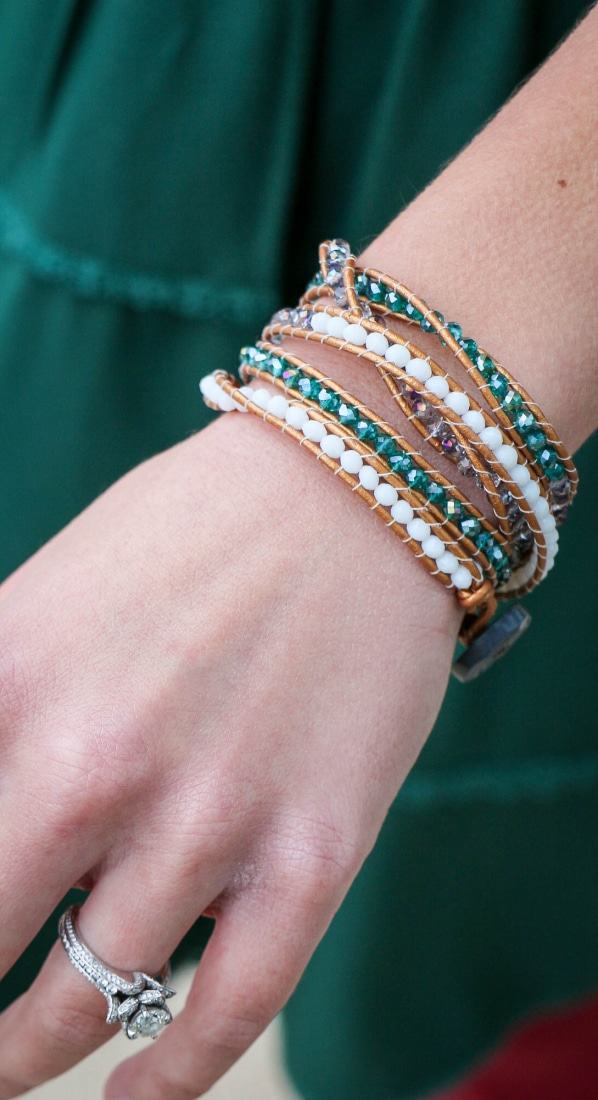 Now that the sun sets at about 5:30 pm here, I'm a bit limited on when I can get my husband to take outfit photos for me. I broke out my tripod for the first time in a long time to take the first set of photos by myself with the self-timer, and boy was that a struggle. Haha. I have a really cheap tripod (it came with the camera), which actually literally fell apart after I was done taking photos. Haha. And it takes me hours to do my photos when I do them myself because I get so picky about them and I'm not that fantastic of a photographer yet.
So, this post's question is for my fellow bloggers out there. What kind of tripod do you like best? (I'm in the market for a new one. Haha.) And do you have any tips for taking your own photos that you would like to share? Let me know in the comments!

Where to find it:
Dress: ModCloth Stylish Surprise (Similar here)
Cardigan: ModCloth
Tights: ModCloth (Similar)
Brooch: Jolly Hollieday Designs
Bracelet: c/o* C&A Leather
Earrings: C&A Leather
Boots: Payless (Old. Similar here.)
Octopus TOMS: KellismCo
*c/o = courtesy of, meaning the company gave me this product to be used on my blog, and I did not pay for it. All opinions are my own, and I am not being compensated for a positive review.