Alpaca Clothing Shopping Tips for Cusco, Peru + What I Wore
*If you like this post, it is now available as a self-guided walking tour via GPSmyCITY. Click here to download it.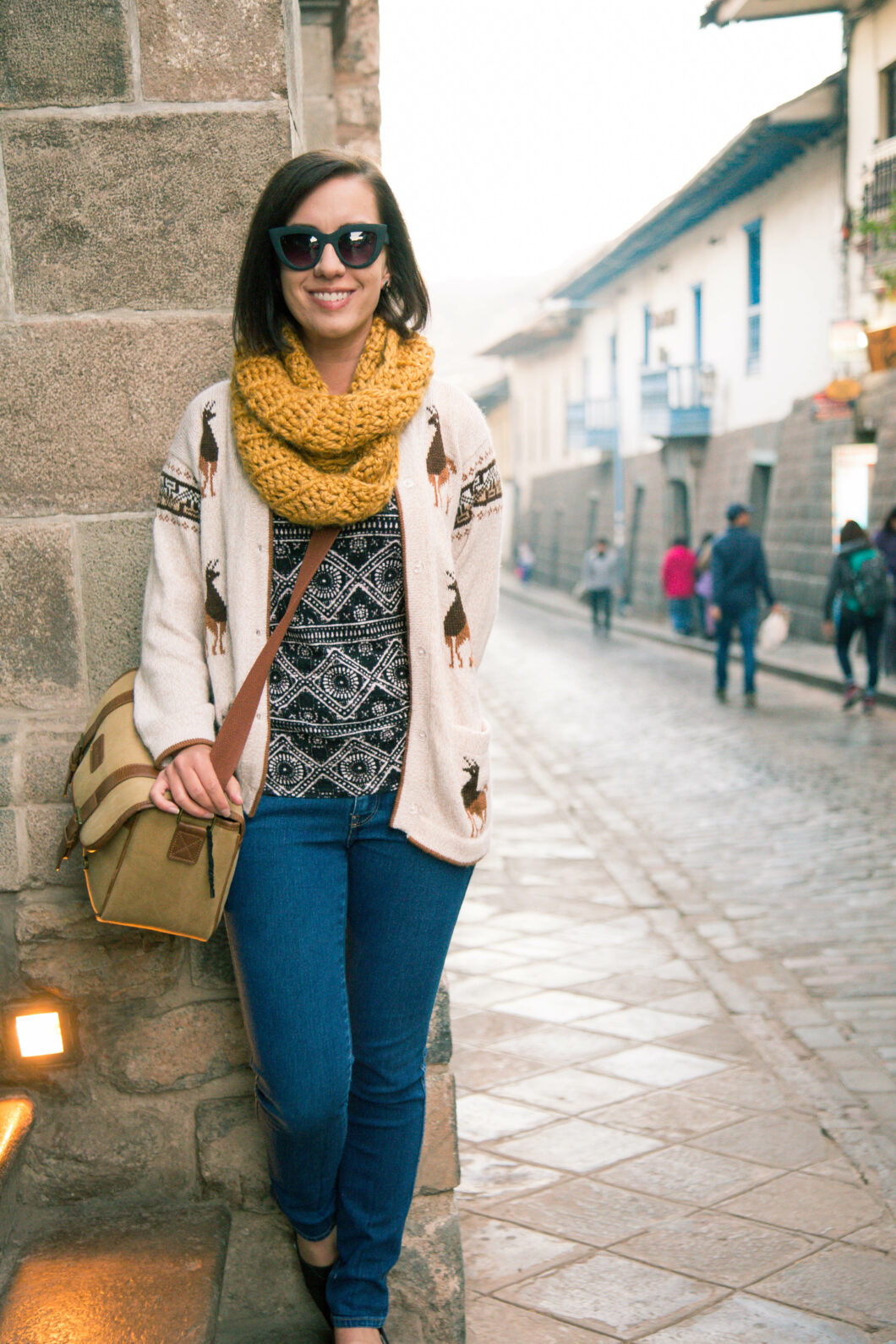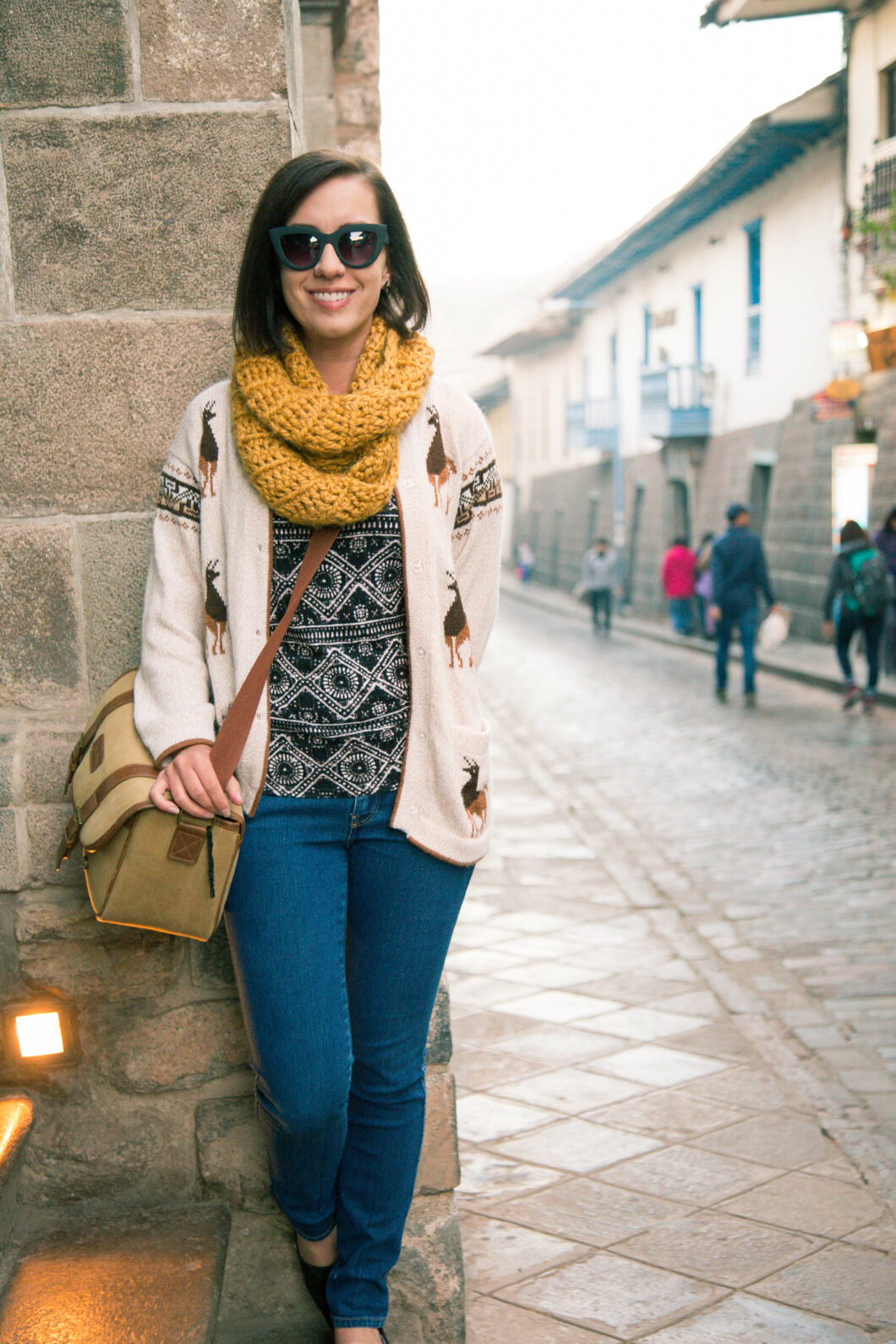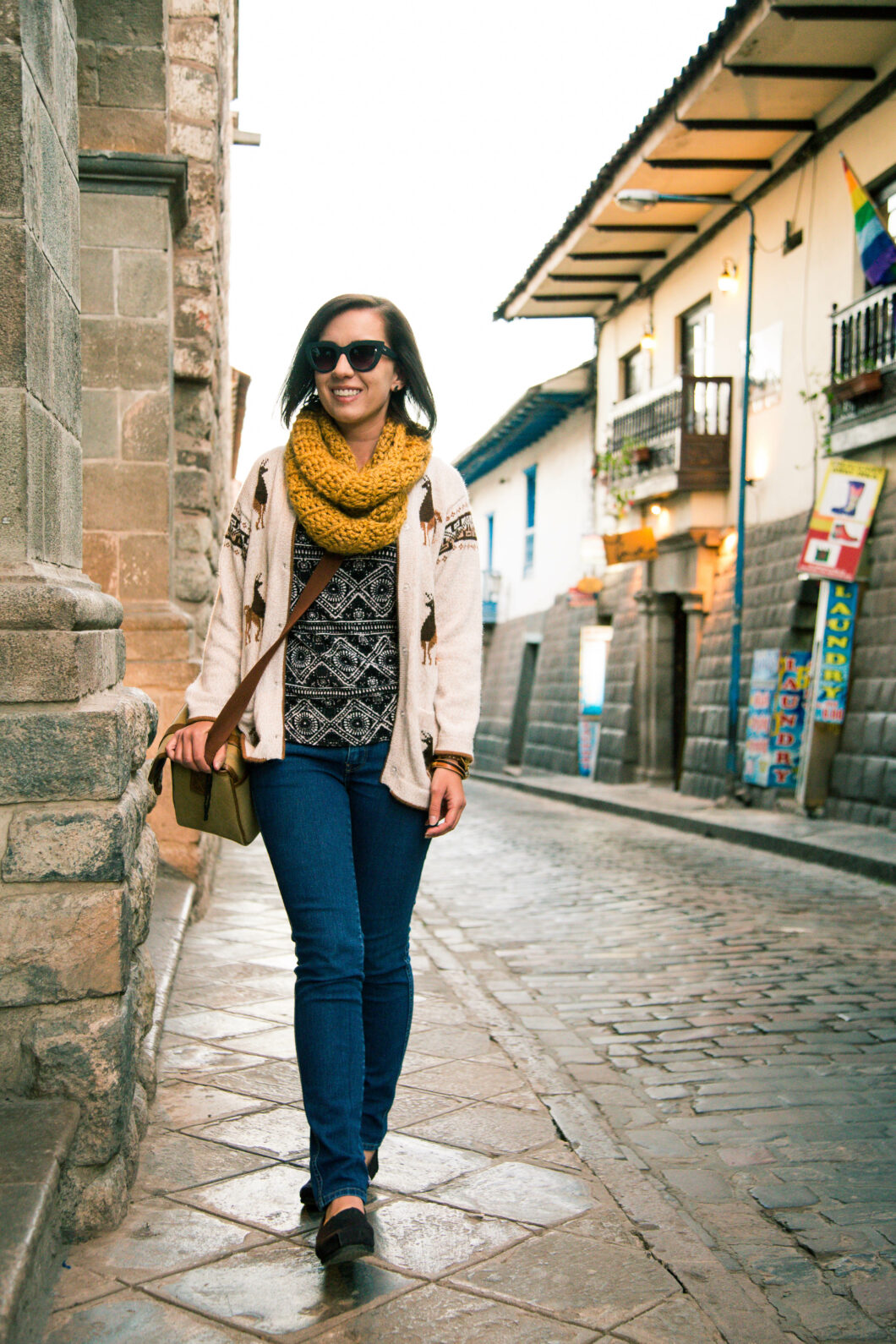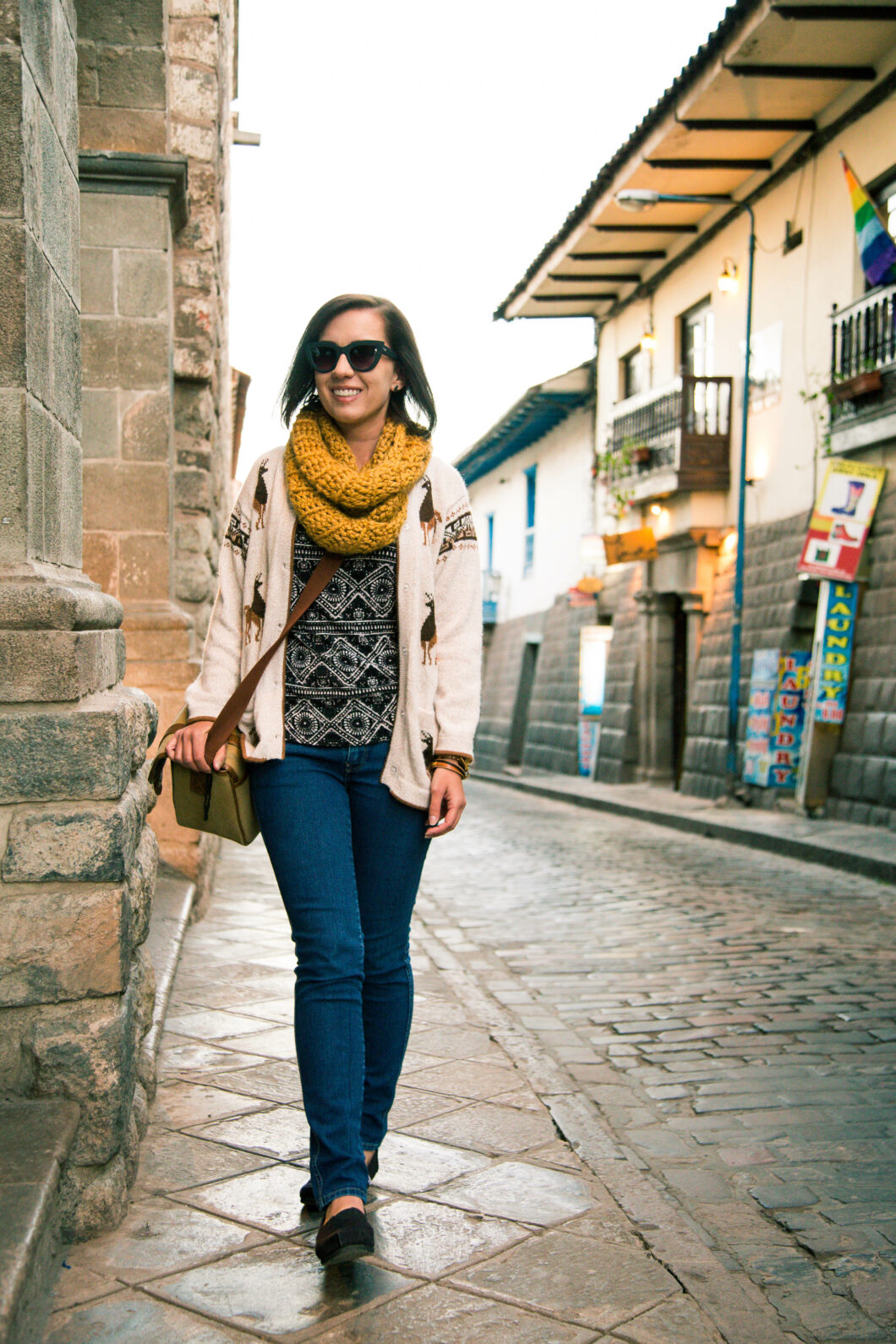 If you visit Cusco, Peru the first thing you will notice is nearly every shop and street vendor is selling "baby alpaca" sweaters. The second thing you will likely notice is that nearly none of these vendors are actually selling "baby alpaca" sweaters. (As the locals say its "maybe alpaca." Ha!)
Want to travel to Cusco with me? I'm hosting a 10-day small-group tour to Peru in November 2022! See the details here.
How to Shop for Genuine Baby Alpaca Wool Sweaters
Baby alpaca wool is referring to the quality of the wool used in the making of clothing (some say it's the wool used when a baby alpaca gets its very first haircut). It is INSANELY soft. You can tell if a sweater is genuine "baby" alpaca wool because when you touch it, the fabric will be VERY soft and VERY tightly woven (no holes whatsoever). Real alpaca wool is also cool to the touch.
99.9% of the sweaters you'll see will have holes and be loosely woven, and not cold to the touch..which means it's likely a synthetic blend with alpaca wool (or entirely synthetic). This is fine, as long as the prices are appropriate. Real baby alpaca sweaters will cost hundreds and hundreds of USD. Whereas "old" alpaca or synthetic blends are going to cost about 25-50 soles. ($7-$15 USD)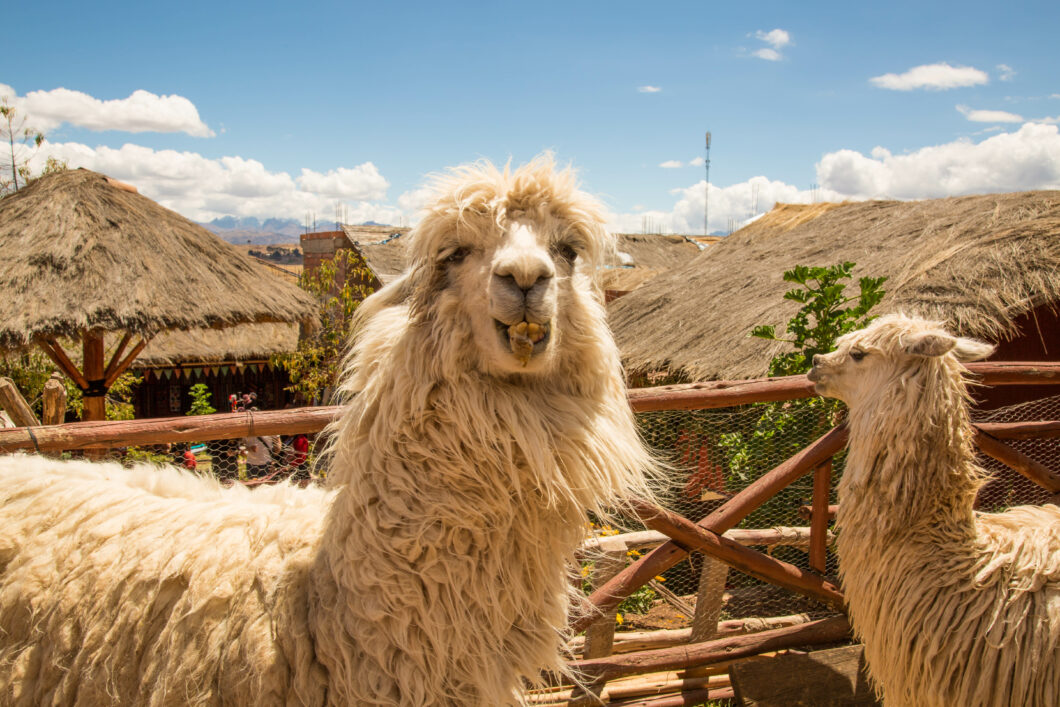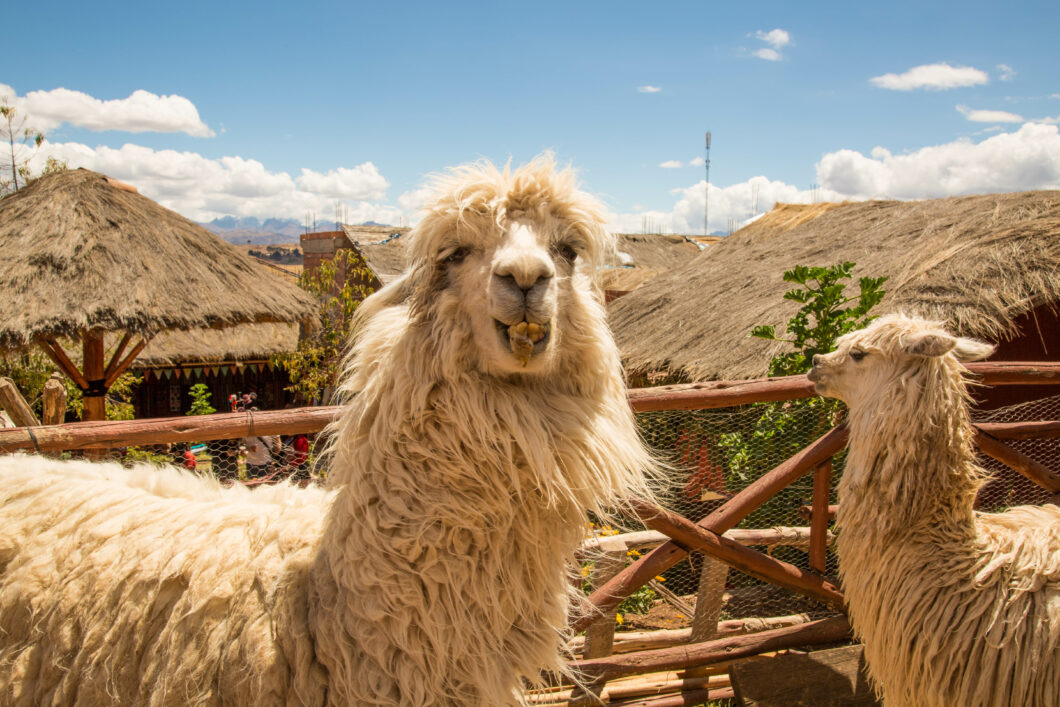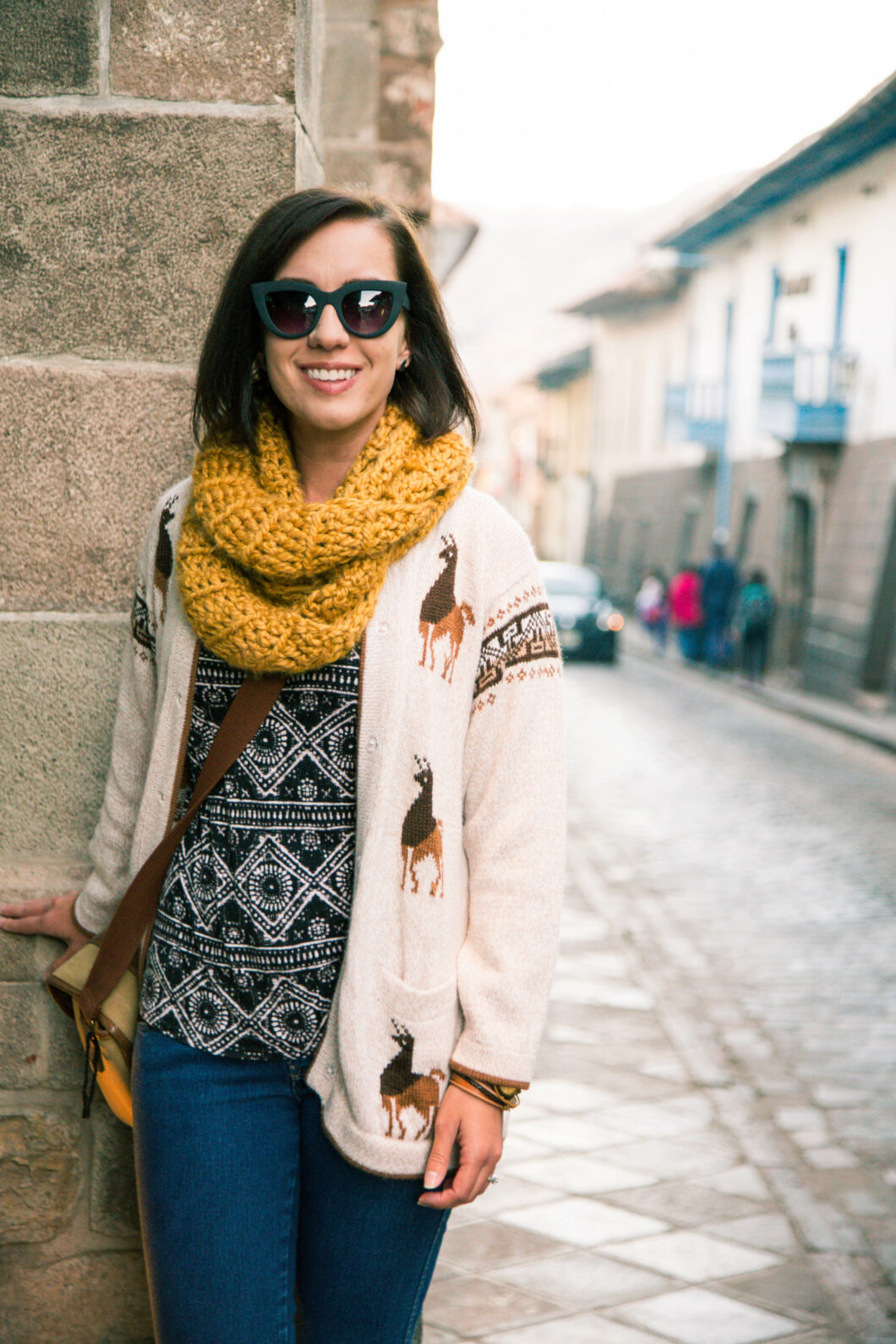 Where to Buy Affordable Souvenirs in Cusco
If you want some fun souvenirs but don't want to drop the big bucks on baby alpaca wool:
Head to San Pedro Market and bargain! (Click here to check out that blog post. You can also book a shopping tour, here.) or…
Head to Artesanías Asunta for AMAZING prices on souvenirs and clothing. I bought the sweater I'm wearing for this post (pictured above), from here. It cost only 25 soles ($7 USD). Now, it's certainly not genuine baby alpaca wool – but the owner didn't try to tell me it was. It's still made from alpaca wool (just an old one). It's an amazingly soft and well-made cardigan, especially for the price! The owner is a real hoot too and does speak English. (A big thank you to my friend, Jen, for introducing me to this store! She was here a few months before we were and was a wealth of info!) My husband and I had a blast shopping here and both walked away with a decent amount of goodies.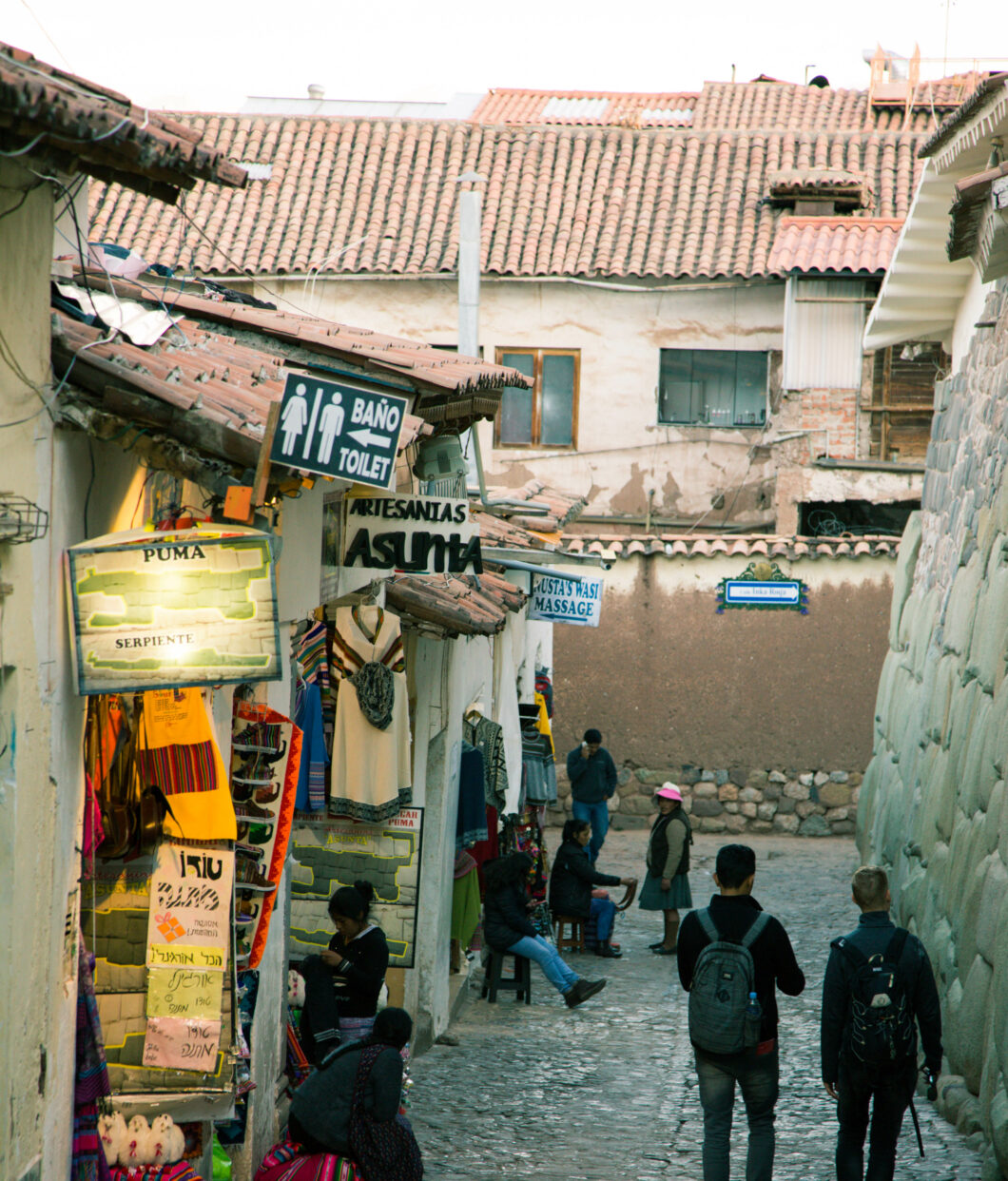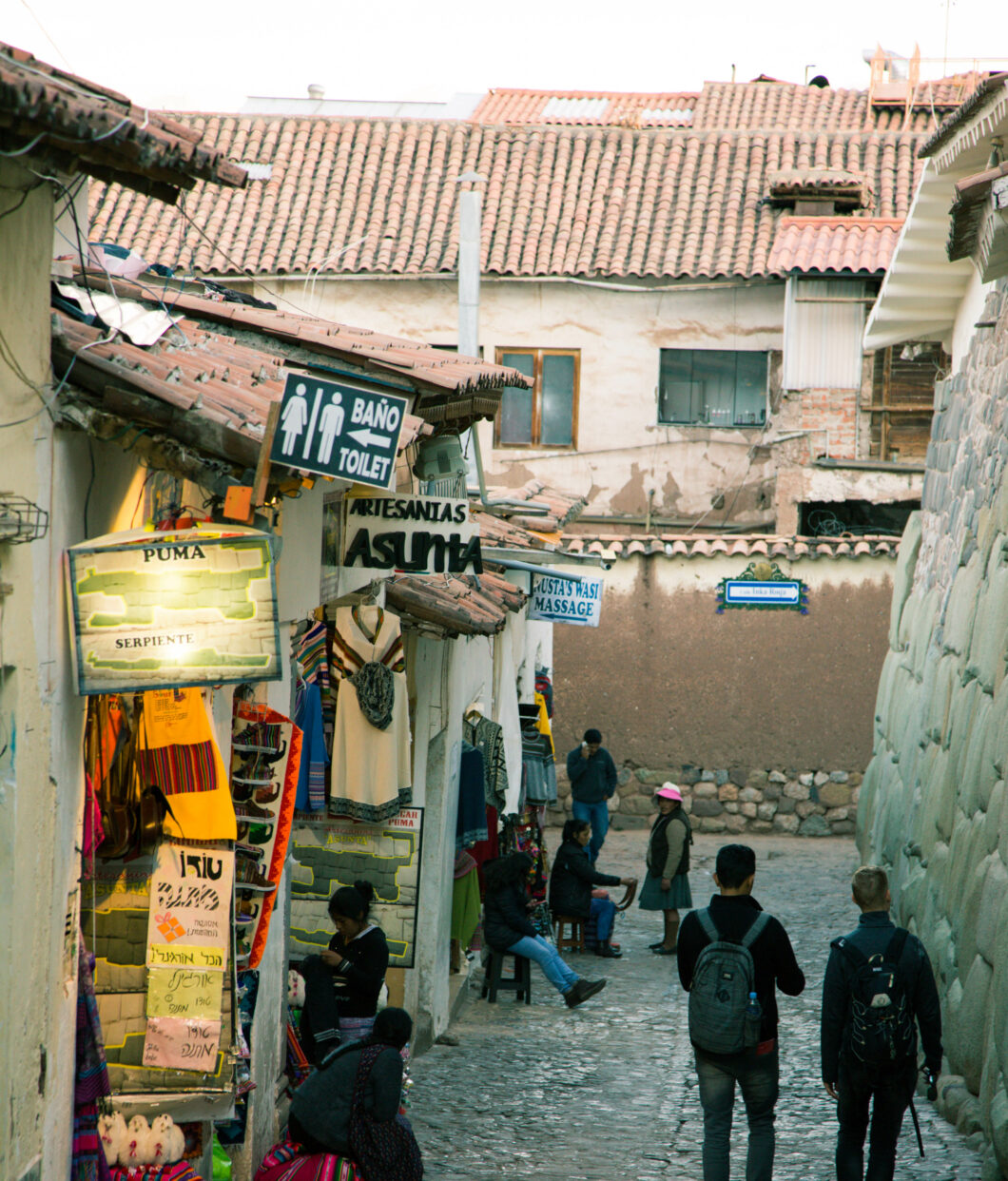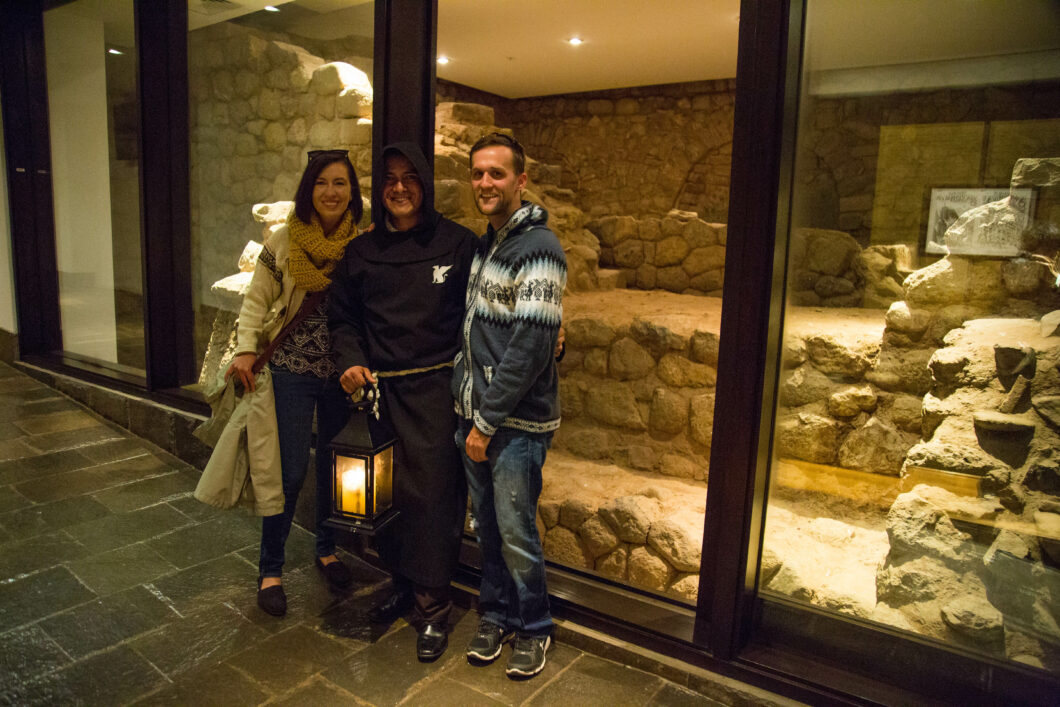 As you can see above, we both wore our new fave sweaters immediately after buying them, haha.
Also, the guy who looks like the Grim Reaper happened to be a tour guide for our hotel that night. We have a ton of Marriott points. (Thanks to my husband and his point-saving skills, I seriously need to have him guest post on his secrets!) So, we stayed at the only Marriott in town – the JW Marriott! It was very, very nice and actually has some Incan artifacts in a little museum that you can tour. And the hotel offers its guests every night at 6:30 a tour of this. It's pretty cool!
The Outfit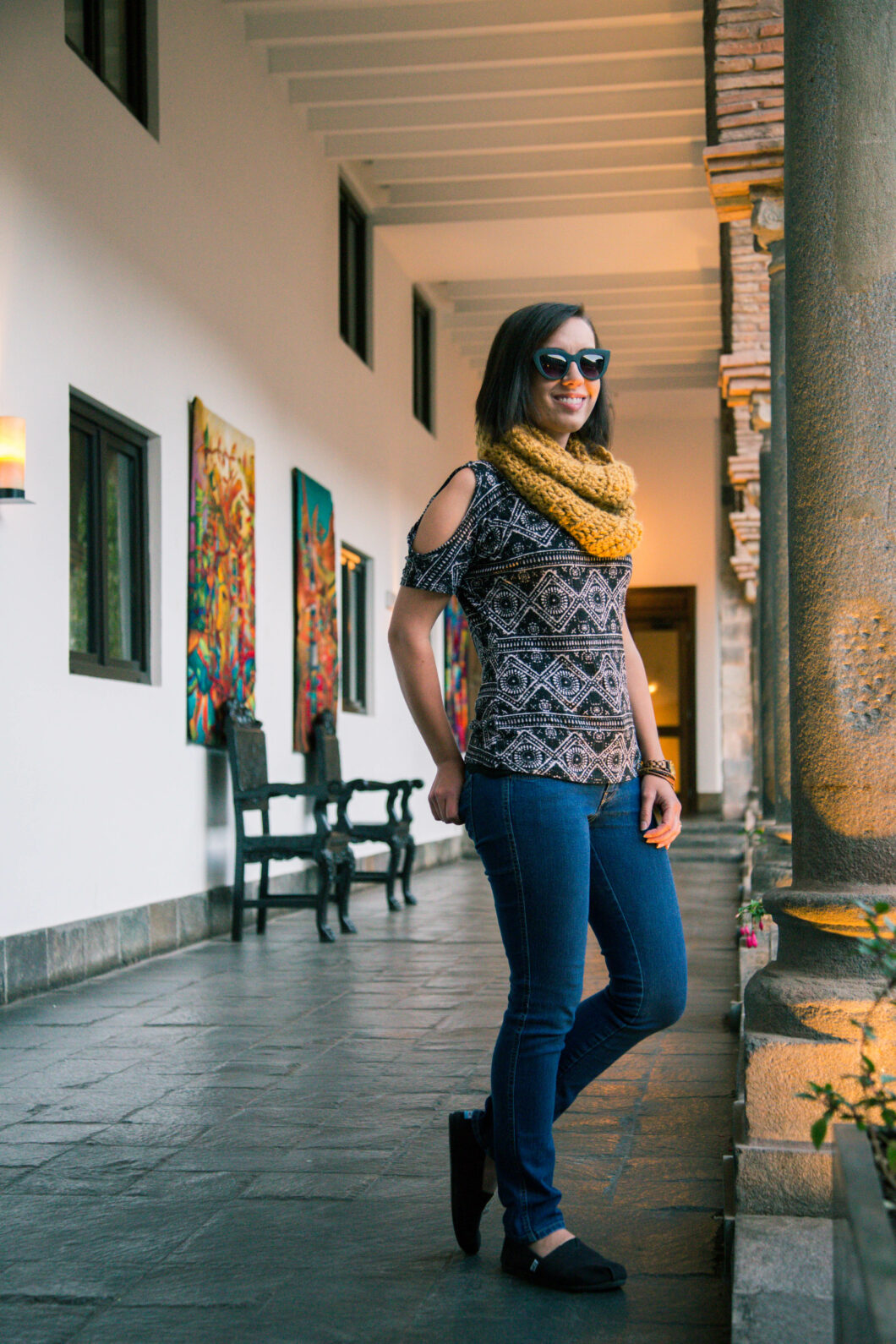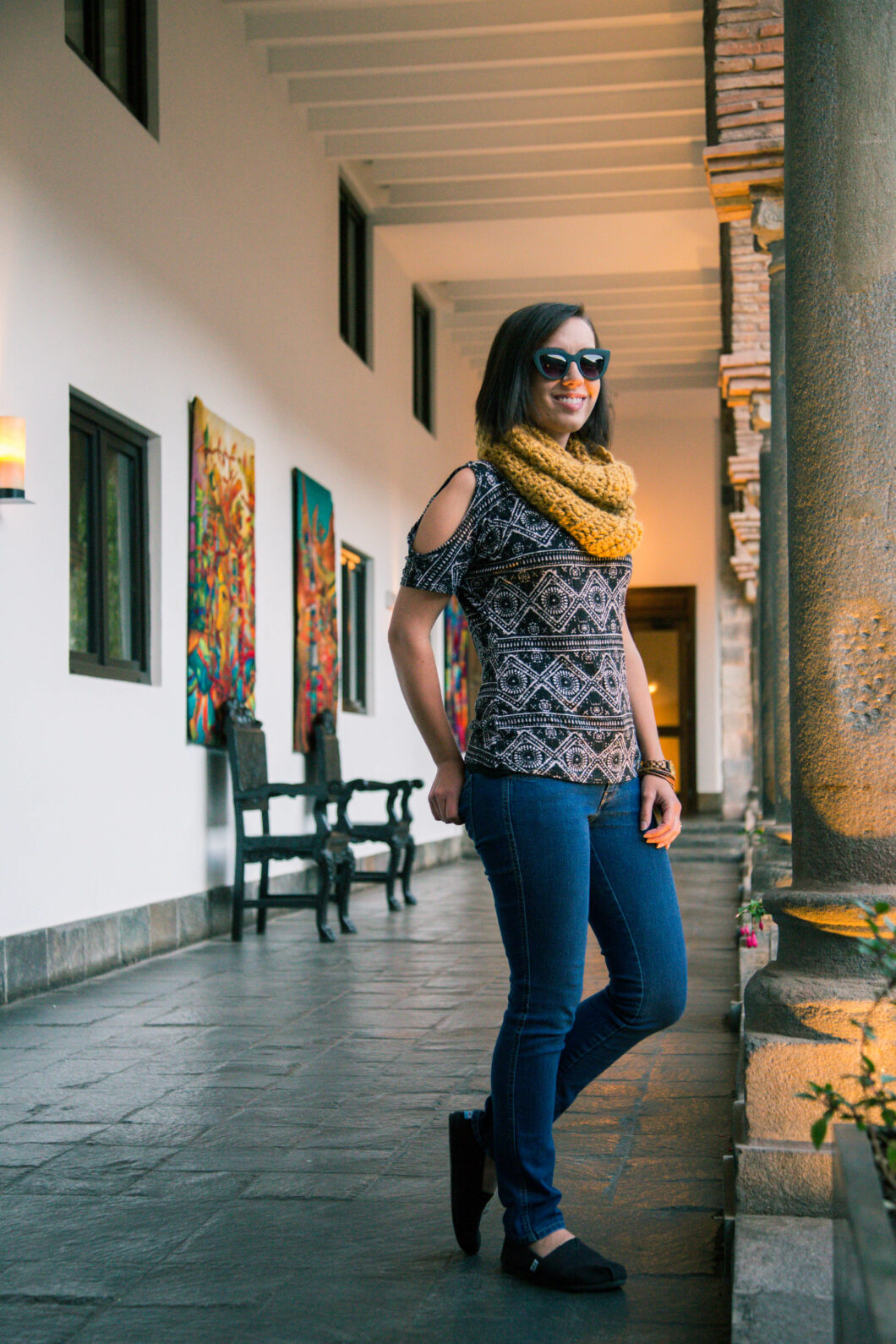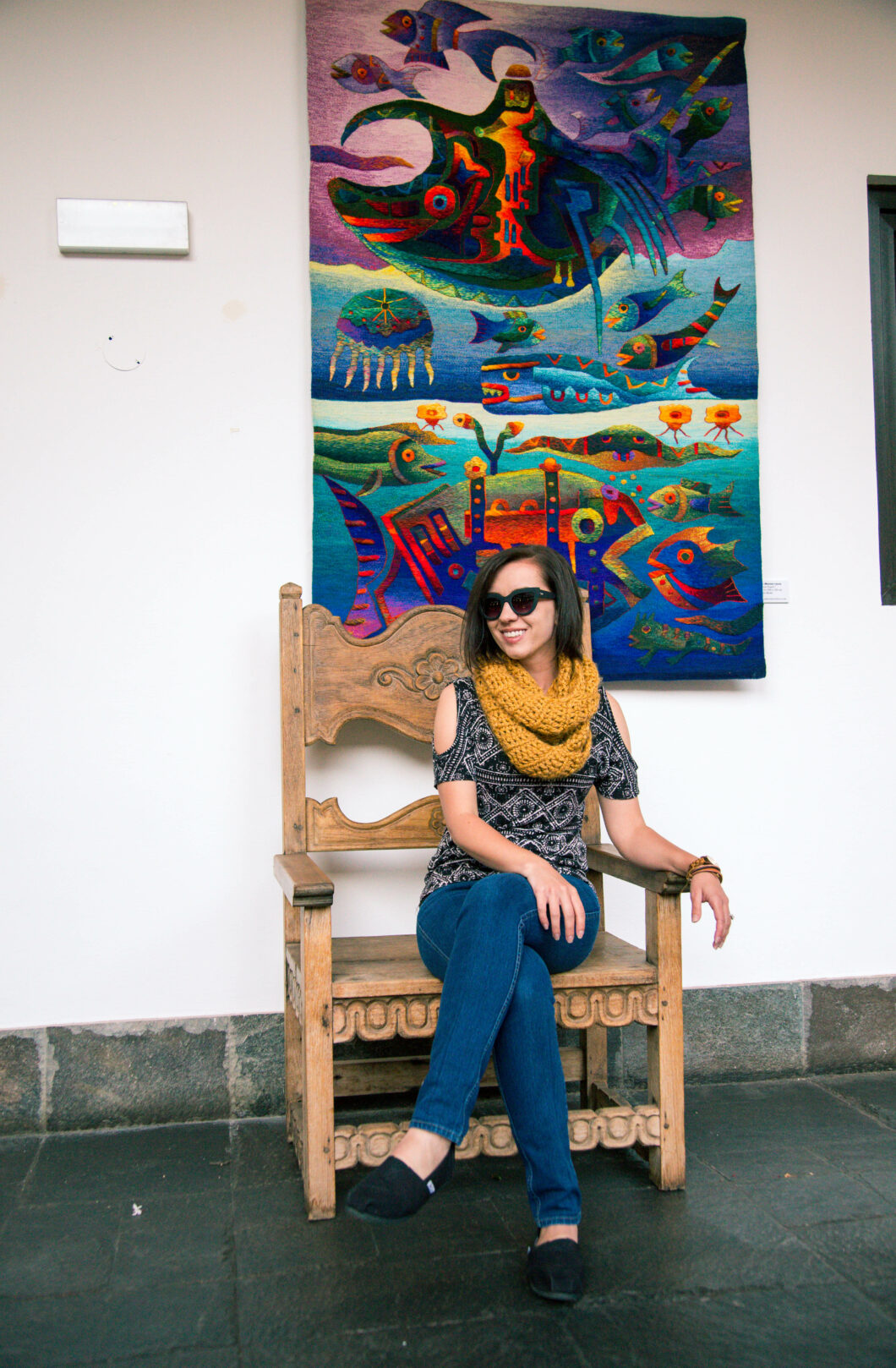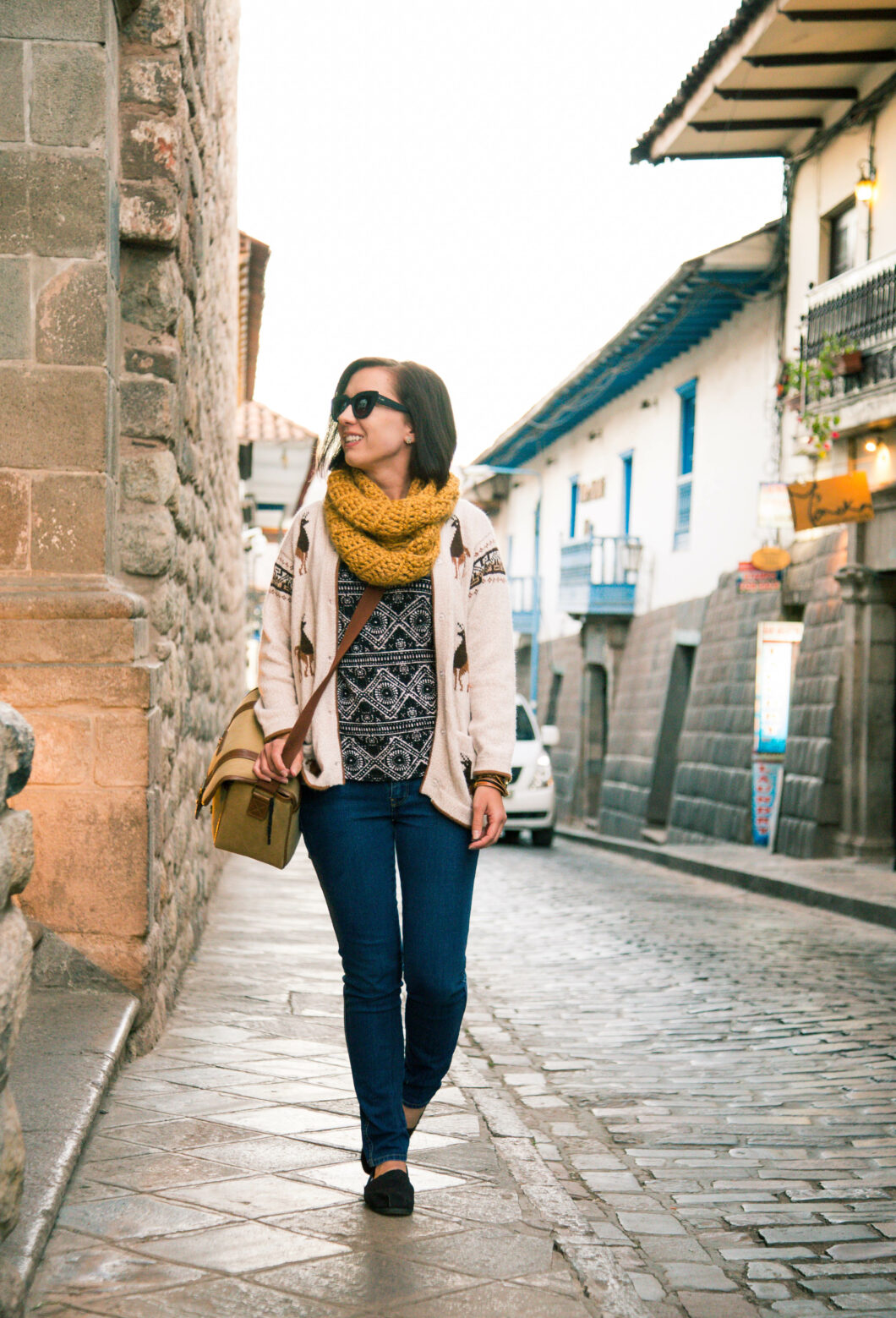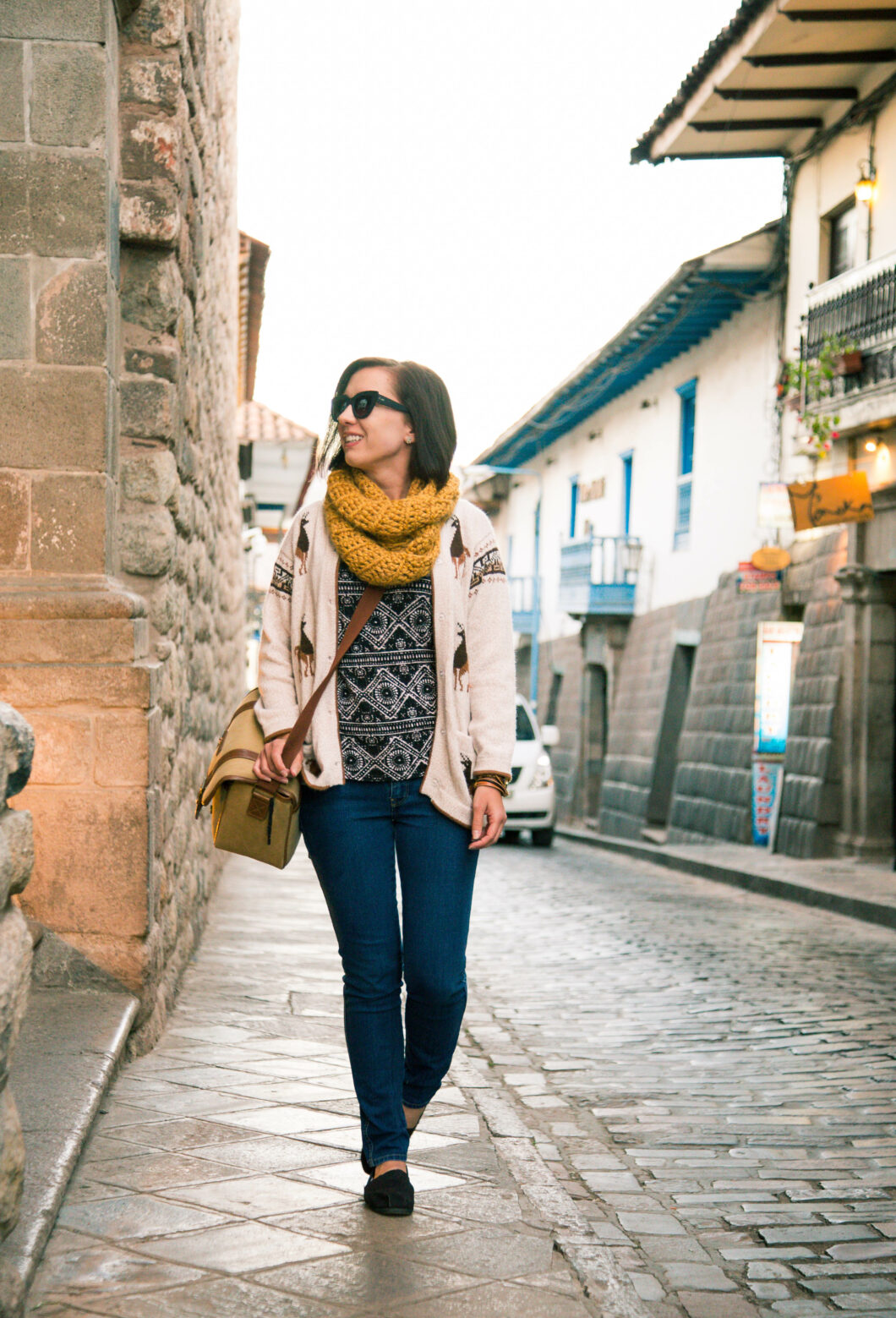 But anyways, let me quickly talk about this outfit before I let you go! Now, if you're not going to be in Cusco anytime soon, but happened to be intrigued by the idea of purchasing Alpaca sweaters from Peru, I've found that both Etsy and Amazon have a pretty decent online selection! And as you can probably tell, I lived in my new, handmade scarf + TOMS + jeans & only used my camera bag the entire time I was in Peru. These were all fabulous purchases for this trip. Comfort was key, and it would get pretty chilly in Cusco!
*Click here to see all of my blog posts from Peru.
Want to travel to Cusco with me? I'm hosting a 10-day small-group tour to Peru in November 2022! See the details here.
Have you ever felt Alpaca fur? And what's a recent purchase you've made that you were really happy with? Let me know in the comments!
**I'm also very excited to be featured on A World of Dresses as part of their "Women Around the World Series!" Click here to check out my interview.
Where to find it:
Cardigan: "Artesanías Asunta" in Cusco (Online options here)
Top: Gift from my mom (Similar here)
Scarf: AK Kerani
Jeans: H&M (Similar)
Shoes: TOMS
Watch: c/o* JORD
Camera bag: Amazon
Sunglasses: Quay
Travel Insurance
It's a good idea, no matter where your adventure takes you, to have travel insurance. You never know what might happen! Whether you get sick before your trip and can't go, or you become sick or injured while on your adventure – being covered with travel insurance is a must. Some credit card companies do provide this service (check with yours), or you can get a quote from companies such as Squaremouth to find the best plan for you and your adventure. (This is the company I, personally, use. They are even recommended by Forbes!) To get a free quote, click here.
Visa Requirements
To check if your country requires a Visa for traveling to Peru, click here.
Want to Learn Spanish Before Your Trip?
Knowing some basics in Spanish can be helpful for your time in Peru. Try a free 3 day trial of Rosetta Stone (the best way to learn a foreign language) by clicking here.
If you like it, Pin it!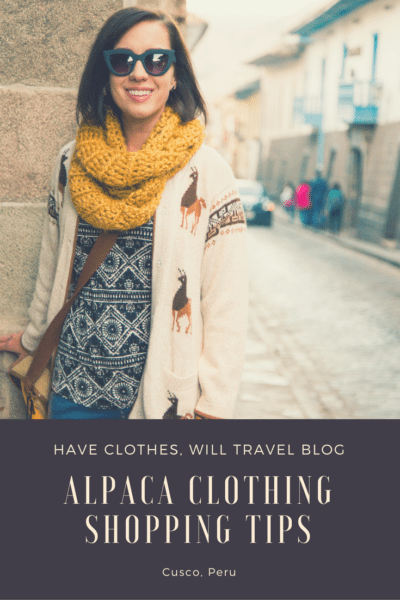 Disclosure: some of the links in this post are affiliate links. Meaning, if you click a link and make a purchase, Have Clothes, Will Travel gets a very small commission. Thank you for supporting the brands that make this blog possible!
*c/o = courtesy of, meaning the company gave me the product to be used on my blog, and I did not pay for it. All opinions are my own, and I am not being compensated for a positive review.