Bundled Up in Fall Attire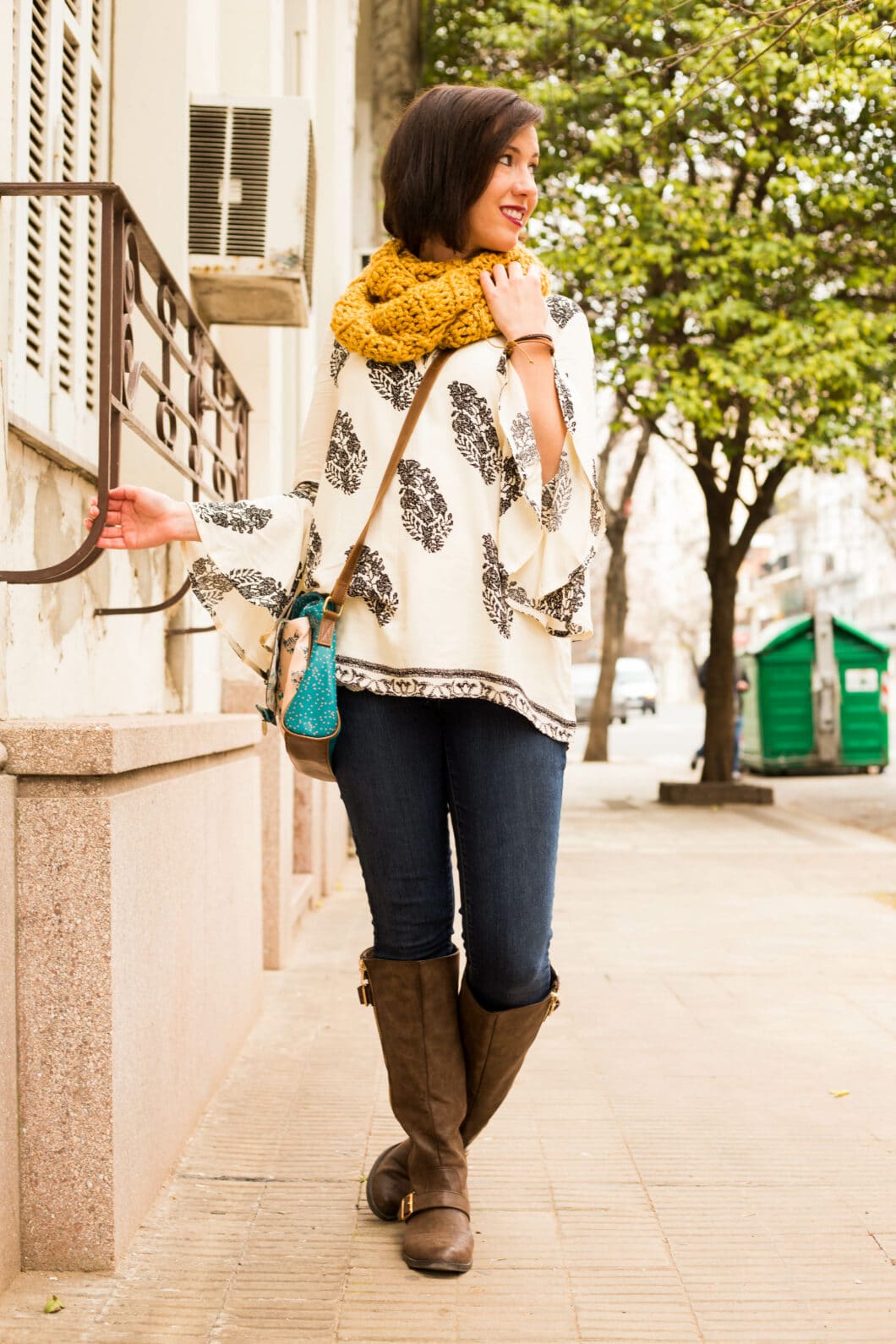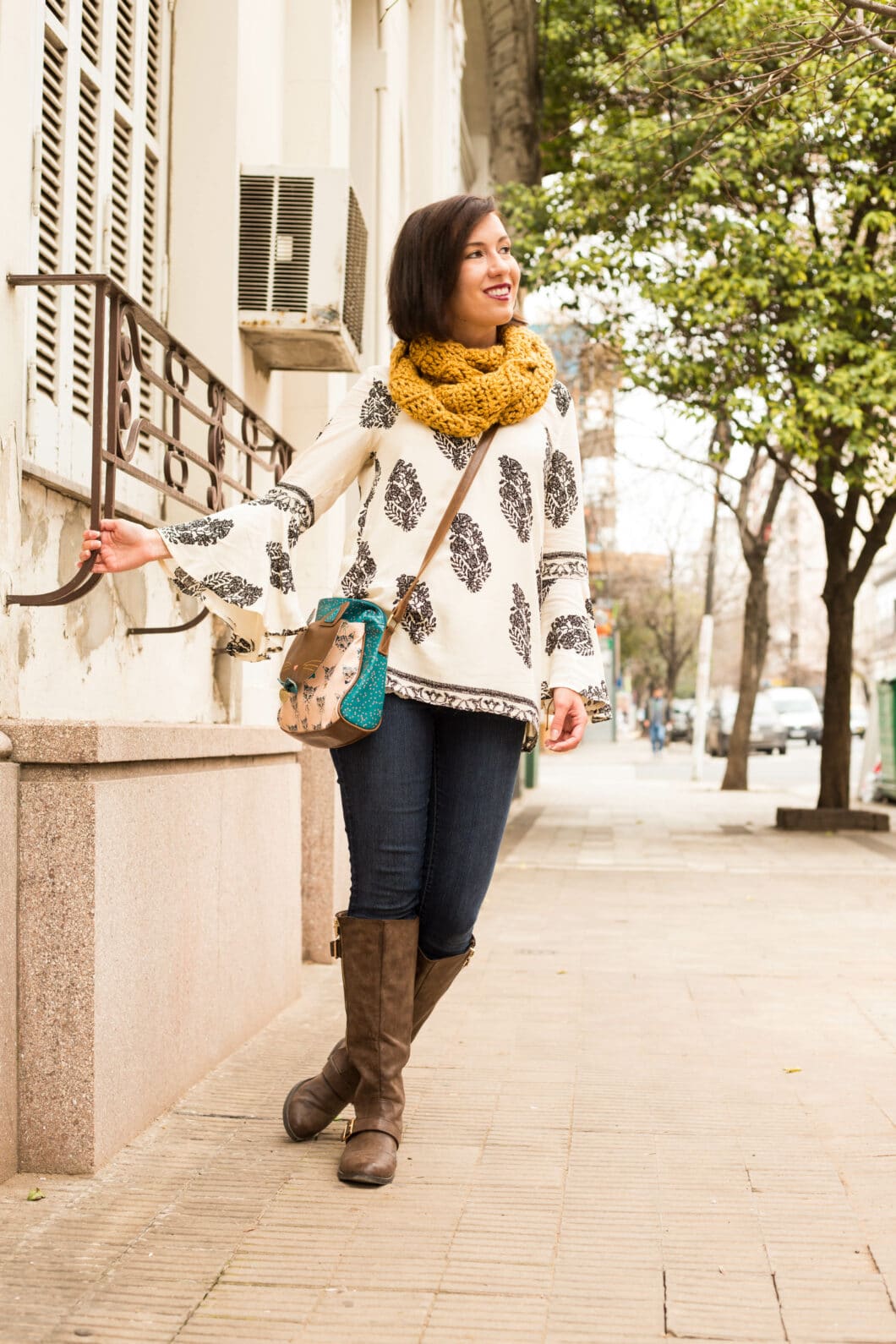 Click to shop:

It's really been fun trying to dress for all the seasons this week, haha. My last outfit post was all about spring, and then the temps dipped back down to make it perfect to break out my fall/winter wardrobe again…all in the same weekend.
And while I'm generally a fan of wearing vintage inspired dresses or skirts on the weekend, this past weekend I was all about jeans and silky tops. The top featured in this post is a new one from my friends at Shein, and it's only $13! My plan had been to wear and then feature this top while I'm on my trip to Peru next week…but, I just couldn't wait! (And this likely means it'll be appearing in another post soon, haha.) I just love the sleeves and how comfortable this shirt is. My only complaint about it is that it wrinkles pretty easily (not ideal for traveling). So, I'll just have to iron it when I get to Peru!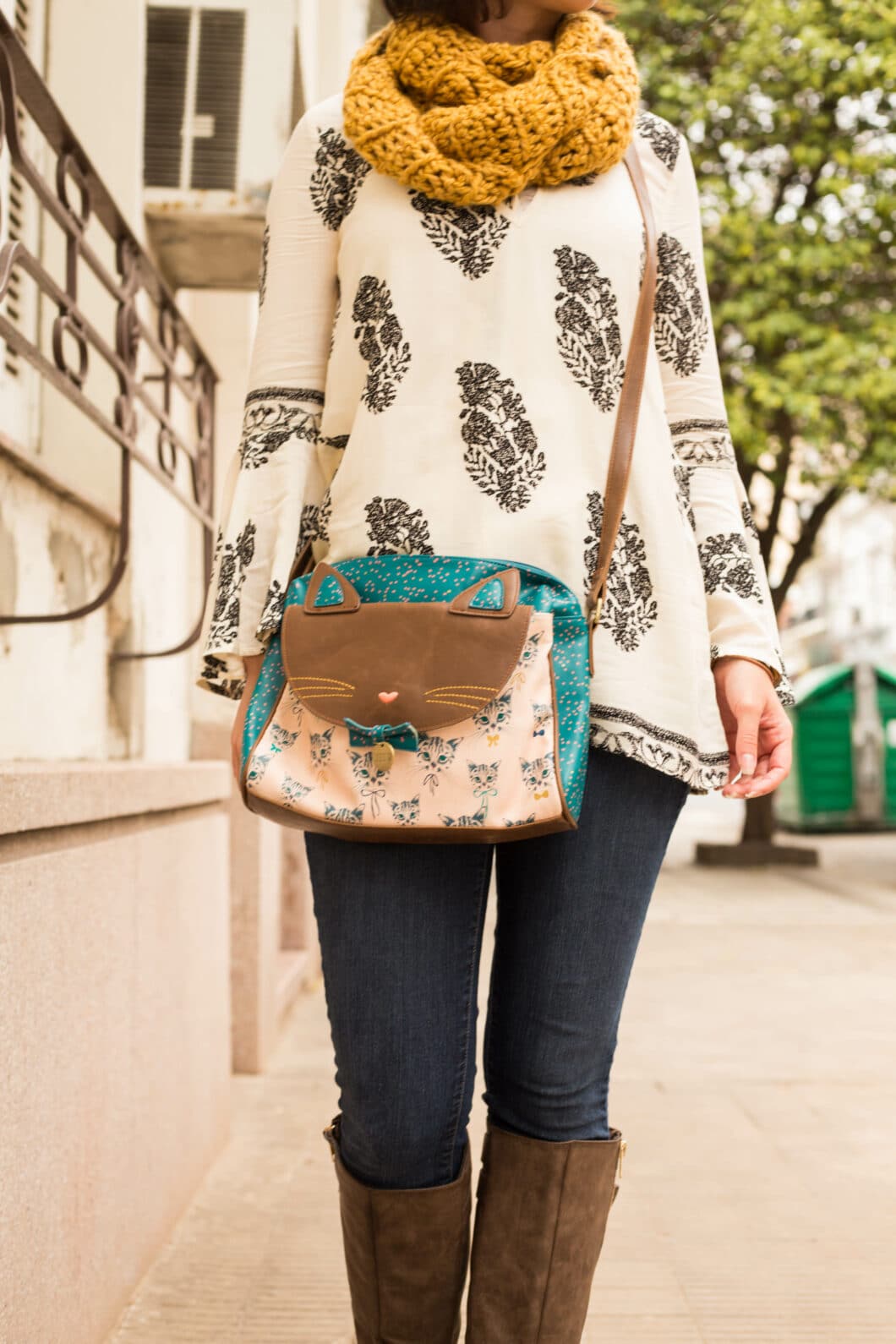 I could not resist ordering this little kitty purse when it went on sale (and it's still on sale!). It is so gosh darn cute, and it's surprisingly roomy. I'm able to fit my wallet, small hairbrush and my DSLR camera + 50mm lens in it while I'm walking around! Most novelty bags don't have that kind of room. So, I am really excited with just how big this bag is! It's also really well-made, in my opinion. Granted I've only been using it for a couple weeks, but I'll keep you posted on how well it holds up as I continue to use it.
I'm also really excited about my scarf! It was made by my new friend over at AK Kerani. My mom even ordered one as well, and we both love them! Danielle from AK Kerani is actually going to be on my blog soon talking about her very unique knitting company. But if you just can't wait for her feature, definitely check out her website by clicking here and order a scarf from her by clicking here!
And congratulations to Jodie! You won my $50 Unique Vintage gift card giveaway for my blogiversary! Thank you so much to everyone who entered. I'm working on another giveaway coming up soon. So, fret not if you didn't win this time around. 🙂
As a reminder, I'm heading to Peru tomorrow morning, and I'll be taking my first week-long blogging break ever! That means next week, there won't be any new posts on Have Clothes, Will Travel. And I'll sort of be back to blogging the following Monday. I have posts scheduled to publish, but I will still be in Peru until Tuesday 9/12, and then heading to Atlanta, Georgia for the rest of the week before heading back to Argentina. Phew! So, the blog will be up and running, I just may be a bit slow when it comes to responding to comments, emails, etc. Thank you so much for your understanding, everyone! I promise the Peru posts will be worth the wait. And you can follow my adventure live on my Snapchat and Instastories if you're interested. (I'm starting out with hiking Rainbow Mountain Sunday morning! I'm so excited!)
Which season are you dressing for these days? Is it spring in your neck of the woods or heading into fall? And I'm curious too, do you prefer using Snapchat or Instastories? Let me know in the comments!
Where to find it:
Top: c/o* Shein
Purse: ModCloth (On sale!!)
Scarf: AK Kerani
Jeans: Old (Similar here)
Boots: Amazon
Disclosure: some of the links in this post are affiliate links. Meaning, if you click a link and make a purchase, Have Clothes, Will Travel gets a very small commission. Thank you for supporting the brands that make this blog possible!
*c/o = courtesy of, meaning the company gave me the product to be used on my blog, and I did not pay for it. All opinions are my own, and I am not being compensated for a positive review.