Shop the look:

This dress actually has a bit of an interesting story behind it. I had bought it a couple years ago for my cousin's wedding in India. This was one of the only night's I wore something other than a sari for the wedding (Hindu weddings last for days). And I had to perform a polka dance from my native land of Wisconsin in front of hundreds of wedding guests in India, who have never seen the, ah, interesting polka dance. Haha!
Something you should know about me is I'm not a terribly coordinated person, and my dancing abilities are atrocious. Therefore, I don't like dancing. At all. And I also am not a fan of being the center of attention. So, being on a stage with just a few people dancing to a polka in front of hundreds of wedding guests is one of the most mortifying moments of my life!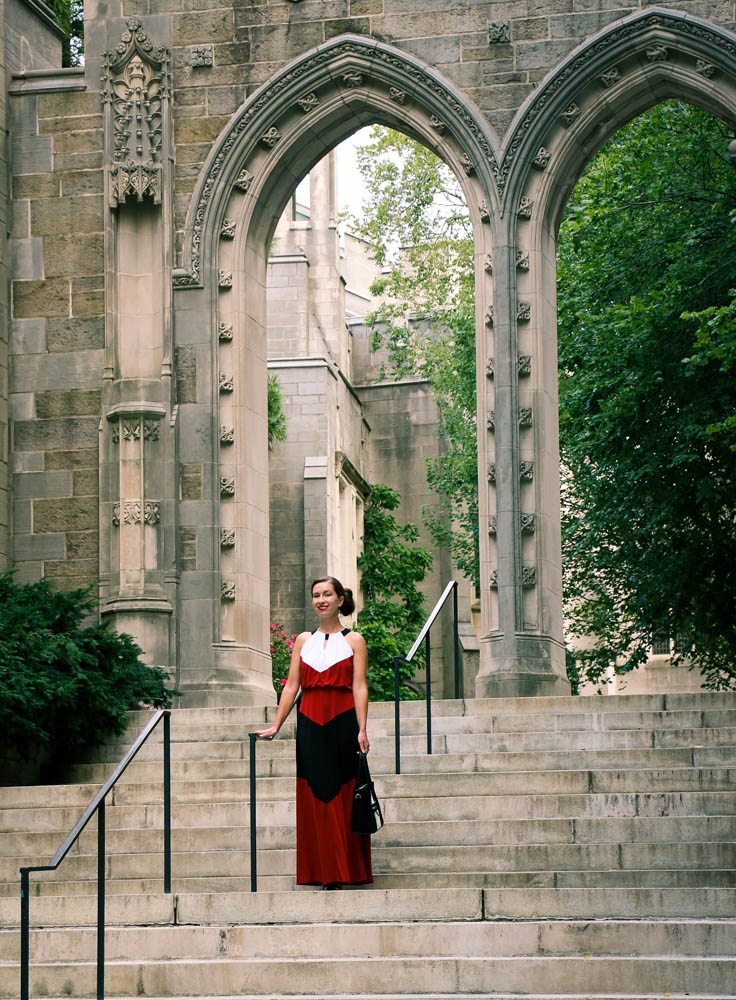 But I survived. And fortunately, there were no clear photos of me that evening. So, it's just a distant memory that makes me giggle when I think about it now. However, this dress needed its chance to be properly documented, because it's so pretty! It's one of the few maxi dresses I have that I think is actually flattering to my body type. And one of the most wonderful parts of all the White House Black Market dresses I own is that they don't wrinkle!
I felt like I needed to make a serious model-like face while I was wearing it too. Haha. (Is that what models look like? Probably not, haha.) It's a very elegant dress, but I think I was trying to be all fashionable because I'm heading to New York Fashion Week tomorrow to attend my first ever fashion show! That's why this post is named "Burying the Lede" or "Burying the most important facts in a story." My journalism professors would not be impressed with me saving the most exciting part of this post for the end. Haha! But it seemed weird to just start the post off with that and not give the clothing its shining moment.
But anyways, I'm not going to lie, I am incredibly excited to see NYFW in person! Wish me luck, though, because I am going to be the only person at NYFW who isn't trendy and barely knows what the latest fashions are! My personal style is a bit quirky yet classic, and I just wear what I like, not what's in style at the moment. So, eh, I may stick out like a sore thumb. But that's okay, because I will be wearing something that's very me. 🙂
I will have a post up about the day as soon as I possibly can. However, that being said, my blog post dates might be a little wonky this week, with all the extra excitement. I will be updating my Instagram and Twitter quite frequently, though, if you'd like to follow along!
Is anyone else out there going to be at NYFW tomorrow? Let me know in the comments! I would love to meet other fashion lovers and bloggers while I'm there!
Where to find it:
Dress: White House Black Market (similar here)
Heels: Macy's (similar here)
Purse: c/o AMI Clubwear