Houdini's Magical Museum in Appleton
If you liked this post, it is now available as a self-guided walking tour on GPSmyCity! Click here to download it.
Fun fact: Harry Houdini and I grew up in the same area! Houdini moved to Appleton, Wisconsin from Budapest, Hungary when he was 4 years old. However, he told his audience that he was born in Appleton, Wisconsin.
Because of Houdini's time in Appleton, we have a museum dedicated to his awesome magic tricks/escapes! It's a really interactive museum called "History Museum at the Castle." My husband and I went with my husband's little brother to check out the museum this past weekend. I've lived in the Appleton area for the majority of my life..but have never actually been to this museum until this weekend.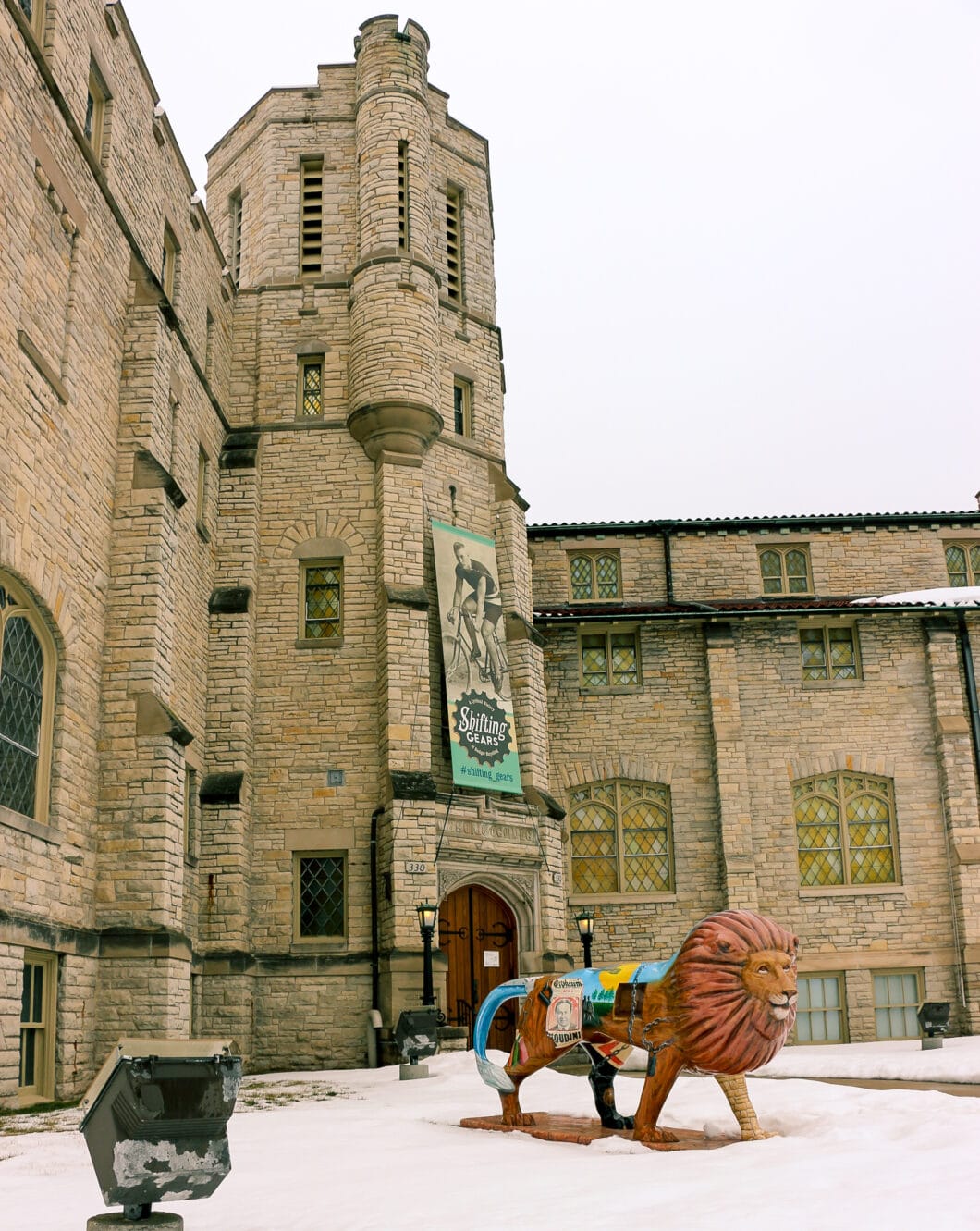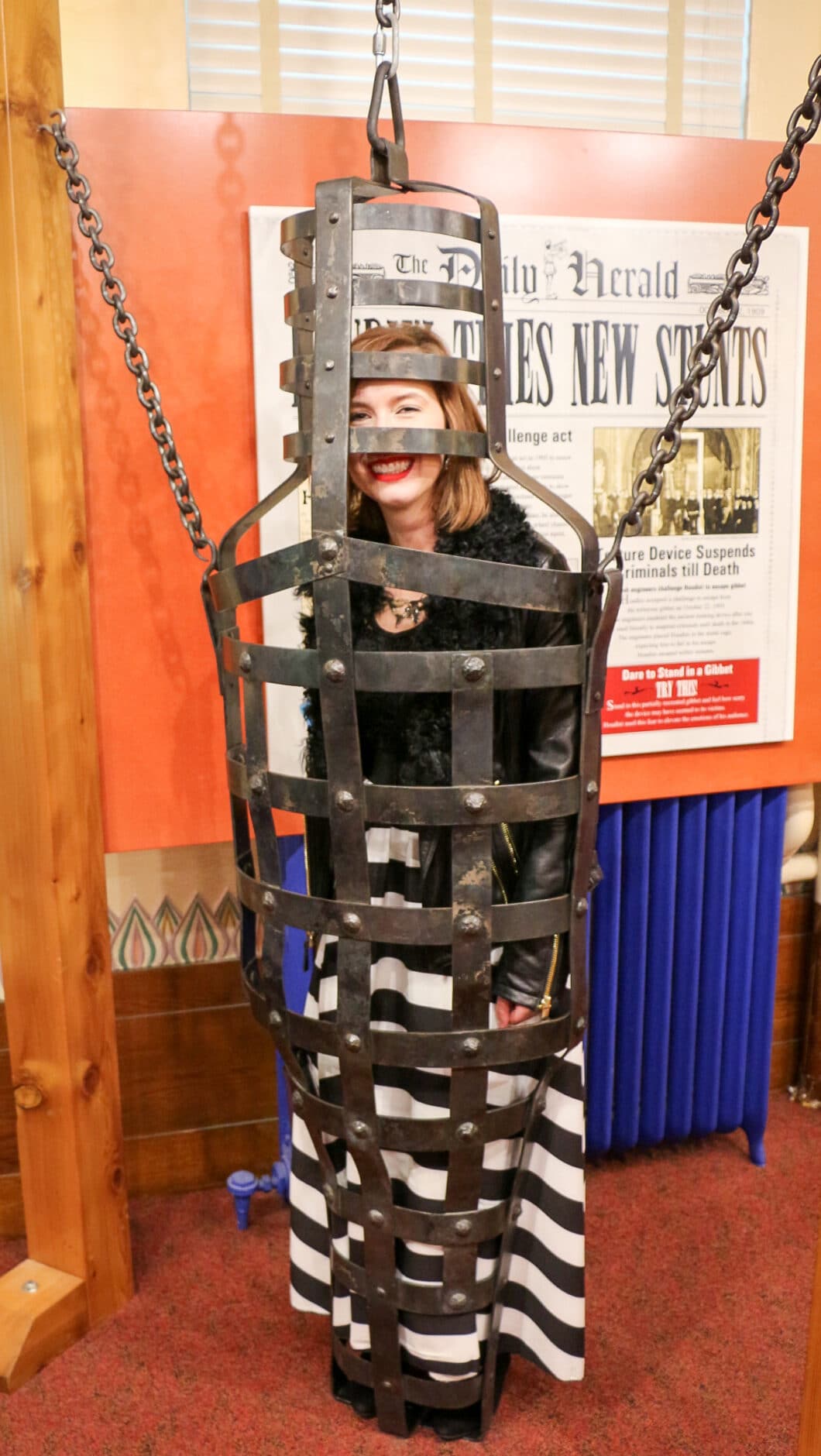 Admittedly, the Houdini exhibit is geared more toward the kiddos. However, it sure doesn't mean the adults can't enjoy it too. (I know I sure did!) And we learned some super interesting facts about Houdini and his tricks…and even were able to try out some of his tricks!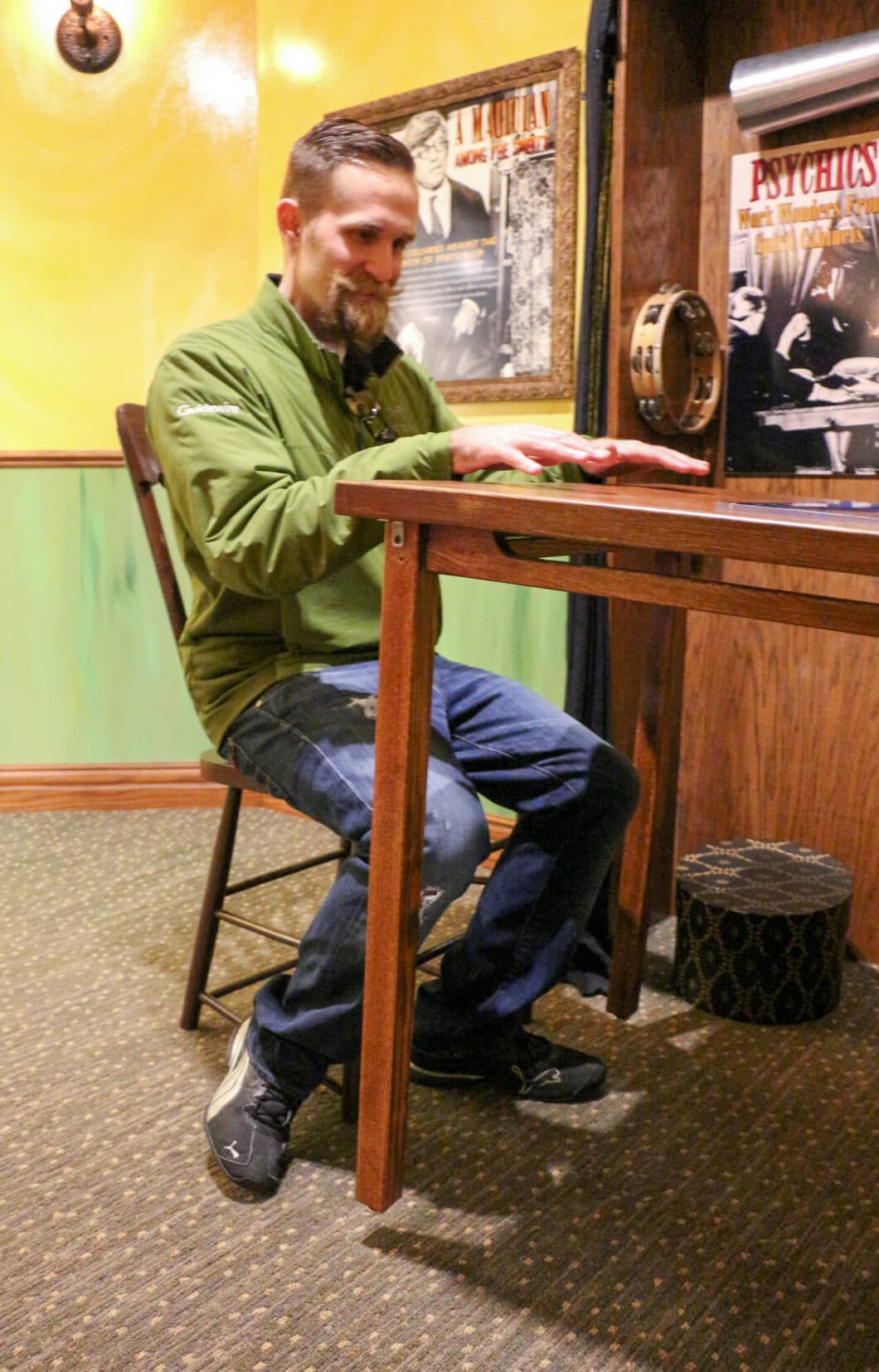 For example, there's a section where you can make a table "levitate," like my husband is doing in the photo above. But if you look at the photo below, you can see how he was actually making the table levitate.
This trick was something Houdini did to actually discredit psychics and mediums. Something I didn't know about Houdini, he had gone on quite the fight against mediums and psychics. Houdini knew their tricks as well…and didn't like that they were (in his words) preying on grieving families (who were trying to contact their dead loved ones). He actually went before Congress to try and get a law passed to make mediums illegal in Washington, D.C., and he frequently attended séances in disguise in order to expose the mediums.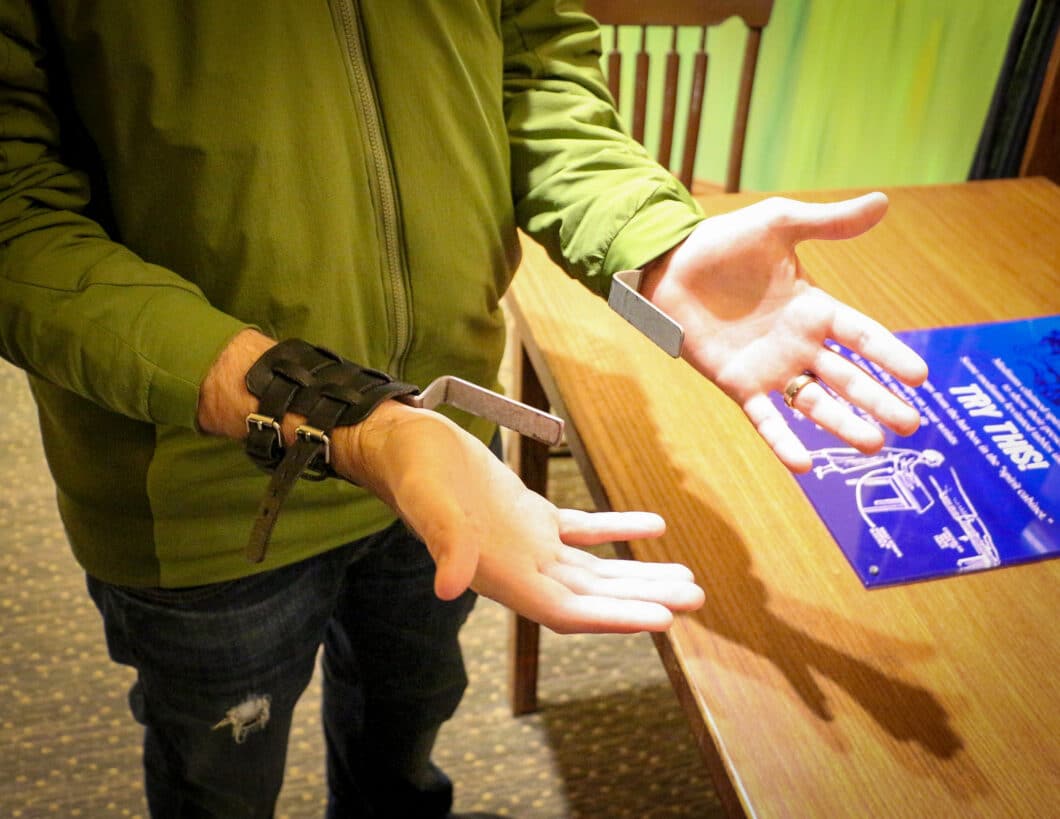 Another fun tidbit, Houdini is obviously known for his ability to escape everything from handcuffs to jail cells to milk cans. The police had challenged him, and said he was able to do these things because he hid the keys in his clothing. So, Houdini decided to escape from a jail cell in the nude to prove them wrong!
However, we learned that he was able to do these crazy escapes because his friends would hide keys in the locations he was escaping. Ryan (my husband's little brother) had to search for the key in the jail cell so he could escape. 🙂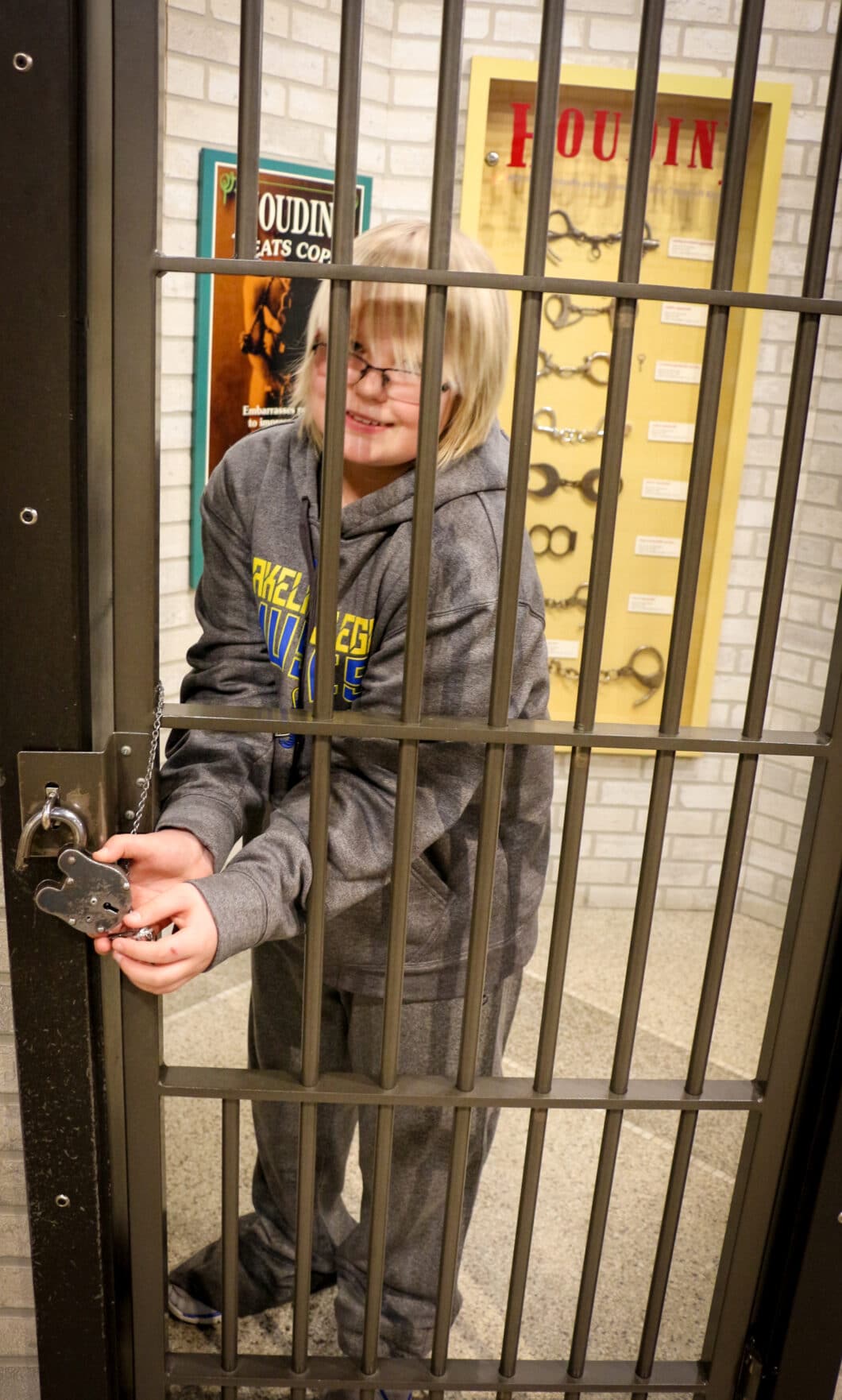 I think my favorite part of the exhibit was seeing Houdini's actual straightjacket that he wore in his shows and escaped from while being suspended from a crane!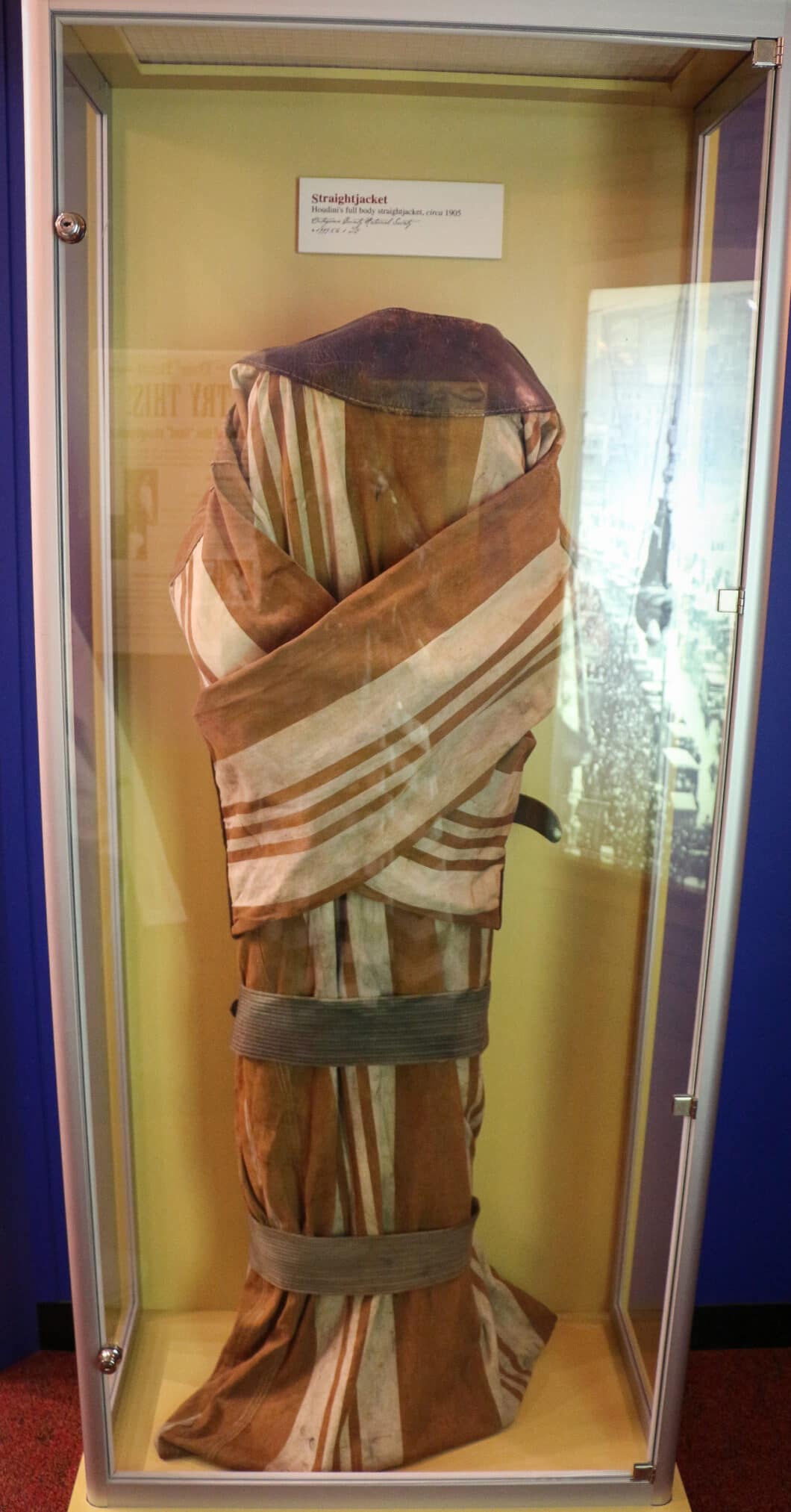 We also enjoyed trying on a straightjacket at the museum and trying to escape from it. Haha.
The photo below, of my husband getting locked up in one of Houdini's contraptions, is my favorite from the day. I love the facial expression. Haha. (Don't worry he was able to escape!)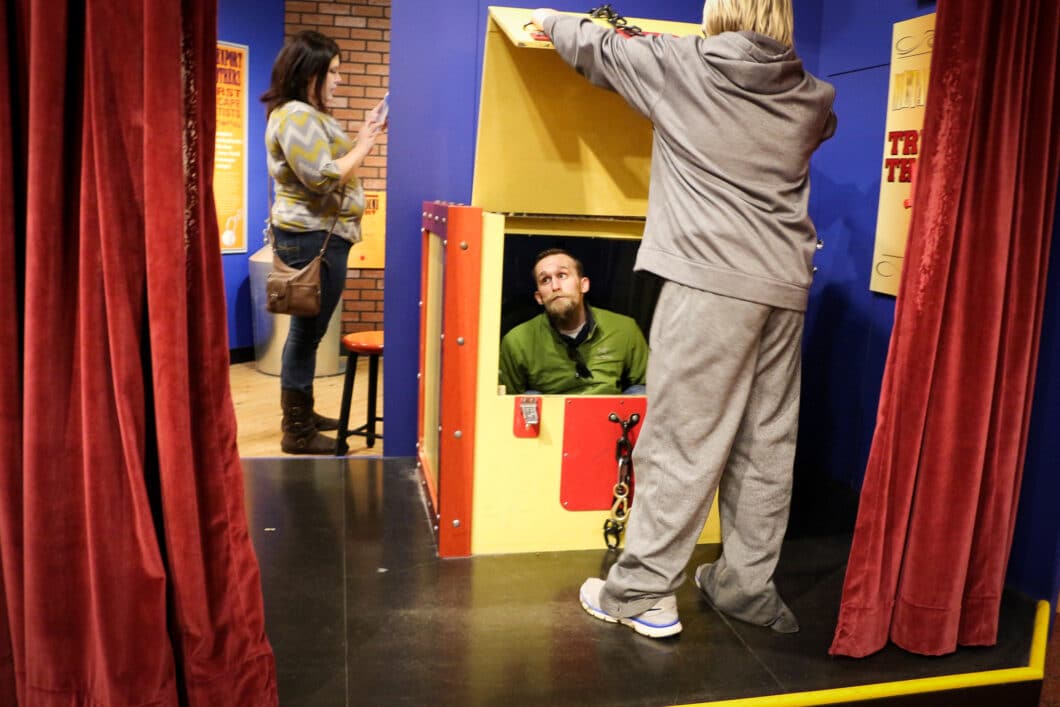 We really enjoyed the Houdini exhibit! It's actually one of several exhibits in the museum. (I had always thought that's what the whole museum was.)
To keep this post from getting too long, feel free to click on the photos in the gallery below that interest you.. to read more information about Houdini and his museum. And keep scrolling if you would like to see more photos from the other exhibits, plus the winners from last week's giveaway!
There was also a section in the basement of the museum that showed what Appleton was like when it was first founded. Appleton is known for its many paper mills, so there's quite a bit information dedicated to explaining this.
And there's a whole section explaining the origin of my husband's hometown…which we found very surprising. My husband's hometown of Nichols, Wisconsin has about 200 people in it. It was really fun to learn about! We were even able to see a photo of the house he grew up in…as it was being built about a hundred years ago! Cool stuff!
Needless to say, we really enjoyed our trip to History at the Castle! If you would like to learn more about this museum, click here. Also, admission was $12 for adults and $7 for kids (under 18). And it took is about 1 1/2 hours to go through both the Houdini exhibit and Appleton exhibit. We skipped the bike exhibit (sorry!).