How ModCloth's FitShops Work // Featuring ModCloth Washington, D.C.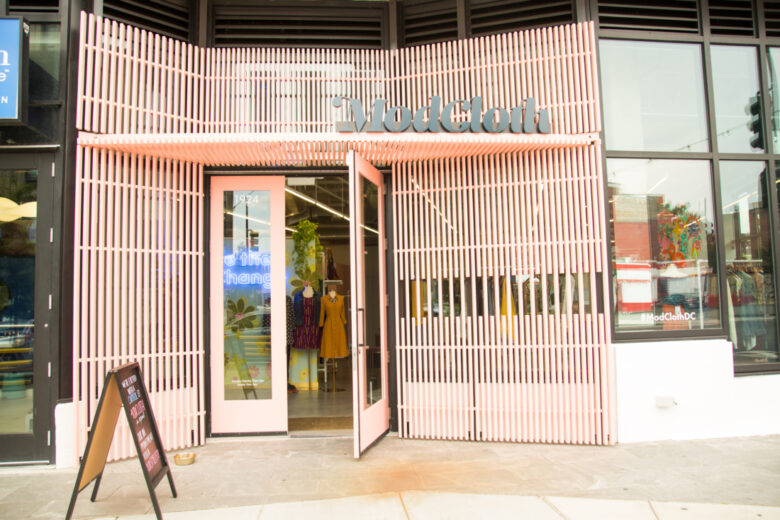 ModCloth recently opened a new brick and mortar store in Washington, D.C. This will be their 3rd permanent location (including Austin and San Francisco). However, ModCloth's "FitShops" aren't your normal run-of-the-mill shops! I was fortunate enough to visit the Washington, D.C. FitShop last week and will explain how it works, plus my thoughts on the experience (and show some of the fun things I found) in this post.
How ModCloth's FitShop Works
Usually, when you go to a clothing store, you wander around, try some things on and then purchase them. Given that ModCloth is a fun, online retailer, that's not exactly how your shopping experience is going to go here – not that that's a bad thing.
While you can certainly wander into a ModCloth store and look at their super cute merchandise…you won't actually be able to buy the items in the store. Let me explain how this works…
1.) Make an Appointment with a ModCloth Stylist
To get the most out of your ModCloth shopping experience you should make an appointment ahead of time with a ModCloth Stylist. (Click here to do that!) You'll answer a short questionnaire when you make your appointment, so your stylist will know roughly what you're looking for. You can also give them permission to look at your ModCloth account, so they have a better idea of your style.
Pro Tip… Update your ModCloth wishlist! I, unfortunately, hadn't done this and had bought many of the things on my wishlist already. My poor stylist had to take a completely different direction with their picks once I showed up and said… "Sorry, I already bought all of this." My stylist was fantastic and had a new set of clothes for me to try on in no time – but it would've been much more efficient on my end to just have updated my wishlist before going in!

2.) Chat With Your Stylist + Shop Around
Once you arrive at the store, your stylist will sit down and chat with you about what you're looking for. They'll also let you look around the store at what's all in stock. You'll then get a little notepad to write down your favorite items. Then, you and your stylist will put together a whole bunch of outfits to try one! Let the fun begin!
3.) Try It All On!

Then comes the fun part…you get to try everything on! Your stylist will hand you the outfits they put together, and they will also be more than happy to offer any opinions and suggestions. I had so much fun trying on the different outfits my stylist put together. I wouldn't have even bothered to try this jacket, so I am so happy my stylist suggested it! It turned out to be my favorite item of the day.
4.) Place Your Order or Add to Your Wishlist
Once you're done trying on your outfits, you and your stylist will chat a little more about what you liked and didn't like. You can then add items to your shopping cart or put them on your wishlist for later. The big perk of shopping in store is not only getting to try things on before you buy, but you'll also get free express shipping right to your door! And if you're lucky, you might stumble on a coupon when you're in store too.
So, you won't be able to take the items home with you that moment, but you'll get super-fast free shipping!
My Thoughts on Shopping at a ModCloth FitShop
I had a blast shopping at the ModCloth Washington, D.C. FitShop! It was incredibly dangerous, haha! This is because it was a great opportunity to see things in person that I was too afraid to order online, as I wasn't sure if I would love them (especially shoes – I have a really hard time ordering shoes online).
Those oxblood loafers are currently sitting in my shopping cart now! They fit my wide feet and were super comfortable.
Also, it opened my eyes to products I had seen on the website, that I didn't think looked all that great. For example, the cute, cactus purse below is SO much cuter in person than it is on the website. Honestly, when I saw it on the website, I thought it looked rather cheap, but seeing it in person…oh man, I fell in love.
Shop Local
I also thought it was nice that ModCloth was trying to feature small, local businesses. My stylist was telling me how a very talented jewelry maker was selling her handmade pieces in the store earlier that week. (I think they had all sold out by the time I got there!) There was also a local plant store selling succulents and bouquets. ( I think they were leftover from earlier in the week – fresh shipment coming on Monday!)
What I Found at the ModCloth DC FitShop
I found entirely too many cute things at the ModCloth Washington, D.C. FitShop! Like I said this was dangerous… Feel free to also click on any photos below to go to the products on ModCloth's website!
Absolutely loved this dress…didn't realize I needed it until I went into the store, haha. It's true-to-size and so comfy and soft!
It was so much fun to finally try this galaxy dress on too! It looked way better on than I expected. It seemed like the arm holes were a little big on me, though. I'm not sure if I'd feel comfortable wearing it without a cardigan (because you could see my bra from the side). But gosh, I really liked it!
And how GORGEOUS are all these heels? I have the gold pair already, but I really want the middle pair with the flower! (The grey sparkly pair would be wonderful for a wedding.)
Yep…totally bought this mustard bag I've been talking about nonstop. I'm SO excited!
My ModCloth FitShop Shopping Bag
So, the widget below is everything that I added to my bag…(Whoops!)

Bottom line…
If you happen to be near a ModCloth FitShop, by all means – go to it! You'll have so much fun! But be sure to set a budget before you go, as it's awfully tempting to buy the entire store once you see it in person! (And update your wishlist before making an appointment!)
Has anyone else visited a ModCloth FitShop? If so, how did you like it? Let me know in the comments! P.S. – Don't forget! I'm giving away a $100 ModCloth gift card! Click here to enter!
Enjoy a few more photos from the store, below, And click here to shop ModCloth online.
*Disclosure: some of these links are affiliate links. Meaning, if you click a link and make a purchase, Have Clothes, Will Travel gets a very small commission at no extra cost to you. Thank you for supporting the brands that make this blog possible! I am also a participant in the Amazon Services LLC Associates Program, an affiliate advertising program designed to provide a means for us to earn fees by linking to Amazon.com and affiliated sites.
*Thank you to ModCloth for partnering with me for this post. As always, all opinions are my own, and I am not being compensated for a positive review.