Kathrine of "Covered in Cathair"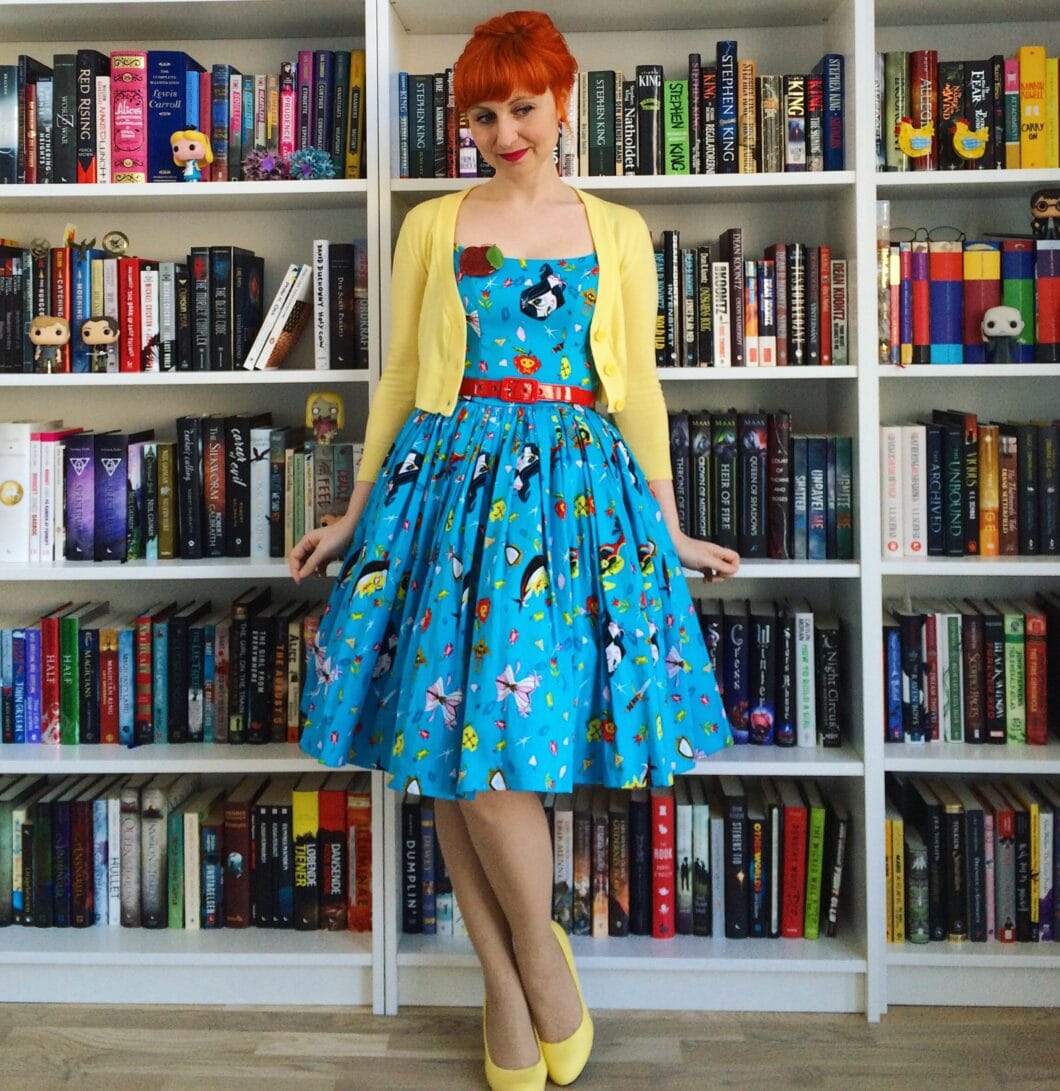 Meet Kathrine! She's April's Featured Fashionista and the creative mind behind the blog "Covered in Cathair." She's also the Instagram star @missinformation! Following Kathrine's Instagram always makes my day, her outfits are to die for, and she has the wittiest captions. (Her Instagram photos are so cool, they're even getting featured on BuzzFeed!)
Covered in Cathair is actually the first blog I ever followed when I first started my blogging journey. (And Kathrine was one of my very first followers in return.) She was so kind and supportive of my first attempts at blogging/Instagramming – I'll always be grateful for that! Also being one of the reasons I looked into Weebly alternatives to start publishing my blog posts.
Kathrine lives in Denmark and English is actually not her first language…I honestly didn't know this until she told me, her English is far better than the majority of native English speakers. (Her blog and Instagram are both in English.) She also has a very cool day job…but I'll let her tell you more about that!
**UPDATE: Kathrine's blog is now called "The Miss Information Blog" click here to check it out!
Q&A With Kathrine
Tell me a little about yourself.
Kathrine: I am a children?s librarian by day and Instagrammer by night. If I were a superhero, my powers would probably be reading really fast and being witty. So, not the most effective superhero. 🙂 I love cats but I don?t have any at the moment. When I split up with my ex he kept them because I?m not allowed pets in my new flat. I miss them every day but I know they are well taken care of. My favorite TV-shows are ? everything British almost. Doctor Who, QI, Bad Education, Would I lie to you, Mock the Week. I love that stuff.
How would you describe your blog, ?Covered in Cat Hair??
Kathrine: It started out as a fashion blog, but I quickly realized I found that a little boring and it showed in my writing – it just wasn?t that good ? and frankly everyone else thought it too >.< I didn?t have a lot of readers and while I do believe you should blog because you want to, not to make someone else happy, clearly neither my followers or I thought I had any fashion blogger talent, so I started blogging about more serious topics.
How did you start blogging? And what inspired the fun name, ?Covered in Cat Hair??
Kathrine: Like a lot of other bloggers, I started on IG but that being a very visual platform I felt like I needed a more word based platform. However, now I feel like I much prefer the micro-blogging style in IG, so my blogging is sporadic at best. 😉
The name came from when I lived with two cats ? it was really just my everyday life to be covered in cat hair, but I guess I should find a new one now. :-/
Your blog covers a wide range of topics from style posts to book reviews to more serious topics. What would you say your favorite topic to cover is and why?
Kathrine: Something that people can relate to and not feel like they are the only ones who feel that way or make mistakes. Often we only show all the good stuff on social media and while I completely understand it often leaves you with a feeling that everyone but you has a perfect life. I want to show that we?re all real people.
Your Instagram account is also amazing! Your photos are super cute, and you always have such witty captions. ☺ If you had to pick, what are your 3 most favorite Instagram posts you?ve ever posted?
Oh, this is difficult. Because sometimes I have a great caption but I?m not too happy with the picture or the other way around.
I think my favorite outfit posts are these:
But my favorite captions are not necessarily the ones I wrote with the pictures. I don?t know what my favorite captions are but I always enjoy when people like an old picture and I am reminded of the outfit and the caption ? and sometimes it?s just embarrassing like ?urgh I can?t believe I wore/wrote that.? 😉

I?ve noticed your photos are also getting featured on BuzzFeed! Congratulations! What are a couple BuzzFeed articles that you have been a part of?
Kathrine: I was featured in one that Unique Vintage made and my bookshelves were featured in one as well. ☺
Changing gears a bit here?but, what does your day as a children?s librarian typically look like?
Kathrine: It?s very different actually. We do a lot of stuff but some of the stuff we do is obviously help patrons in the actual library but that?s only 2-3 times a week (unless it?s flu season! Then it?s a lot more because we have to cover each other's shifts 😉 ), we also buy books for the library which takes longer than you might think, because we research how the book is reviewed (we don?t see it before it arrives at the library after we purchase it so we have to rely on reviews), how often similar books or other books by the author are checked out etc. We don?t have as much money as we would like (who does!) so it?s important we buy the right books. We also send picture books out to daycare institutions, so they don?t have to come to us all the time (we also deliver books to the elderly but obviously that?s the ?regular? librarians). We also trim the library, meaning finding the gross and ruined books (that happens in children?s libraries) and the ones no one wants to check out, or that are outdated and discard them, so the library looks inviting and you don?t feel like hosing your kids down after visiting us. 😉
What is the best book/series you have ever read and why?
Kathrine: That is an unfair question! How am I supposed to choose just one! But okay, if you make me: The Raven Cycle by Maggie Stiefvater. The writing is amazing and the characters are the best I?ve ever ?met?. It?s funny because the story isn?t something I?d usually go for but I am so glad I did!
You are always wearing the cutest outfits to work! How would you describe your personal style? And have you always had such a wonderful sense of style?
Kathrine: I would describe my personal style as quirky, fun and girly. And absolutely not! I have been around every possible style I think but the worst was my skater years with oversized jeans AND hoodies. Oh man, that was awful. My mom said I looked like a pile of laundry.
What would you say your go-to look is? And what?s your favorite clothing store?
Kathrine: My favorite clothing store is easy: Modcloth. ☺ And my go-to look is a dress and a cardigan. In fact, I think I wear that 80% of the time, if not more.
Do you have any advice you would like to share with someone who wants to start a blog of their own?
Kathrine: Blog about what you want but also monitor what your readers want. It?s not that you should write to make other people happy but it?s really demotivating when you can see no one reads what you write so try to keep it relevant ? for the sake of your own motivation.
Any final thoughts you would like to add?
Kathrine: If you want to start blogging be sure about your name! >.< I now have a useless domain called Dictiocanary and need to buy a new one and figure out how to move all my content. And this is the second time. Last time I moved from blogspot to wordpress and you lose readers each time.
Be sure to check out Kathrine's blog by clicking here, and be sure to follow her on Instagram @missinformation!