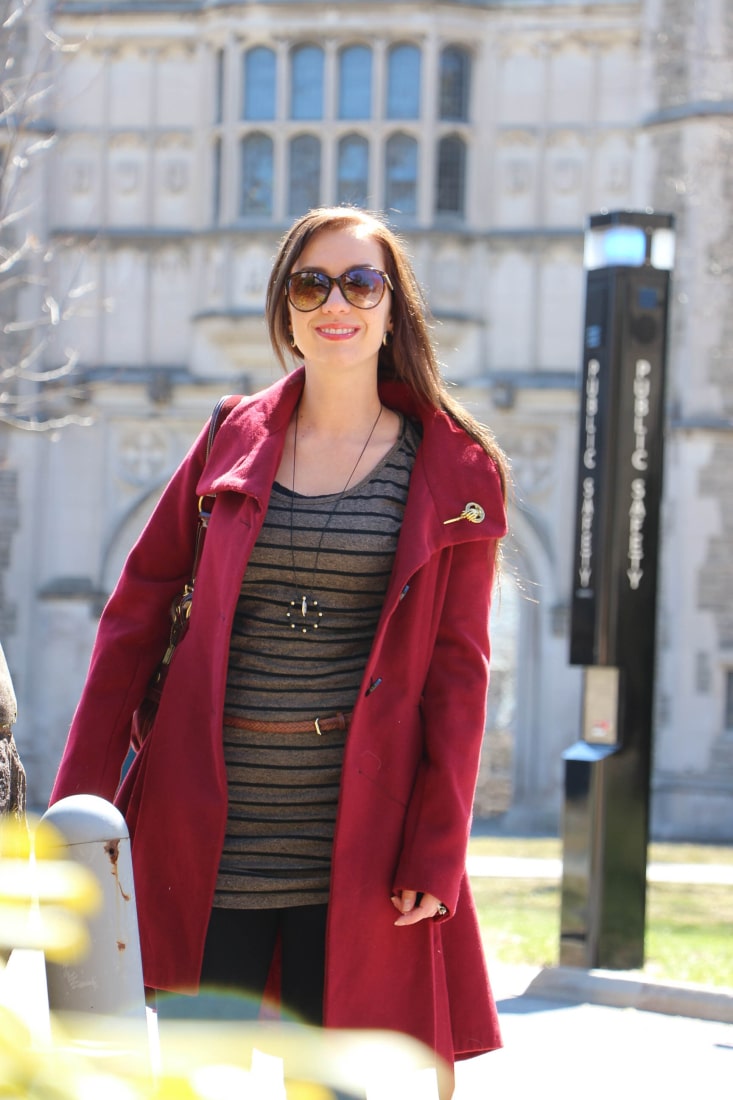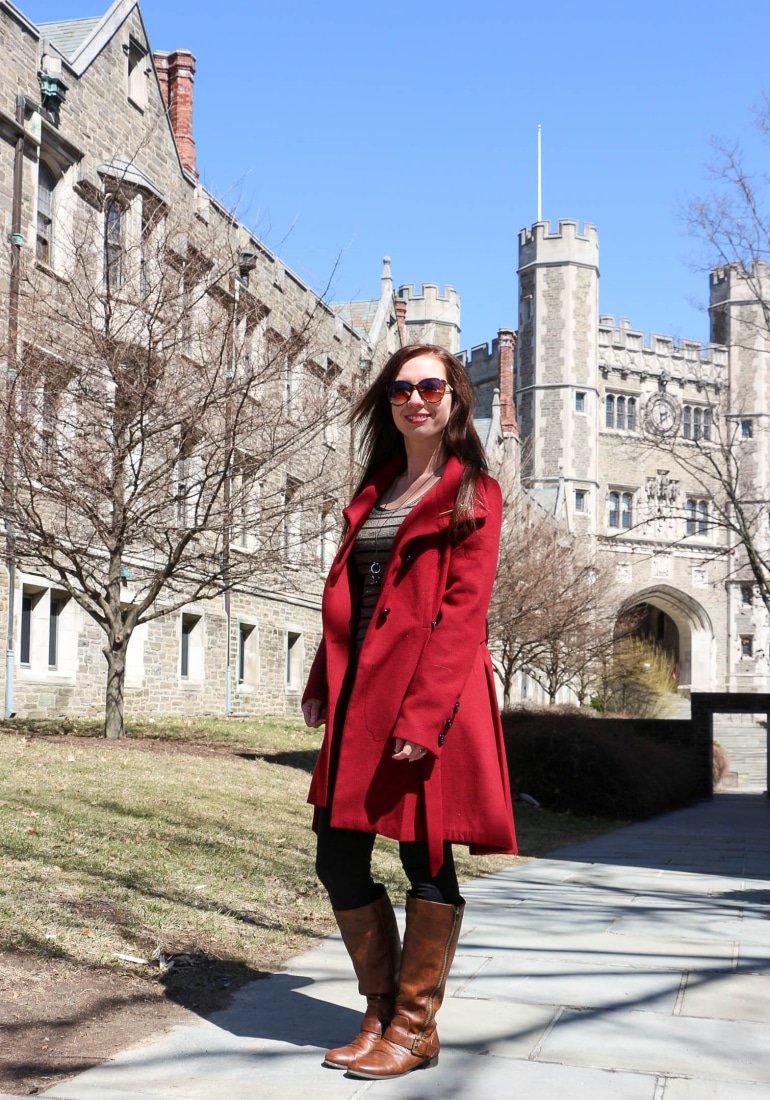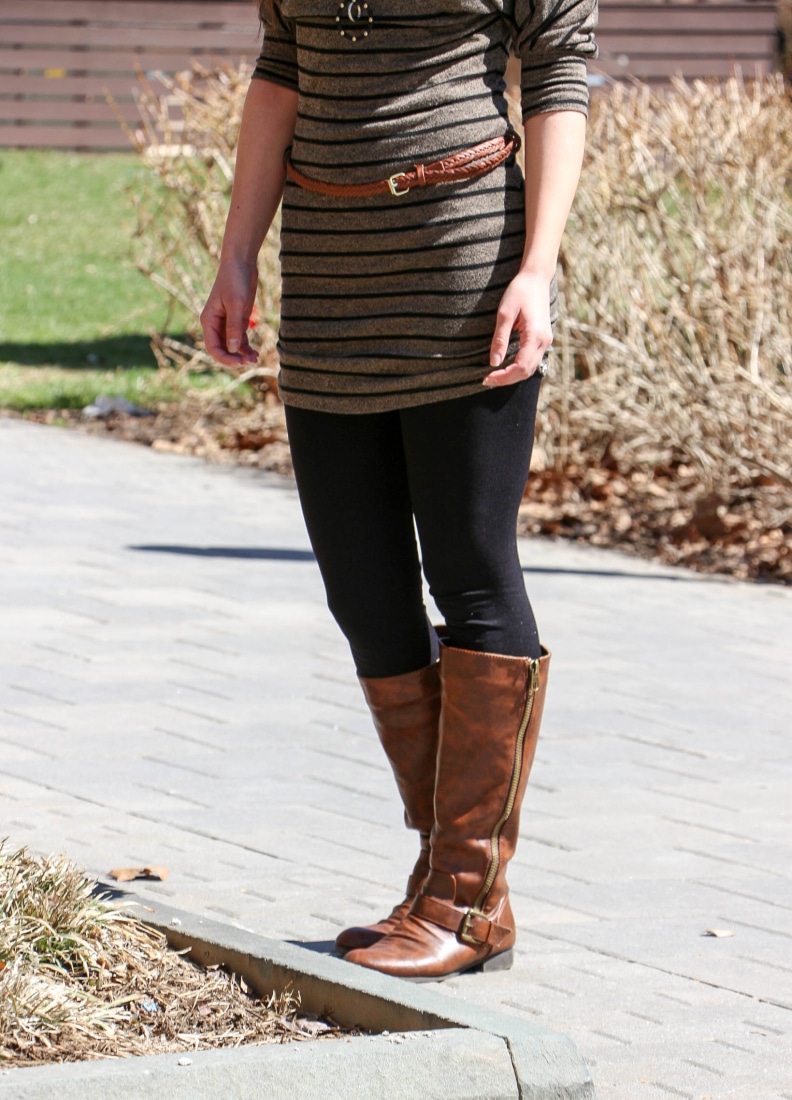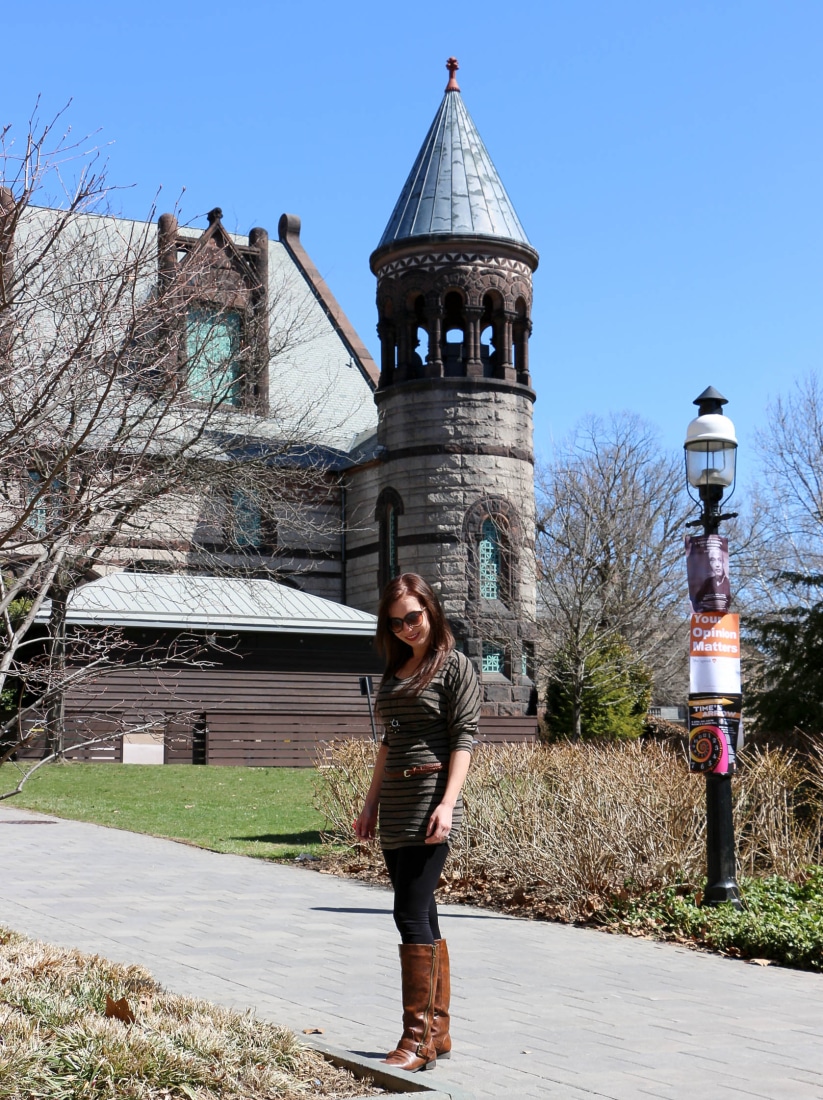 Shop the look:

After doing a little traveling over the past couple weeks, I realized I have never done an actual "travel" outfit post. I guess this is usually because my travel outfits aren't what you would call exciting, and I usually look rather windblown in travel pictures. Haha. I'm just not someone who can wear heels all day or have my hair curled perfectly… and be exploring a new city (but if you can, more power to you!). It's all about comfort for me because there is always a lot of walking involved wherever we decide to take an adventure.
This particular outfit (in the above pictures) is my cold weather outfit that I always wear when I know I will be walking for an entire day. My boots I've had for years, and I know I can put a lot of miles on them without discomfort…comfortable shoes are key when traveling! And my shirt and tights breathe well, yet, keep me warm. I also like this outfit, not only because it's comfortable, but I can also walk into a restaurant and not look completely unacceptable. (I feel like tights always dress up an outfit a bit.)
On the particular day these pictures were taken, the sun was shining, but it was barely above freezing. We were wandering around downtown Princeton and seeing what the campus looked like. I think we walked a few miles total.
However, I wore this outfit in New York City and we walked way more than a few miles. (It felt like we had walked all of Manhattan, haha.) That day was very cold and windy. I swapped out my dressy Steve Madden coat for my old Hollister winter coat. (I may be a bit too old for Hollister, but I have had this coat since high school and it's comfortable and very warm… and I love it!) I also put on a thicker pair of leggings, just to be safe.
The above pictures are from our adventure in Manhattan this past weekend. It was about 20 degrees warmer that day. I wore basically the same outfit but with a lighter dress and my red ModCloth tights. (Sorry, I didn't get any good pictures of the full outfit. While it was warmer, there were 35-40 mph winds. So, it was just too darn windy for outfit pictures.) We made a stop at the bar that was the inspiration for How I Met Your Mother's MacLaren's Pub. It's called McGee's Pub, and it was a super fun establishment! They have a few pictures hanging up of the cast, and there are a couple items on the menu dedicated to the show (such as a "Slapsgiving Pizza"), but overall it's just a fun Irish pub…not a big tourist trap.
But back to the travel outfit… I always make sure to use a cross-body style purse when I'm traveling. (This ModCloth one has been on a lot of my adventures.) Cross-body style purses are comfortable, and I always feel less vulnerable to pickpockets, because I have it swung to the front of my body with my hand on it at all times (and it's ALWAYS zipped, don't use the button up purses).
This travel outfit may not win any fashion awards, but it's comfy and I like it! The key to finding a go-to travel outfit is figuring out what you are COMFORTABLE in and not worrying just about how cute it looks.
You can click here to see my other favorite travel outfit, for slightly warmer weather. I like this outfit because the TOMS are comfortable and breathe well (and don't give me blisters!), and my jeans are really comfortable and don't get stretched out after walking all day.
Where to find it:
Coat: ModCloth
Hand of the King Brooch: Amazon
Striped Top: Forever 21 (similar)
Flowered dress: Forever 21 (similar)
Belt: H&M
Black Leggings: Kohl's
Red Tights: ModCloth
Boots: Payless (Old. Similar here.)
Sunglasses: Target