My Most Popular & Least Popular Blog Posts of 2018
Another year has come to an end! I hope you all had a wonderful 2018 and an even more wonderful 2019. Thank you so much for following Have Clothes, Will Travel through this year – I appreciate each and every one of you taking time out of your days to read my posts.
And as I did last year and the year before, I put together this post to show which of my blog posts were hits and which were flops this year. This will be a list of the posts that had the most page views in 2018, and I'm also going to share my least popular ones. (3 least popular & 10 for the most popular.)
I'm only going to be including the posts I personally wrote on this blog, and I'm not limiting the popular posts to when they were published…some of these posts were some of my very first posts on this blog that just took off! It's always fun to compare these numbers at the end of the year. This year was especially interesting because it's the first year that the majority of my top posts are travel posts and not outfit posts. That's actually exciting for me, as I really enjoy writing the travel posts and really hope they help others with planning their trips (or just inspire some good ole wanderlust)!
So, without further ado, here's my popularity list of 2018, starting with the least viewed.
Least Popular Blog Posts of 2018
3.) How to Spend 2 Days in Queenstown, New Zealand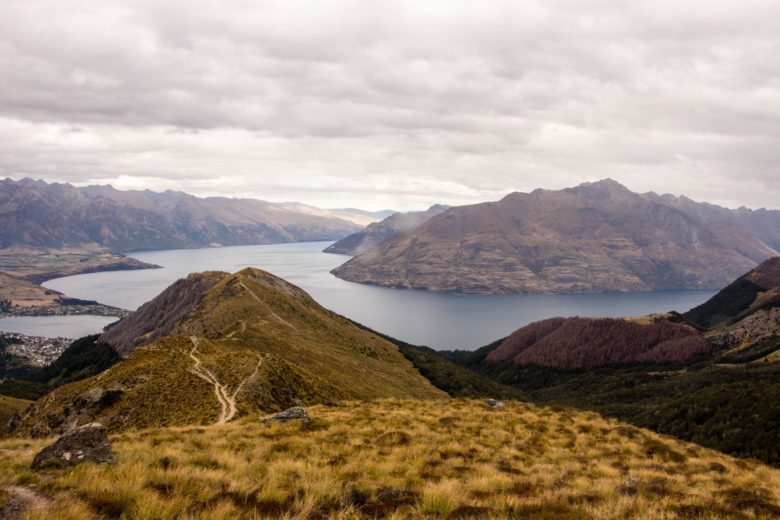 I'm totally OK with this post not having that many views! I'll take it as that means most folks have more than 2 days to spend in Queenstown. 😉 And thank goodmess for that! Queenstown is incredible.
Click here to see this post.
2.) Here's What to Expect Before Taking the Green Tour in Cappadocia, Turkey with New Goreme Tours
Unless you're heading to Cappadocia, Turkey in the near future, this blog post wasn't entirely relevant to anyone else. So, I understand why it's not up there too high yet. (And it's only been published for about a month and a half, so hopefully, it'll pick up steam next year.) However, it was my favorite day in Cappadocia! There are so many cool things to see on this day trip.
Click here if you missed this post.
1.) Return of the Beret
This is another one that was published not long ago but hasn't garnered too many views yet – making it my least popular post of 2018. Ah, well! You can't win them all! 🙂
Click here if you missed this post.
Most Popular Blog Posts of 2018
10.) We Bought a House!
Holy smokes! This feels like a lifetime ago! We bought our first house this year….and then moved to Russia, as you do. I'm really happy we were able to spend some time at our home over the holidays. It was wonderful to have our own tree this year (thanks to our parents for surprising us with that!) and our own bed to sleep in!
Click here to see this blog post.
9.) 10 Gift Ideas for the Person Who Has Everything
I'm not going to lie, I'm kind of surprised this one is on here. I know it had decent traffic when I initially published it (in 2017), but I didn't realize just how much it must have been viewed throughout this year. Cool!
Click here to see this post.
8.) A First-Timer's Guide to Parasailing

This is another blog post that I didn't expect to see on here, but I'm delighted it is! That's awesome so many people are interested in parasailing!
Click here to read this post.
7.) Staying at the Treehouse Lodge in Peru's Amazon Rainforest
Spending a vacation in a treehouse in the Amazon Rainforest is an adventure I'll never forget. And I'm not too surprised this one made its way to the top. But I am glad so many people were interested in this blog post! It was one of my favorites I've ever put together for the blog.
Click here to see it if you missed it.
6.) Alpaca Clothing Shopping Tips for Cusco, Peru + What I Wore
Alpaca clothing is the thing to buy in Cusco! I hope there are lots of people getting some nice sweaters now after reading this post. Thank you for reading everyone!
Click here to read this post.
5.) How to Spend 10 Days in Argentina – The Ultimate Itinerary
I'm not only delighted so many people are reading this post – I'm really excited how many people are actually emailing me for info before they go to Argentina. Keep the questions coming, folks! I'm so excited there's so much interest in visiting Argentina!!
Click here to see this post.
4.) My Experience With Novalash Eyelash Extensions
Ah, Novalash, this one has been reigning in my "top blog posts" list for 3 years straight now! Eyelash extensions are a hot topic no matter what year it is, I guess. (I kind of want them again, myself. It's nice looking like you have makeup on all the time! Haha.)
Click here to see this post.
3.) How to Spend 10 Days in Peru – The Ultimate Itinerary
Yesss! Likewise! So excited people are interested in going to Peru! Go, go, go! This is one of my favorite countries I've ever visited. Buen viaje amigos!
Click here to read this post.
2.) 10 Quirky Things to Do in New Orleans
The reigning number 2 champ for 2 years running! That's so exciting! I hope everyone is having a lovely time in NOLA!
Click here to read this post.
1.) 15 Online Stores Similar to ModCloth
Ah, and sadly, this one is still number one. I LOVE ModCloth, however, having some alternative websites is nice not just for variety, but because of GDPR regulations Modcloth is not available in the European Union. (I've also been asked a lot why I can still order ModCloth then – and to answer that question, Russia is not part of the EU.) Also, this brings up a whole other can of worms. If anyone is ever interested in learning more about what GDPR means, and why some businesses are not "compliant." I'm really thinking about writing a blog post about it…
Click here to read this post.

Were there any posts on this list that surprised you? Let me know in the comments!
*Disclosure: some of these links are affiliate links. Meaning, if you click a link and make a purchase, Have Clothes, Will Travel gets a very small commission at no extra cost to you. Thank you for supporting the brands that make this blog possible!