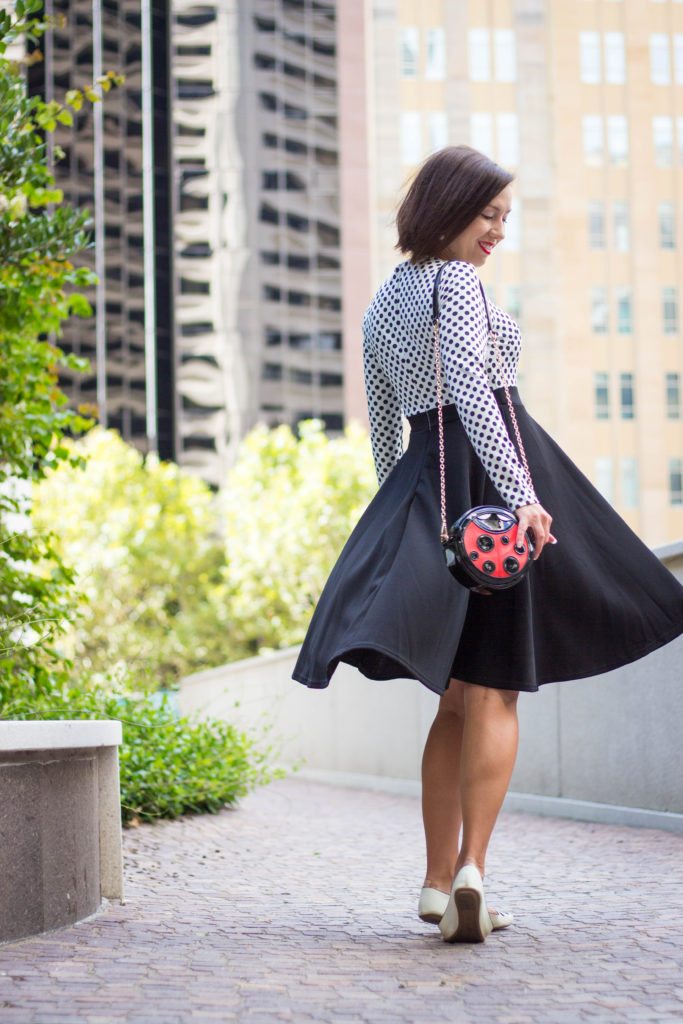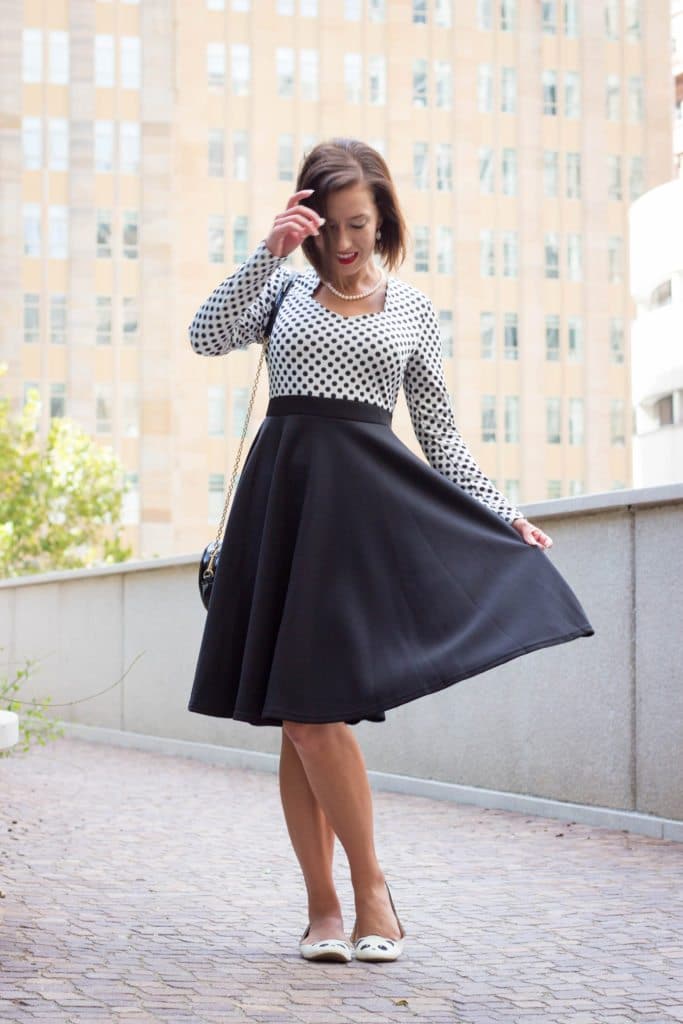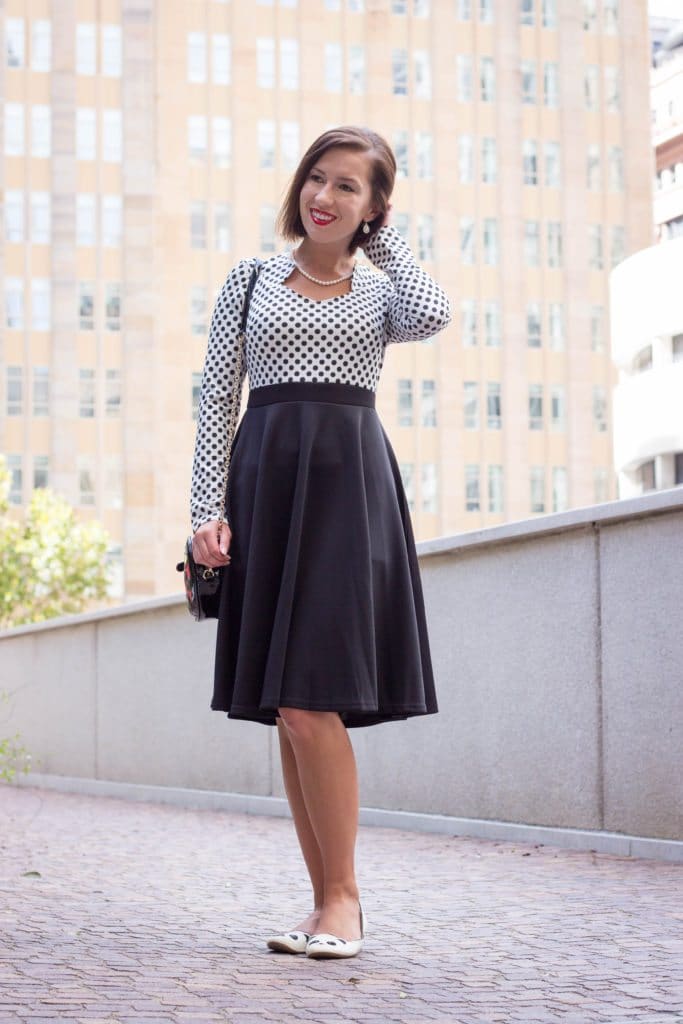 Shop similar items:

This is one outfit I had pictured a petticoat going well with. I had actually ordered a black one thinking I would pair it with this dress. However, once I tried it on, much to my dismay, this was one fit and flare dress that looked better on its own without a petticoat. Oh, well! I'll figure this petticoat thing out eventually, haha.
But I was grateful to have another dress with sleeves to wear! We're not quite into fall yet…but, the temperatures have certainly taken a hit. It's also been pretty rainy the past few weeks too. So, I've been slowly breaking out cardigans and sleeved tops again.
This particular dress is from a new-to-me brand called FashionMia. It's less than $25, and I'm really impressed with how comfortable and nice it is! It breathes well, I can twirl in it and it has polka dots. The only way I would like it more, is if it came with some pockets!
I am a bit embarrassed to say, but my panda shoes have been hiding in a pocket in my suitcase for more months than I care to think about. I couldn't find them and figured I had put them in storage before we left for Japan. But, nope! I've had them the whole time. It feels good to me reunited with them, haha.
Just a reminder with sizing on them too, I did size up to an 8 1/2 (I'm usually a 7 1/2 or 8), and these fit well. Also, if I don't wear socks or tights with these shoes, I need to put something (like a band-aid) on my heel, or these shoes will tear my feet to shreds. They're cute, but vicious without socks!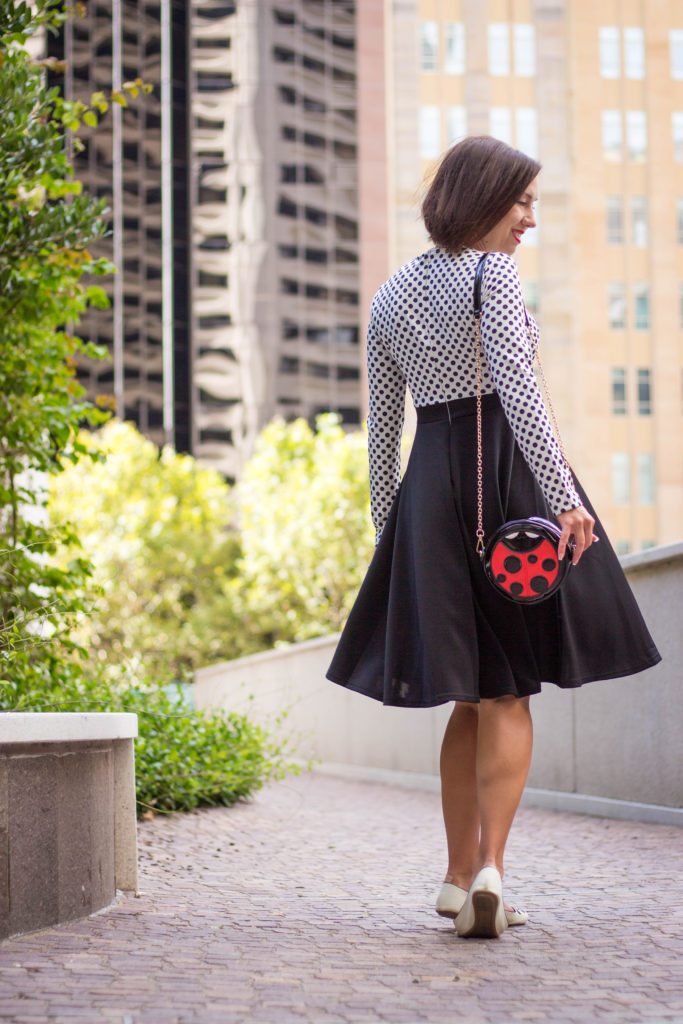 Oh! And before I forget…ModCloth's Stylish Surprise is supposed to be happening today! Click here to see what they have available. (I'm not sure exactly what time it goes live today, though. It's usually around 9 am.) Apparently, they're going to have items for as low as $5 this time around! And if you want to learn more about what ModCloth's Stylish Surprise event is, click here.
Are you participating in ModCloth's Stylish Surprise? (If there's anything left in my size when I wake up I will be! It goes live in the middle of the night here.) And have you ever thought you lost something for good, only to find it months later in your closet? Let me know in the comments!

Where to find it:
Dress: c/o* FashionMia
Flats: ModCloth
Purse: ModCloth (Sold out. Similar here.)
*c/o = courtesy of, meaning the company gave me the product to be used on my blog, and I did not pay for it. All opinions are my own, and I am not being compensated for a positive review.