Personal Styling by Lindsey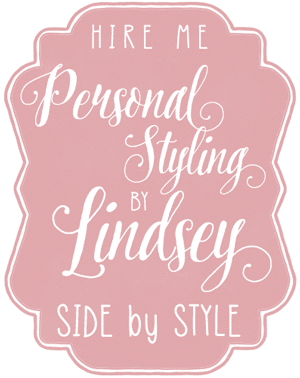 I am very excited to be taking a new leap in my style endeavors! I have signed on to be a personal stylist with SIDE by STYLE.
You can now hire me to help with your wardrobe! I am available for online styling services, as well as in-person styling in Appleton, Wisconsin & Princeton, New Jersey. The shopping will come to you!
Why should you hire me?
When it comes to fashion, I believe we should never limit ourselves. Personal style is a way to express ourselves differently every single day, and no two days are the same. Some days require jeans and flats, while others call for rocking a dress and heels. Whatever the occasion, I'm here to help women of all ages find the perfect outfit – no matter the budget!
To chat with me more about my services and for my hourly rates, click here. To learn more about SIDE by STYLE and how the platform works, click here.
Being a personal stylist is something I've always dreamed of doing. However, living in a rather rural area most of my life, I never knew exactly how to break into the market. Blogging has opened up so many incredible doors that I am incredibly grateful for. I am so thankful to my husband, who helped push me in the right direction with my website and all of my friends and family who read, share, like and comment on this page to give it the traction it needed to become a successful blog (that people all over the world actually read!). Thank you, thank you, thank you! I can't wait to start this new journey in my life!
And a big thank you to Kathy of Lace & Whimsy. She created the custom "Hire Me" button at the top of the page. Check out her Etsy store for your own custom header or logo!