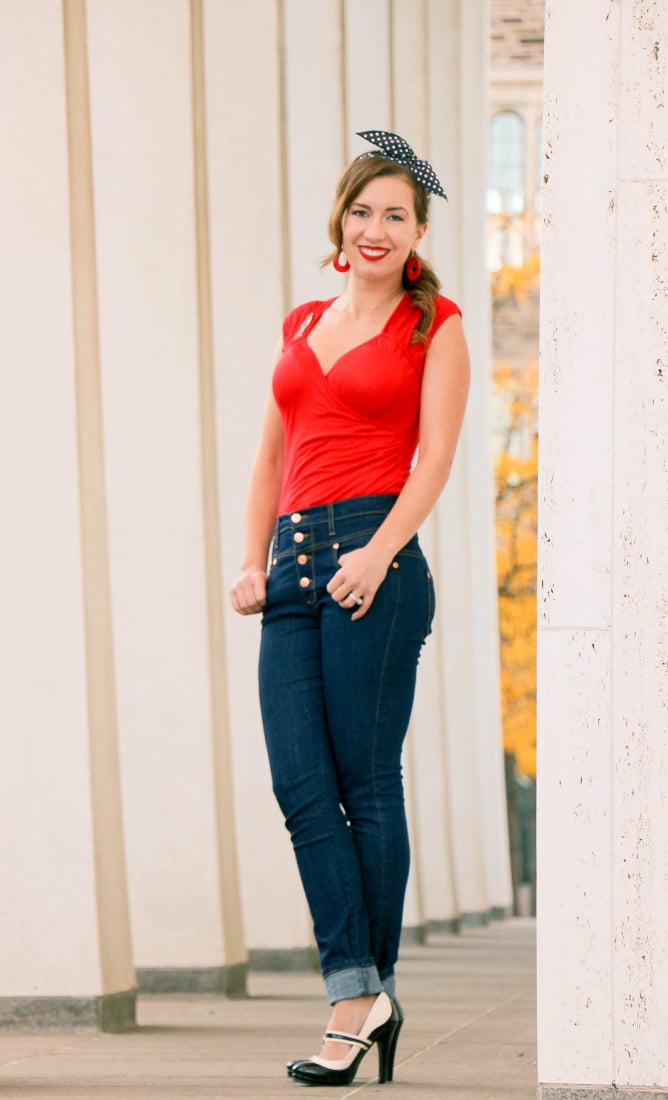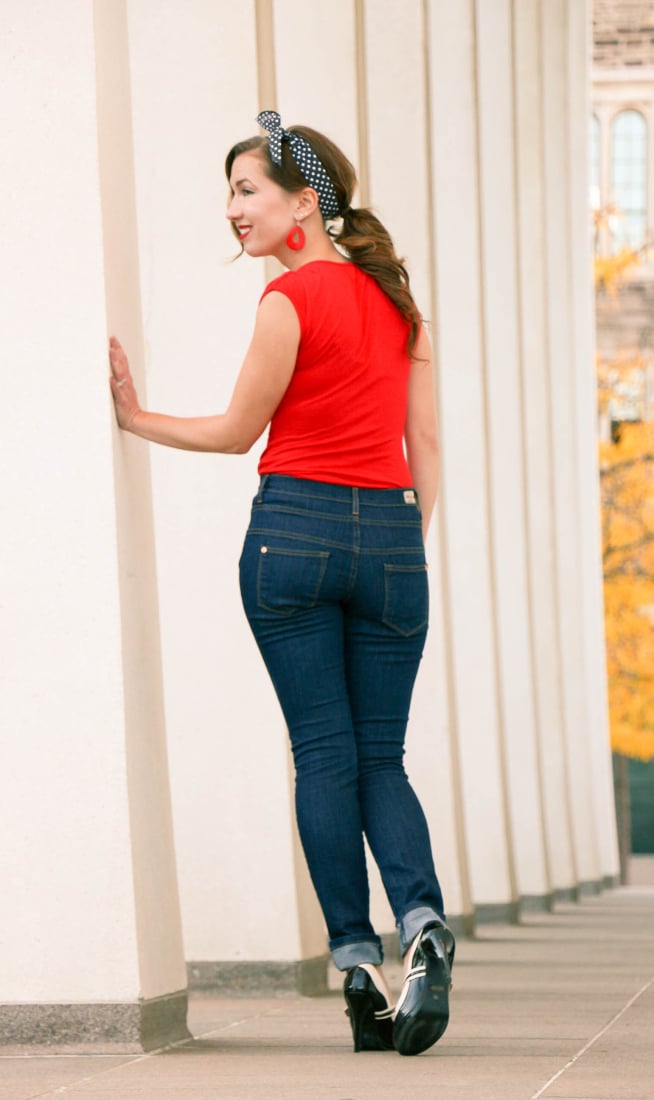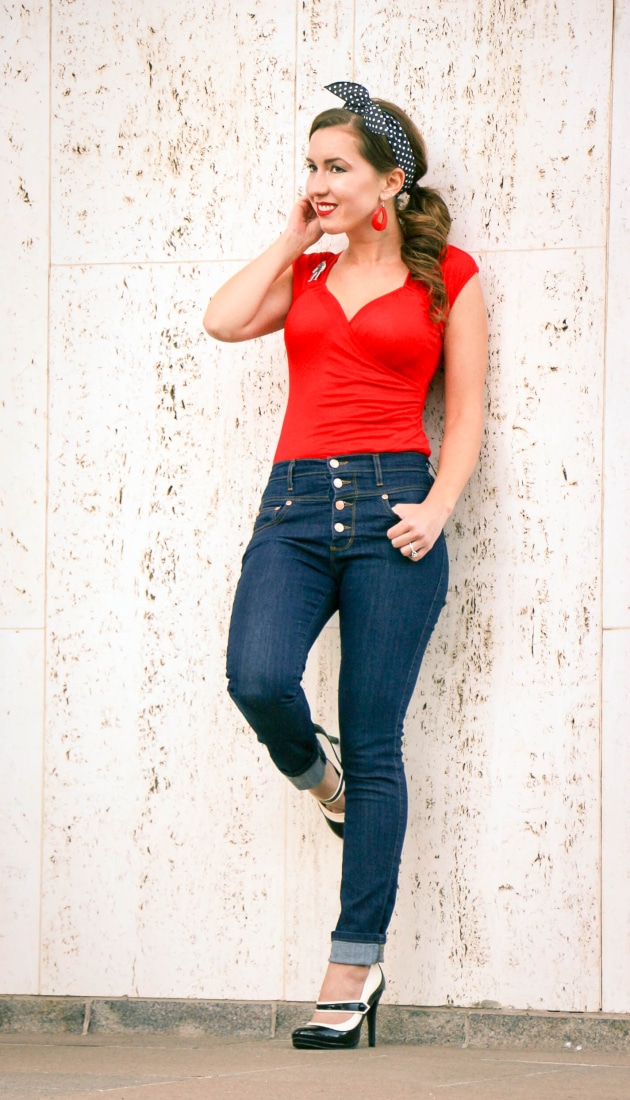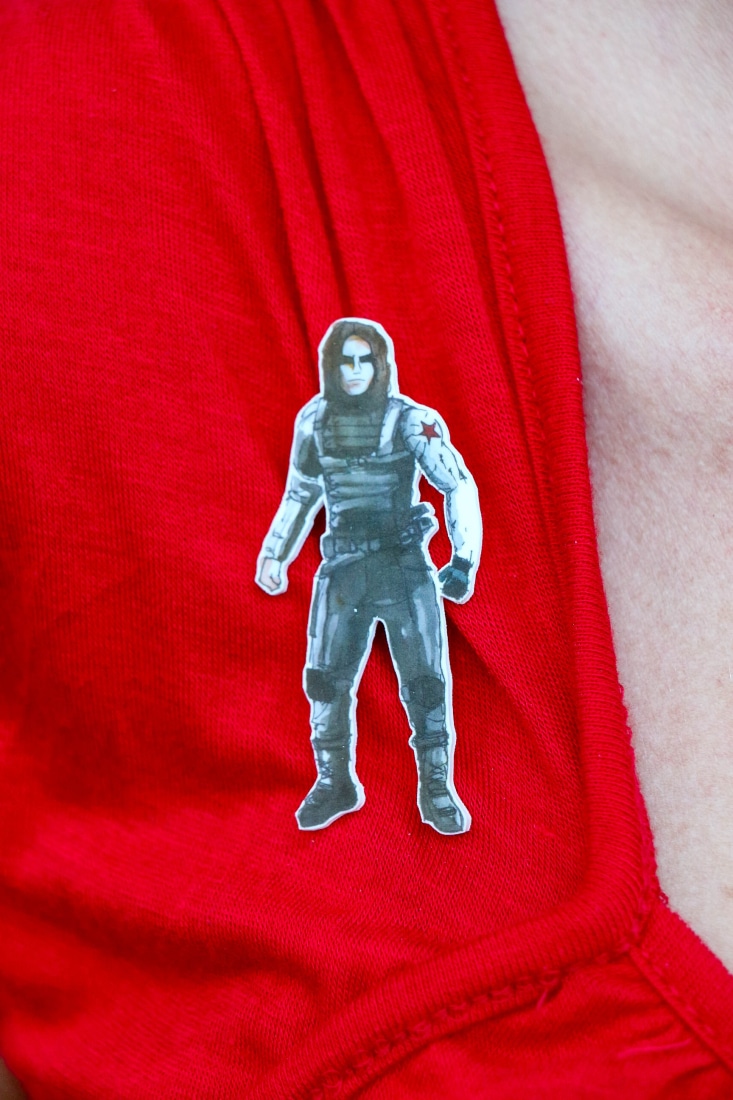 Shop the look:

Every once in a while when I wake up and glance at my Judy Blue jeans and red lipstick, I think…yep, today is going to be a pinup-style-outfit kind of day. Some days you just need a little more va-va-voom in your life! Fortunately, my wardrobe has expanded enough to accommodate these kind of days. Haha.
And I am so happy that it is finally cool enough to wear these jeans again! I didn't have a lot of opportunity to wear them this spring because it went from snow and ice to 10,000 degree weather in 2 seconds flat. (I may be exaggerating, but that's what it felt like!) They are so comfy! And my favorite part is I can wear them multiple times throughout the week and they don't get stretched out! And how can you not love these buttons?
I also love how versatile my top is. I actually liked it so well, I have it in black too. If I'm not feeling too adventurous, it's easy enough to pair it with a tank top. And it works great for tucking into jeans and skirts!
Did you notice my Winter Soldier pin, too? It's so awesome! Jen from Dressing With Class had made him for me when me met up in Boston – how cool is that?
My heels were the first pair of Machi Footwear heels I ever bought! And now Machi is dominating my closet! So, this is where it all started. Haha. These heels get the most use out of any in my closet, and I am constantly receiving compliments on them.
And if you would like to have your own pair of Machi Footwear shoes, they have a really awesome contest going on right now! You can win a pair of shoes from their fall collection (I just got a pair of heels from the fall collection in the mail today, and they're gorgeous!) You just have to follow Machi on their social media accounts (below) and share a photo that represents fall style in your favorite hues. Be sure to tag @machifootwear and #alleyesonyou! They'll pick their favorites and send you some gorgeous shoes!
*Machi Footwear Instagram, Facebook, and Twitter
*Click here for the full list of rules on Machi's site.
Do you ever have days where you feel the need to dress up in retro/pinup style clothing? And if so, what kind of outfits do you like? Let me know in the comments!
Where to find it:
Jeans: ModCloth
Top: ModCloth
Winter Soldier pin: Made by Jen 🙂
Headband: ModCloth
Heels: Machi Footwear (similar here)