Rainbow, Pleated Dress Outfit Remix for NYE
Click to shop:

I know, I'm getting ahead of myself here, NYE is just under a month away. However, when I threw this outfit together I knew this would end up being my NYE outfit. I have no idea what I'm going to be doing yet. Each year has been vastly different, from enjoying it in my PJs watching American Horror Story to seeing the fireworks in Sydney! But for this year, I know I'll be in Wisconsin, where it will likely be chilly and I will be dressing up no matter what we do!
That being said, I'll likely have to add a cardigan and a coat to it! It was so weirdly warm the day I took these photos that I couldn't stand to be wearing a cardigan – even with the wind. Wisconsin sure does have some wacky weather.
I had asked how to style >this rainbow pleated dress for cooler weather on my social media accounts, and the majority said "OTK boots, fun tights and a cardigan." I just about listened! Haha. And I am wearing colorful tights… they're just a bit difficult to see in these first few pics.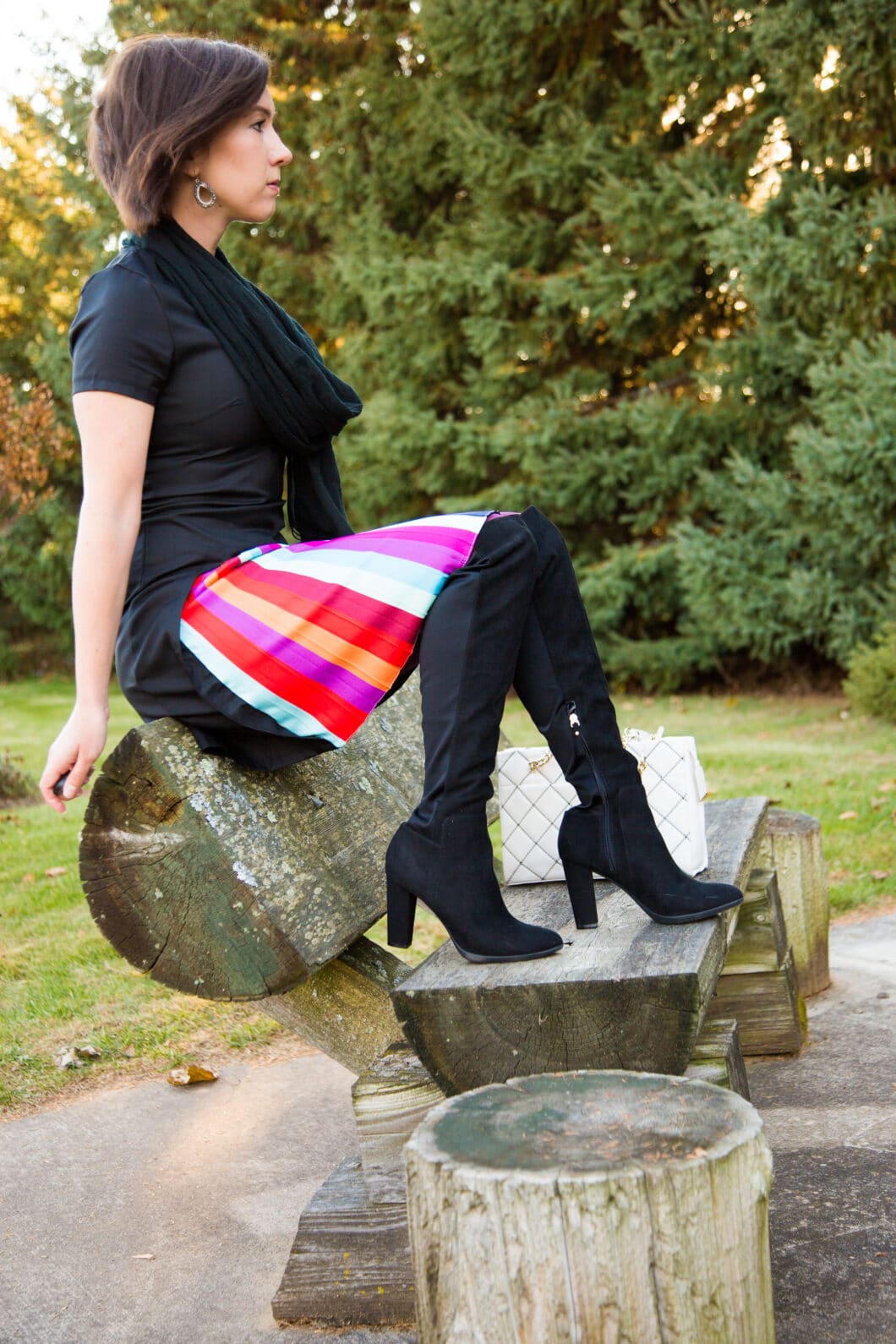 Now, about this dress. I had gotten this dress from FashionMia a few months ago (featured in this here post). As I said in that post, it runs REALLY small. I'm convinced if I ate a big meal before I tried to take it off, I'd get stuck. Haha. (I had ordered my normal size medium, but could've gone up at least an entire size.)
An Instagram friend had also ordered it after me and said sizing up a whole size for her was not enough and she had to return it. Unfortunately, the return process hasn't been so smooth for her either (she's still waiting for a refund 5 months later!). She also said shipping took quite a long time (like 5 or 6 weeks!). It took about 2 1/2 weeks to reach me, and I have not tried to return anything yet. I just wanted you all to be aware of this if you do decide to order from FashionMia – the prices are great (this dress is $26), but shipping, sizing, returns, etc. can get difficult. However, I did find a nearly identical dress on Amazon that has Prime shipping…which might be a better option if you need this dress in a hurry! Check it out, here.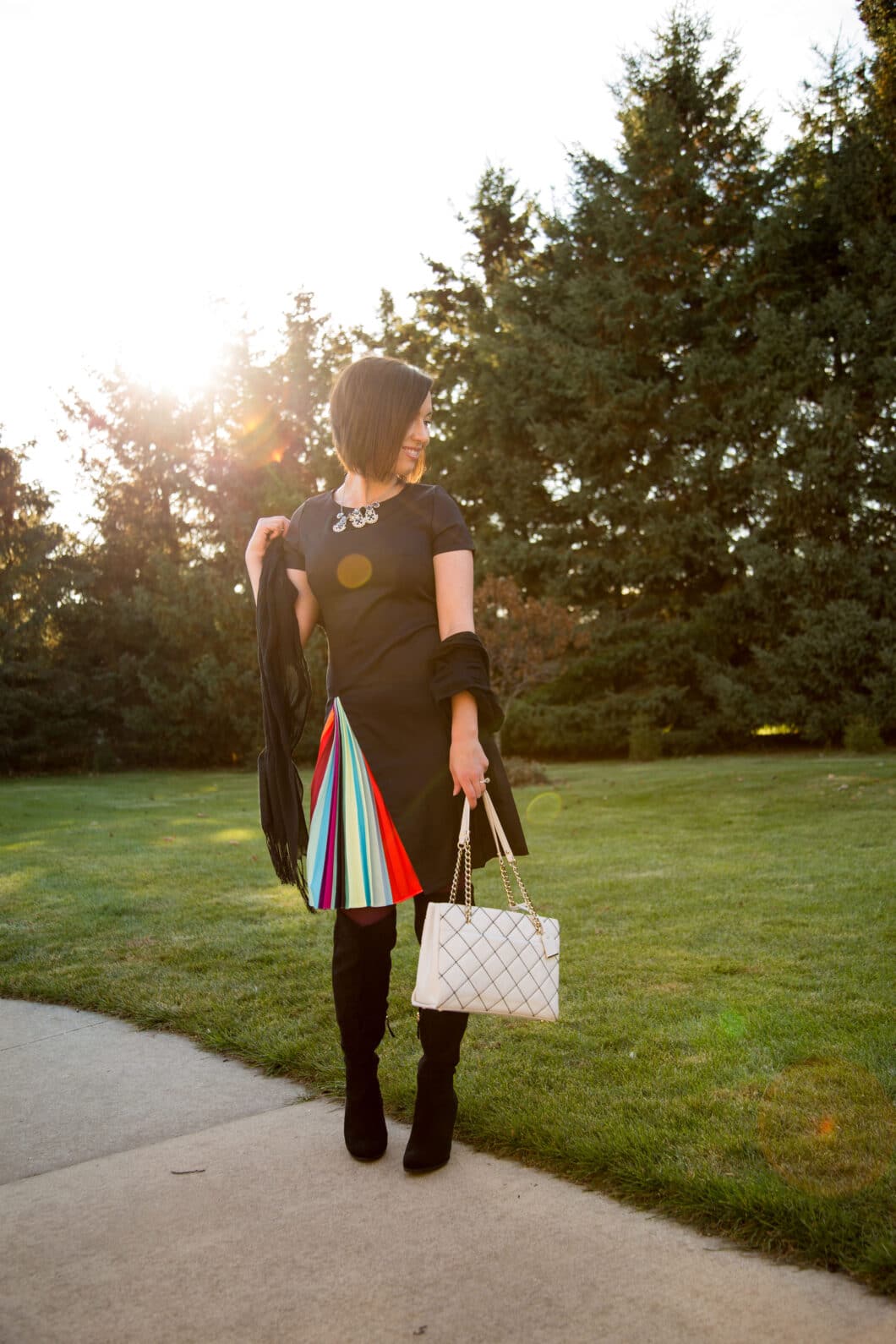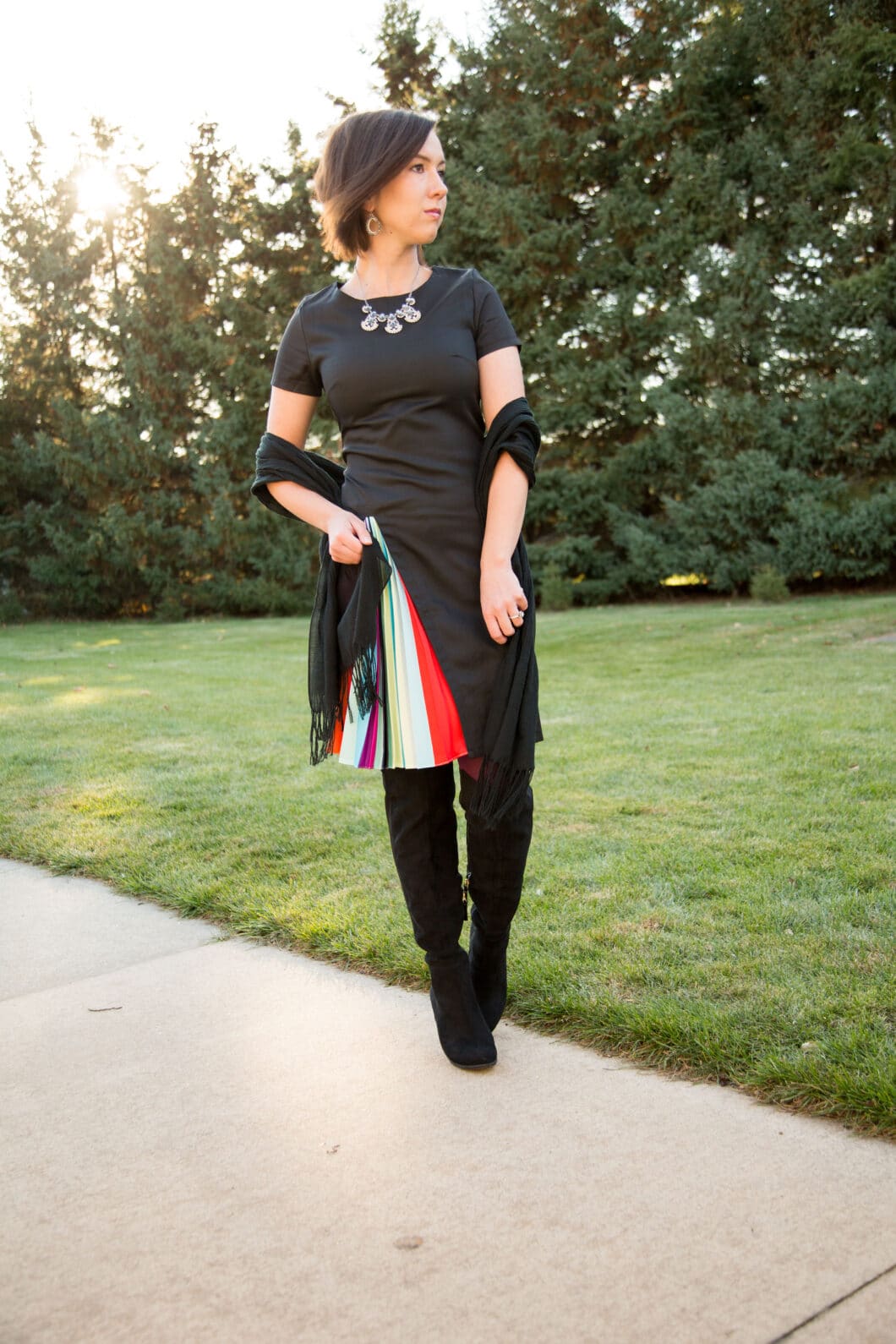 Hopefully you all aren't sick of these OTK boots yet! I'm going to be wearing them every chance I get, haha. They're so comfortable and easy to walk in…and they fit my wide feet. I seriously have nothing negative to say about them!
Have you started planning your holiday outfits or NYE outfits yet? Or is just me? Haha. Let me know in the comments!
*Also, for my regular readers, I'm back in Argentina right now! And Friday is a national holiday. So, I'm heading to Mendoza (wine country) Thursday afternoon to check out as many awesome wineries as I can and do some horseback riding through the Andes. I'll be updating my Insta stories and Snapchat if you want to follow along. 🙂
Where to find it:
Dress: c/o* FashionMia (Also, similar option here on Amazon)
Boots: c/o* DSW
Bag: Kate Spade (Similar)
Scarf: My Mom's (Similar here)
Tights: ModCloth
Necklace: Gift from my Mom (Similar here)
Disclosure: some of the links in this post are affiliate links. Meaning, if you click a link and make a purchase, Have Clothes, Will Travel gets a very small commission. Thank you for supporting the brands that make this blog possible! I am also a participant in the Amazon Services LLC Associates Program, an affiliate advertising program designed to provide a means for me to earn fees by linking to Amazon.com and affiliated sites.
*c/o = courtesy of, meaning the company gave me the product to be used on my blog, and I did not pay for it. All opinions are my own, and I am not being compensated for a positive review.