My Honest Experience Staying at the Treehouse Lodge in Peru
As the name suggests, the Treehouse Lodge is indeed a lodge made up of honest-to-goodness treehouses! It's a once-in-a-lifetime experience that was nonstop excitement for us. (This is where we were over the weekend and earlier this week.)
Our 4 days there were chocked full of activities. So, for this post, I'm going to focus just on the lodge itself, what to expect when staying there, some cool wildlife sightings right from our treehouse and my thoughts on the price/how many nights to stay. Then, my next posts will be on what there is to do in the Amazon Rainforest (click here to see them). This post would take days to read if I included everything in it, haha. Enjoy!
Click here to see current rates for the Treehouse Lodge.
What Exactly is the Treehouse Lodge?
The Treehouse Lodge is the only all-inclusive treehouse lodge in the Amazon. It's located in the Peruvian Amazon at the confluence of the Yarapa and Cumaceba rivers. It is made up of only 10 private treehouses. They are all different sizes and different heights off the ground. The tallest treehouse, Casa Alta, is 67 feet off the ground! (I could not have stayed in that one, haha.)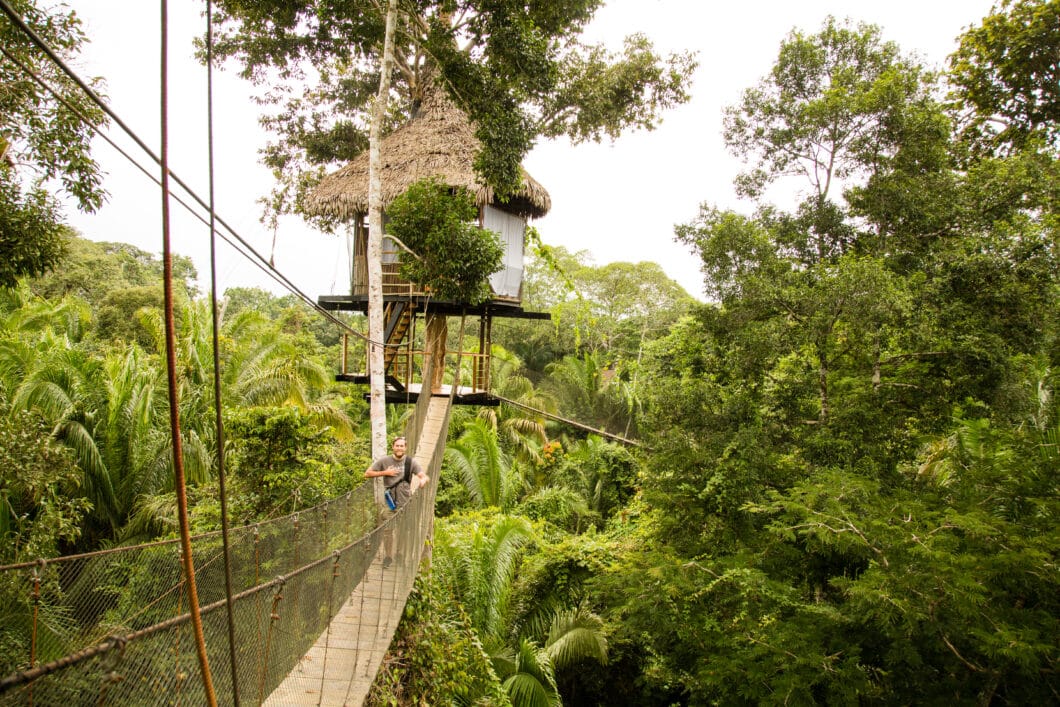 We instead stayed in Treehouse 10, Costa Bella, which is still 53 feet off the ground. It has an incredible view of the river and was the only treehouse that also had a balcony. Each treehouse has a (cold) shower, sink, toilet, and beds. So, you're certainly not sacrificing comfort to stay here!
I made a little video of our treehouse, below. I do apologize, this was my first attempt at videography with my new camera and, needless to say, there's room for improvement! But it does give you a better sense (in my opinion) of what the treehouse was like that can't be conveyed in just photos.
It was SO cool. We were able to see such incredible wildlife right from our treehouse too.
Wildlife Sightings at the Treehouse Lodge
While we spent most of our days in search of wildlife in the forest and on the rivers, some of the best sightings were right from our treehouse/the lodge! The first time I stepped onto our balcony, I saw two pink dolphins swimming in unison! It didn't even look real (of course I didn't have my camera on me either, haha).
Here are a couple photos of the pink dolphins from our balcony. (Sorry, these were a bit harder to capture.)
Pink Dolphins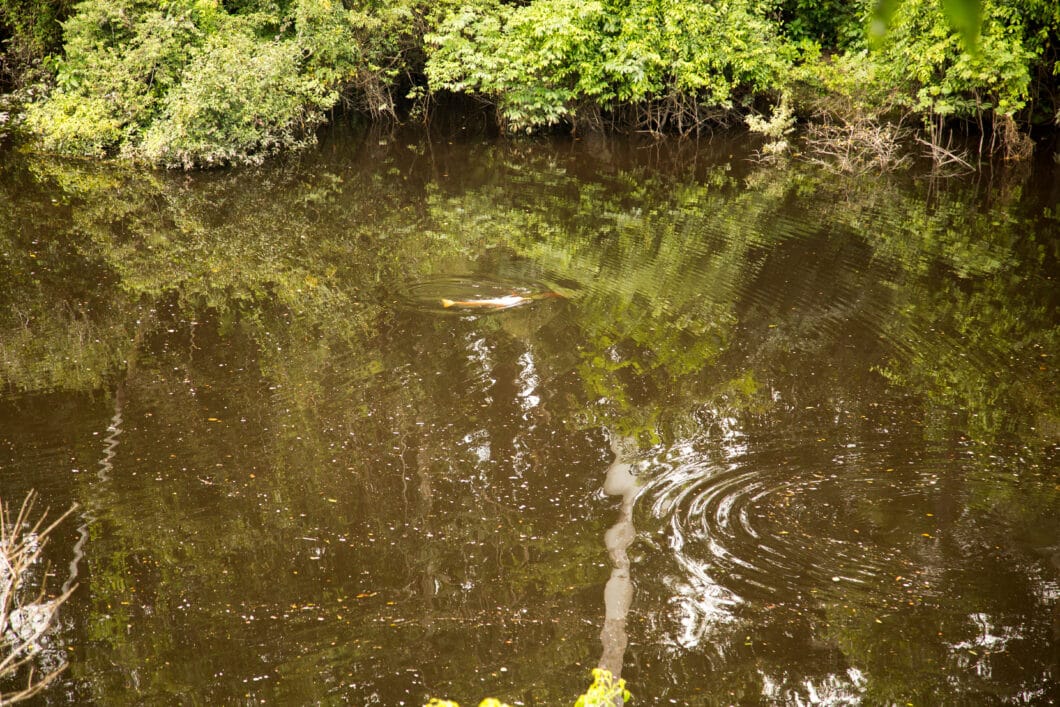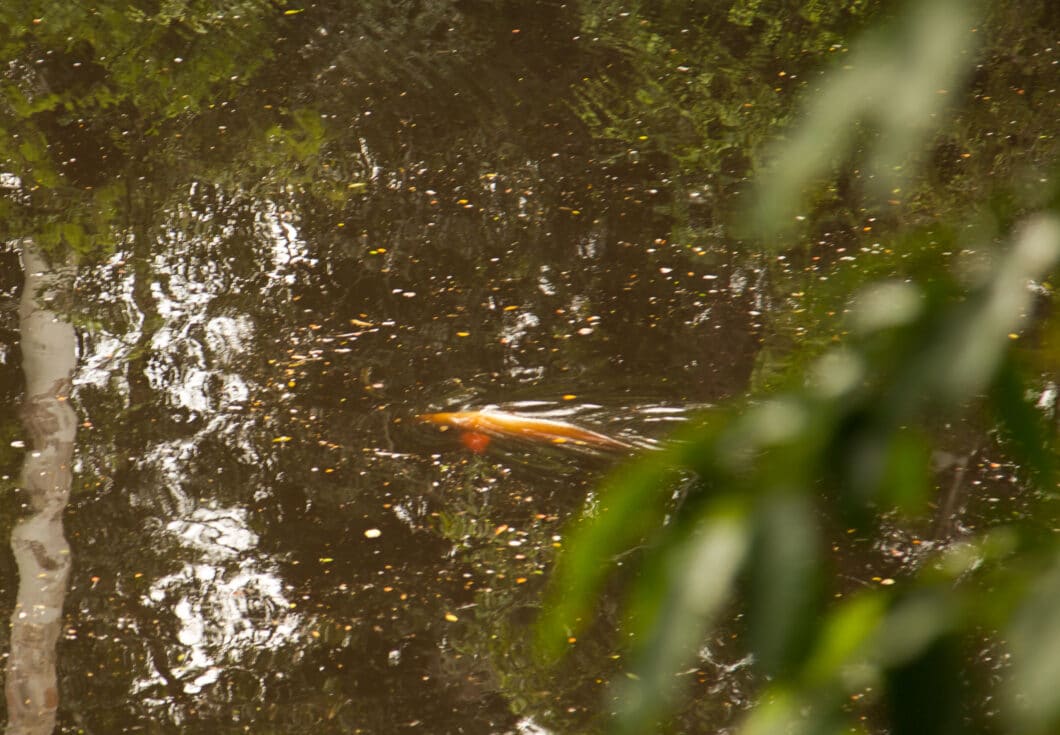 The dolphins actually like to hang out right in front of the lodge to feed. So, you'll get to see them every single day. It's incredible!
We also were able to see monkeys from our treehouse bridge. We were able to hear them most nights too…they woke me up a few times! Haha.
Monkeys!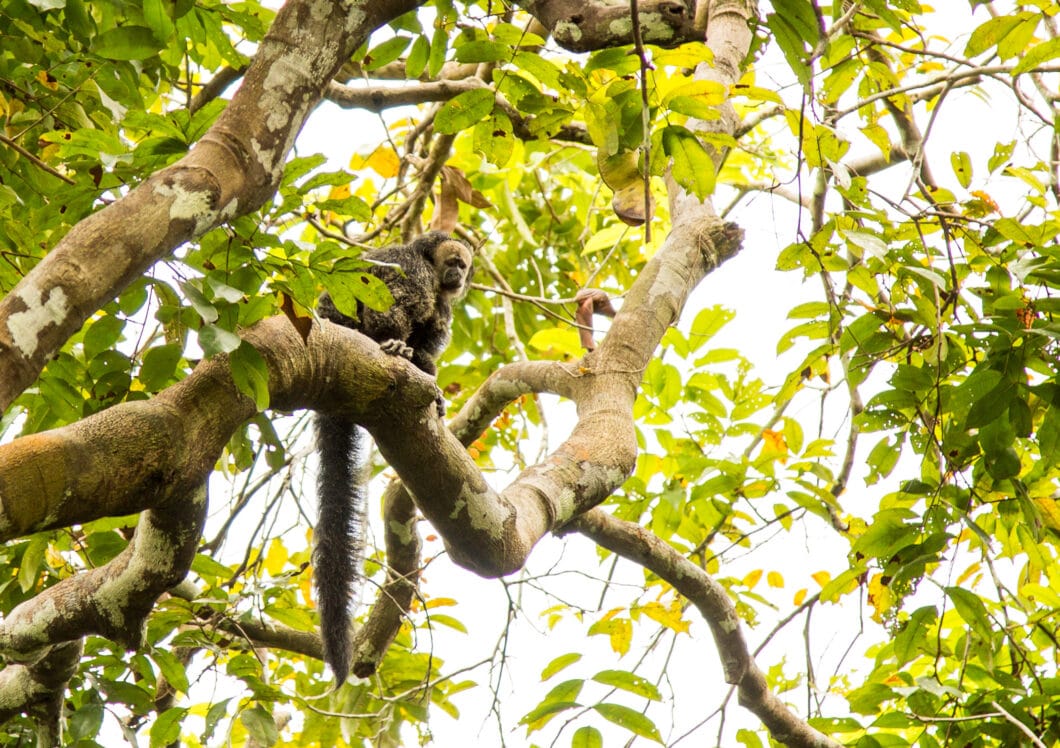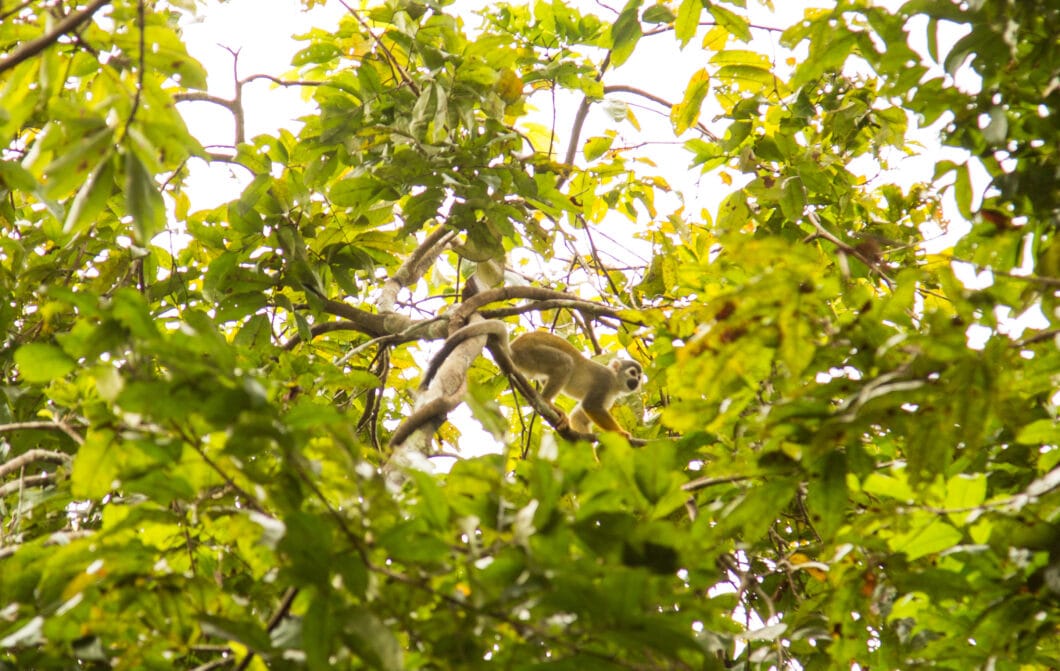 I also put together a short video of the monkeys swinging around outside our treehouse, below.
Now, this was a rather rare sighting…but we were actually able to see a wild anteater looking for ants! This was just outside the main lodge. We had come back for lunch and our guide told us to run over by him the see this anteater. They don't normally come this close to lodge, but this was a young one he explained…who was a bit careless.
Anteater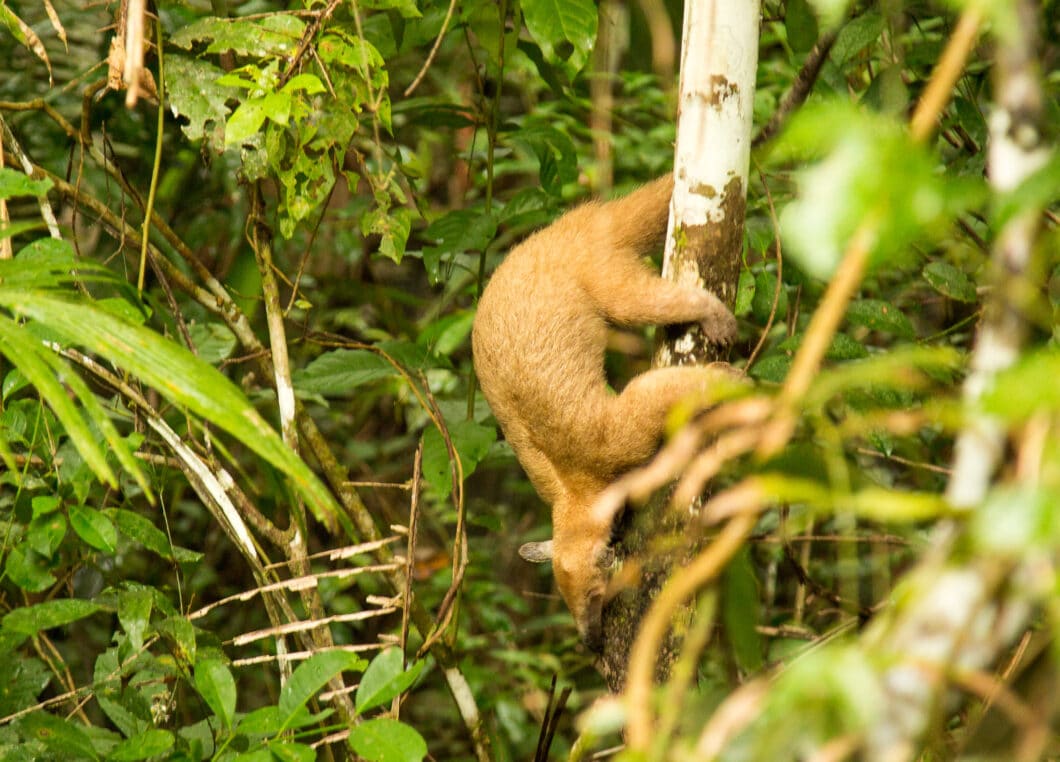 Side note, I also had no idea anteaters could climb trees so well! This guy was swinging around just as well as the monkeys were!
What's Included in Your Stay at the Treehouse Lodge?
The Treehouse Lodge is all-inclusive.
*In addition to your treehouse, you get three delicious meals a day and non-alcoholic drinks (alcohol is the only additional cost you could incur here).
*All your transportation from the Iquitos airport (it's a 90-minute car ride and a 90-minute boat ride to get to the lodge!) is included.
*All your excursions are also included. (As I mentioned, I have separate posts on all of those.) And for these excursions, you get your own private guide and boat driver who will cater to your preferences. For example, my husband loves to fish, so our guide and boat driver created some fishing expeditions around his preferences – it was pretty awesome. (FYI – if you can get Orlando, our guide, and Gustavo, our boat driver, you're going to have the time of your life! These guys were amazing.)
The Main Lodge
The main lodge is where we would go for our meals and to relax in between adventures. All of the meals were awesome! (Sorry, I ate most of them before I thought to take photos of them, haha.) There is no WiFi or cell reception here, so we would, you know, actually have to talk to each other, haha. It was really nice! The lodge also has lots of cards and board games you can play. (I got to brush up on my chess skills!) They also have comfy chairs and hammocks for your to relax in.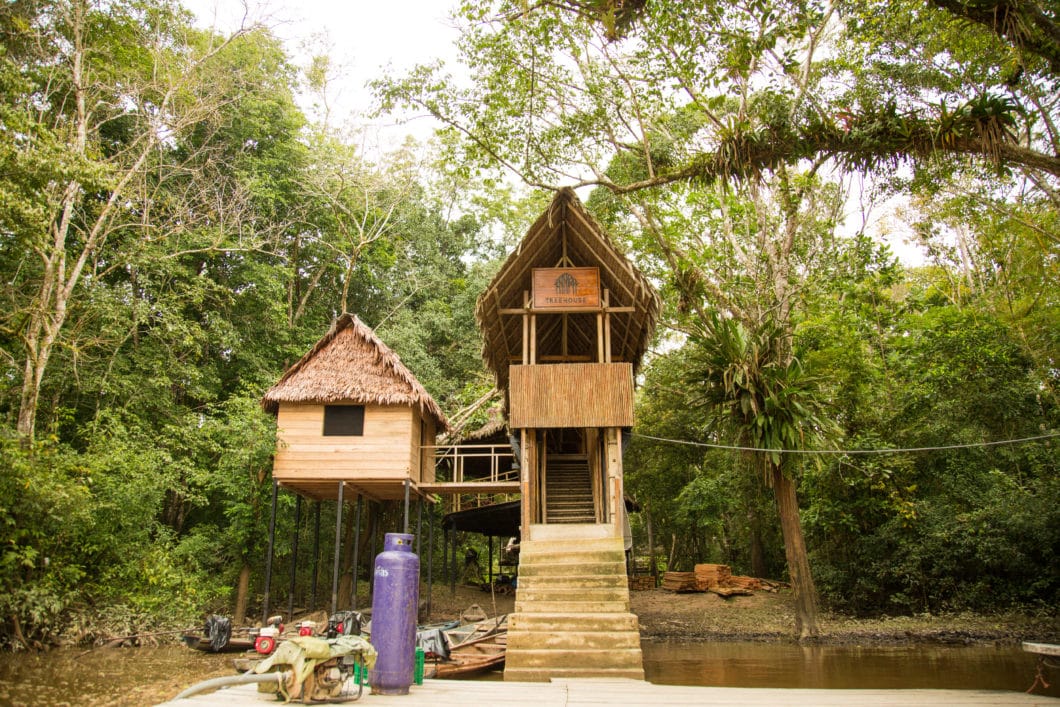 Is it Worth the Price?
The price of a night here varies depending on the time of year you go. However, it's always going to be expensive. This is, however, a once-in-a-lifetime experience that was absolutely amazing. My husband and I were celebrating 5 years of marriage while we were here…and I personally think it would be an awesome honeymoon destination for a more adventurous couple. In my opinion, it was absolutely worth every penny. From the people who made the reservations and answered our questions prior to booking, to our guides, the staff, the manager, the boat drivers…everything was amazing!
Click here to see current rates for the Treehouse Lodge.
And click here for the Treehouse Lodge website.
How Many Days to Stay?
The majority of people seem to stay two nights and three days. I think that would be a perfect amount. We stayed three nights and four days…and we loved every moment. That was just the way our vacation/flights worked out, though. If you are on a tighter schedule, two nights would be plenty to see all the highlights of the rainforest.
You can check out more photos from our treehouse and the lodge in the gallery, below. And you can click here to see photos from our excursions with Treehouse Lodge! (Click here to see the rest of our adventures in Peru.)

Would you want to stay in a treehouse in the Amazon Rainforest? Let me know in the comments!
Click here to read my post, "How to Spend 10 Days in Peru."
Travel Insurance
It's a good idea, no matter where your adventure takes you, to have travel insurance. You never know what might happen! Whether you get sick before your trip and can't go, or you become sick or injured while on your adventure – being covered with travel insurance is a must. Some credit card companies do provide this (check with yours), or you can get a free quote from travel insurance companies such as RoamRight to find the best plan for you and your adventure. To get a free quote, click here.
Visa Requirements
To check if your country requires a Visa for traveling to Peru, click here.
Want to Learn Spanish Before Your Trip?
Knowing some basics in Spanish can be helpful for your time in Peru. Try a free 3 day trial of Rosetta Stone (the best way to learn a foreign language) by clicking here.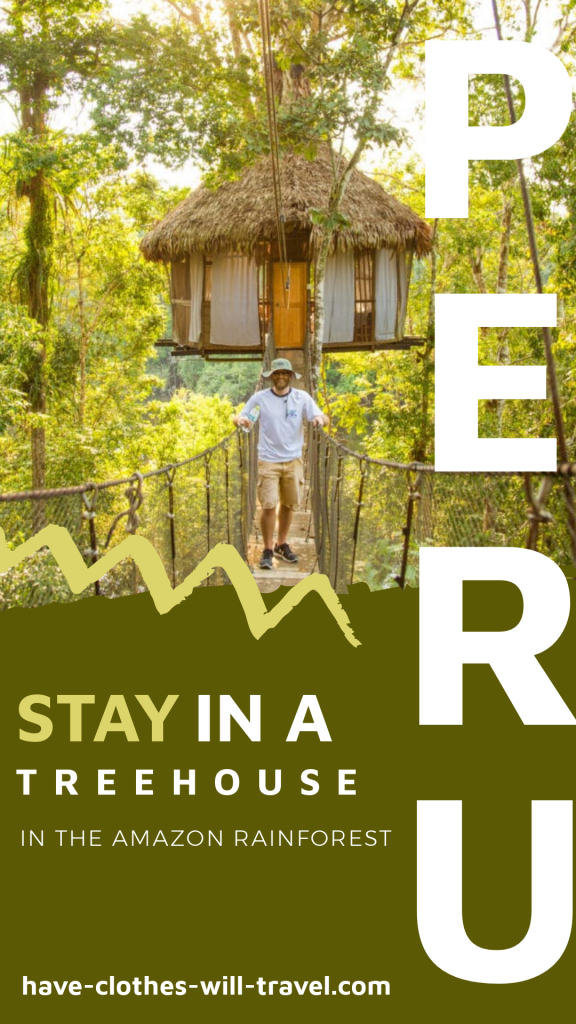 *Disclosure: some of these links are affiliate links. Meaning, if you click a link and make a purchase, Have Clothes, Will Travel gets a very small commission at no extra cost to you. Thank you for supporting the brands that make this blog possible! I am also a participant in the Amazon Services LLC Associates Program, an affiliate advertising program designed to provide a means for us to earn fees by linking to Amazon.com and affiliated sites.