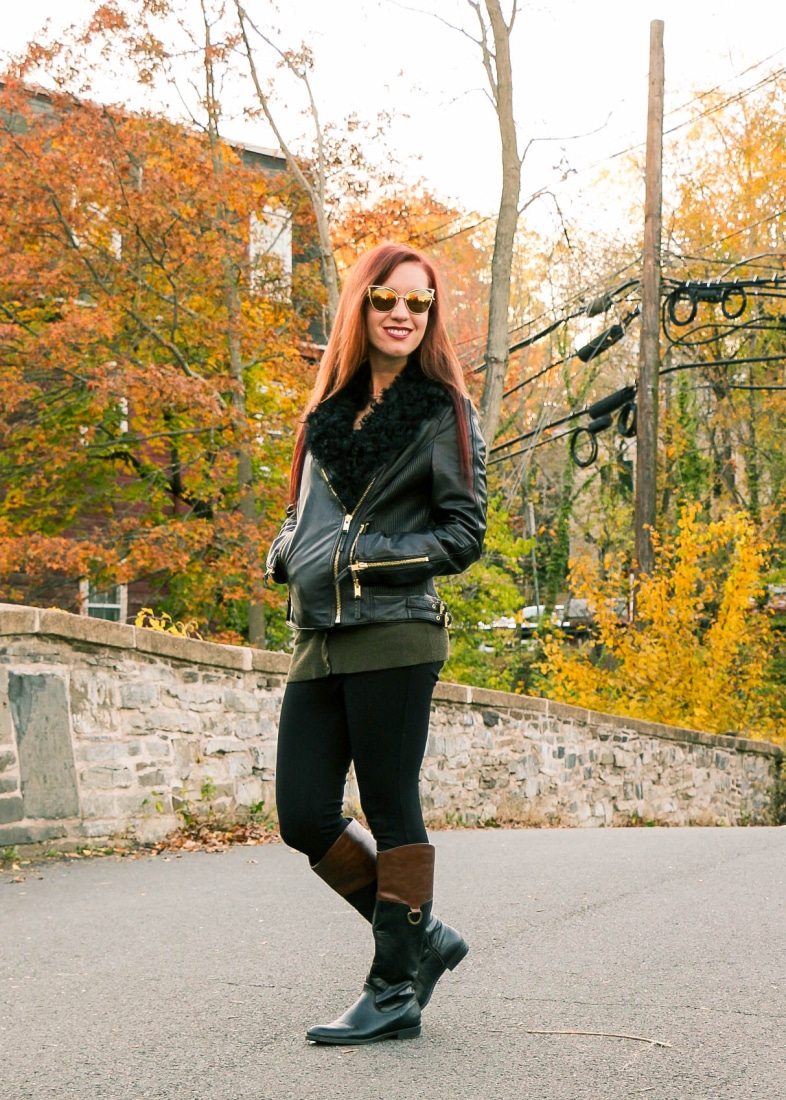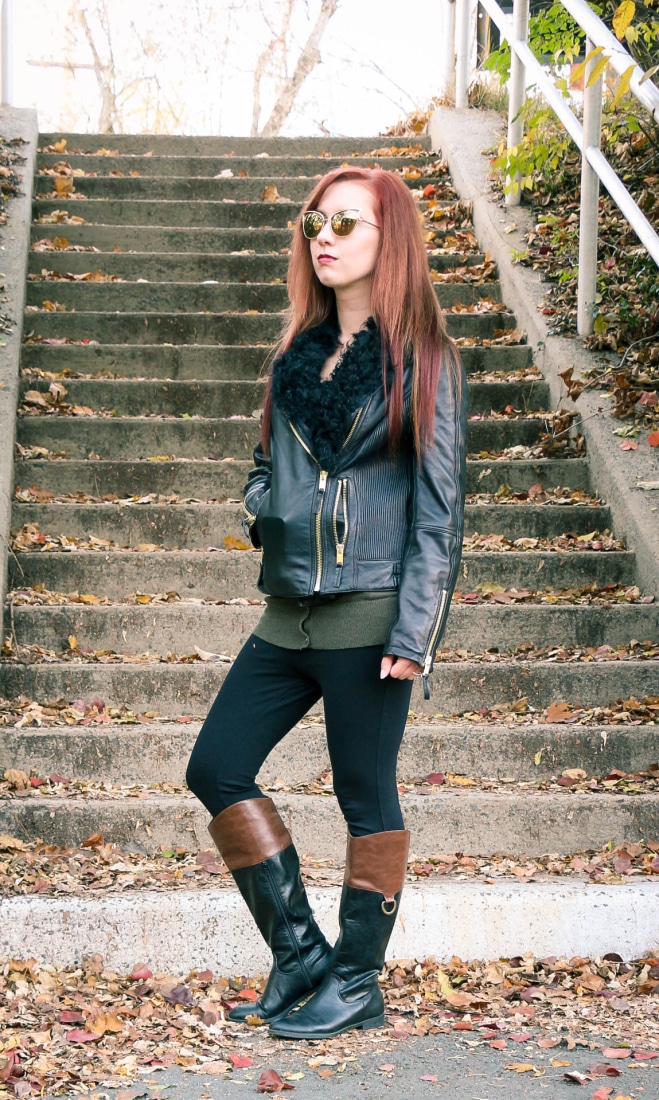 Shop the look:

Here's an observation I have made from watching entirely too many superhero movies… anytime you see a superhero, not in their superhero attire, they're generally wearing a really cool leather jacket. Green Arrow, Captain America, Wolverine, Black Widow…even Star Lord (haha), all wear awesome leather jackets when they're not in costume. So, coming off my weekend of pretending I'm Green Arrow, it seemed fitting to break out my beautiful new leather jacket.
Whether you're a superhero or not, leather jackets still make you feel cool. (Or is it just me?) And this jacket from Wilsons Leather is no exception! The quality is incredible, and I love the gold zippers and buckles…it gives it a fancier look, in my opinion than your typical, casual, leather jacket. I also love how long the sleeves are! This is a jacket that is honestly a bit too warm for the current temperatures we're having (but I couldn't wait to wear it), it's definitely going to be getting the most use once the temps dip below freezing (and having long sleeves will come in quite handy then). As you can see in every photo of the jacket, I'm also a big fan of its pockets. Haha. They're so roomy! I can fit so much stuff in them, including my hands!
I prefer to wear the jacket zipped up halfway, so you can see the fur collar. But once winter sets in, it'll be nice to zip the jacket all the way up to my neck. And I like that it still has the collar peeking out.
To prove that this jacket is indeed worthy of being a superhero's day off attire, I had to practice fighting (imaginary) bad guys in it. Because let's face it, when do these guys ever get a day off? Even when they're not in their superhero duds, they still have to be able to kick some butt! And you can totally throw a punch/kick in this jacket. Haha.
I'm not even going to tell you how many photos I had to take of me trying to punch/kick. Haha. But let's just say the majority of them make me look more like a cheerleader than a crime-fighting superhero. Haha. (But I can get my leg up a lot higher than I thought I could! Haha.)
I also want to quickly talk about the fact that I finally broke down and bought a new pair of black pants…except these aren't exactly "pants." I would say they're more like leggings, except they're not see-through at all. I was a bit shocked on how tight they are around the butt area, though. I had originally thought it might just be me being paranoid, but when I showed them to my husband he informed me that they do not exactly leave much to the imagination, and I might want to pull my cardigan down. Haha. So, these will be great to wear with cardigans/sweaters that cover my butt! But they're super comfy, and if the occasion ever arises, I could totally kick someone in the face while wearing them. 😉
I would also like to give a shoutout to the man on the bicycle who very much wanted to be in a photo with me. I think this because these photos were taken on a dead end road (seriously, it leads nowhere, you can see the end of the road in this photo), but this fella just kept biking back and forth as my camera clicked away. Haha. Or maybe he wanted to get a better look at my duct-taped tripod? Haha. My new tripod comes in the mail tomorrow, and I could not be more excited! Thank you to everyone who gave me suggestions on tripods! It was very much appreciated!
What do you guys, think? Is my observation of superheroes in leather jackets correct, or am I grasping at straws? And what are your thoughts on this jacket? Let me know in the comments!
Where to find it:
Leather jacket: c/o* Wilsons Leather
Pants: ModCloth
Boots: Target (Old. Similar here.)
Cardigan: Target (similar)
Sunglasses: ModCloth (Old. Similar here.)
Necklace: c/o* Rocksbox (use code "haveclotheswilltravelxoxo" for a free month!)
*c/o = courtesy of, meaning the company gave me this product to be used on my blog, and I did not pay for it. All opinions are my own, and I am not being compensated for a positive review.