An Outfit for Crazy Spring Weather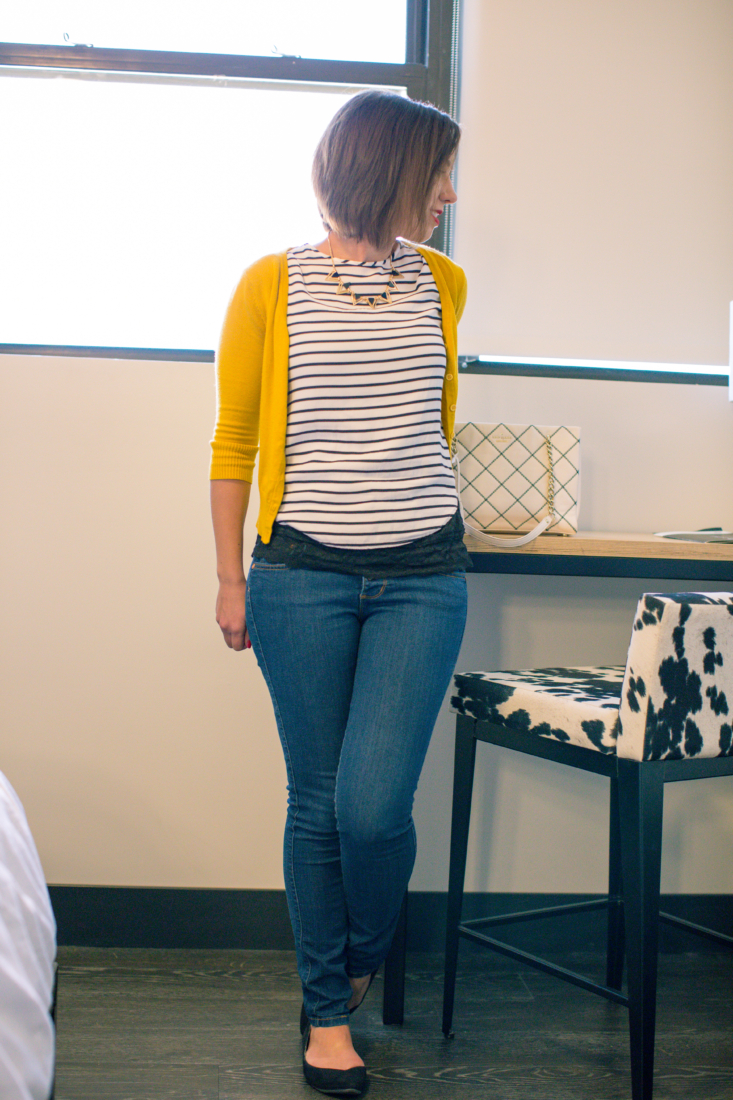 Top | Cardigan | Cami | Jeans (similar) | Flats | Necklace (similar) | Bag (similar)
I'm sure everyone is sick and tired of hearing about the weather by now, but it does play a big factor in the way we dress. Hence, why us style bloggers are always blabbering about it! And my goodness gracious, the weather has been absolutely bonkers here in Wisconsin. I'll show a funny picture comparison in a moment what a difference a week made in the weather by us, but first, let's talk about this here outfit.
This is one of those outfits in my closet I always grab when I don't really know what to wear…whether that's because I don't know what the dress code will be, or I don't know what the weather is going to do. It's a good fail-safe for me. Over the last week, I've worn it just for grocery shopping, dinner with friends, dinner with my husband's coworkers, antiquing with my mom…brunch. Gosh, I've worn it a lot.
I like this outfit so much because it has a hint of classy to it while still being casual. (You can never go wrong with black and white stripes!) I'll also pair it with black pants to up the dressy factor (I just couldn't find them when I did these photos, haha). I also pair it with knee-high boots when there's a ton of snow on the ground! It works for all kinds of weather conditions, which is what we've been experiencing in Wisconsin! Check out the photos, below. The one with the huge snow drift was taken less than a week before the one with my mom, my aunt and me sunning ourselves, haha. I actually got too warm with my cardigan on in that photo! (And my aunt and I did not plan our striped tops that day! Haha.)
And when I took the rest of these photos last week, I was actually at Hotel Grinnell in Iowa. It was hailing out when I took the photos! So, that's why I'm huddled in my hotel room taking outfit photos. Haha. Taking photos in hail wouldn't be fun at all.
Now, I'm curious, what's your go-to outfit when you don't know what to wear…whether it's because of the weather of the dress code? Let me know in the comments!
Where to find it:
Shirt: H&M
Cardigan: ModCloth
Jeans: Judy Blue (Sold out. Similar here.)
Flats: Chinese Laundry
Necklace: Gift from my mom (Similar here.)
Cami: Maurices
Watch: c/o* JORD Wood Watches
Bag: Kate Spade (similar)

*Disclosure: some of these links are affiliate links. Meaning, if you click a link and make a purchase, Have Clothes, Will Travel gets a very small commission at no extra cost to you. Thank you for supporting the brands that make this blog possible! I am also a participant in the Amazon Services LLC Associates Program, an affiliate advertising program designed to provide a means for us to earn fees by linking to Amazon.com and affiliated sites.
*c/o = courtesy of, meaning the company gave me the product to be used on my blog, and I did not pay for it. All opinions are my own, and I am not being compensated for a positive review.