Where to Stay in Grinnell, Iowa? Hotel Grinnell, a School Turned Hotel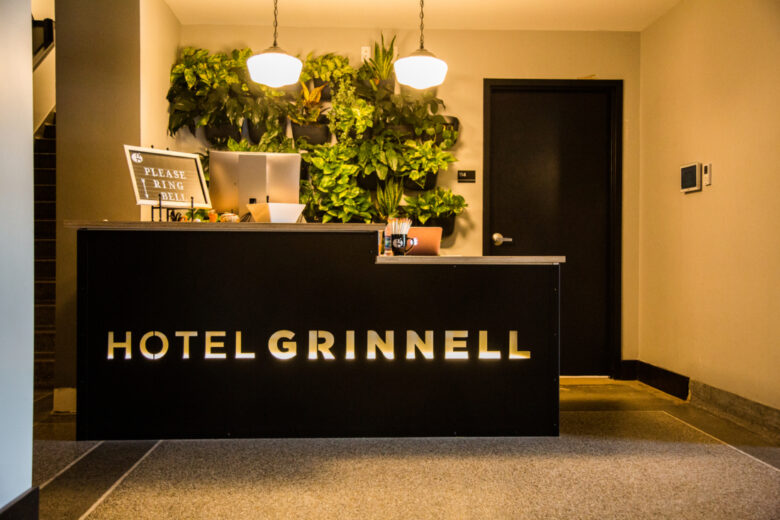 Hotel Grinnell is a one-of-a-kind boutique hotel in downtown Grinnell, Iowa. This is by far the most unique hotel I've ever stayed in. That's because it was once a junior high school, and instead of gutting the building, its owners, Steve Holtze and Angela Harrington, decided to embrace the building's scholastic past.
The rooms are converted from classrooms and every room comes with a chalkboard, lockers are turned to benches and the old scoreboard hangs in the lounge. You can also never erase the feeling of walking down "a school hallway," which is what you'll do on your way to your room at night. As I said, it's unlike any hotel I've ever stayed in! (This is where I had stayed last week when I was in Iowa.)
Click here to see Hotel Grinnell's current booking rates.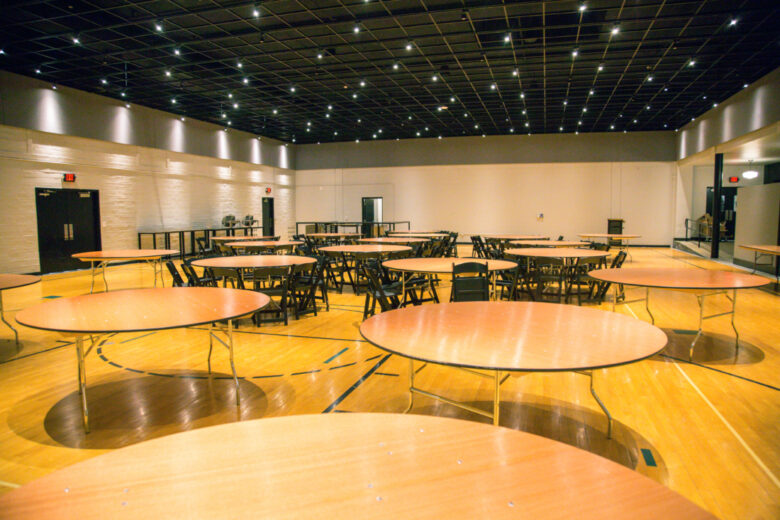 The Rooms at Hotel Grinnell
Beyond being repurposed classrooms, Hotel Grinnell also has some very interesting features to their rooms.
Bunk Rooms: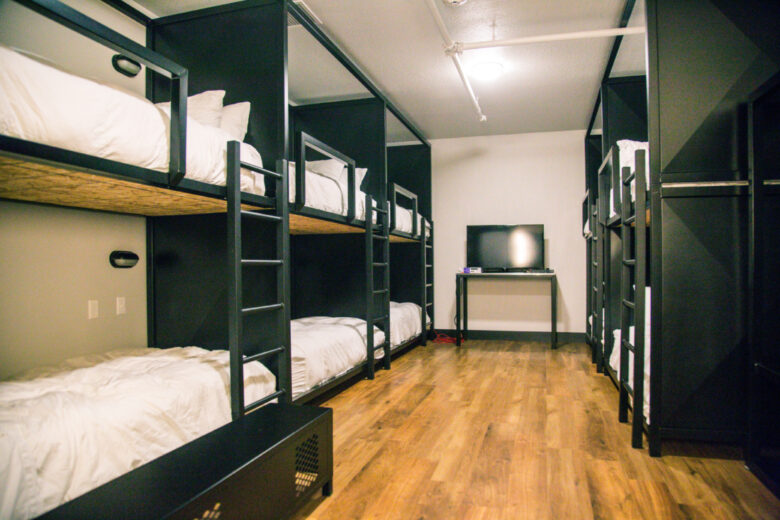 This isn't something I've seen in a midwest hotel until now! Hotel Grinnell offers two bunk rooms featuring 10 beds each. They say they've been used by sports teams, bachelor/bachelorette parties, families traveling together, etc. It's a fun idea, in my opinion.
Penthouse Suite: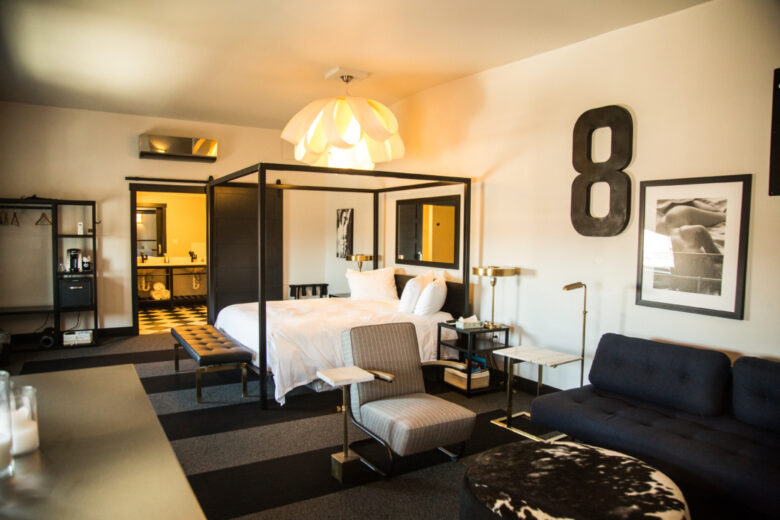 Wow! The Penthouse suite was created to be used as a bridal suite. The bottom level comes with a salon for the bride and bridal party to get ready in. Once you climb the stairs, to the top level of the suite, you'll find a large sitting area, a beautiful bed (how cool is that chandelier?), and a bathroom equipped with a tub plenty big enough for two.
Standard Rooms: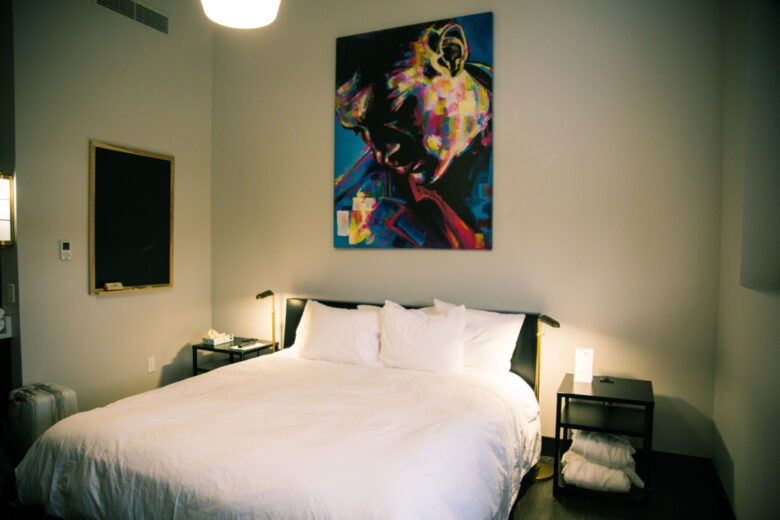 I had stayed in a King Loft when I was staying at Hotel Grinnell (pictured above). Once again, these are converted classrooms that come with their own chalkboard (which I thought was cute) and designer fixtures and furniture. They also have the original hardwood floor of the school. Rooms also include a mini fridge (but no microwave).
Unique Offerings of Hotel Grinnell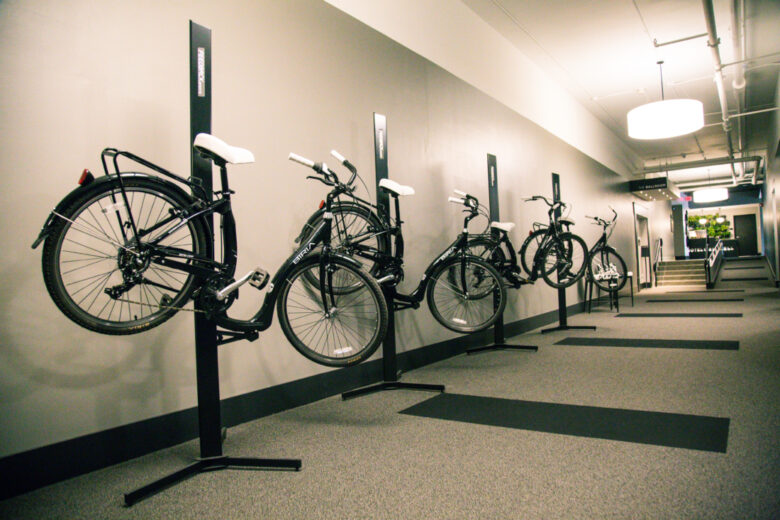 Hotel Grinnell also had some fun offerings! Here were a few I especially liked…
*Complimentary bike rental! How cool is that? Choose a bike and explore the city.
*Dogs are allowed.
*Outdoor dining area offers complimentary blankets for a chilly night.
*You can request a yoga mat for your room.
*In a room off of the fitness center, you can request a massage from their on-call masseuse.
*There are lots of board games to play in the lounge area!
Food & Drink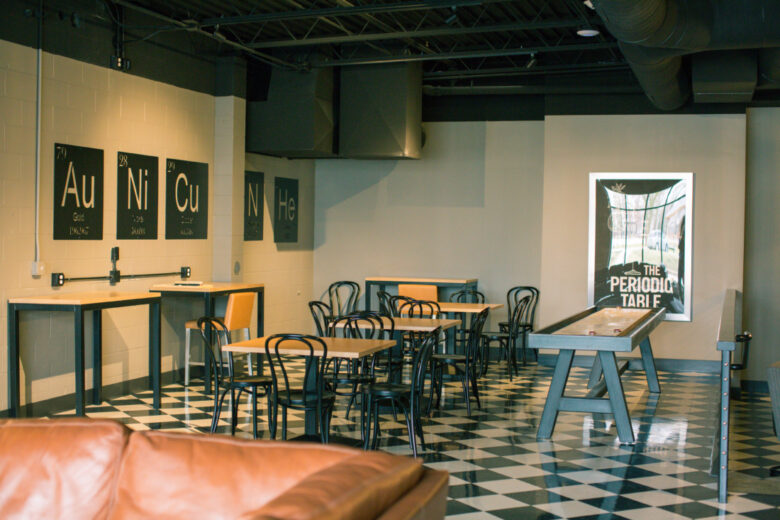 Hotel Grinnell does have its own onsite bar and restaurant called The Periodic Table, which makes it the only hotel in Grinnell to have this. It's a fun place to grab a drink and a bite to eat.
It's also within walking distance of many other restaurants, bars, and cafes. Relish is a cute restaurant right across the road (pictured below). I also enjoyed dining at Prairie Canary, which is within walking distance and has the best brussels sprouts I've ever eaten. (And I absolutely hate brussels sprouts!)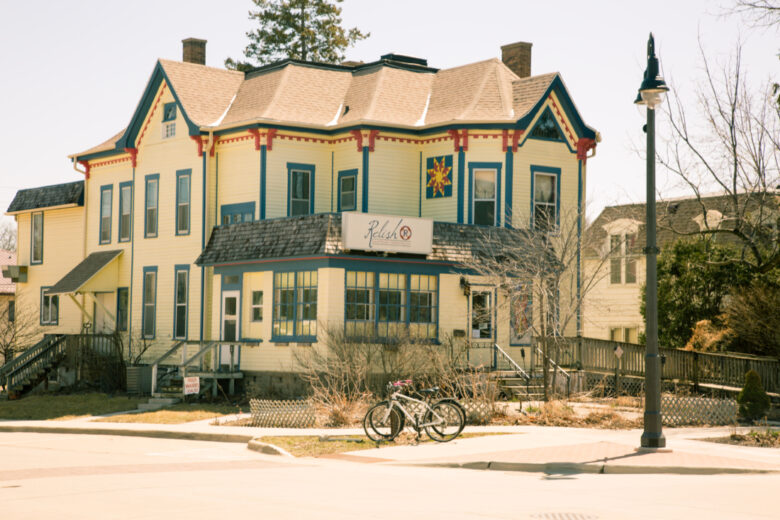 What I Thought
Personally, I loved it. I enjoyed the service, decor, the bed was comfortable, and I liked being within walking distance of restaurants and businesses. I'm weird about the little bottles of shampoo at hotels (SO much waste), so, I also loved that they had refillable soap bottles throughout their rooms. I really appreciated the uniqueness of it all, and how much thought went into everything.
A couple negatives that were brought to my attention, though (from business travelers)… being a boutique hotel, you won't be able to earn reward points. There are also no microwaves in the rooms. (But they do have a restaurant downstairs.)
I would certainly stay here again if I were to return to Grinnell (which is very likely). I really want to come back for Pella's annual tulip festival (about 40 minutes away)!
*Click here to see current rates for Hotel Grinnell, and click here for the Grinnell Hotel website.
I'm curious, have you ever stayed in a hotel that was once a school or some other sort of a business? Let me know in the comments!
See more photos of Hotel Grinnell below.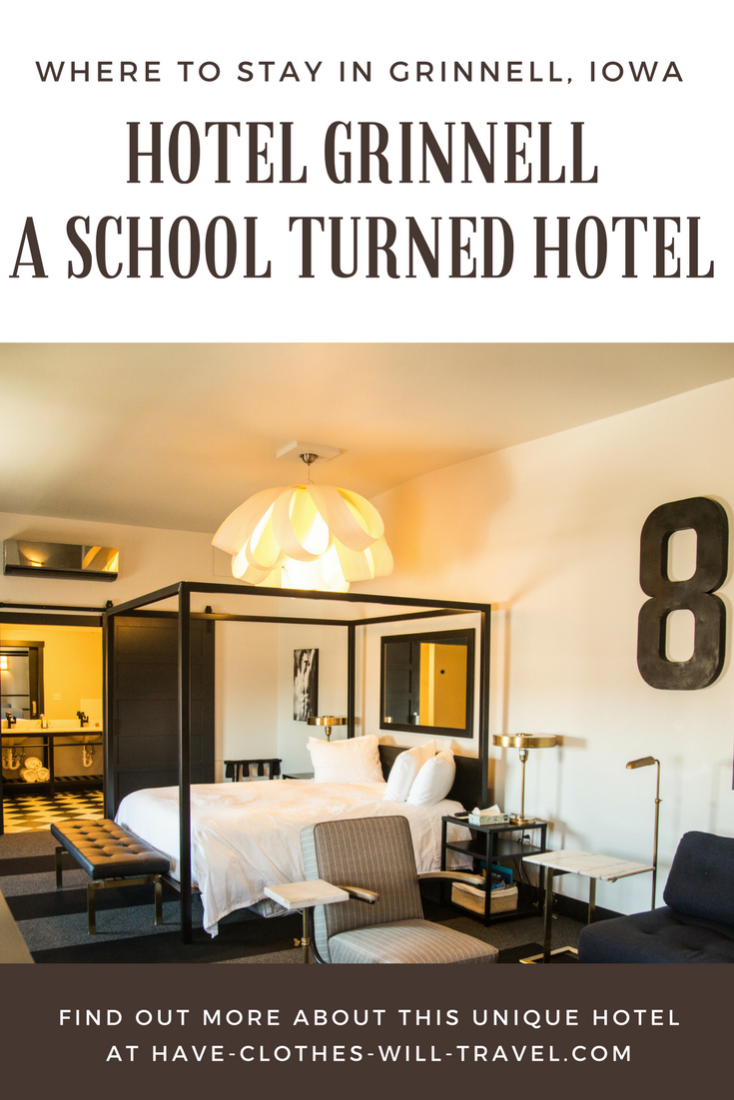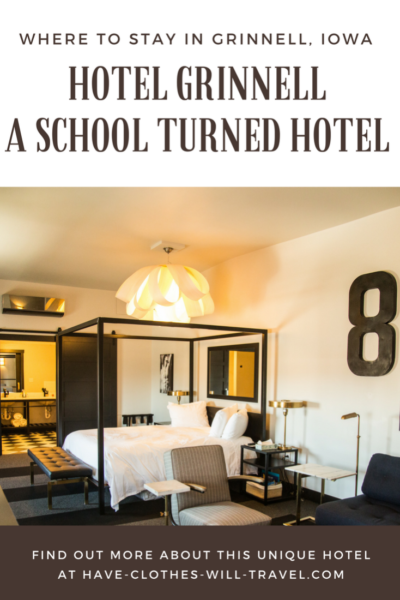 *Disclosure: some of these links are affiliate links. Meaning, if you click a link and make a purchase, Have Clothes, Will Travel gets a very small commission at no extra cost to you. Thank you for supporting the brands that make this blog possible! I am also a participant in the Amazon Services LLC Associates Program, an affiliate advertising program designed to provide a means for us to earn fees by linking to Amazon.com and affiliated sites.