Whitening Sensitive Teeth at Home
*You can enter to win a free whitening kit at the end of this post!
"You have such a beautiful smile!" That is the best compliment you can receive, in my opinion. Especially if it was from Dentist Sarasota!!
Your teeth can be both a source of confidence or anxiety. For example, a friend of mine who lives in Oregon has just had a shimmering set of porcelain veneers fitted. She'd been insecure about her smile all her life and since getting her new teeth has been overjoyed with the boost in her self esteem. You can check out www.calvodental.com or a dentist closer to home if you're considering any cosmetic dentistry.
When I was growing up, my smile wasn't exactly "beautiful" by conventional standards. I had big front teeth, which I hadn't exactly grown into. Plus, my teeth were crooked and rather discolored. It was one of those things that I would get made fun for of by the other kids' until I had my smile corrected with braces.
Now, I'm obsessed with making sure I keep my teeth straight and white! So I get why people who are in a similar situation would look to Aesthetic Dentistry, as they will be able to find qualified dentists who can give them the smile they have always wanted. I have been wearing my retainer every single night since my braces were taken off over 15 years ago. I know, that's not normal, haha. But my teeth are still straight!! If you're looking for cosmetic teeth surgery, you'll want to get in touch with dentistries such as Dentist Hartford and see what they can do for your smile!
What I Used to Whiten My Teeth
While I still wear my retainer diligently keeping my teeth white has been a bit trickier, though. I live for coffee and drink it all day long! (Probably not the healthiest thing in the world, don't tell my doctor!) I'm also a big fan of red wine. Needless to say, I like to use whitening strips occasionally to keep my teeth white, but they make my teeth SO sensitive. With this being said, if you prefer to leave the teeth whitening to a cosmetic dentist, for example, it would be best to book an appointment with your local dental clinic, so they can give you advice on this treatment and what you can expect. If you are not sure about doing things like this on your own, speaking to people who do know can make such a difference.
So, when I had the chance to try Smile Brilliant, I was a bit hesitant. I didn't want to deal with having sensitive teeth again. But after doing some research, I realized Smile Brilliant had a plan for helping to prevent any teeth sensitivity.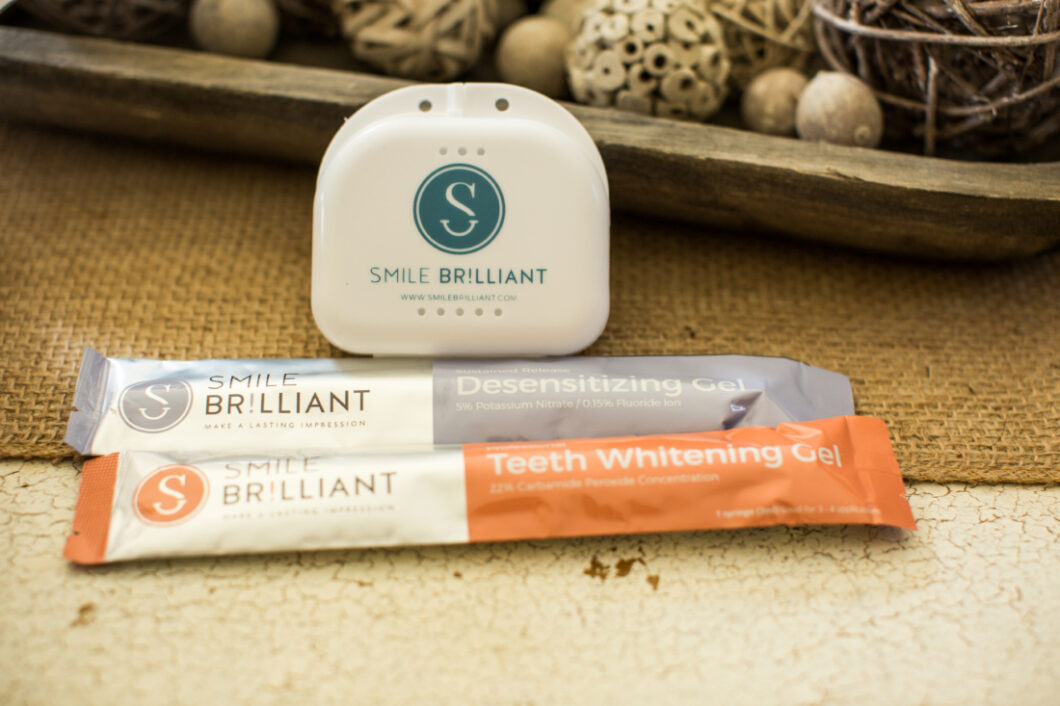 After I would get done whitening with Smile Brilliant, I would apply a desensitizing gel that would work miracles! I experienced virtually zero sensitivity while using this kit!
How Smile Brilliant Works
This was a really interesting process, far beyond anything I had tried in the past! I started by answering a few questions about my dental history (such as I DO experience teeth sensitivity when whitening). Then Smile Brilliant sent me my kit within days. I made teeth molds and sent them back to Smile Brilliant. Yes! Teeth molds! This is so my whitening trays would fit my teeth EXACTLY. It?s really cool. See, these are what my teeth look like.
After I sent my molds in, it took about a week to get my custom trays (above) and begin whitening.
Now, I was overly cautious about using my whitening gel at first. I only put a thin line in the trays each time and would whiten for about 45 minutes to an hour. However, once I realized my teeth were not becoming sensitive. I upped my whitening time to 2 hours and used the recommended about of whitening gel. (You should use about ? of each syringe when you whiten.) Then I would apply the desensitizing gel for 20 minutes. And guess what? My teeth feel and look great!
Giveaway!
Now, don?t just take my word for it! You can try Smile Brilliant for yourself! You can enter to win a FREE whitening kit from Smile Brilliant by clicking here. (Open to USA, UK, Australia, and Canadian residents. Closes on June 18th, 2018.)
And if you?re not feeling lucky, you can get 15% off storewide at Smile Brilliant with code: haveclotheswilltravel15.
?
I?m curious, have you used any kind of teeth whitening before? And if so, how did it go? Let me know in the comments!
*Click here to see the outfit post from this post.
?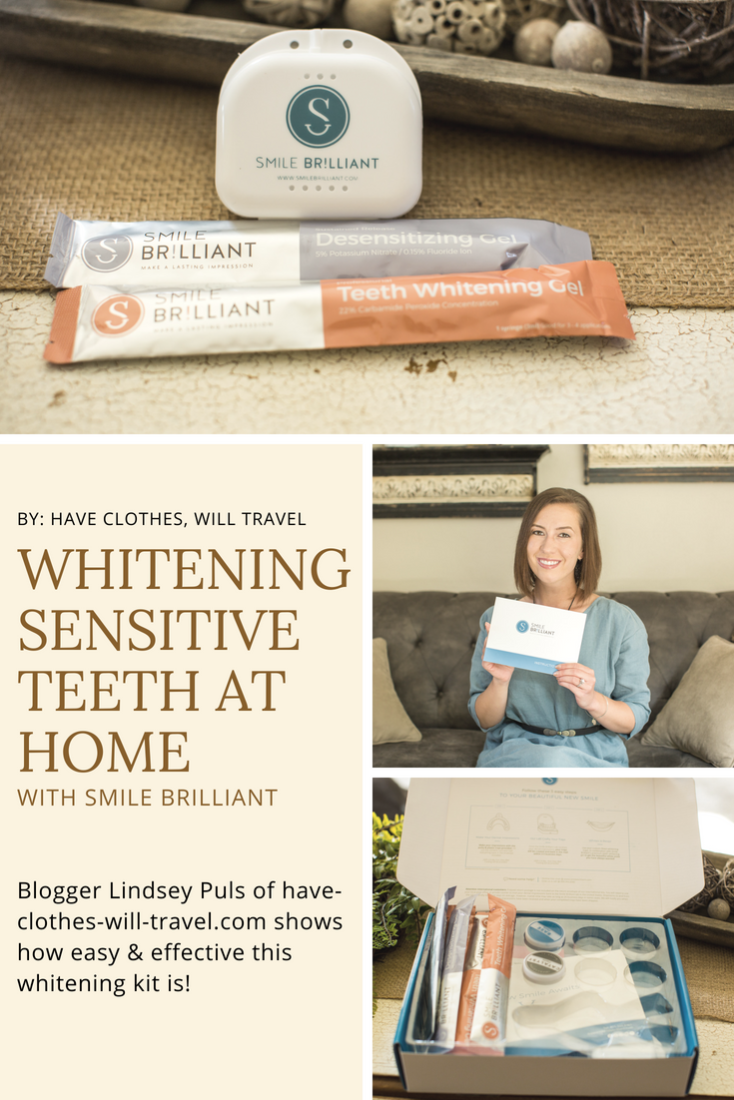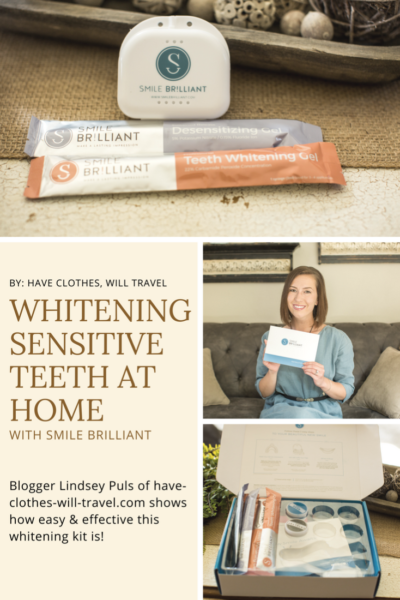 ?

*Thank you to Smile Brilliant for collaborating with me for this post! All opinions are my own, and I am not being compensated for a positive review.