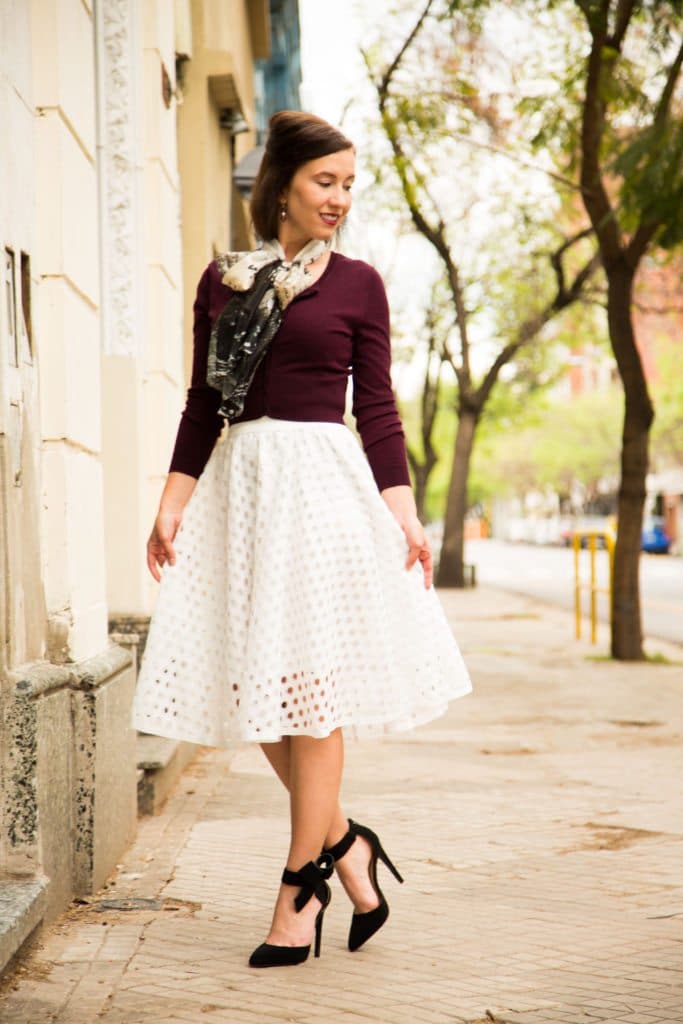 Skirt | Heels | Cardigan (Similar) | Scarf c/o*
After all my casual exploring/traveling outfits, it sure felt good to break out a fun, girly outfit for today! And can you get more girly than an outfit filled with bows? (Only if there were also polka dots, haha.) This outfit is also exciting because it's featuring the first item I've successfully had shipped to my address in Argentina! Wahoo! (More on that in a moment.)
But I'm not going to lie, I had gotten very used to wearing flats and sneakers these past couple months. Haha. I looked like a newborn fawn walking in these heels. But, gosh, were they worth it. They're so cute! I've featured them before multiple times, and my stance on them still holds true…despite their intimidating height, these bow heels actually aren't that bad for walking in. (It just takes some getting used to if you haven't worn heels in awhile!)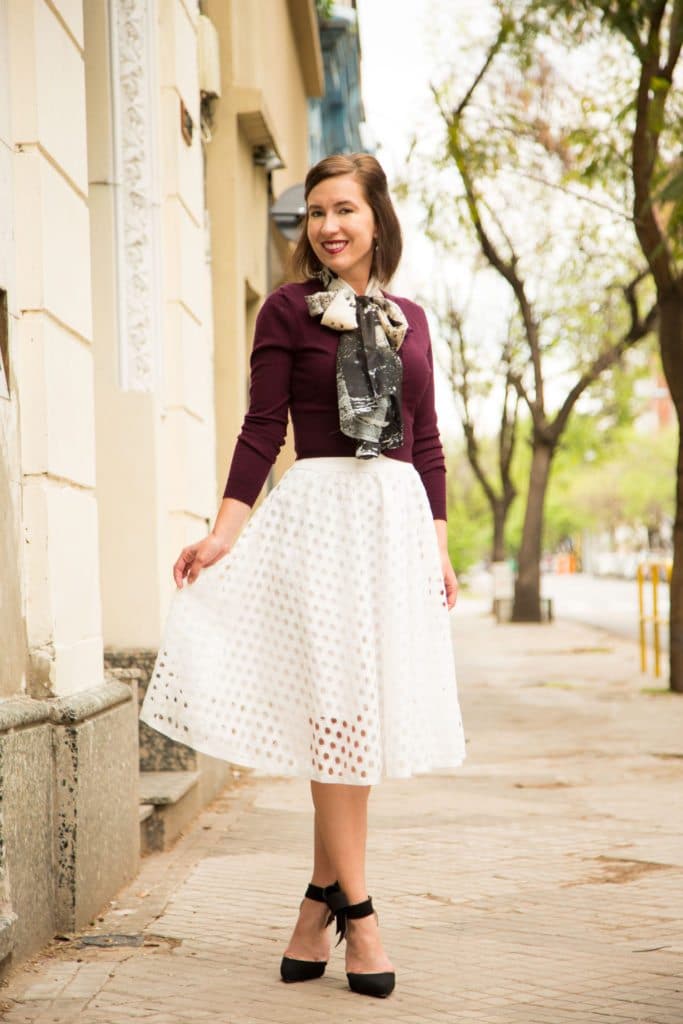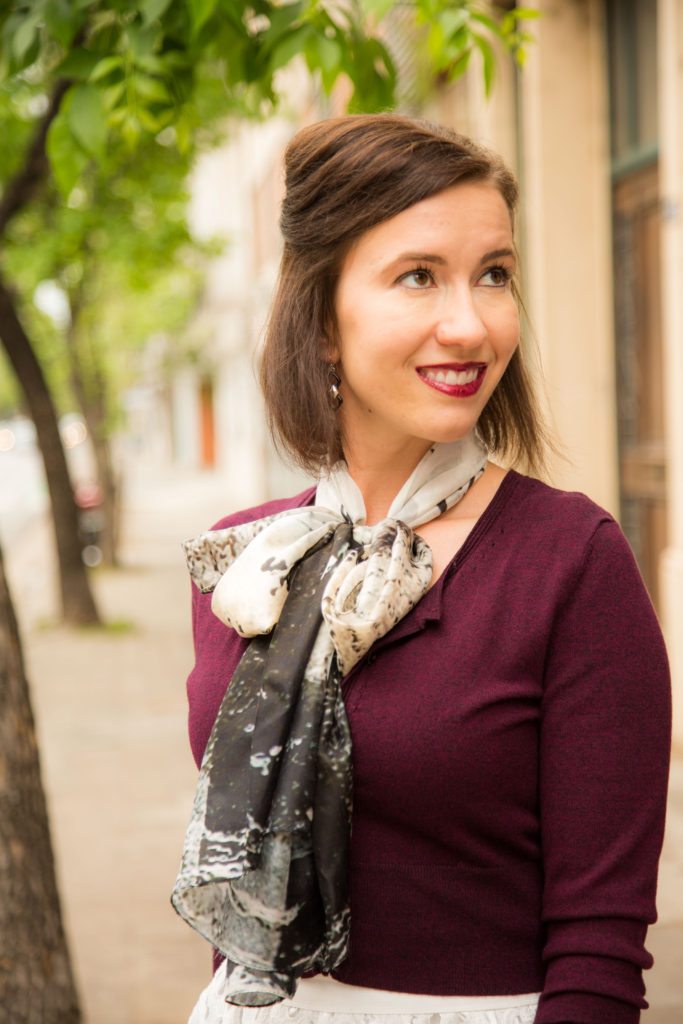 However, this outfit had actually been centered around my beautiful new, silk scarf from my friends over at Asian Eye! This scarf is exciting for a number of reasons. As someone who loves shopping online and getting mail, I was incredibly excited that Asian Eye was able to ship this scarf to my address in Argentina! (I've tried having other things shipped here months ago, and as far as I know, they're still stuck in customs.) But Asian Eye figured out the shipping requirements and this scarf sailed through customs no problem…and it only took about a week to reach me!
Most importantly, though, this scarf is absolutely beautiful. I love that I can get creative with the way I tie it and it stays put! I have other scarves that are super slippery and would never hold this bow shape. But I've had no issues with this one. Get ready, it'll be featured in another post very soon because I want to show off this beautiful design on it too!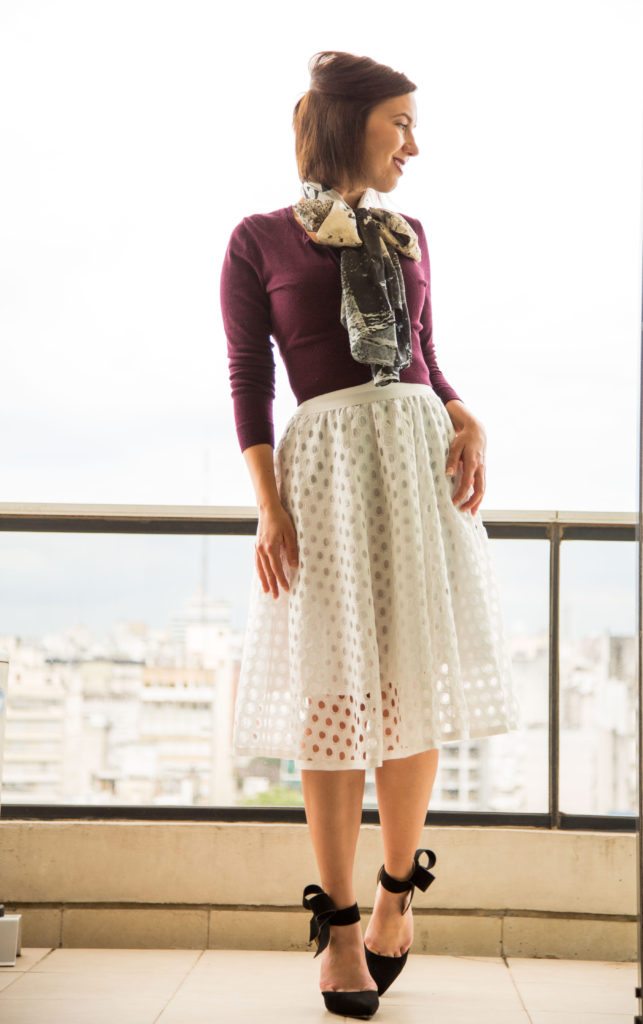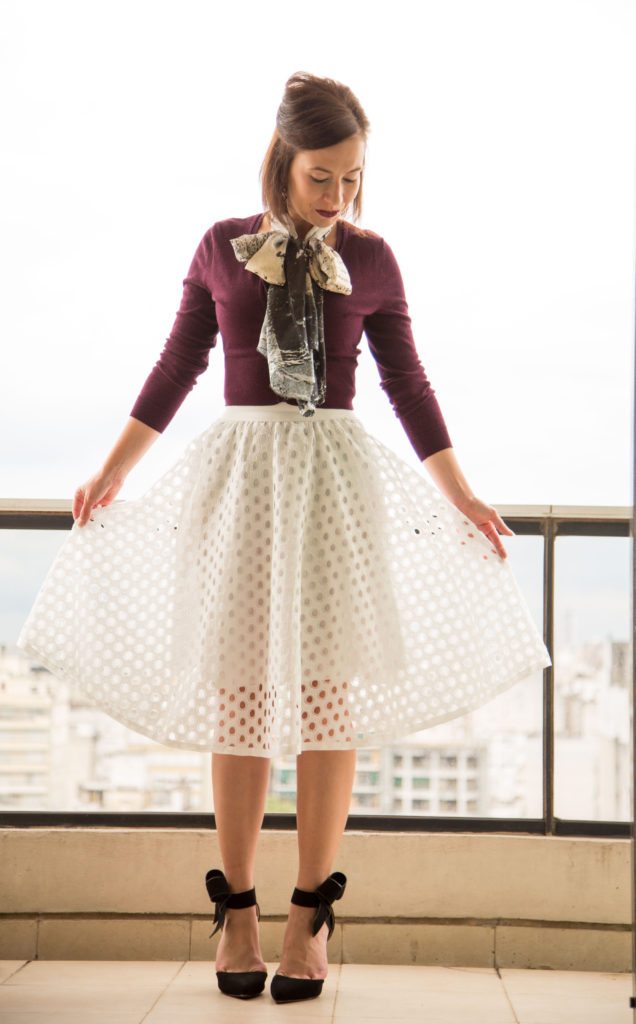 I've lost track of how many times I've featured this white, eyelet midi skirt. But, gosh, it's so versatile! Would anyone be interested in an outfit remix post featuring it? Let me know in the comments!
I hope everyone has a wonderful weekend! Do you have any fun plans? Or fun outfits you'll be wearing this weekend! Let me know in the comments too! (I will likely be glued to my television binge-watching Narcos – I'm newly addicted! Haha.)
Where to find it:
Scarf: c/o* Asian Eye
Skirt: c/o* Shein (Also here)
Heels: Old (Identical here)
Cardigan: Review Australia (Similar here)

If you like it, Pin it!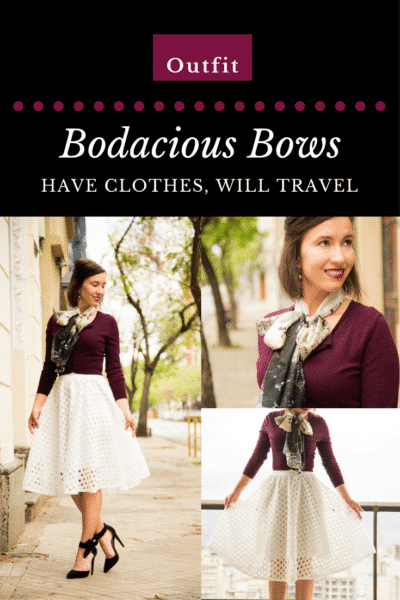 Disclosure: some of the links in this post are affiliate links. Meaning, if you click a link and make a purchase, Have Clothes, Will Travel gets a very small commission. Thank you for supporting the brands that make this blog possible!
*c/o = courtesy of, meaning the company gave me the product to be used on my blog, and I did not pay for it. All opinions are my own, and I am not being compensated for a positive review.