Visiting the Minneapolis Institute of Art (Featuring the Jane Austen Reading Room)
*If you like this post, it is now available on iTunes as a self-guided walking tour! Click here to download it.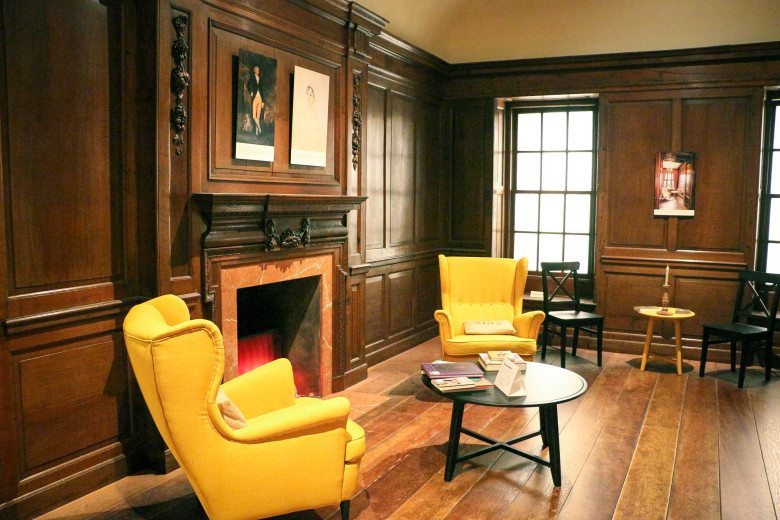 I am a huge fan of Jane Austen. Okay, that is a bit of an understatement… I have been reading and rereading her books ever since I was 13. I have read all of her major novels and am currently working on reading some of her lesser known/unfinished works. (I'm reading The Watsons right now.) Her novels have always been a rock in my life. They offered/offer an escape from whatever troubles were/are happening in my life. And Jane Austen and her female heroines are an empowering reminder, that even 200 years ago…there were strong women characters, who challenged the ideals set for them. They didn't conform to what was considered "normal" for women, and instead forged their own paths and did what they believed to be right. So, why am I telling you this? Because I had the opportunity last weekend to really let my love of Jane Austen and her characters shine.
In my previous post I had mentioned that I was in Minneapolis last weekend. And the Minneapolis Institute of Art (Mia) actually has an exhibit dedicated to Jane Austen! "The Jane Austen Living Room" discusses Austen's habits as a reader and writer, recreates scenes from one of her novels. And you can sit and read works that Austen read, wrote, or inspired. I think I became a little teary-eyed when I stumbled on that info while I was searching for things to do in Minneapolis.
This is part of the Minneapolis Institute of Art's "Living Rooms: The Period Room Initiative." Click here to see their current exhibit.
The Jane Austen Reading Room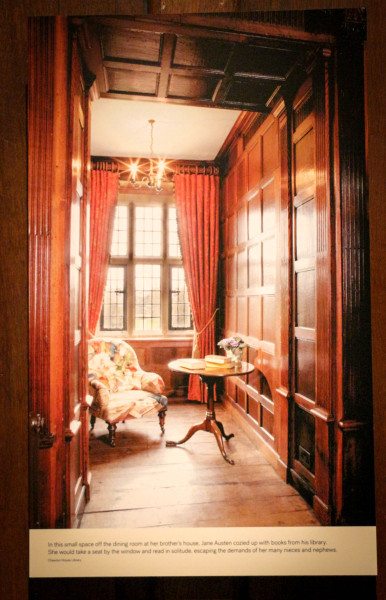 I had always assumed that I would have to travel to London to experience something like this. So, I was very excited to find out I could see it right in Minneapolis. (But don't get me wrong, London is still on my bucket list!)
And for the next picture, I'm curious if any other Jane Austen fans can guess which novel this scene was modeled after!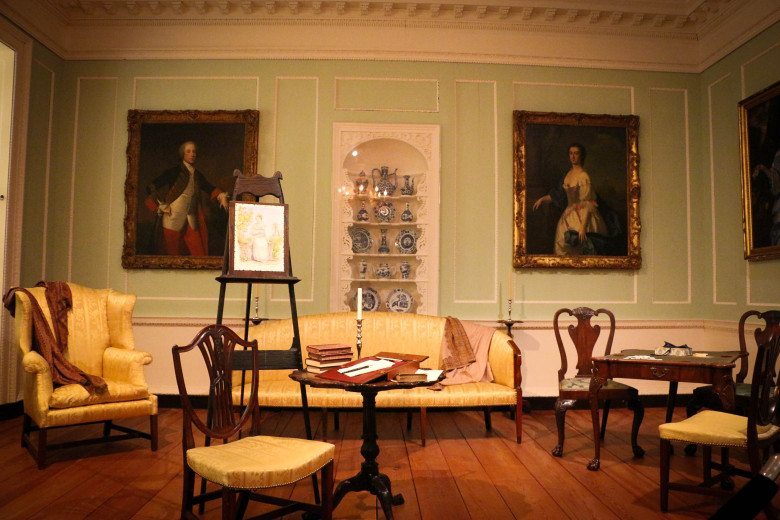 This is recreated from Emma! You can see Emma has been distracted from her projects of portrait painting, writing and reading (The portrait painting was what made me recognize this as Emma right away). Players have left their word game behind…and Emma's father has left his shawls behind.
While Emma is a bit naive, I had always liked that her main mission in life was not to settle down and get married (which 200 years ago was a woman's main goal). Emma is actually Austen's only heroine of independent means who doesn't have any desire to marry. Austen wrote Emma at the height of her personal and professional life. She was making income from her novels and was negotiating with one of England's most powerful publishers.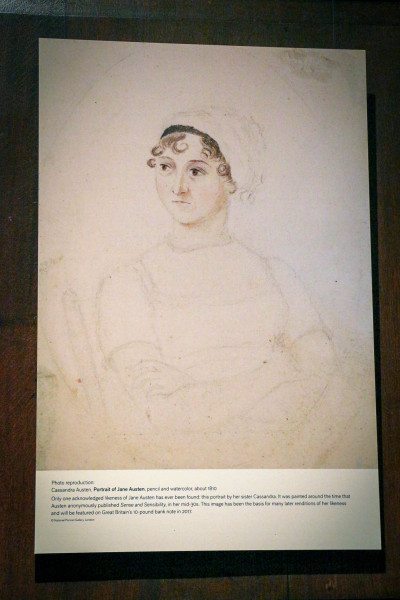 This was such an awesome experience for me. I was also really excited to see a fellow Jane Austen fan equally as excited about this exhibit as I was. (We both had that starry-eyed look going on…and were the only ones who curled up in the reading corners to go read some of Austen's works.) 🙂
My only complaint about this exhibit was that they had Austen's major novels on display…but they didn't have any information on the books themselves. Were these first editions? When were these specific books on display published? I also wish I could've seen the covers of them. (I know you shouldn't care about the book's cover…but I really like Pride & Prejudice's original cover!) But I still loved this exhibit, despite the omission of that information.
Here are a few more photos of the exhibit, that have descriptions if you click on them.
Other Exhibits at the Minneapolis Institute of Art
I did try to spend a little time exploring the other exhibits in the museum. I didn't have a ton of time because I was driving back to Wisconsin that afternoon. But here are a few exhibits I took photos of.
This particular exhibit I thought was very bizarre! It's called "Touching Each Other." The artist, Emmet Ramstad, says that his sculptures explore the "intimate ordinary." And apparently, everything in here has been used. Interesting.
The photos below are from various exhibits throughout the museum. Many of the works are from familiar names, like Picasso, Matisse & Monet. You can click on each photo to read a description of the piece.
Also, the day I was at the museum was one of the most interesting environments I have ever experienced at an art museum. They had a band playing and had activities throughout the museum to get children interested in the displays. It was very different to see very young children running and screaming through art exhibits, but I liked the concept of getting children interested in art!
For more information on the Minneapolis Institute of Art, click here. Are there any other Jane Austen fans out there? Let me know in the comments!