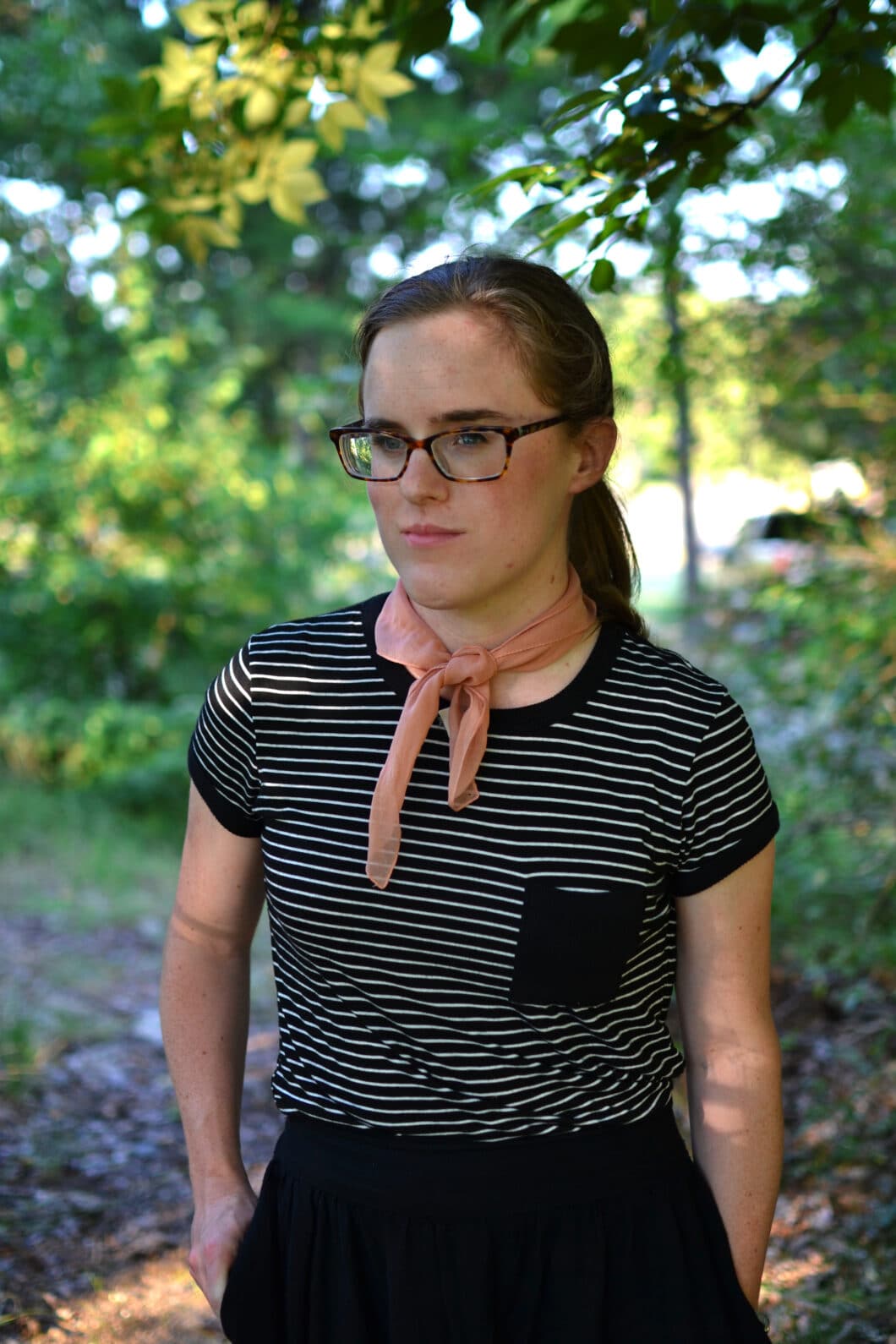 Meet Lee from the lovely blog "Lee Thrifts!" She's September's Featured Fashionista and one of my favorite bloggers to follow!
Every time I visit Lee's blog I feel as though I'm stopping by an old friend's home to have a coffee and catch up. Her posts are incredibly interesting, yet relatable, well-written…with great photography and style to boot! Lee has an incredible knack for thrifting and is also one of the kindest people I have ever virtually "met."
I do hope the day comes when I get the chance to meet Lee in person, but until then, I will be reading her blog posts religiously! And don't take my word for it, get to know how awesome Lee is in her Q&A below! (And at the very least, click here to take a peek at "Lee Thrifts!)
*UPDATE: Lee has since renamed her blog to "Layers of Lee."
Q&A With Lee

Tell me a little about yourself.
Lee: By day, I work at a vocational school for the blind in the admissions department. I'm currently living in Arkansas but we'll see where I end up next! During my free time (when I'm not working/blogging) I love scouring the thrift stores, backpacking, and drinking lots of black tea!


How would you describe your blog, "Lee Thrifts?"
Lee: It is primarily a personal style blog focusing on second-hand clothing with a sprinkle of travel, beauty, and thrifting advice. I also used to make a lot of videos as well and I want to start that again.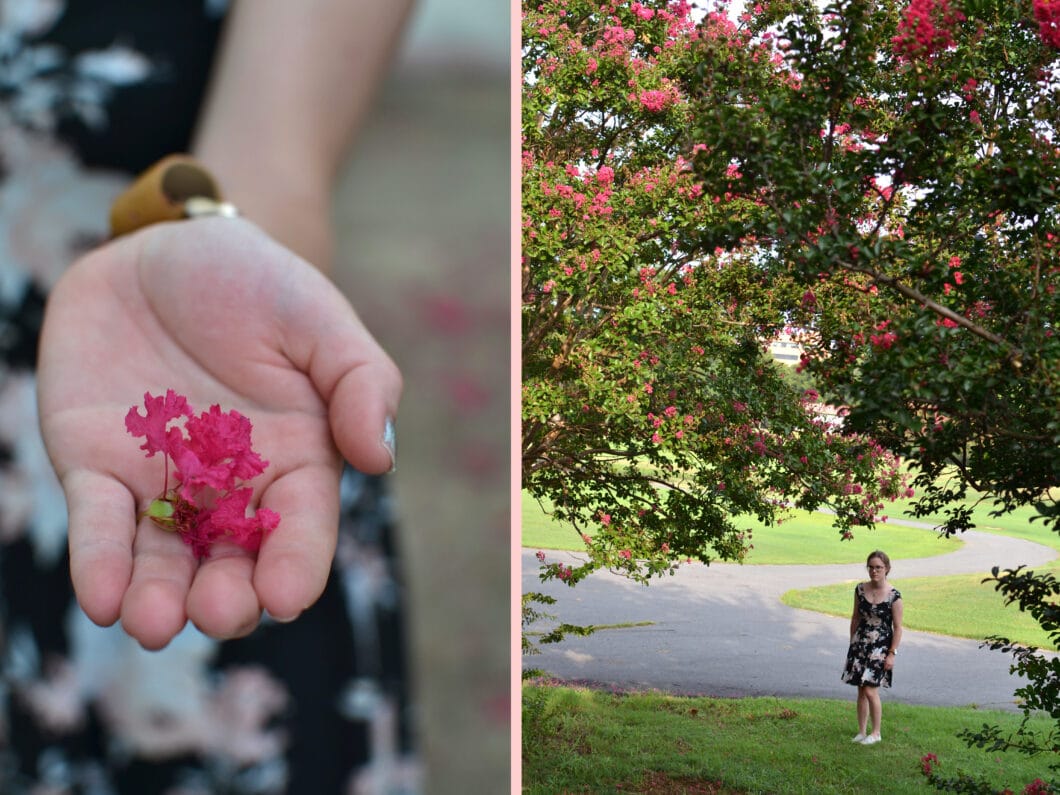 What do you hope the future holds for Lee Thrifts?
Lee: I'd love for it to become part of my income in a more stable way! I mean, in an ideal world I'd love to blog full-time but we'll see if that ever happens!
What would you say your favorite post is on your blog and why?
Lee: Oh, that is so hard! It's a tie. I loved this post from last fall just because I felt like the outfit was very much "me" and I had a lot of fun photographing it!
A more recent favorite was this one, which I think are some of my favorite photographs of all time and I really enjoyed writing about something so personal to me.
You have a degree in photography – that's awesome! Did that help you get started blogging? And are there any photography tips you would like to share?
Lee: It did! It was actually the reason I started my blog. In school I studied "fine art" photography so I always felt this huge pressure that my photographs had to have some big philosophical meaning behind them. After I graduated I wanted a way to take photos with less pressure.
As for tips… learn how to use the manual settings on your camera!! Also, shoot during the golden hour (right after/before sunset/sunrise). Those might be basic but I think they are so important! Also if you are feeling stuck – look at other photographers' work! I love Vivian Maier for inspiration.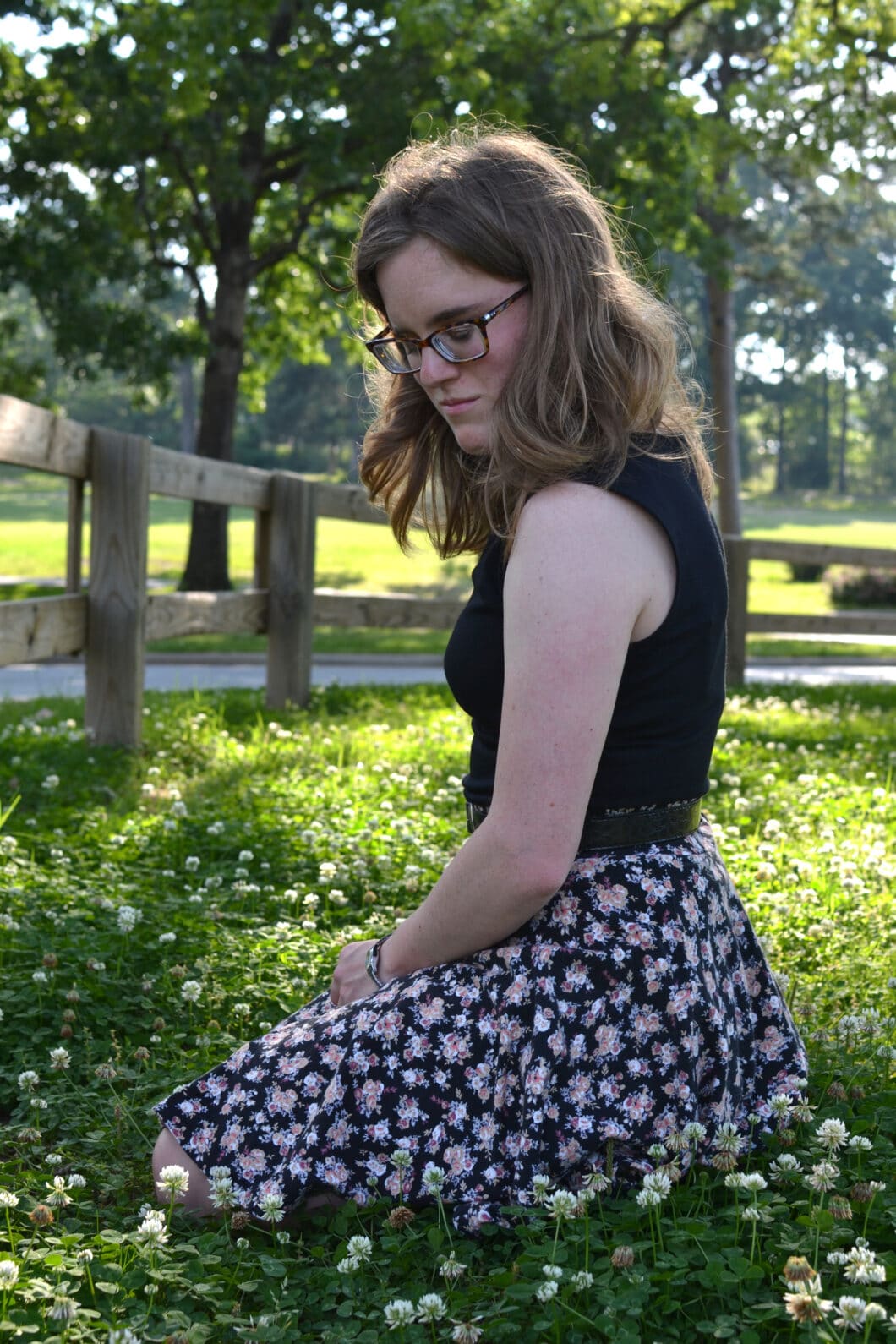 I do remember you writing that you are visually impaired… does this ever cause challenges with your blogging/photography? And if so, how do you overcome them? (Because your photos are always beautiful!)
Lee: Thank you! Yes and no.
In school, I almost didn't major in photography because my college only had darkroom photography. I can't see in the dark but my professor let me do digital work. It was sometimes very isolating because I was the only one in my program who didn't use the darkroom. But it was also rewarding in some respects because I had to teach myself a lot of things.
In regards to blogging – I can't drive so it's hard for me to get to places I want to photograph. There are a lot of nice parks near where I live but they are almost impossible to get to on a bike/public transit. So, I have to get a little creative with where I shoot. But on a positive – I find self-portraiture lends itself to someone who is visually impaired. I know exactly where I have the camera set up so I don't have to worry about not knowing where it is/what is around. I think photography really allows me to see more than I would normally and show the world what I see.
How would you describe your personal style?
Lee: It can really depend on the day! But I always try and add some kind of vintage element (whether that's inspired or real) and a touch of menswear. I find myself too feminine (I love a good dress!) to only wear menswear inspired clothing so I like to throw in some elements like loafers, a beanie, men's pants, etc. It doesn't always work out but I try.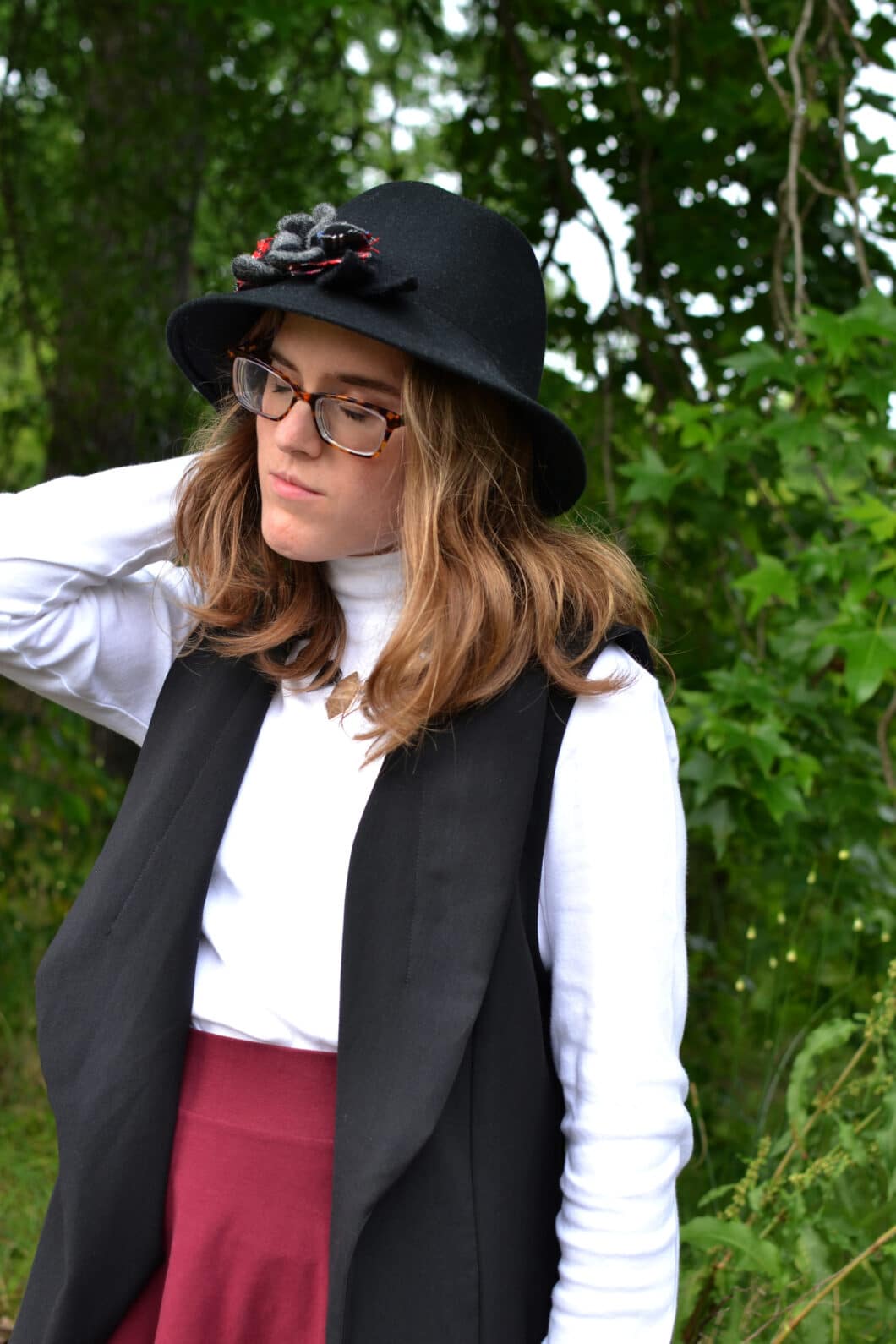 What is your go-to outfit?
Lee: Probably black jeans, a striped shirt, denim jacket, and some loafers. Super easy! I'm also a big fan of dresses.
If you had to pick, what would you say your favorite clothing store is?
Lee: There is a local thrift store back in Atlanta (where I'm from) called Last Chance. They have half price Monday (every Monday!), which was amazing. I miss it.
I don't really shop in regular retail stores anymore but if my budget allowed – I'd buy everything off Modcloth!
You are amazing at finding the best clothing at thrift stores! Are there any tips you would like to share for someone who would like to start thrifting more of their clothing?
Lee: Thank you! My biggest tips are 1) Go often and 2) take your time. I like to carve out a few hours to check everything out and take time to find the best pieces. I also wrote a post about some more tips, click here to see it.
Also common misconception – not all thrift stores are gross and dirty! Going with an open mind is also very beneficial.
In addition to your style posts, you also do travel posts (which I love!), what has been your favorite place that you've visited?
Lee: Oh gosh, that is so hard! Every place I've gone has been special in their own way but I think I love Istanbul the most. I've been there twice thanks to studying abroad and I really fell more and more in love with it each time. The Turkish people are so friendly, the food is good, it's beautiful, and they have the most amazing tea! I really couldn't say a bad thing about that city.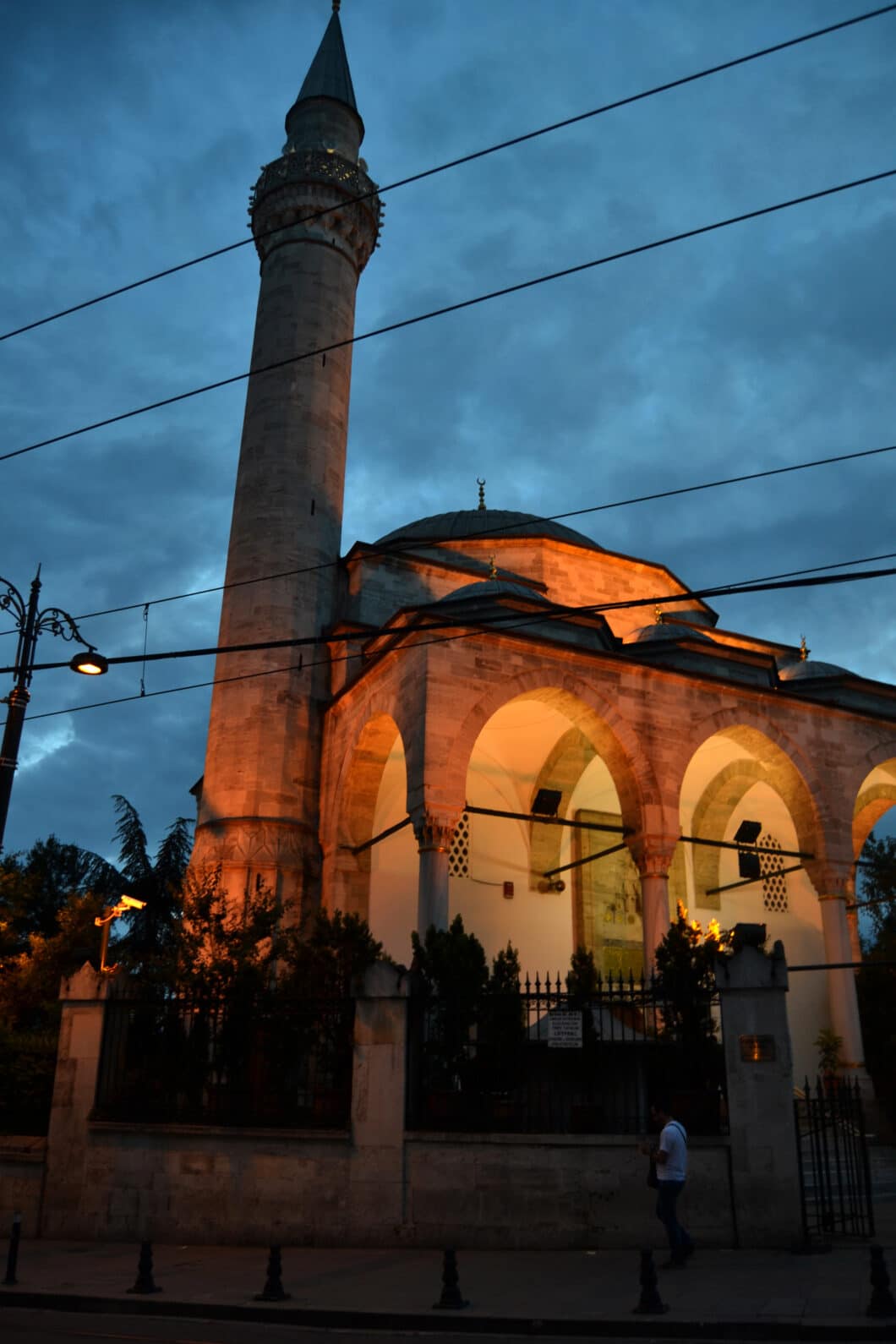 What advice do you have for someone looking to start their own blog?
Lee: Write about what you love! It won't be fun if you don't love what you do. Also don't be afraid and just go for it! It was the best decision I've made in the past year.
Any final thoughts you would like to add?
Lee: Thank you SO much to Lindsey for featuring me! I feel quite honored she chose me because Have Clothes, Will Travel is one of my all time favorite blogs! If you'd like to follow me you can find me at:
*Leethrifts.com
*Instagram
*Twitter
*YouTube
*Bloglovin'
*UPDATE: Lee has since renamed her blog to "Layers of Lee."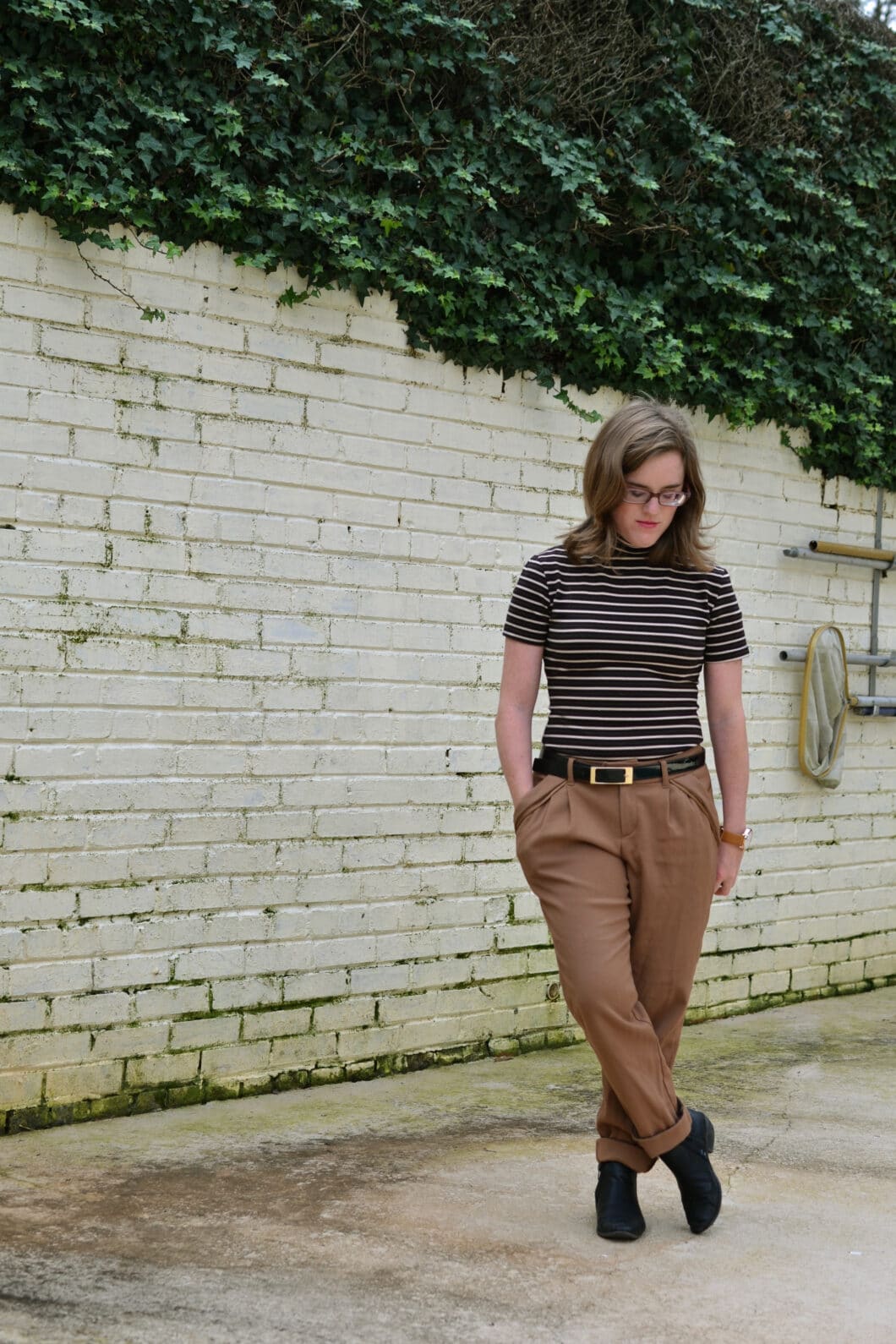 Thank you so much, Lee! And this also isn't Lee's first time being on Have Clothes, Will Travel. She helped me get my Travel Guest Post series kicked off! Click here to see her guest travel post for some awesome tips on how to pack like a pro!