Mixing & Matching Floral Prints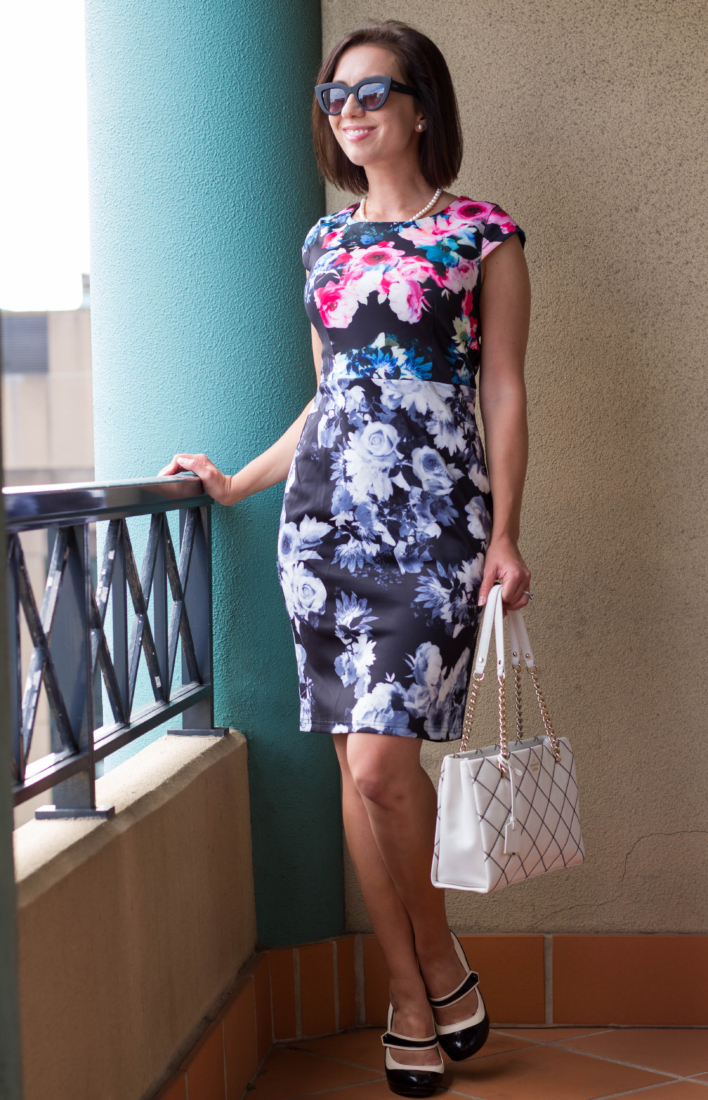 Dress c/o* (Similar options here, here, here & here) | Heels | Bag (similar) | Sunglasses | Necklace
Apologies if you all are sick and tired of hearing about floral prints…because I am really on a roll lately with this print lately! However, this is my one and only post thus far where I'm mixing and matching floral prints. This is actually a dress that I'm wearing, but it's much easier to recreate this look with a skirt and top (linked above).
Also, if this balcony doesn't look like it's from Wisconsin…it's not. Haha. I was cleaning off some photos on my computer, and I realized I had never shared this outfit post from when I was living in Sydney, Australia! Gosh, do I miss having this view!
This dress was from when I was working with a small Australian boutique. However, I've found tons of similar floral options in dresses, skirts and tops that I've linked to at the end of the post. I personally think a look like this can range anywhere from the office to a wedding to dinner and drinks!
And the key, in my opinion, to mixing and matching different floral prints is to make sure the floral colors still match in color or are different colors but still have a similar or identical floral pattern (like this dress). It's a bit tricky, as it can go from classy to overwhelming really quickly if you aren't careful. I also think adding a belt to this look could really tie it all together as well. (But when I photographed this outfit, I was trying to show that this was indeed a dress and not two separate pieces.)
Now, I'm curious, do you ever mix and match floral prints? Or what two prints are your favorites to mix and match? Let me know in the comments!
Where to find it:
Dress: No longer available (Similar options as skirt & top. Similar options as a dress: here, here, here, here & here)
Heels: Old (Similar here)
Bag: Kate Spade (Similar)
Sunglasses: Quay
Necklace: Gifted (Similar here)

Similar options as dresses in varying sizes:

*Disclosure: some of these links are affiliate links. Meaning, if you click a link and make a purchase, Have Clothes, Will Travel gets a very small commission at no extra cost to you. Thank you for supporting the brands that make this blog possible! I am also a participant in the Amazon Services LLC Associates Program, an affiliate advertising program designed to provide a means for us to earn fees by linking to Amazon.com and affiliated sites.
*c/o = courtesy of, meaning the company gave me the product to be used on my blog, and I did not pay for it. All opinions are my own, and I am not being compensated for a positive review.