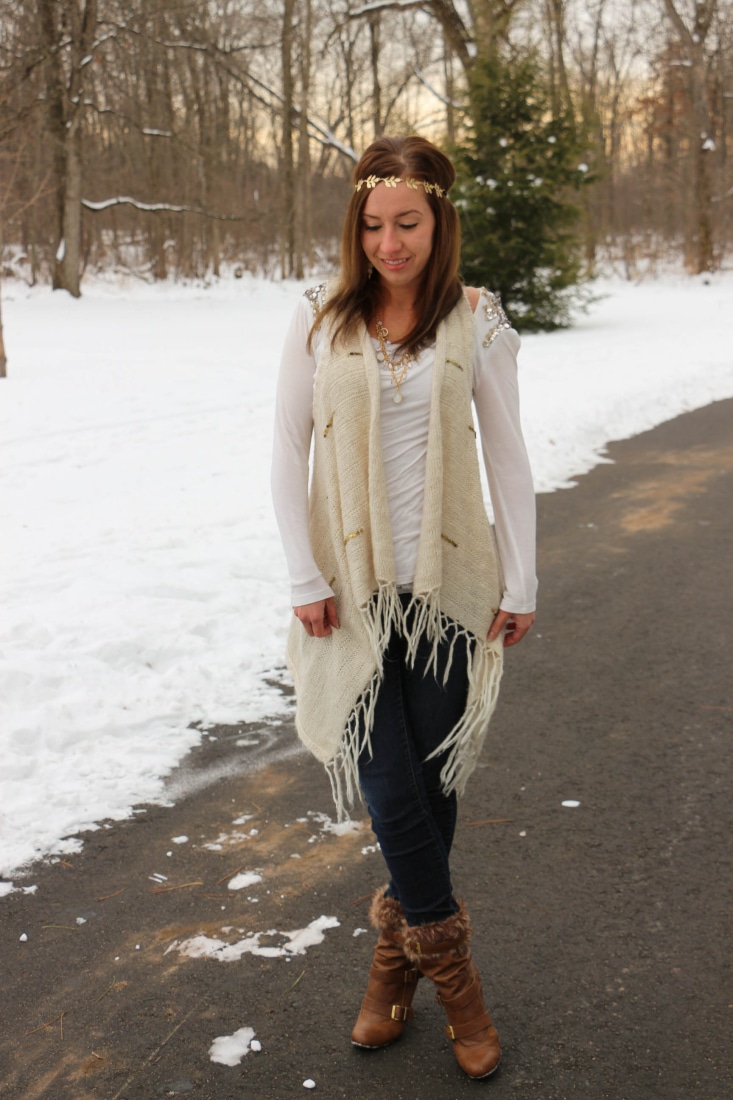 Shop the look:

I'm on a hair accessories kick, right now. There's just so many fun options!
I'm especially loving hippie headbands. They look like fun, modern day crowns. I'm not completely convinced I can pull it off (and my husband informed me he's not a fan), but I figured I would give it a shot with this gold leaf headband. I picked it up at Rue 21 for a few dollars. I am definitely too old to be in that store, but they do have some fun accessories. This headband is surprisingly comfortable, and I can wear it like a regular headband…if I give up on the across the forehead look.
My poncho and sparkly shirt are really old. I bought these from Charlotte Russe eons ago. But hey, ponchos have come back in a big way, and they are super comfortable in the winter months. I do have one disclaimer about ponchos, though… they are not flattering from every angle. Haha. I was going through the pictures for this post, and this poncho made me look, um, a bit thicker than I actually am from a few angles. However, that's to be expected when wearing something loose-fitting.
What's everyone's opinion on the hippie headband look and ponchos? Are you a fan, or will you let this fad pass? Let me know in the comments!
Where to find it:
Headband: Icing (similar)
Poncho and sparkly shirt: Charlotte Russe (No longer available. They do have plenty of other ponchos, though.)
Jeans: Target
Boots: Charlotte Russe (No longer available.)
Necklace and earrings: Target (In store)