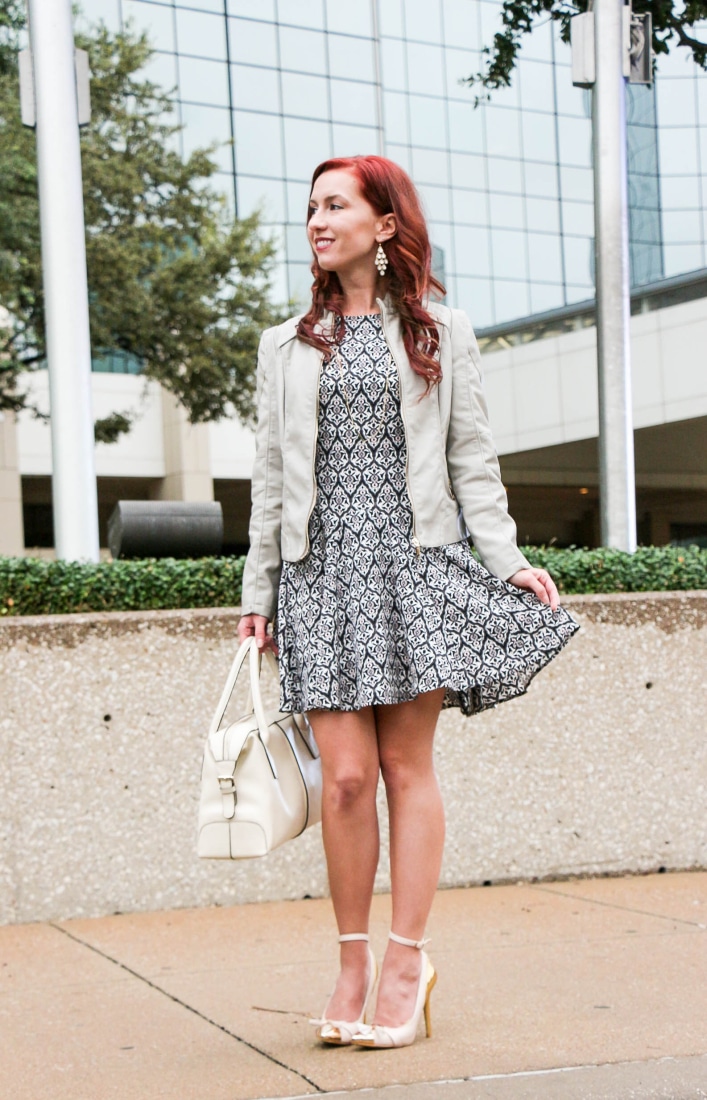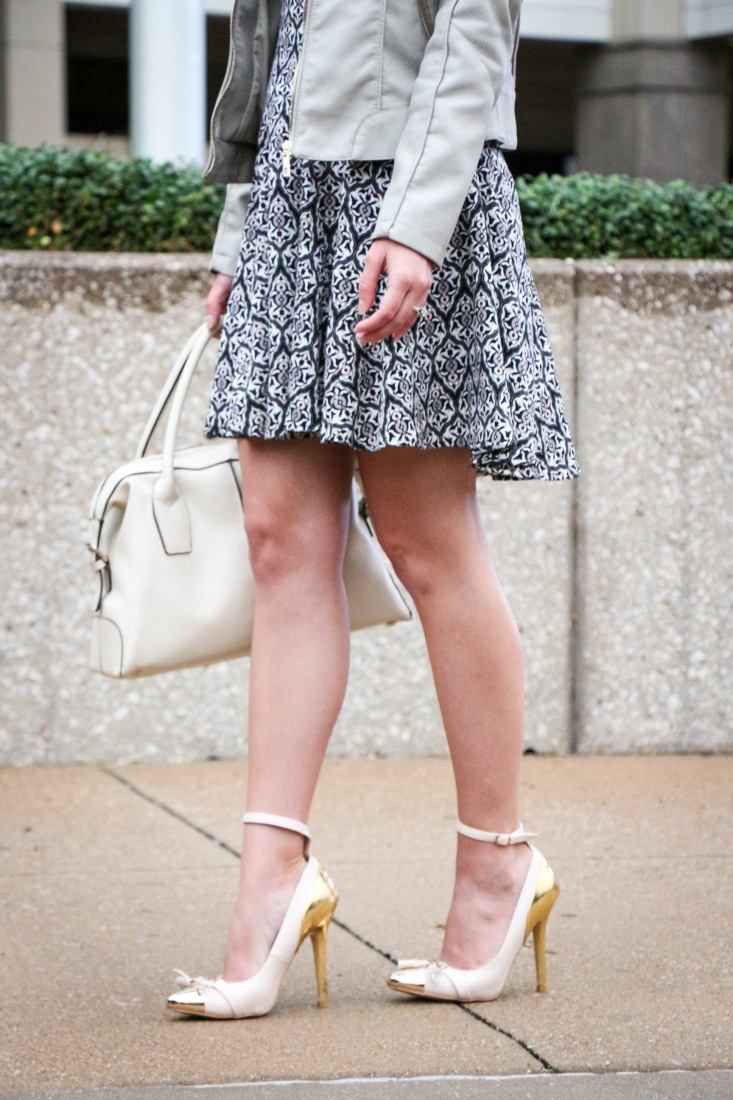 Shop the look:

You probably can't guess it by looking at them, but I'm actually in Dallas, Texas in these photos. I spent the weekend there for a convention for my husband's company…and let's just say Texas was not having the nicest weather while we were there! It rained nonstop, which according to the news program I watched, was the first rain Texas had in over a month. Go figure! Haha.
It mercifully stopped raining for 2 1/2 minutes so we could take these photos! (Seriously, it was a torrential downpour just seconds after we stopped taking photos!) Given the volatile weather, we just ran outside the hotel quickly to take these pictures – sorry for the lack of a background. I swear Dallas is more exciting than this, and I'll do a separate post on that.
But anyways, let's talk about my outfit for a second. This dress from H&M has become my go-to dress for work functions, because it's conservative but still cute. It's also fantastic for traveling, because I can throw it in my bag and it doesn't wrinkle. This dress does have sleeves, but I had put my jacket on just because I couldn't decide if I was warm or cold (thanks to a flu bug I had caught!), and this was the only jacket I had packed for this trip. I do like the way it looked with the whole outfit, though! It really it gave it a different feel, and I liked that the gold zippers matched my heels and jewelry.
I was so excited I was finally able to wear my new heels from Machi Footwear! How awesome are these shoes, seriously? I love the gold tips and the tassels! I will admit though, I struggle to walk in these heels a bit. They are quite a bit taller than my other heels, and they also run small. If you decide to buy them for yourself, I would go a whole size up (or at least a half size). And if you would like a pair of Machi shoes for free, this is the last week they are running their Fall Style Giveaway! Click here to check out the rules, and be sure to enter! 🙂
I had worn this outfit for a dinner my husband's company had inside Reunion Tower! This was such a cool opportunity, and we quite literally felt like we were "on top of the world." However, I wasn't feeling the greatest…and the top of Reunion Tower slowly rotates to give you a full view of the city. Which, again, is super cool…unless you're not feeling well. Being that high in the air, and spinning, while not feeling well, is a very interesting combination! Haha. Between the rainy weather and feeling a bit under the weather, the trip to Dallas didn't quite go as planned. I will definitely have to return for the full Dallas experience!
Has anyone else been to Dallas? If so, what were your favorite things to do/see? Let me know in the comments!
Where to find it:
Dress: H&M (similar)
Heels: c/o* Machi Footwear
Jacket: Amazon (Color: WJC855_GRAY)
Purse: c/o* ifchic
Earrings: Target (similar)
Necklace: c/o* Rocksbox (I'll be doing a separate post on Rocksbox, but if you already know what it is and want to try it, use code "haveclotheswilltravelxoxo" when you check out for a free month!)
*c/o = courtesy of, meaning the company gave me this product to be used on my blog, and I did not pay for it. All opinions are my own, and I am not being compensated for a positive review of the product.