Rebecca of "Winnipeg Style"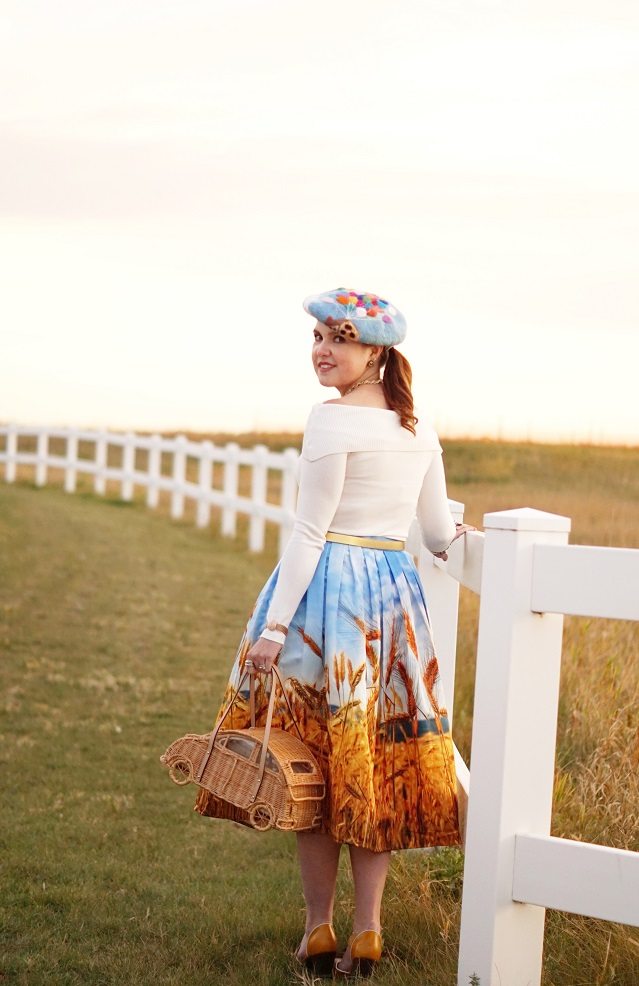 Meet Rebecca! She's this month's Featured Fashionista and the incredibly stylish creator of Winnipeg Style!
I am always excited to see Rebecca's style posts on Winnipeg Style because each of her outfits is seriously a work of art. Every detail of her attire is unique and intricate…and her purses are always incredible. I don't think it's too much of a stretch to say that Rebecca is the "Queen of Accessories" (in my opinion).
Rebecca's journey to becoming a fashion expert is also incredibly inspiring and empowering. The obstacles she has had to overcome to be the strong, successful woman behind Winnipeg Style is awe inspiring. Rebecca will tell you more about this in her own (more eloquent) words! Check out Rebecca's Q&A below.
Q&A With Rebecca
Tell me a little about yourself.
Rebecca: I first wanted to tell you a little bit about how I got into fashion as a career and started Winnipeg Style. I have always loved fashion but one life changing event made me really make it my focus. Back just over 10 years ago I was in a horrible motorcycle accident with my husband. We were traveling along the highway on our motorcycle on a beautiful Sunday afternoon when an uninsured/unregistered motorist ran a stop sign and drove into us. Although we survived I did in turn break most of my bones on the left side of my body. I had to endure many, many surgeries over the years to get me to what I am today. I was in and out of a wheelchair for a few years and I even had to learn to walk again 3 times!
One of the things that made me feel better about myself through all of this was putting on something gorgeous and enjoying just being able to go out looking nice.
My husband suggested that I make fashion my career and also blog about my fashion as it was always something that made me happy and so it all began from there.
A little about me personally:
In my free time, I love going out to the movies, going out for dinner, and spending time with my family and friends. I am an outgoing person but my favorite moments are the quiet ones.
One of my favorite hobbies is making hats and fascinators to match my outfits.
How would you describe your blog, "Winnipeg Style?"
Rebecca: My blog is about my personal style and a really fun way to express who I am through fashion. I love to inspire people to make out of the box fashion choices with my outfits and also enjoy sharing my great fashion finds!
What do you hope the future holds for "Winnipeg Style?"
Rebecca: I am honestly very happy with what I am doing now with Winnipeg Style, but I do hope I can dedicate a little more time to blogging in the future.
Can you tell us a little more about your career as an image/style consultant?
Rebecca: A lot of people don't know where to begin with fashion and it can be frustrating for them so I help everyday working people get into a style that is right for them. It is amazing how helping someone with their style can change everything. So many of my clients can't believe how something so simple can give them more confidence and they feel better about themselves.
What types of image/style consulting services do you offer?
Rebecca: I offer quite a few different services for style consulting and all of my clients get the individual style help they need. It can be as simple as just helping someone get an updated style by adding a few new pieces. I take some of my clients shopping and offer them help one on one help and advice for finding just the right pieces. With some of my busier clients, I do all the shopping for them. Some of my clients want a closet assessment where I can go through their entire wardrobe with them and offer my fashion advice on how to make the most of what they already have. I also offer a service for finding an outfit for a special event where I find the perfect pieces to make my clients look their ultimate best. A really fun service I also offer is helping someone style a photo shoot.
If someone does not live in Winnipeg are they still able to hire you for image/style consulting?
Rebecca: I do offer over email style consulting and have done this with a few clients. By exchanging a few emails and getting to know what they were looking for I am able to help anyone with their style and wardrobe.

How would you describe your personal style?
Rebecca: I would say it is colorful mix of vintage, retro and modern style.
What would you say your favorite online clothing store is and why?
Rebecca: My favorite clothing store is Chicwish. I am such a huge fan of novelty printed clothing and they have the most amazing skirts and dresses.
Your outfit are always incredible, with the most amazing colors and accessories. Do you have any advice you could share for how to accessorize an outfit as well as you do?
Rebecca: I always wear at least one amazing accessory that compliments my outfit. To me, an accessory is a way to add a little extra pop of interest.
If I am wearing an outfit that has a colorful print on it I will try to wear an accessory that brings out one of the colors of the print.
I make sure not to overpower my accessories. For example, if I am wearing a bold necklace I won't wear bold earrings or vice versa.
Have fun and experiment with accessories for an outfit. Even I do this at home. I often think an outfit will look amazing on when I picture it in my head and then I try it on and it looks all wrong. So I just change a few things until it looks right.

What would you say your top 3 favorite accessories are that you own?
Rebecca: That is a hard one as I have so many accessories and I love them all! LOL! But here are the ones that I could not live without
1.) My silver 'Return to Tiffany' jewelry set. At important events in my life, my parents have given me a new piece. So each piece is very special to me and represents something.
2.) A big white gold layered ring I wear every day. I bought it for myself after my accident as a reminder that I have made it through some tough times and to remember to always stay strong.
3.) A vintage white feather cape. I have yet to show it on my blog, but it is stunning!


If you could only wear one outfit for the rest of your life, what would it be and why?

Rebecca: That is a tough one too! LOL! If I had to choose only one outfit I would definitely choose something that is classic as I wouldn't want to look dated later. I would choose a black sheath dress layered over top of a white button up shirt and I would definitely add my Tiffany jewelry set that I mentioned above. I love the way that outfit looks and it will never go out of style.
Do you have any advice you would like to share for someone looking to start their own blog and/or business?
Rebecca: Just follow your heart and do what you want to do. It may take some time to find what works best for you but be patient and success will follow. Always make sure to be yourself and do not follow what others are doing. Comparing yourself to others can be discouraging as we are all different. We are all unique and special so make sure that you show that!
Any final thoughts you would like to add?
Rebecca: Thank you so much for this fun interview, Lindsey! I had a great time answering the questions. I have to admit that I was stumped for a bit by some of them and I had to think for a while but I enjoyed it. This feature is a real honor as I love to follow your blog too!
If anyone is interested in following me on Instagram I have some fun fashion pictures and awesome fashion finds: @winnipegstyle
Also you can find me on Facebook at Winnipeg Style.
Thank you for reading!
And be sure to check out Rebecca's blog by clicking here!