Wedding Guest Ready With Waxing The City
Unwanted hair is part of life and so is getting rid of it. From brows – to backscaping – to bare it all Brazilians we've seen it all. With 100 locations open you'll be sure to find a Waxing The City studio near you. First time customers get 50% off their first service! Thank you Waxing The City for sponsoring this post.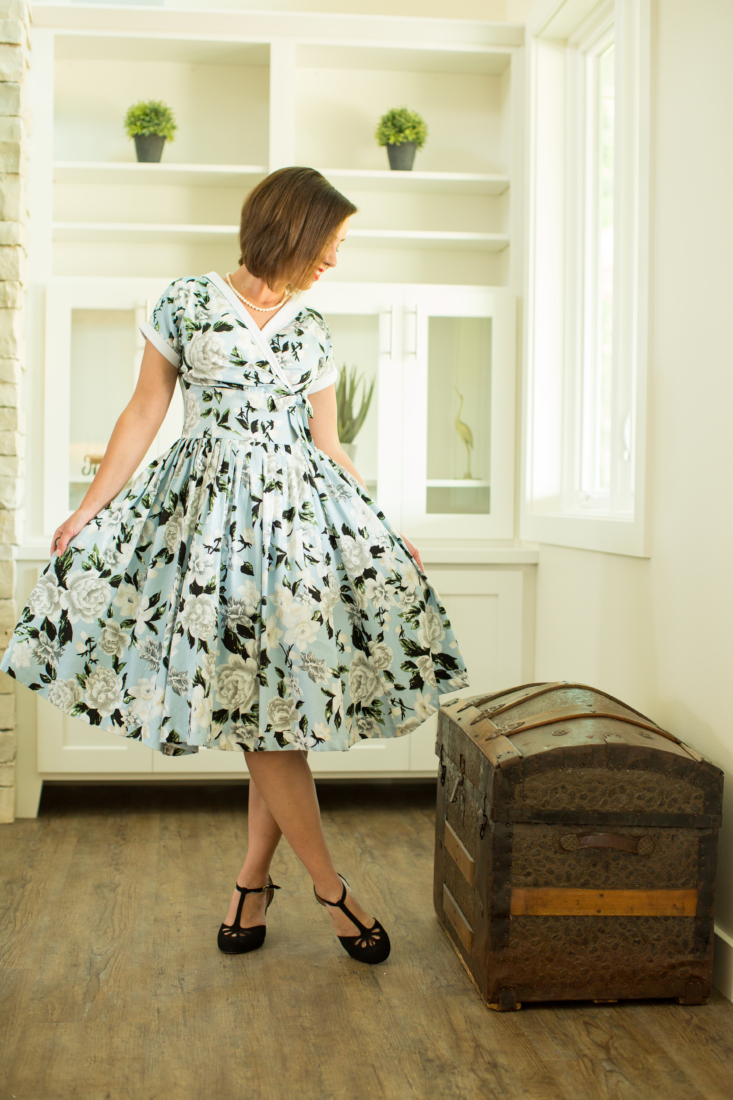 Wedding season is here! My slew of wedding festivities kicked off this past weekend with a good friend's wedding. I've been slowly preparing for these events by collecting dresses and accessories over the past few months, but this last week is when I finally kicked it into high-gear with some beautifying time!
I had my hair trimmed (first time in months, haha) & the color freshened, whitened my teeth….and I finally had my brows waxed! I used to get my brows waxed pretty regularly, but I had a rather unfortunate waxing catastrophe several months ago at a local salon. My eyebrows were SO uneven and thin. So, needless to say, I've just been plucking hairs here and there until my brows grew back to where I wanted them. I knew before I started this wedding season I wanted to get my eyebrows back in shape! So, this last week I went to Waxing The City in Sun Prairie, Wisconsin to see if they could help me with my unfortunate brows.
Getting My Eyebrows Waxed at Waxing The City (Sun Prairie, Wisconsin)
Needless to say, I was pretty nervous to get my brows waxed and shaped again! But the moment I walked into Waxing The City, I was greeted by a very friendly and professional receptionist who put my mind at ease.
The waiting area is also very nice and relaxing, in my opinion. For reasons I can't explain, I was picturing a chaotic salon slammed in by some shops (probably because that's usually my experience when I get my brows waxed, haha), but Waxing The City was very calm and professional feeling. It didn't take me long to stop stressing about my impending eyebrow shaping!
I was pretty early to my appointment, and my waxing expert, Nikki, didn't have me wait long at all. She greeted me warmly and took me back to a private waxing room to go over how I wanted to have my brows shaped today. We chatted about my (new) fears of waxing my brows, and what we were going to do at my appointment. It was a very different experience from what I'm used to! (Which is usually to explain loudly to leave my brows as thick as possible, and then proceed to hold my breath to see what happens, haha.)
Waxing The City also uses hard wax, which is something I'm not used to. It's actually not painful! I've always had my brows waxed using strips and the soft wax! Whoa! It's like night and day (to me at least). My brows weren't even red after my treatment! (Which has never happened in my entire life – I have super sensitive skin.) Hard wax is also less painful if you're getting bikini waxes too. (So, keep that in mind!)
Take a look at that! My brows have some definition now, and there aren't freakishly long hairs sticking out everywhere, haha. It never fails to amaze me what a difference good eyebrows can make. It can really brighten up your whole face. Waxing The City Cereologists are eyebrow experts, so rest assured they?ll make your brow goals a reality. Plus, they offer a full line of brow products to enhance your existing beautiful brows.
Just take a look at my before and after side by side, below.
Before & After
Looks a lot better, eh?
Waxing The City Products
Waxing The City has all kinds of products to help you with your waxing needs too! From exfoliators to brow powder – they have it all.
Nikki was also kind of enough to explain to me how to properly fill my brows in with powder. I've tried to do this in the past and never ended up achieving the looks I want. But I think I finally got a handle on it this time! I really love this brow powder and eyebrow brush from Waxing The City. It's crazy what a difference having a good, angled eyebrow brush can do!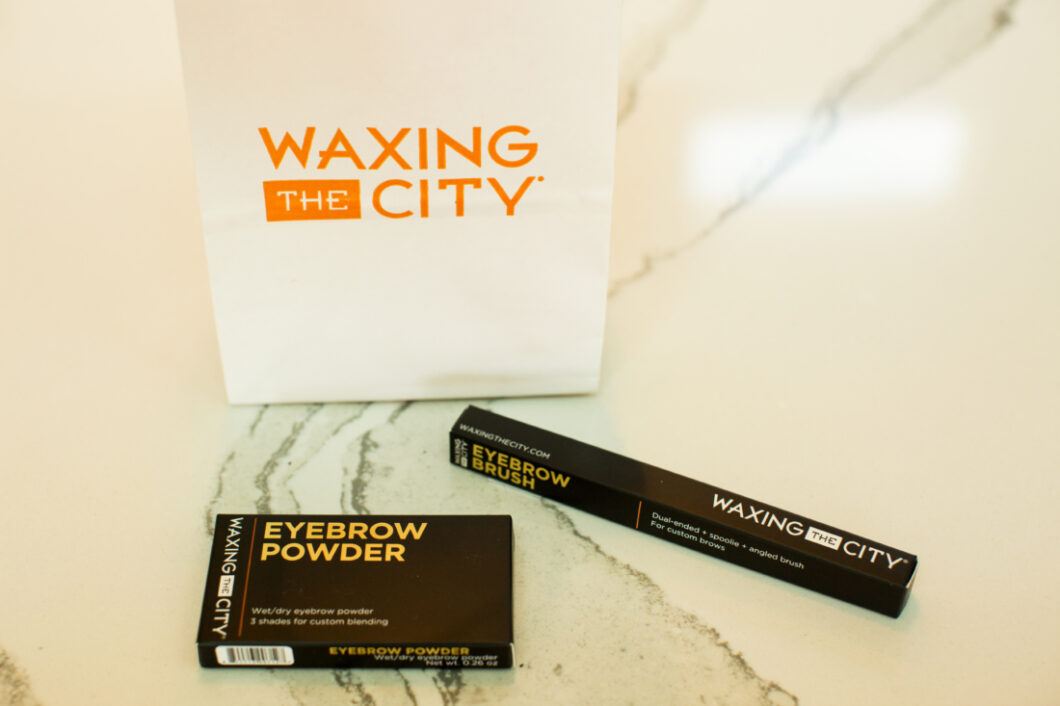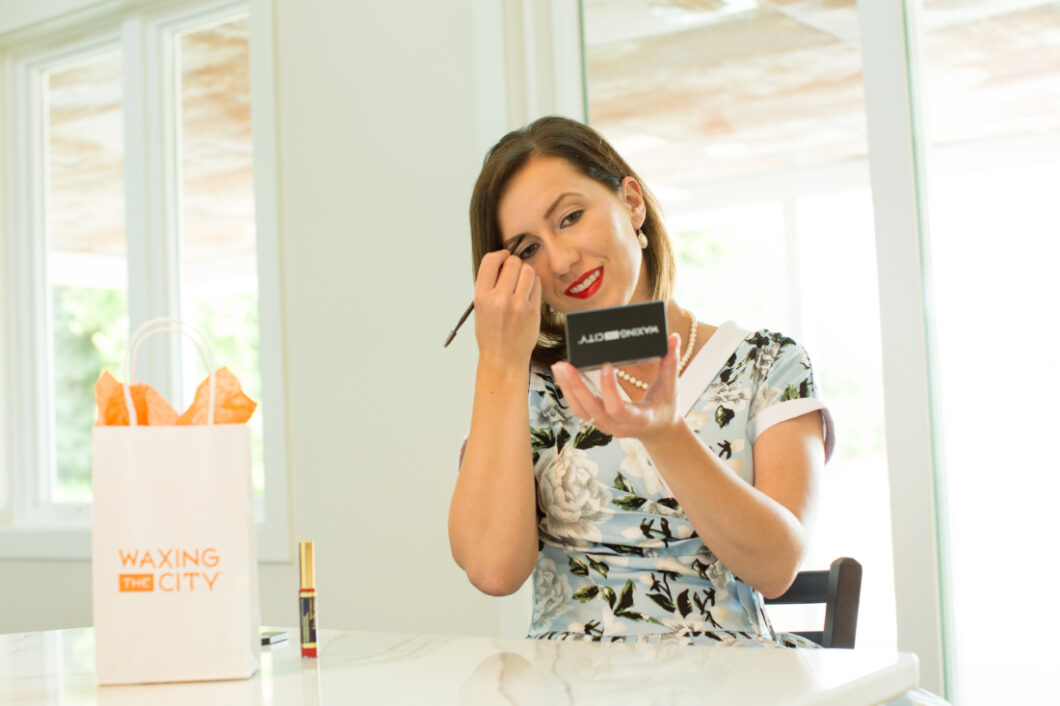 And, below, is what I looked like once I was all done up for the wedding this weekend! Yay for having nice brows, haha.
Now, for the most important part of this post! Haha. First-time customers get 50% off any service at Waxing The City! Call or book an appointment by clicking here with your local Waxing The City so you can enjoy a hair-free, care-free summer, too!
Dress: c/o* Unique Vintage (on sale!)
Heels: Amazon
Necklace: Similar here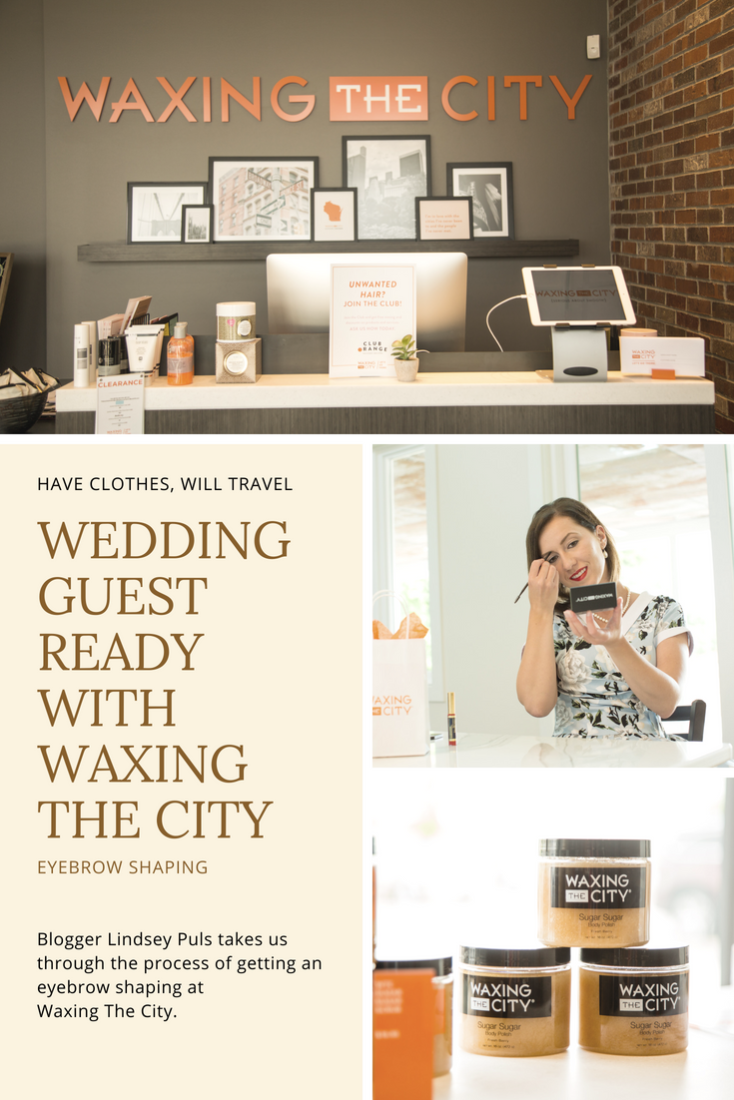 *Disclosure: some of these links are affiliate links. Meaning, if you click a link and make a purchase, Have Clothes, Will Travel gets a very small commission at no extra cost to you. Thank you for supporting the brands that make this blog possible! I am also a participant in the Amazon Services LLC Associates Program, an affiliate advertising program designed to provide a means for us to earn fees by linking to Amazon.com and affiliated sites.
*c/o = courtesy of, meaning the company gave me the product to be used on my blog, and I did not pay for it. All opinions are my own, and I am not being compensated for a positive review.
I was selected for this opportunity as a member of CLEVER and the content and opinions expressed here are all my own.