This weekend was all about being comfortable. The only things I felt like wearing were my yoga capris and a sweatshirt (I'm still blaming the laziness on last weekend's marathon). I had to go out in public, though, so a maxi skirt and loose-fitting dress were a nice compromise. (There are two separate outfits in this post.)
It's All Black & White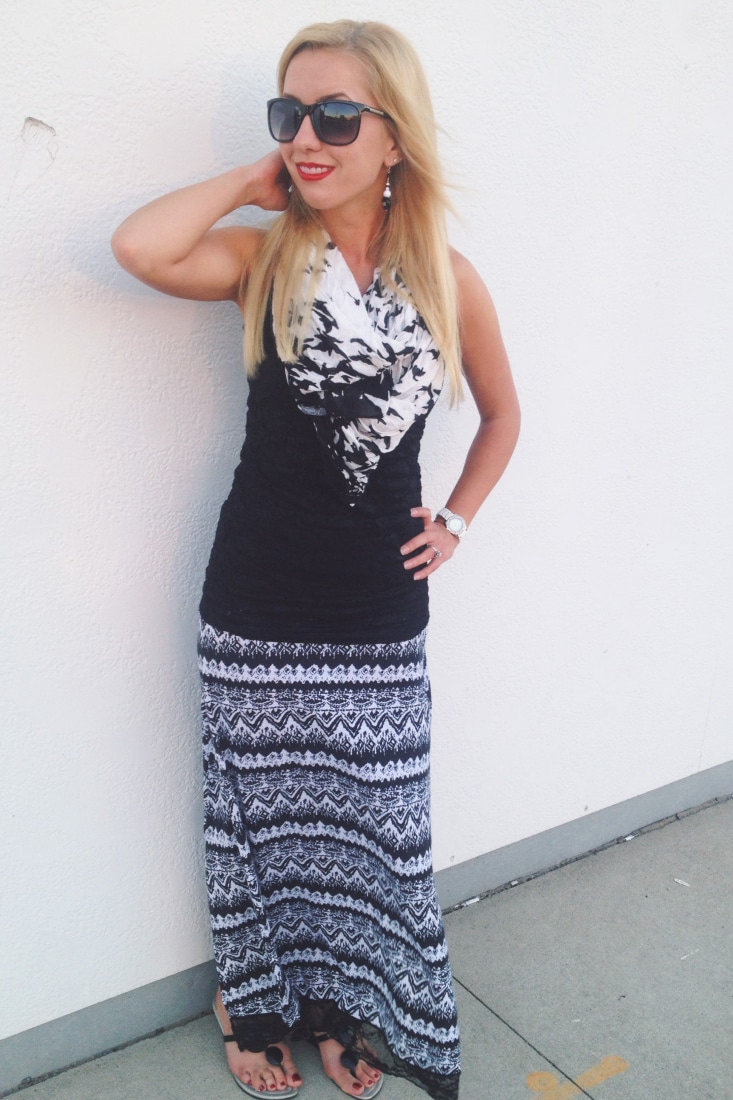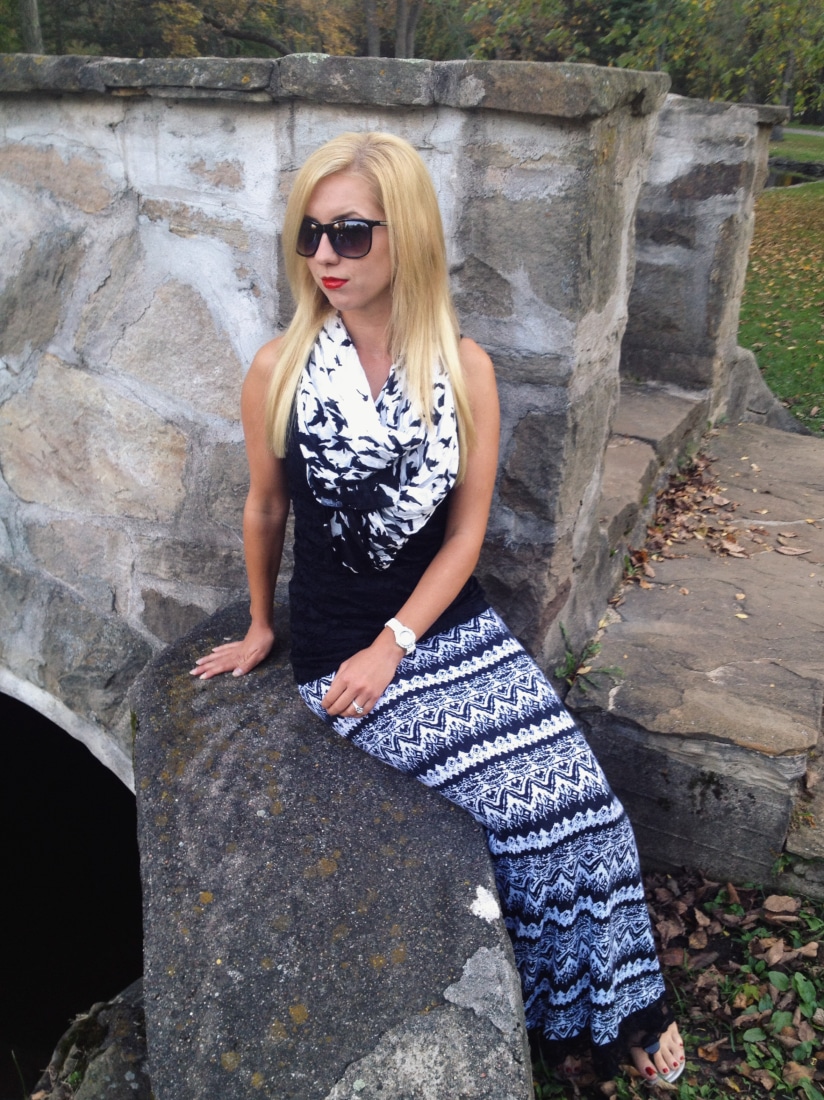 Shop the look:

Maxi skirts are about as close to dressy as you can get, while still feeling like you're wearing yoga pants. I had gone on a maxi-skirt-buying rampage last summer before I went to India because I couldn't wear anything shorter than my knee and I needed to be comfy (no way I was wearing any kind of pants!). I bought this particular skirt from Vanity. I love the lace detail on the bottom, and it has miraculously held up well through many, many wash cycles, and I am not washing it on gentle cycle. Not only has this skirt survived the dust of India, but I also wear it to work (I substitute teach) and it tends to be used as a Kleenex by kindergartners from time-to-time. I have several other maxi skirts from Vanity that have held up equally as well.
As for my scarf, this is my favorite scarf because it is a light enough material to wear in warmer weather and it goes with a ton of outfits. I wear it for dinner, work, vacation…you name it! I also love the little birds on it. This scarf is also holding up well in the wash (which is necessary, because I get rather sweaty at work…and little kids' boogers tend to end up on everything I wear).
The Most Comfortable Dress in the World
Shop the look:

I wear this dress when I know I am inevitably going to be warm and sticky. And despite it being fall here in Wisconsin, this past weekend was quite warm.
This dress just feels SO good to wear when it's warm out. It is light, airy, a little baggy and the material itself is very comfortable. It's dressy enough to wear for all kinds of events, but it's not a "Hey! Look at me!" dress, which is nice for some occasions. This dress is going to last forever and I also love that it doesn't have to be dry cleaned; if it gets dirty you can just through it in the wash! Yay for Target's dresses!
Where to find it all:
Black & White Outfit
Maxi Skirt: Vanity (in store, about a year ago)
Tank top: Vanity (in store)
Cami: Maurices
Scarf: Vanity (in store)
Watch: Walmart
Sunglasses: Burlington Coat Factory (in store)
Wedges: Payless (Similar)
Earrings: Gift from my Grandma
Comfortable Dress Outfit
Dress: Target (in store)
Wedges: Payless
Necklace: Kohls (in store)
Earrings: Gift from my Mom
Sunglasses: Burlington Coat Factory (in store)