10 Perfect, Wedding Guest Dresses
I've been blabbering for a while now about all the weddings I have coming up this summer. I'm SO excited I actually have some weddings to go to and will actually be able to attend as well! I love weddings, and I really love picking out dresses for them, haha. The perfect wedding guest dress for me will be girly with some whimsical touches, but not too over-the-top, as all eyes should be on the bride (and not the wedding guest's dress!).
I've been casually shopping for dresses for these weddings for months now. But this is the time of year where retailers really up their game for wedding guest dresses. So, I thought it would be fun to show you some of my favorites I've been eyeing up. I'd love to hear what your favorites are in the comments! (And I'll let you know which ones I actually end up getting!)
*Disclosure: some of these links are affiliate links. Meaning, if you click a link and make a purchase, Have Clothes, Will Travel gets a very small commission at no extra cost to you. Thank you for supporting the brands that make this blog possible!
10 Perfect Wedding Guest Dresses
1.)

Ok, how perfect is this dress for a wedding? Admittedly, I may be a bit biased on this one, though. That's because my actual WEDDING dress looked nearly identical to this one. Haha. (But that's a long story.)
Click here to shop this dress.
2.)
Girly – check! Whimsical – check! Not too over the top? – check! Love, love, love this dress for a wedding!
Click here to shop this dress.
3.)

This dress would be so comfy and cute for a summer wedding. Depending on how dressy you want to be – this dress would work great with sandals or heels!
Click here to shop this dress.
4.)

Oh my goodness! This dress is absolutely gorgeous and would be incredible for a wedding. Can someone buy this for me? Haha. Because that price tag is unfortunately out of my budget. Here's hoping there's a sale coming up!
Click here to shop this dress.
5.)

Fit & flare and lace – sign me up! This is the perfect combination of girly and whimsical for me. I really love this coral color as well.
Click here to shop this dress.
6.)

You can never go wrong with a floral midi dress – never! And the details on this dress are so beautiful.
Click here to shop this dress.
7.)

Ok, so I might be alone on wanting to wear a cacti print dress to a wedding. However, I think this print is just subtle enough that it works and won't look too tacky. And I love me some quirky prints!
Click here to shop this dress.
8.)

For a summer wedding, I absolutely love flowy, floral dresses like this. I also love the neckline on this dress.
Click here to shop this dress.
9.)


This wrap dress is on the more casual end of the spectrum, but that doesn't mean it can't work for some weddings! And this is a dress that could transition for many different events as well.
Click here to shop this dress.
10.)

Last but not least, is this fun, floral number that you can actually rent for a wedding instead of paying full price. I have never tried this yet, but I am seriously considering it for this summer!
Click here to rent this dress.
?
Which dress was your favorite? And have you ever tried renting a dress for a special event? Let me know in the comments!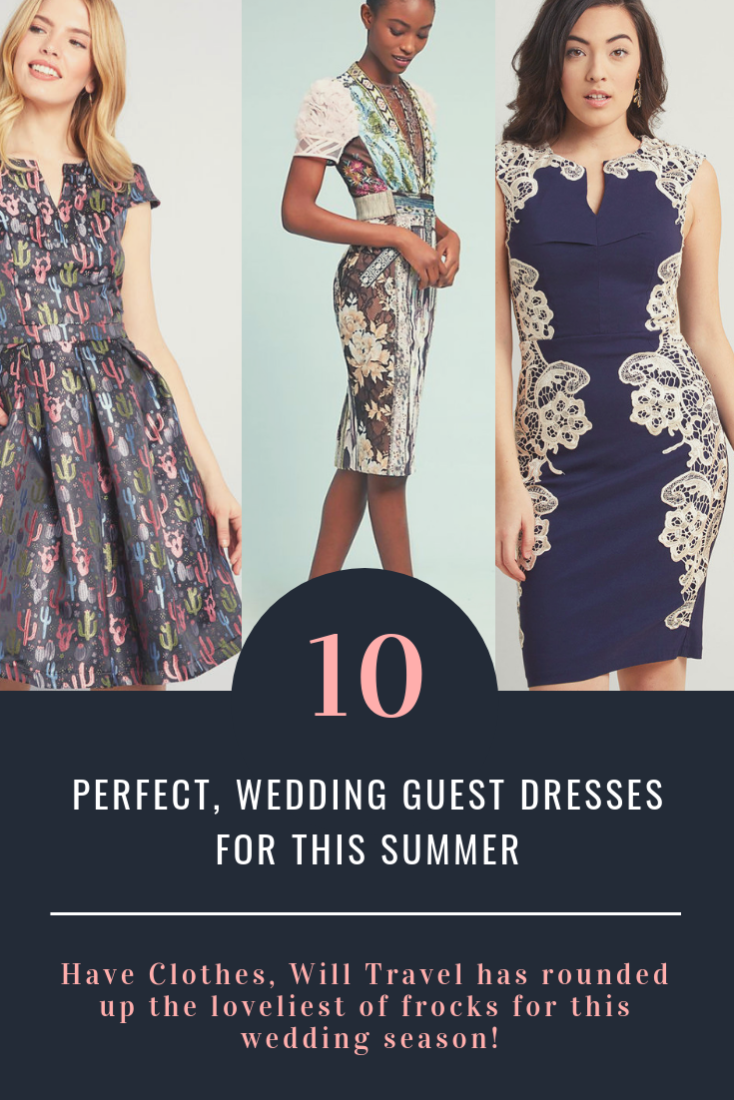 I am a participant in the Amazon Services LLC Associates Program, an affiliate advertising program designed to provide a means for us to earn fees by linking to Amazon.com and affiliated sites.