Not Your Typical Wedding Dress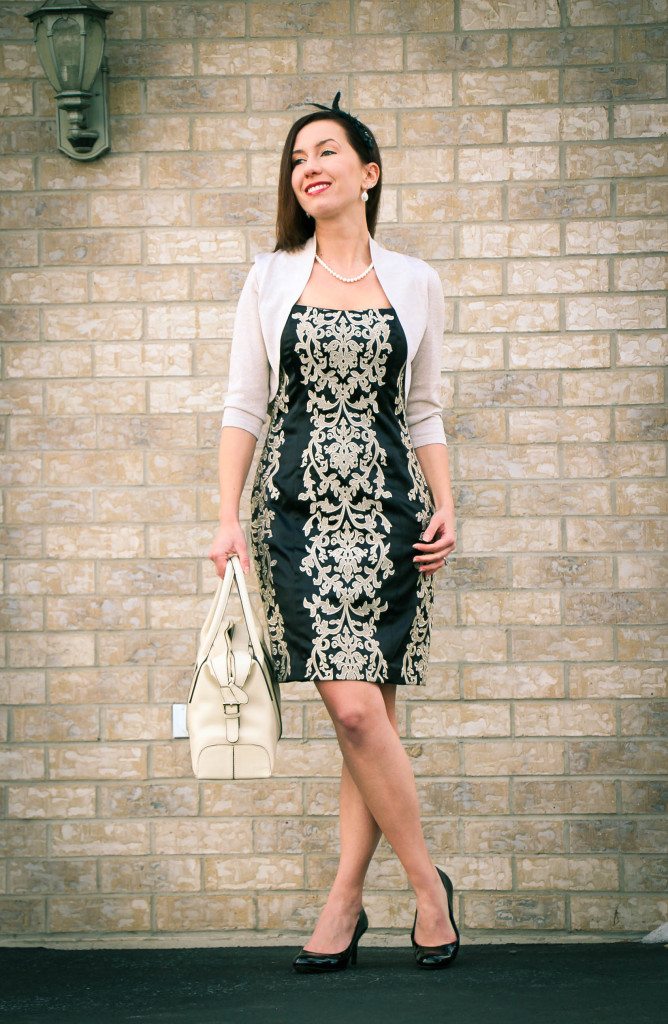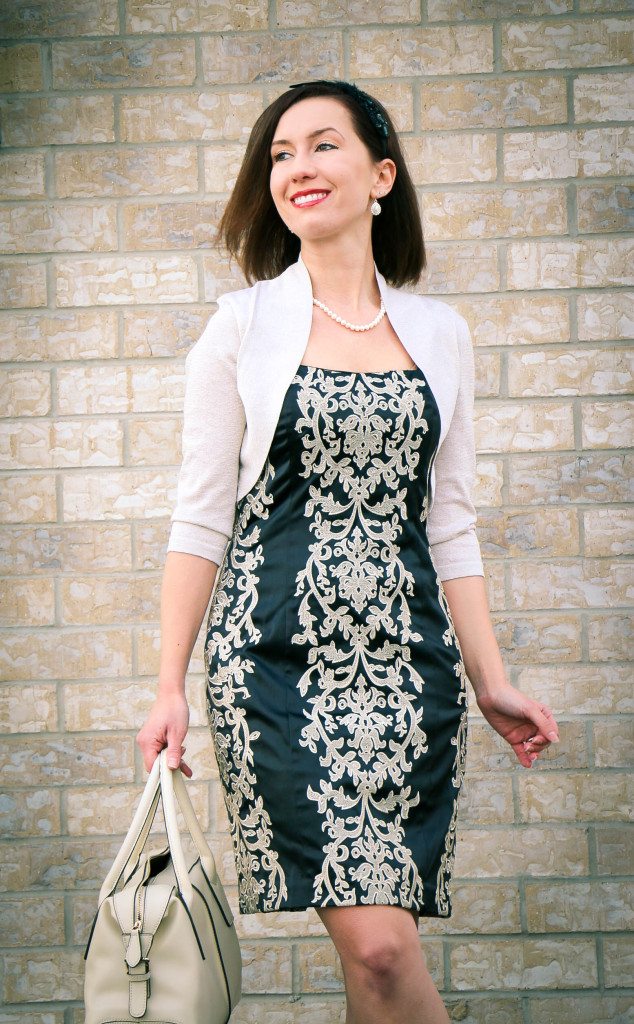 Shop the look:

A few outfit posts ago I mentioned that I didn't wear a traditional white wedding dress when I was married. In fact, my wedding dress is so far from traditional that I can still actually wear it for events! I had a couple readers ask to see it… so, here it is! Not what you expected, I bet? Haha.
My husband and I were married on super short notice (in a courthouse) and my friend, Shannon, and I went shopping for a dress at our local mall the night before. This was the only one I liked in my 2ish hour shopping trip to Macy's and White House, Black Market. So, I went for it! I won't go into the big long story of the events of why I was married on such short notice…because I did a separate post explaining that ordeal a while back (you can click here to read that story).
The photo below is from our little courthouse wedding over three years ago! It's awesome to think we have been married for 3 years already. 🙂 And I honestly would take our little impromptu courthouse wedding over a great big fancy wedding any day. (Thinking about a big wedding actually gives me panic attacks, haha. I'm not a fan of crowds.)
And speaking of impromptu, my husband and I are actually taking an impromptu vacation to New Orleans this weekend! (What an awesome segue, right? Haha.) We've always wanted to go and now that we know roughly how long we are going to be in one area for, we figured we would use some of our hotel points and get the heck out of Dodge! We've had such miserable weather in Wisconsin, we needed a little break. (Although, this weekend is supposed to be beautiful in Wisconsin, now – go figure!)
So, as you're reading this post, I'm actually on a plane headed to The Big Easy until Tuesday night! I won't be terribly active on social media as a result. (Sorry!) But I will be posting photos to Instagram & Twitter if you want to follow along. (There will still be a post on Monday morning!)
If anyone has any suggestions for places to visit in New Orleans – let me know in the comments! I've done very little in terms of planning for this trip…because we decided to go 2 days ago! And if you're married, did you have a big or small wedding? Let me know in the comments too!
Where to find it:
Dress: White House, Black Market (Old. Similar here.)
Bolero: White House, Black Market (Old. Similar here.)
Pumps: Amazon (They are SO comfy!)
Necklace: Gift from my husband (Similar here.)
Earrings: Icing
Headband: Forever 21 (Old. Similar here.)
Purse: c/o* IfChic (Sold out. Similar here.)
*c/o = courtesy of, meaning the company gave me the product to be used on my blog, and I did not pay for it. All opinions are my own, and I am not being compensated for a positive review.