Outfit Fun in Russia – Featuring a Nesting Doll Dress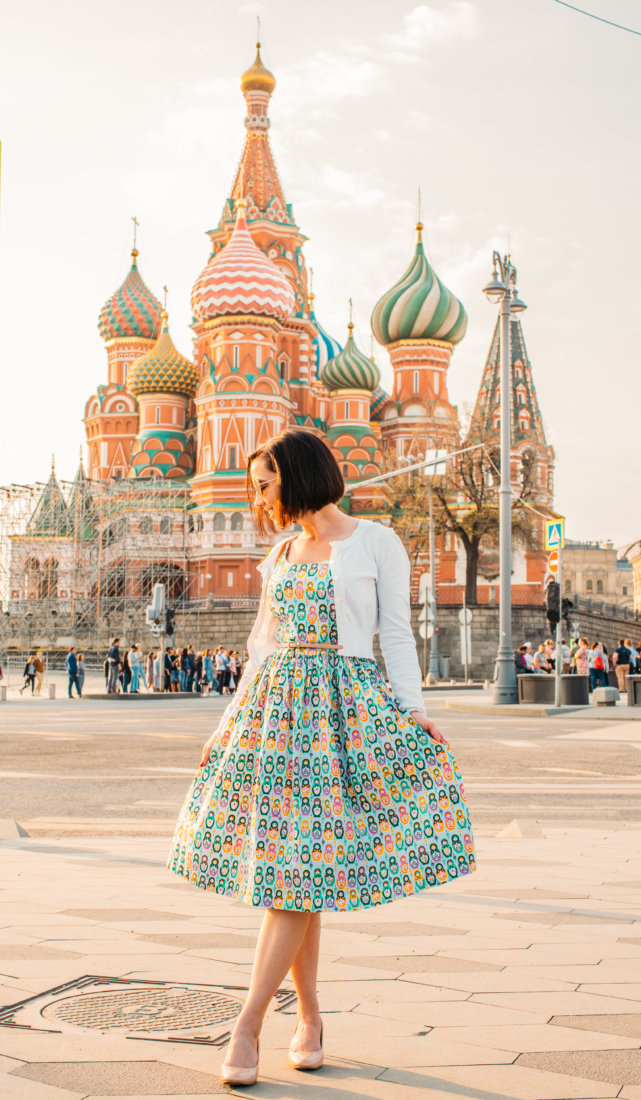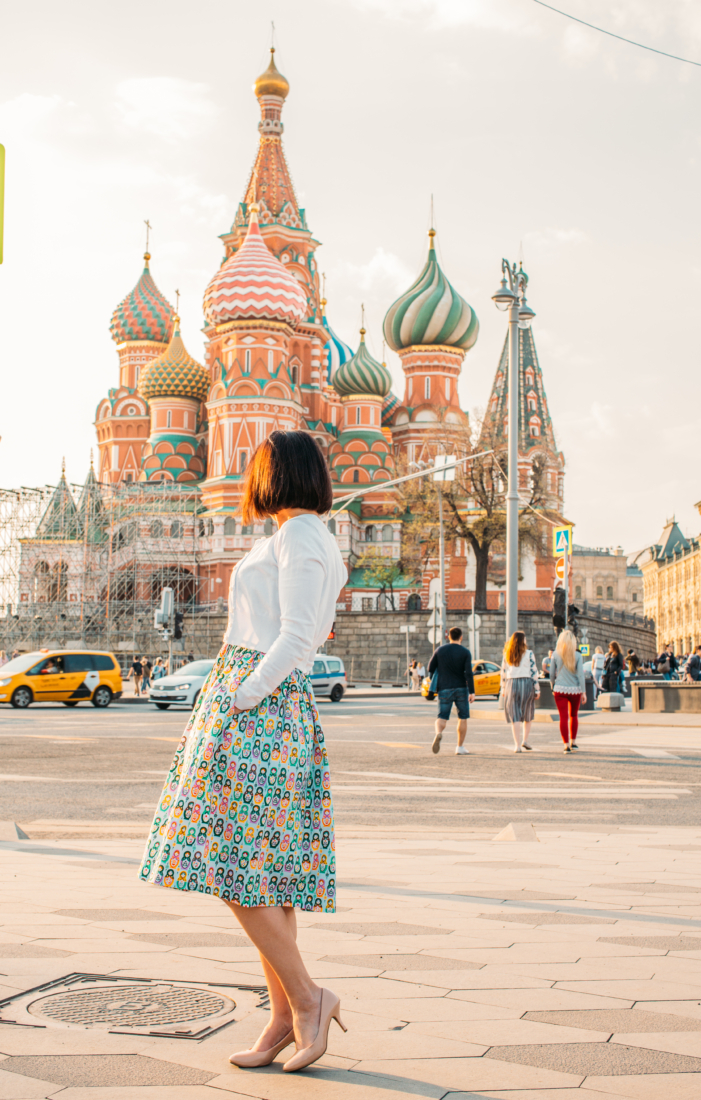 Dress c/o* | Pumps | Cardigan (Similar) | Sunglasses (Similar) | Earrings
An unspoken goal I had made for myself for this blogging year was to write about things that answer a question and people will find useful – not just whatever strikes my fancy. However, I think I'm going to be stretching that a bit with this post, haha. I'm not sure if many people will find themselves in Russia wanting to recreate this look or my photos – but sometimes you just have to have a little fun with your style and your surroundings and do what makes you happy! You know what I mean?
So, I decided to take advantage of the gorgeous weather this weekend and break out my newest dress addition – this super cute nesting doll dress by my friends at Tatyana Boutique! This dress had to be photographed in front of Russia's arguably most famous landmark – St. Basil's Cathedral.
How to Get a Good Photo by St. Basil's Cathedral in Moscow, Russia
This I suppose someone visiting Moscow, Russia might find useful, though. If you ever want to get a photo of St. Basil's Cathedral without tons of tourists blocking its view – you're better off going to the backside of it. There will still obviously be people in the background (unless you go during the middle of winter in a blizzard), but you'll get better photos than the front – especially if it's blocked off for any reason. This area is across the road right by the crosswalk to get to where the large tour buses park. You won't have much time, because when the light changes, there will likely be groups of 50ish people crossing the road – but you will get 90 seconds of uninterrupted photo time before that happens! So, snap away!
Tatyana Boutique's Nesting Doll Dress
The Russian nest doll print on this dress is so cute! (Even if I'm not in Russia, I'll still be wearing this dress.) The fit is fantastic as well. I'm all about midi length dresses. (This one is true to size too.)
My only complaint about this dress is that the straps are spaghetti straps. (And I'm not a fan of wearing strapless bras.) So, I covered up my bra straps with a cropped cardigan instead. I did take some photos, below, to show what they look like, though. (They are adjustable too – which I thought was nice!)
Photo Fun With This Dress!
This dress made me want to pull out all of the stops in terms of what I could find to match it and how to photograph it, haha. It was a lot of fun! I even got the chance to wear my nesting doll earrings my husband had bought for me a few weeks ago at Izmailovosky Market here in Moscow. (I found some similar ones on Etsy, here.)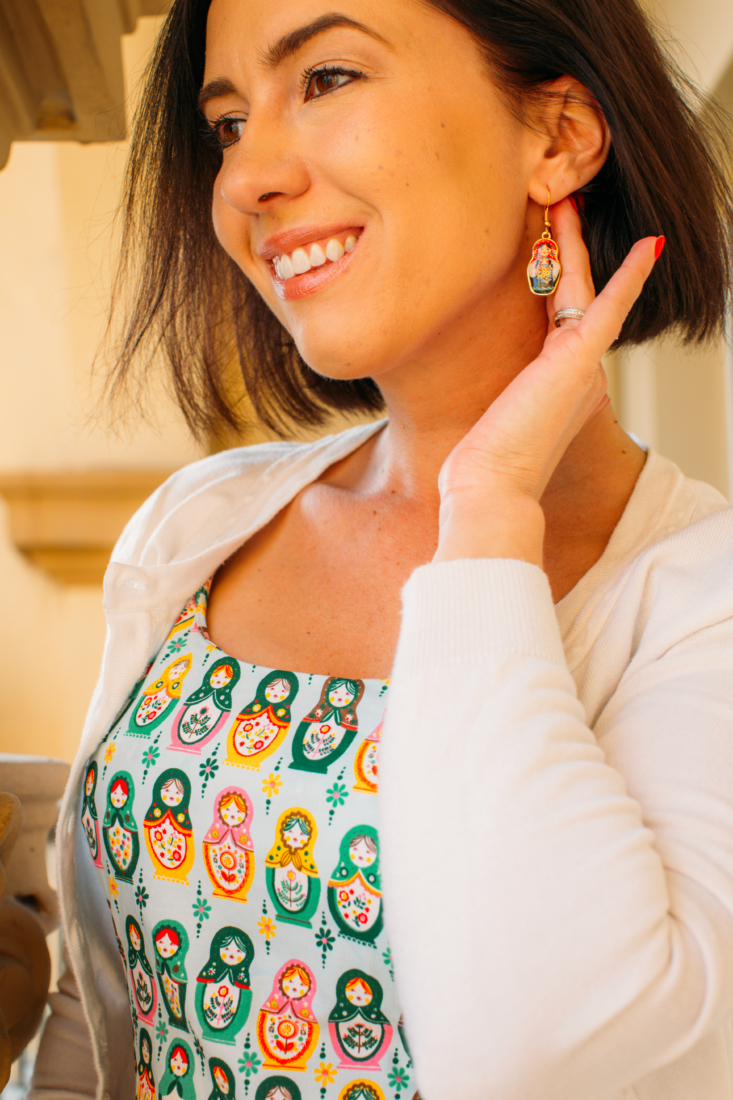 I also couldn't resist a chance to photograph this dress with my own nesting doll. This is nesting doll took a very long time for me to decide on…as I wanted one that was actually made by someone in Russia (not imported from a factory in China). I also wanted a specific set of matte coloring (not the shiny colors you usually see on the dolls). I was delighted to find this one (that's a set of 10), that was handmade by a Moscow local who sells her creations every Saturday at the Izmailovosky Market.
There you have it, the Mother of Nesting dolls! I couldn't fit the biggest nesting doll in my camera bag…so, I guess I'm the 10th nesting doll for this pic. I also took this in the gardens outside The Kremlin…I can't imagine what people thought as they were walking by as I took photos of myself with all my dolls. Haha. But I really wanted a pic of this dress with the dolls! Plus, I had a blast putting this post together.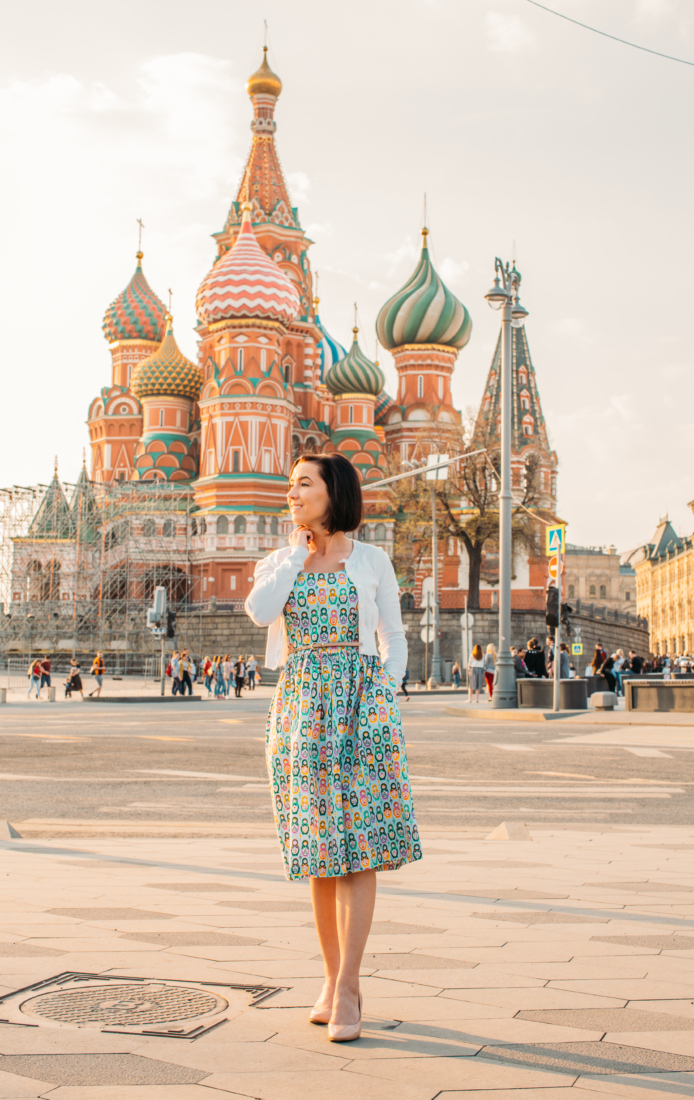 Note for regular readers: I'm embarking on my adventure to Egypt and Jordan tomorrow! I can't believe it! I'll be updating my Instagram Stories as much as I can, but I'm going to be cutting back on my blog posts until I get back on May 12th. There will only be 1 blog post per week while I'm away. So, there will be this one and then one more next Monday. I'll get back to normal then starting May 13th, and I'll also be announcing the winner of my ModCloth Gift Card Giveaway in that post!
When's the last time you had a lot of fun with your outfit? What did you wear it for, and where did you wear it to? Let me know in the comments!
Where to find it:
Dress: c/o* Tatyana Boutique
Pumps: Old (Similar here)
Belt: Old (Similar here)
Cardigan: Old (Similar here)
Sunglasses: Old (Similar here)
Earrings: Bought in Russia (Similar here)
*Disclosure: some of these links are affiliate links. Meaning, if you click a link and make a purchase, Have Clothes, Will Travel gets a very small commission at no extra cost to you. Thank you for supporting the brands that make this blog possible! I am also a participant in the Amazon Services LLC Associates Program, an affiliate advertising program designed to provide a means for us to earn fees by linking to Amazon.com and affiliated sites.