You Can Take a Tank Ride Tour in Moscow, Russia (Seriously!)
Note: This post is in no way meant to promote violence of any kind. This is simply an off-the-beaten-path tour that is available in Russia. All shots fired here were blanks, therefore no living thing was injured in any way.
Things in life I never thought I'd say, "Why yes, I've ridden in a Soviet tank (T-34 to be exact) and shot a machine gun." There are some really crazy things you can do in Russia, and this happens to be one we were talked into doing this last weekend.
We had friends from Brazil visiting in Moscow who suggested we should try riding a tank with them. How could I say no to such a crazy, once-in-a-lifetime adventure? So, I contacted every tank tour company in Moscow (there are actually quite a few of them) to see who could fit all 4 of us in for a tour this weekend. Russia E-guide was the only company willing to work with us on such short notice. (Moral of the story, book your tours WAY in advance…at least a few weeks. We got very lucky!)
What to Expect on the Group T-34 Tank Ride
Russia E-guide offers several different tank tours to choose from, but the one available at the time we booked was the "Group T-34 Tank Ride." So, you get to ride on a real Soviet tank in this tour! Note: This includes an English-speaking guide, but this doesn't include transfer from the city to the camp where the tanks are. You pay for that separately.
This tour also included 10 blank shots of the gun of your choice. (So, not a real bullet. Don't worry!) This is meant to give you the feeling of what it's like to shoot one of these guns, without any of the repercussions…
Shooting Portion of the Tour
It was a very different experience! That is for sure.
We also were shown how to assemble and disassemble an AK-47.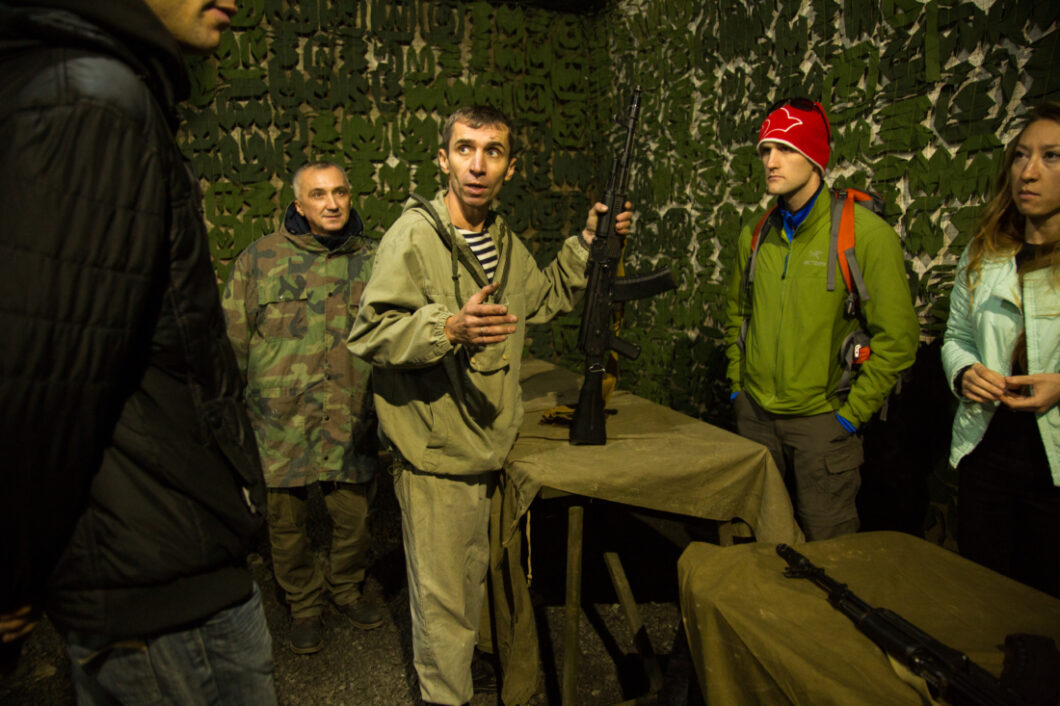 After all the shooting of various guns, you are then free to look at the various military artifacts in the tent. The owner's grandfather had collected many different artifacts from different wars. (Sorry, the owner presented great information..and I believe he even said his grandfather fought in the battle of Stalingrad, but some things were a bit lost in translation on my end.)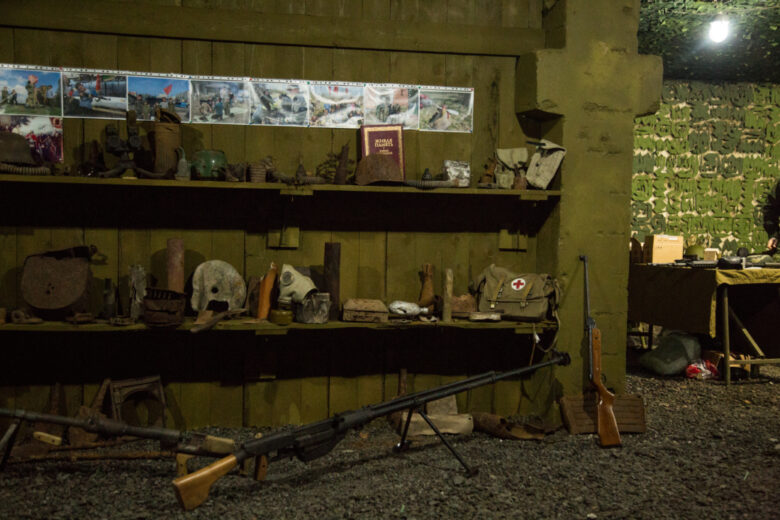 Then, you are fed buckwheat porridge with stewed meat and, of course, vodka. (Or juice.)
Tank Ride!
You're then asked to put on a military uniform and helmet. I believe this is to offer protection from tree branches more than anything. I got whacked in the head a few times by tree branches, so I was very grateful for the helmet!
For this tour, the tank ride is approximately 1 km…so, not very long at all. You go through the woods and then back. You get the option of sitting on the outside of the tank (like we did) or inside (not claustrophobia friendly!).
They didn't allow me to bring my camera with on the ride, as I needed both hands to hang on. But the video below is a little compilation of our footage of the day. The first clip is of a transport vehicle another group had ridden, then our guide took a quick video of us going through the woods and then the last clip is me firing my blank shots out of a machine gun.
I'll admit, I did think the ride was rather short. It's not a cheap tour by any means, but it is on the lower end of the cost spectrum in terms of the other tank tours out there.
However, this is one of those things, that is a very unique experience to Russia! There are not many places on the planet that you can ride a tank and not have to spend thousands and thousands of dollars (USD!). So, we certainly can't complain too much!

*But if you've ever dreamed of actually shooting these weapons (not just blanks), there is also a shooting range right in the heart of Moscow that allows you to do so. (Must be 18 years or older and bring your passport along.) They also offer bow and crossbow shooting, as well as knife and ax throwing. You don't need to have any experience either! A trained professional will be there to teach you the basic skills. Click here for more information.
Would you ever do a tank tour if you visited Russia? Let me know in the comments!
Travel Insurance
It's a good idea, no matter where your adventure takes you, to have travel insurance. You never know what might happen! Whether you get sick before your trip and can't go, or you become sick or injured while on your adventure – being covered with travel insurance is a must. Some credit card companies do provide this service (check with yours), or you can get a quote from companies such as Squaremouth to find the best plan for you and your adventure. (This is the company I, personally, use. They are even recommended by Forbes!) To get a free quote, click here.
Visa Requirements
To check if your country requires a Visa for traveling to Russia, click here.
More photos of the day are below. Feel free to click on them to make them full-sized.
*Disclosure: Some of these links are affiliate links, meaning if you click a link and make a purchase, Have Clothes, Will Travel will make a very small commission. Thank you for supporting the brands that make this blog possible!