17 Incredible Things to Do in St. Petersburg, Russia
St. Petersburg, Russia is an amazing city that is making its way onto many travelers' bucket lists – and rightfully so! There are so many incredible things to do in St. Petersburg. (Plus, the visa process is getting much easier for many foreign visitors.) With opulent palaces and cathedrals to curious museums and delicious restaurants – there is a little something for everyone in St. Petersburg.
I was fortunate to have lived in Moscow, Russia for a little over a year. So, I was just a 4-hour train ride away from St. Petersburg on the weekends. This list is of my favorite things to do in St. Petersburg – which are doable for a short trip here. However, this list is by no means a complete list of all the things to do in St. Petersburg! You could be here for a year and not see and do everything in this lively city.
I hope this list helps in planning your trip, and please feel free to reach out in the comments section at the end of this post with any questions. Enjoy!
17 Incredible Things to Do in St. Petersburg, Russia
1.) Explore the Hermitage Museum a.k.a. The Winter Palace
The State Hermitage Museum in St. Petersburg, Russia is home to more than 1 million works of art and nearly 3 million exhibits in total. It's actually the 2nd largest art museum in the world! (#1 is the Louvre.) The Hermitage is an absolute must-visit on your trip to St. Petersburg.
Psst – and look a the photo above! It's the famous gold peacock clock that's on display there. It is a working clock – I swear! It was made by British jeweler James Cox in the 1770s and bought by Catherine the Great.
2.) Climb St. Isaac's Cathedral (and don't forget to admire its interiors too!)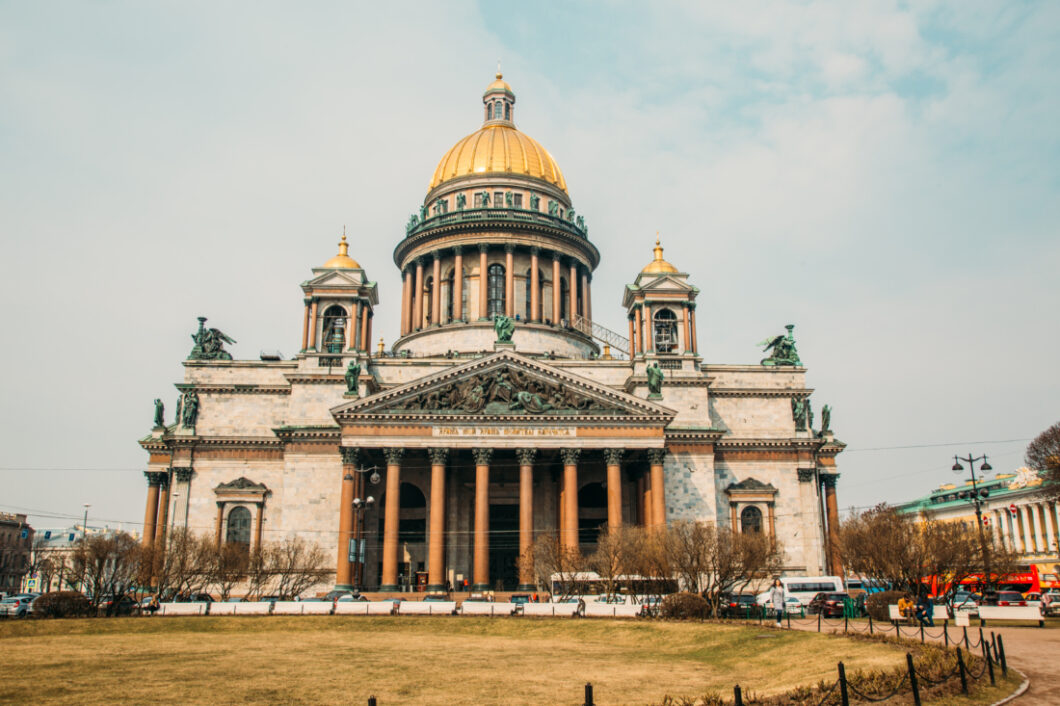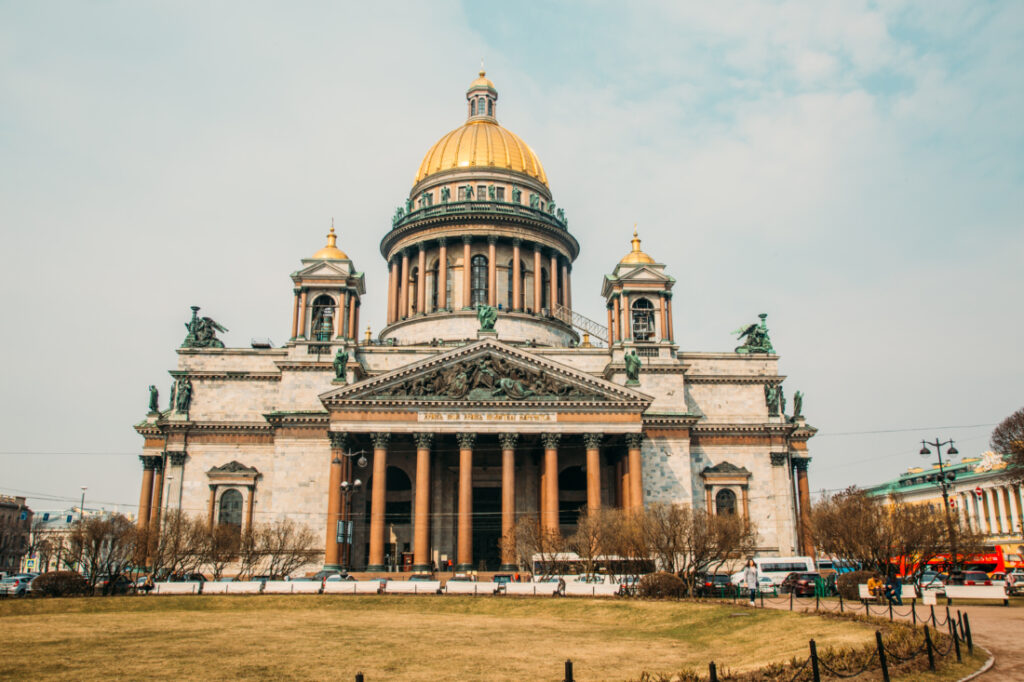 The best view of St. Petersburg, Russia is arguably from atop St. Isaac's Cathedral. Visiting this beautiful cathedral should be on your itinerary for St. Petersburg, as its interior is as spectacular as its gilded dome exterior.
Click here for more info on climbing St. Isaac's Collonade.
3.) Visit the Fabergé Museum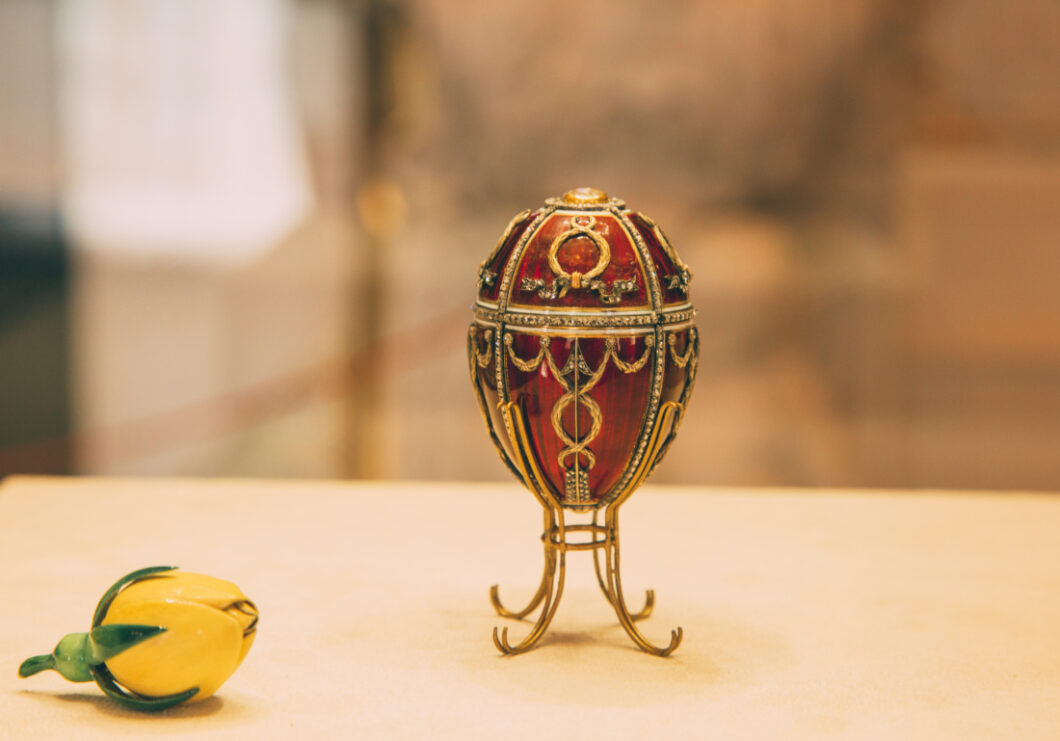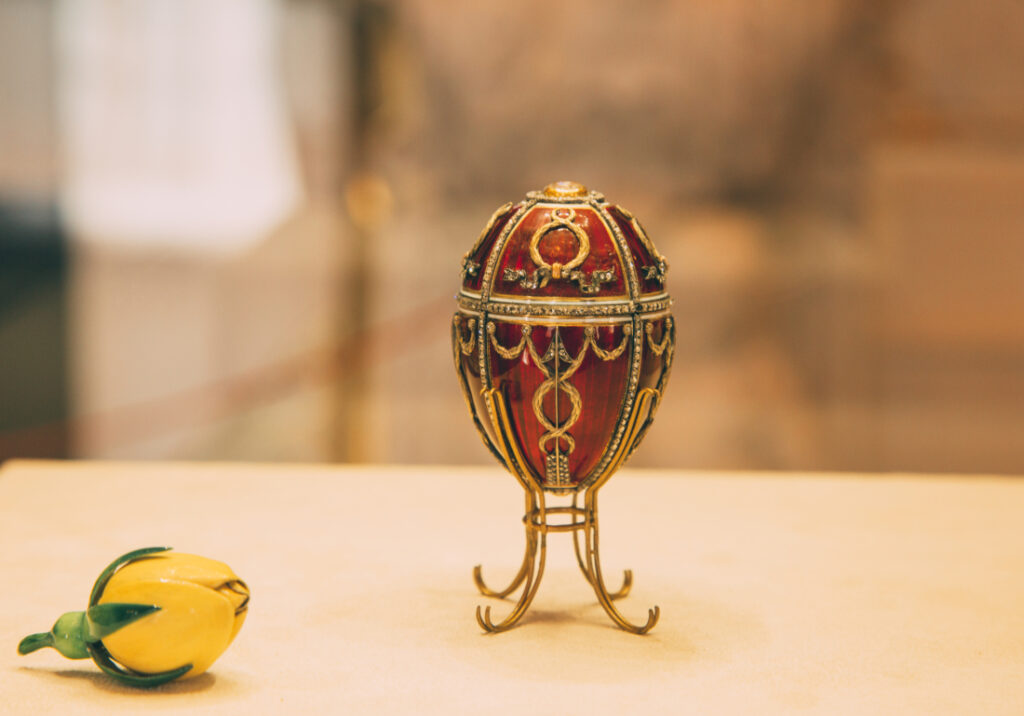 You can't visit Russia without hearing about the famous Fabergé eggs. You'll likely see large crowds gathered around their single display case in Moscow inside the Kremlin Armoury. However, the world's largest collection of these eggs belongs to the Fabergé Museum in St. Petersburg! The Fabergé Museum is actually located inside the glamorous Shuvalov Palace and is worth taking an hour of your time to see while in St. Petersburg.
4.) Dine on Rubinstein Street
Rubinstein street is filled to the brim with incredible dining and bars. Whether visiting during the day for a nice alfresco lunch – or for a hip nighttime atmosphere, Rubinstein Street is sure to have a dining option you'll love!
5.) Take a Boat Ride to Peterhof Palace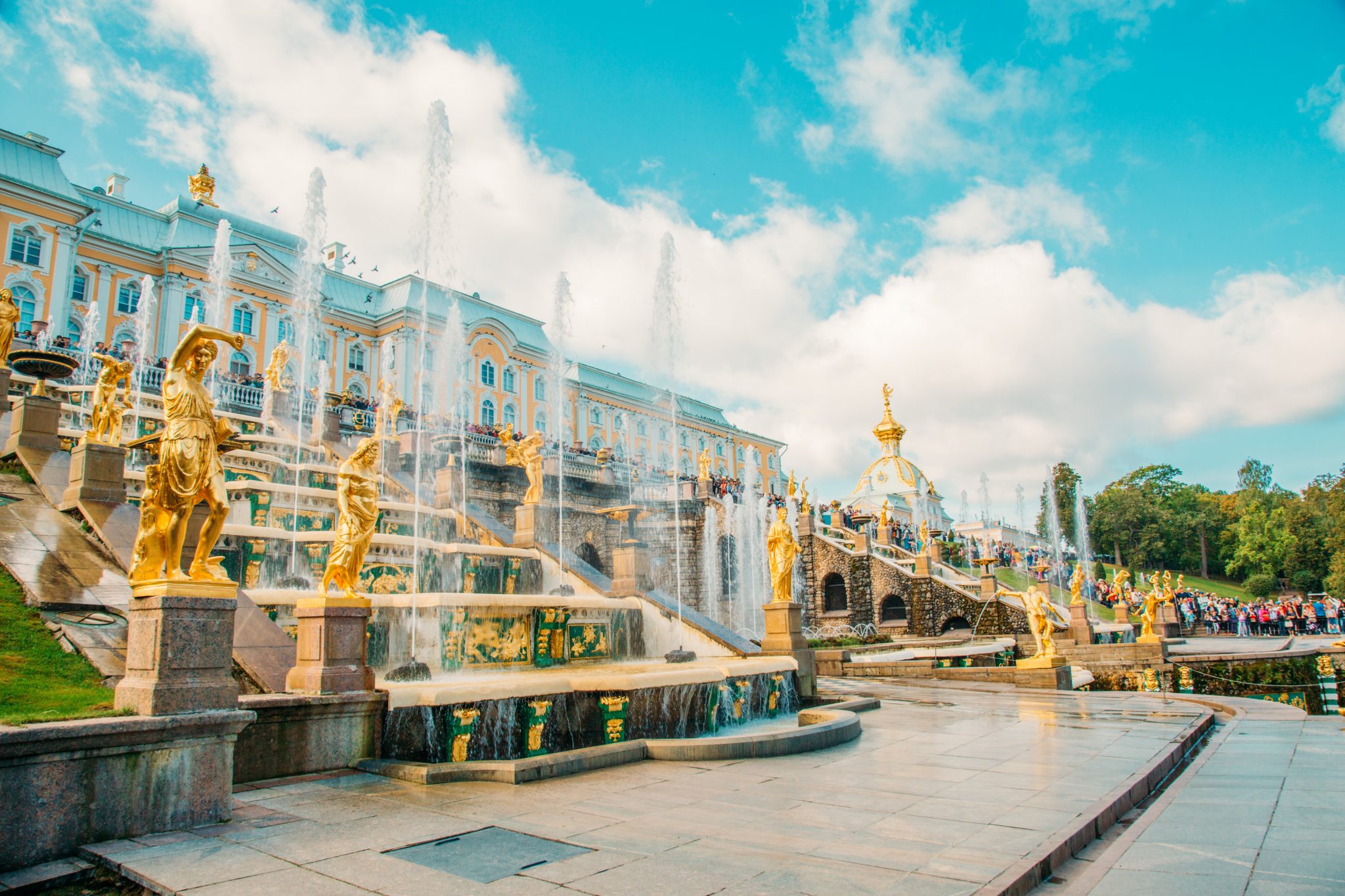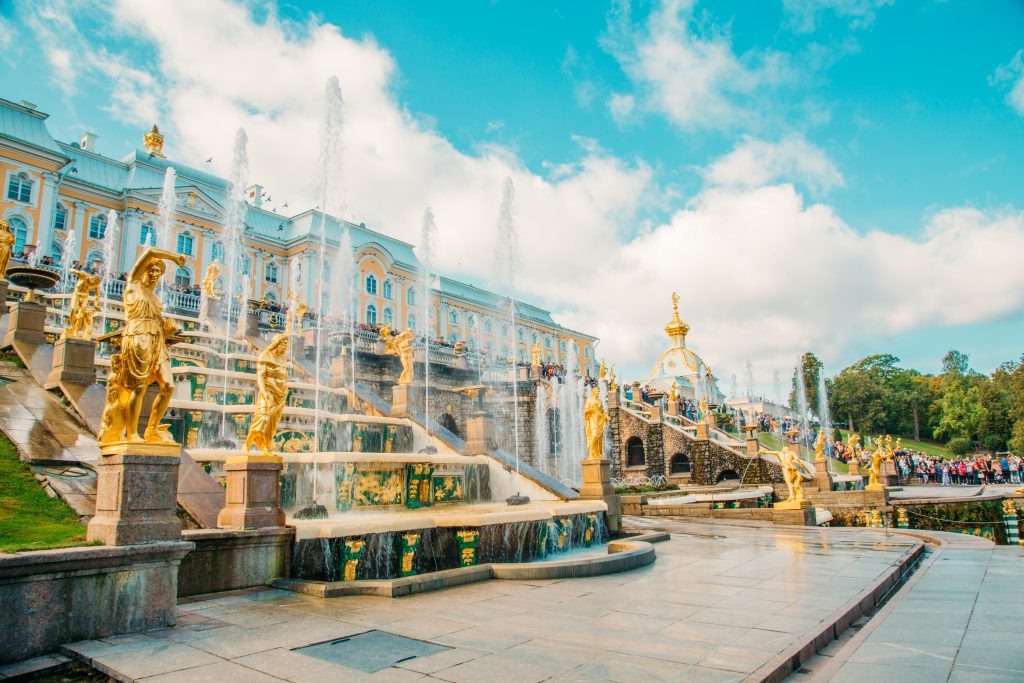 If you're visiting St. Petersburg in the summer, taking a hydrofoil (fast boat) ride to Peterhof Palace and Gardens is a great way to see this spectacular palace. It's nicknamed the "Russian Versailles" thanks to having more than 140 dazzling fountains. Another option too – is to take public transport or cab here and then a boat ride back (slightly cheaper this way – especially if traveling in a group).
6.) Marvel at the famous Church of the Savior on Spilled Blood
Now, this cathedral is perhaps the most famous landmark in all of St. Petersburg. It's an incredible building to see. Although, as its sinister name suggests, it was not built for happy reasons. This cathedral was built in memory of Tsar Alexander II who was assassinated in 1881.
Despite this gloomy past, the inside and outside are incredibly beautiful, and a must-visit when in St. Petersburg. (Not to start a competition, but I dare say the inside of The Church of the Savior on Spilled Blood is far more impressive than St. Basil's Cathedral in Moscow.)
7.) Venture Outside the City to Puskin. Home of Catherine Palace (a.k.a. The Summer Palace)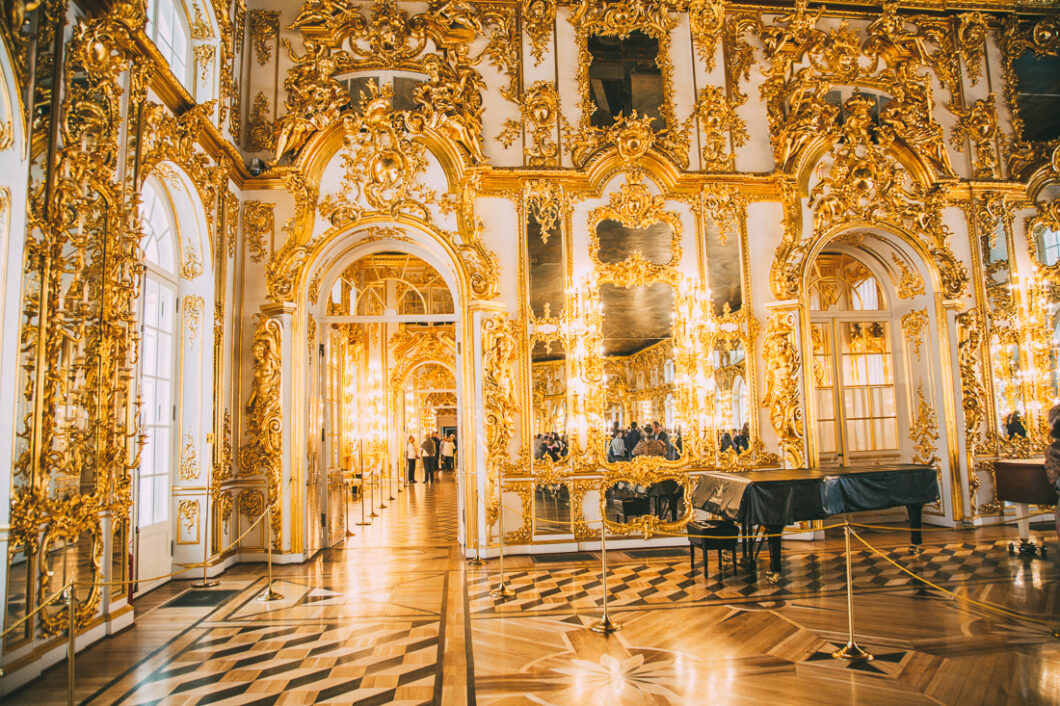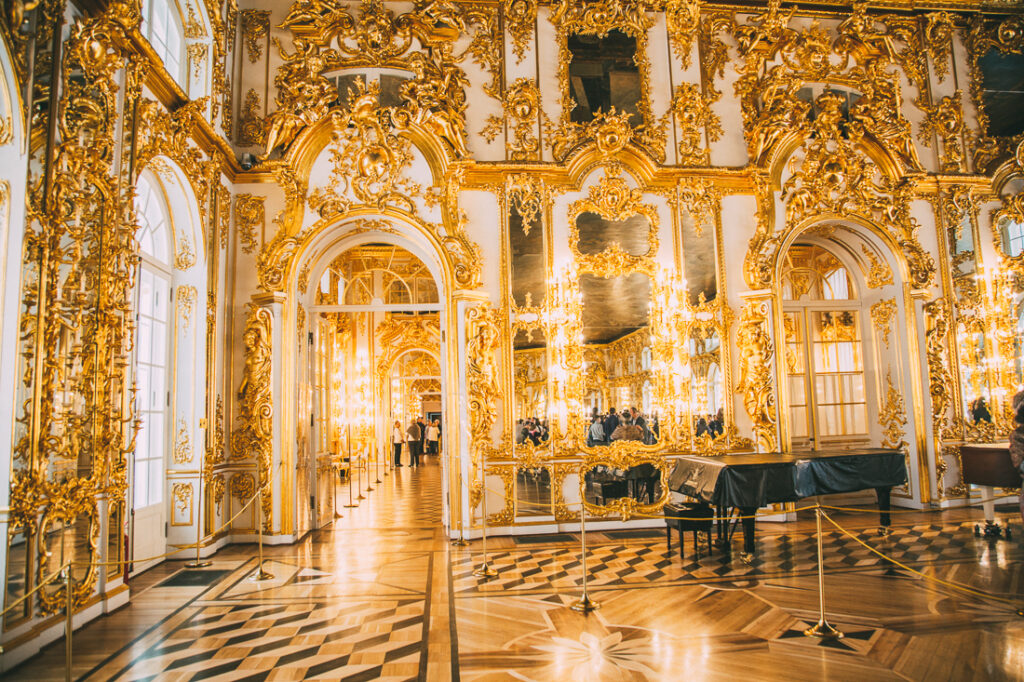 No trip to St. Petersburg, Russia would be complete without a visit to Catherine Palace in the suburb of Pushkin. Catherine Palace (or the Great Palace of Tsarskoye Selo) tops many of the "must-see" lists for planning a trip to this area. There are more than 200 pounds of gold decorating the inside of Catherine Palace + it's home to the famous "Amber Room."
8.) … and don't forget to visit Pavlovsk Palace (also in Pushkin)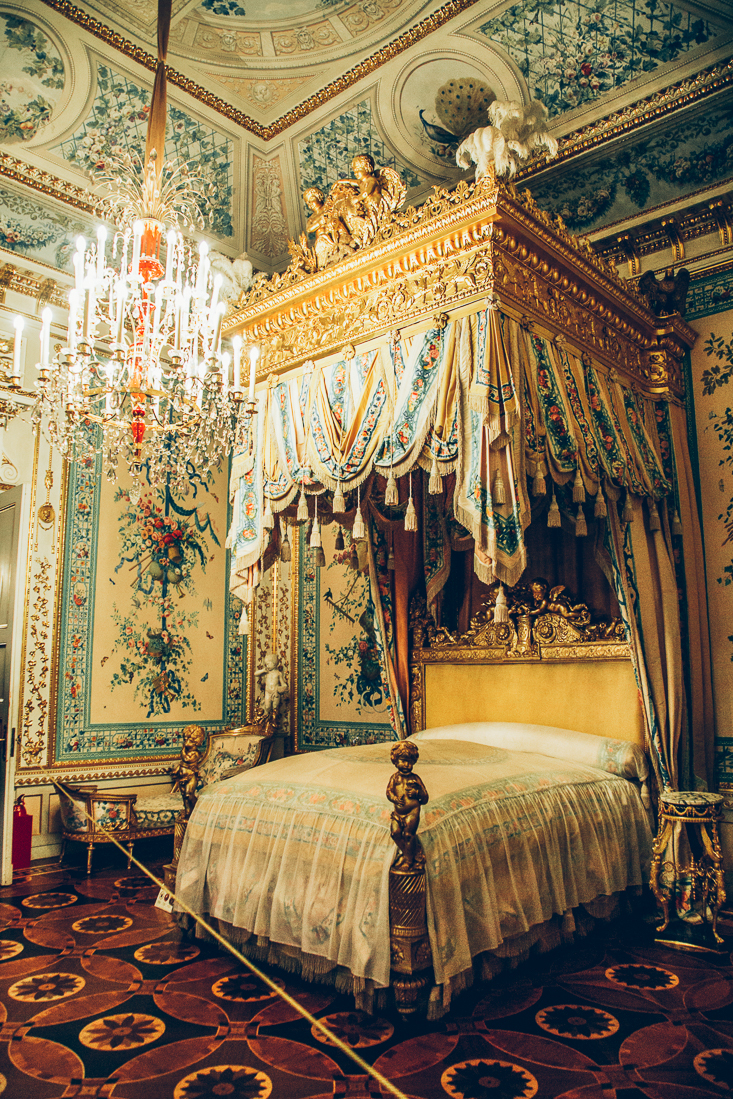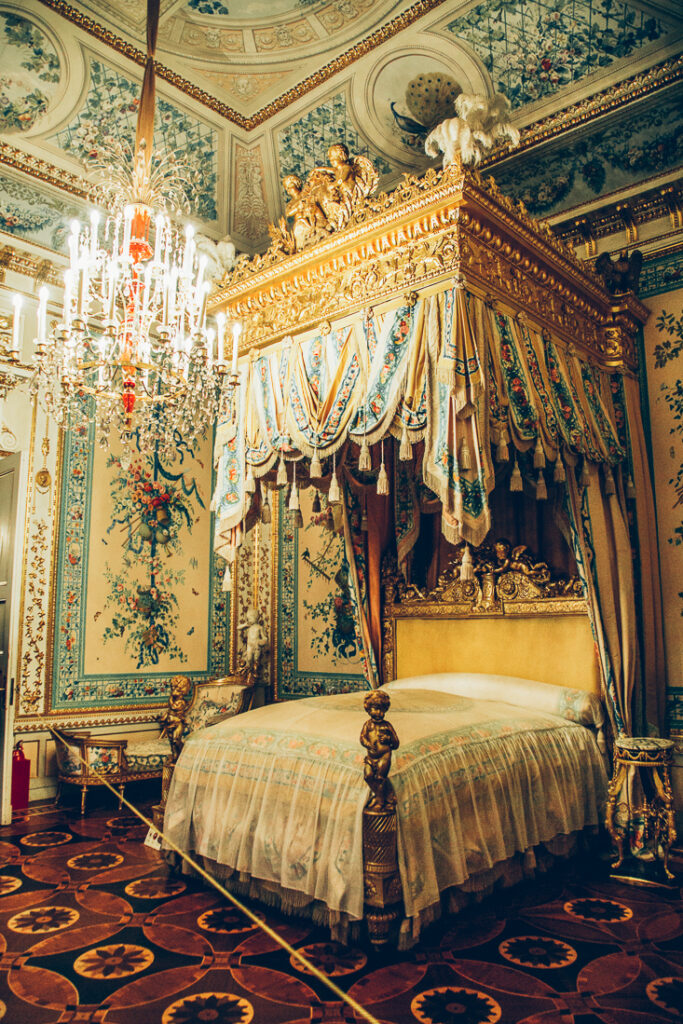 Pavlovsk Palace (or Paul's Palace) isn't as popular of a tourist destination as Catherine Palace or Peterhoff Palace – but I still think it's worth adding to your St. Petersburg itinerary. It's not far from Catherine Palace (around a 15-minute drive), and it does not have nearly as many crowds as Catherine and Peterhof Palaces. The grounds are especially magical in winter as you can also enjoy magical horsedrawn sleigh rides, here.
9.) Enjoy a Canal Tour
St. Petersburg is nicknamed the "Venice of the North" because of its many canals running throughout the city. In the summer, a fun way to experience St. Petersburg is from these canals. There are many canal boat tours or, for the more adventurous, you can take a kayak tour.
10.) Visit St. Nicholas Naval Cathedral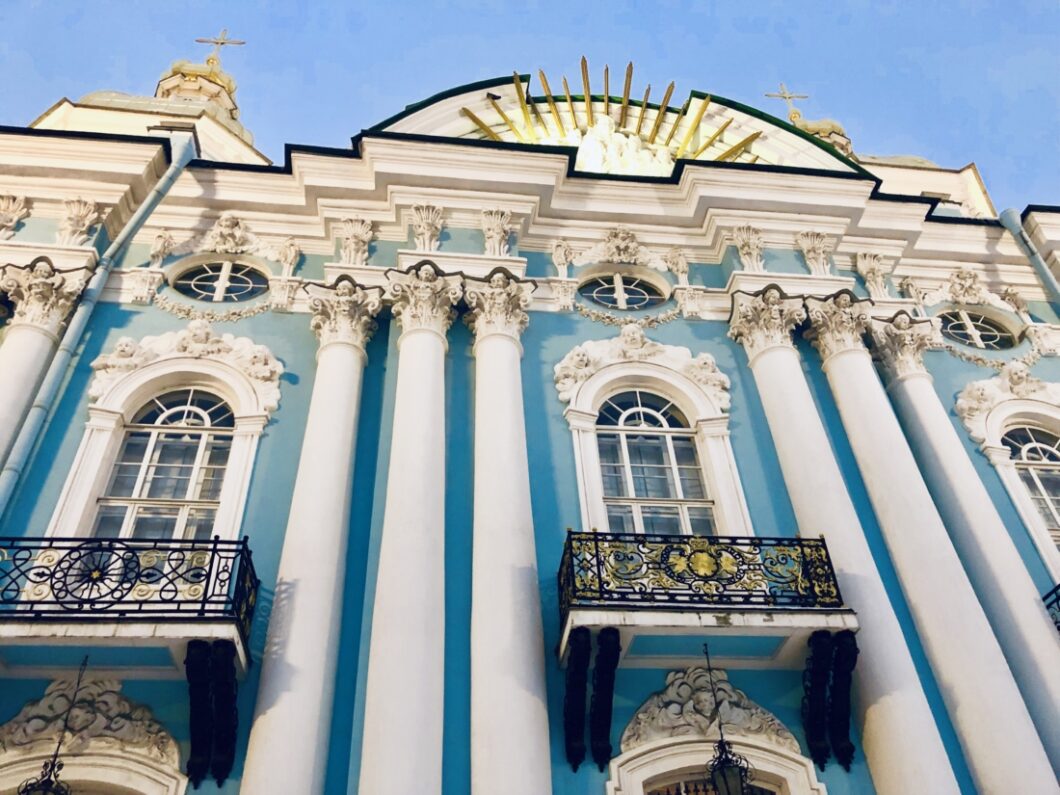 St. Nicholas Naval Cathedral is worth a visit for its incredible Baroque-style architecture, and splendid blue and white coloring. This "Sailors' Church" is topped with five glistening golden cupolas and contains many 18th-century icons, ten magnificent paintings and walls that convey the history of the Russian navy. (It also allegedly has some remains of St. Nicholas buried here as well… which is, ya know, where Santa Claus comes from.)
Note: this is a church where services are actively held. Please be respectful – no talking or photos inside and women should cover their heads with a hat or scarf and no shorts – this goes for the men too.
11.) Walk Down Nevsky Prospekt
This is the main street in St. Petersburg and is filled with souvenir shops and cafes. You'll also be able to see the Stroganoff Palace, the Winter Palace, Kazan Cathedral (pictured above) and Vorontsov Palace.
The Metro in St. Petersburg is more than just a means of transportation – it's practically an art museum it is so beautiful. This article, here, is a great overview of the best stations to visit while in St. Petersburg.
13.) Visit the Zoological Museum if you dare…
The Zoological Museum in St. Petersburg displays about 500 thousand different species (but it actually owns a total of 17 million). Exhibits range from enormous dinosaur, mammoths and whale skeletons to stuffed animals and birds and a unique collection of butterflies. What I find most interesting is this museum started thanks to Peter the Great's collections of specimens dating all the way back to 1724.
14.) See the Military Historical Museum of Artillery, Engineers and Signal
If you're a military history buff (like my husband) then this is the museum for you! This is a state-owned military museum with collections consisting of Russian military equipment, uniforms and decorations from the middle-ages to modern times. It's near Peter and Paul Fortress (see next point).
15.) Explore Peter and Paul Fortress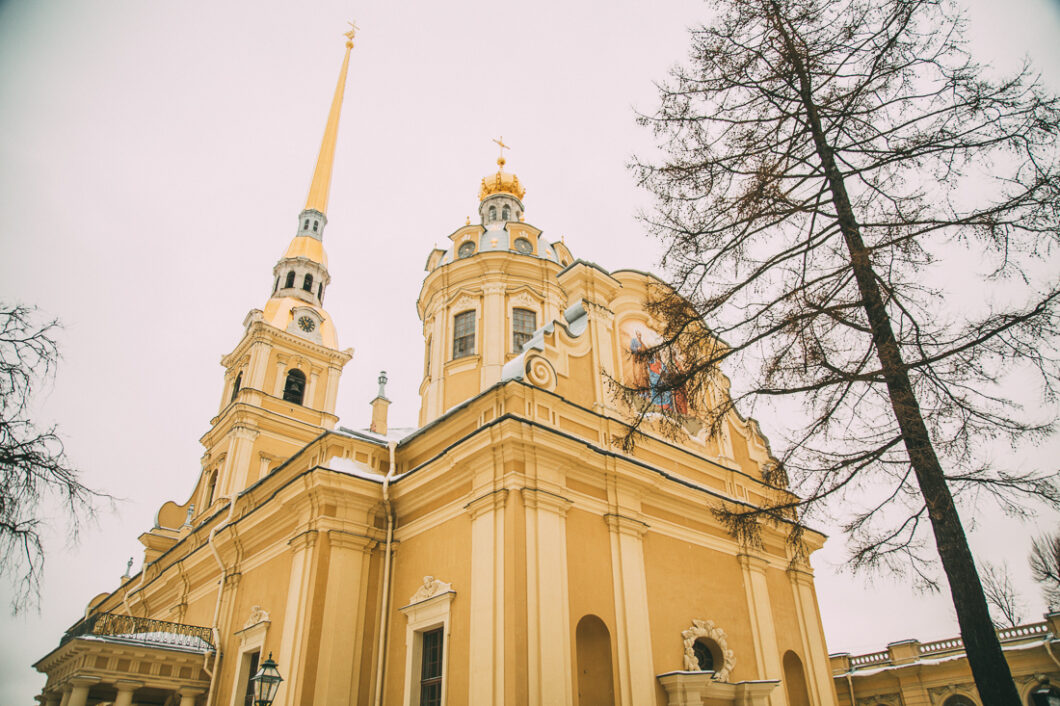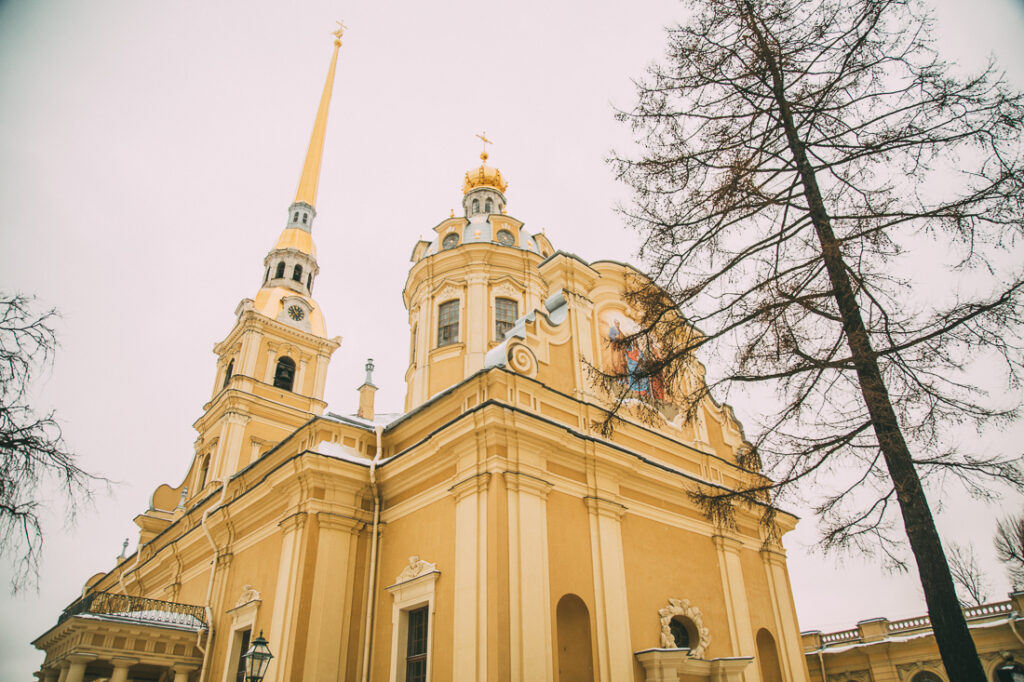 Built as a fortress in 1703 by Peter the Great, this building was used instead as a political prison under the czars, and houses the City History Museum, the Mint, and the Peter and Paul Cathedral. This cathedral is where the Romanovs are buried as well as Catherine the Great and Peter the Great.
16.) Take a Sleigh Ride in the Winter (or perhaps a carriage ride in the summer)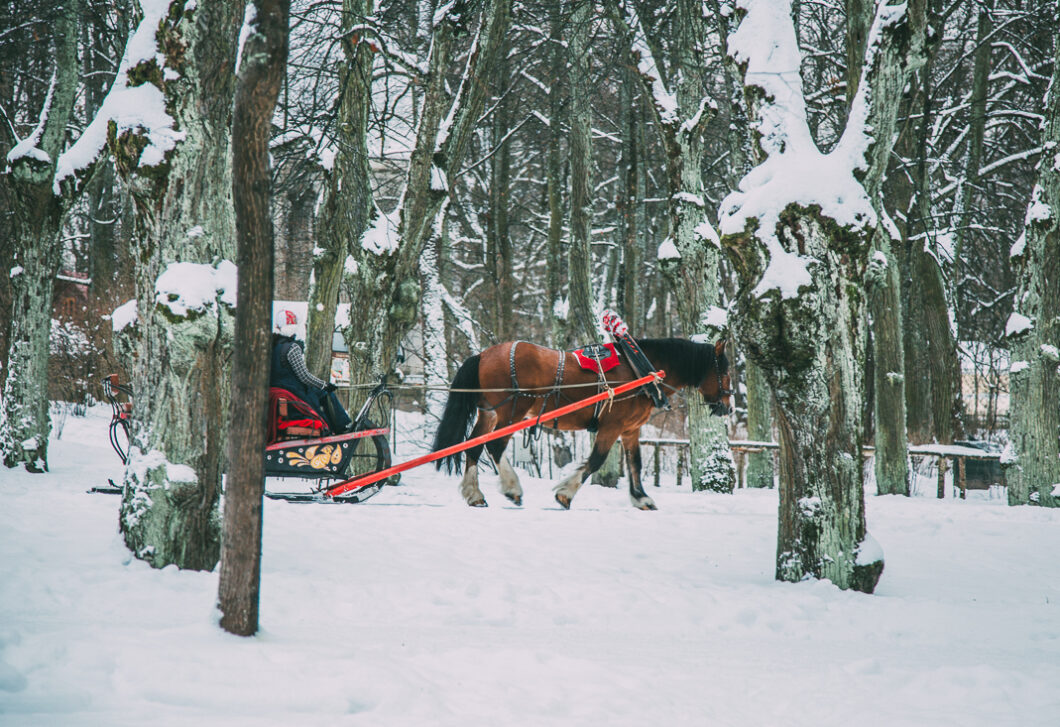 Step into a real-life fairytale with a picturesque sleigh ride that offers panoramic views of St, Petersburg and ends at the Vodka Musem. Obviously, the sleigh rides are only offered when there is snow. So, if you happen to visit when the weather is a little warmer, then try a carriage ride instead. It will be the same path as the sleigh.. just replaced with a carriage.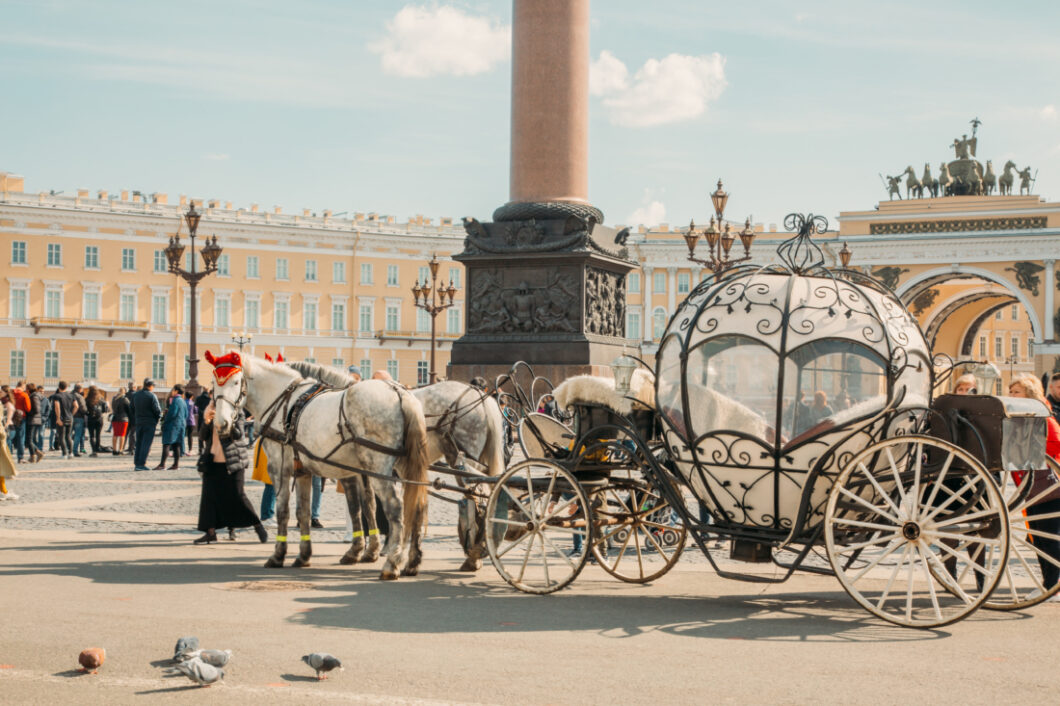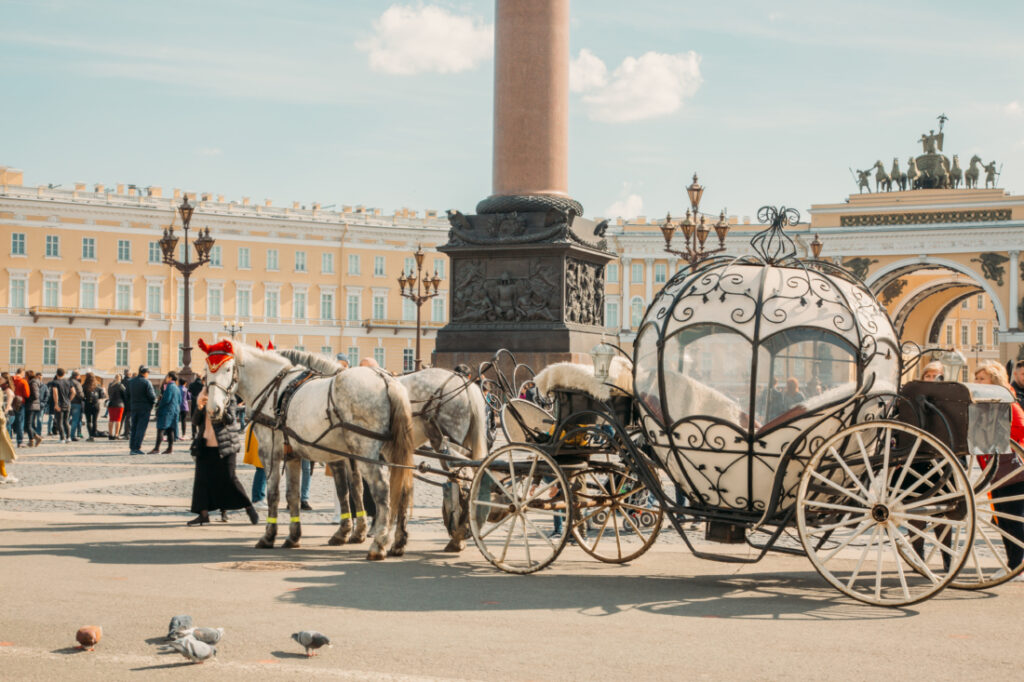 17.) Visit the Mariinsky Theatre… See a Show!
The Mariinsky Theatre in St. Petersburg is a historic theatre that houses opera and ballet. It originally opened in 1860. And if you're coming all the way to Russia, I highly recommend seeing a Russian Ballet performed. It'll be a memorable experience no matter what performance it is (although I do recommend trying to get tickets to Swan Lake). Otherwise, if you're heading to Moscow… don't forget about the famous Bolshoi Theatre either…
Where to Stay in St. Petersburg
I can't attest for every hotel in St. Petersburg, but we stayed at the Renaissance Baltic Hotel a couple of times because we were able to use our Marriott vouchers there. It was a fantastic hotel with a really good breakfast spread. It was centrally located…I mean, we could see St. Isaac's Cathedral from our hotel room window. The staff was very friendly as well.
If you're a Marriott Elite snob like us, though, don't expect your status to mean much to the Renaissance Baltic Hotel. You can book using your points & vouchers here, but there's a good chance you won't get your free upgrades, free breakfast, points for checking in online, etc. unless you throw a little hissy fit. (Or just avoid throwing said hissy fit and reach out directly to Marriott – they'll make sure you get all of these things.)
I've also stayed at the Courtyard by Marriott St. Petersburg Center West Pushkin Hotel and absolutely loved it! This hotel isn't within walking distance of the main attractions (like the Renaissance is), but the staff are SO friendly and really went out of their way to make it a great stay. And because it is not as centrally located, it's significantly cheaper to stay at.
Travel Insurance
It's a good idea, no matter where your adventure takes you, to have travel insurance. You never know what might happen! Whether you get sick before your trip and can't go, or you become sick or injured while on your adventure – being covered with travel insurance is a must. Some credit card companies do provide this service (check with yours), or you can get a quote from companies such as Squaremouth to find the best plan for you and your adventure. (This is the company I, personally, use. They are even recommended by Forbes!) To get a free quote, click here.
Visa Requirements
To check if your country requires a Visa for traveling to Russia, click here.
If you have any questions about visiting St. Petersburg, please feel free to reach out in the comments section at the end of this post! And are there any more things to do in St. Petersburg that you would add this list? Let me know in the comments too!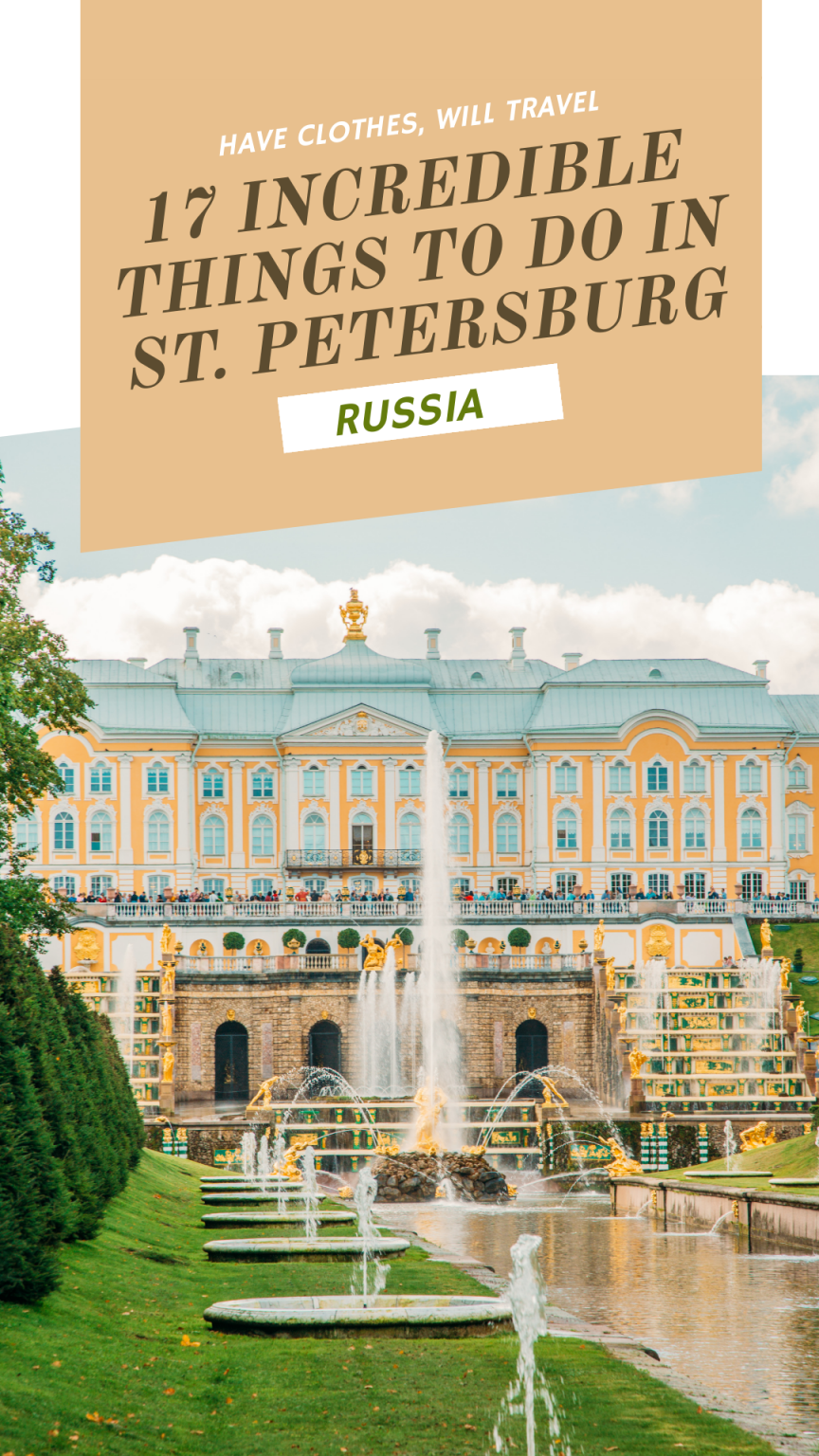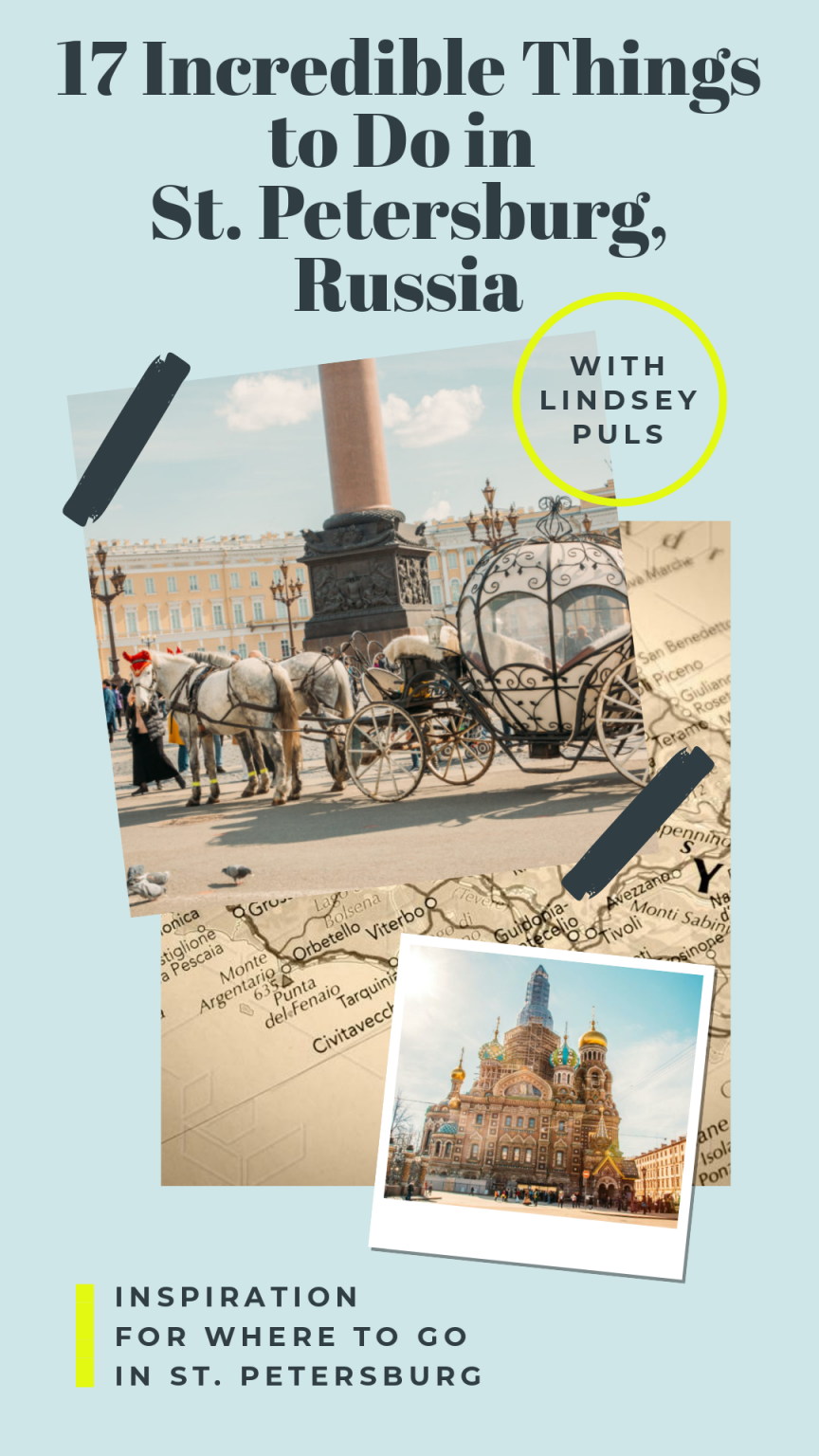 Disclosure: some of the links in this post are affiliate links. Meaning, if you click a link and make a purchase, Have Clothes, Will Travel gets a very small commission. Thank you for supporting the brands that make this blog possible!