Where to Find the Best View of St. Petersburg, Russia – St. Isaac's Colonnade
The best view of St. Petersburg, Russia is arguably from atop St. Isaac's Cathedral. Visiting this beautiful cathedral should already be on your itinerary for St. Petersburg, as its interior is as spectacular as its gilded dome exterior.
However, getting to its colonnade is not for the faint of heart! It requires scaling nearly 300 steps and then being faced with a not-terribly-secure-looking railing as the only thing separating you from the edge of it. (Hello, fear of heights!)
Getting to the Best View of St. Petersburg
That being said…if you're in moderately OK condition, and take your time climbing the stairs, you'll be fine!
For those of you afraid of heights, like me, I'm not going to lie – this experience made me nervous. I never went right to the edge of the walkway and stayed as glued to the building as I could! However, I'm glad I did it. Because the views are WORTH IT! You can see the Winter Palace, The Church of the Savior on Spilled Blood, and Peter & Paul Cathedral…just to name a few sights.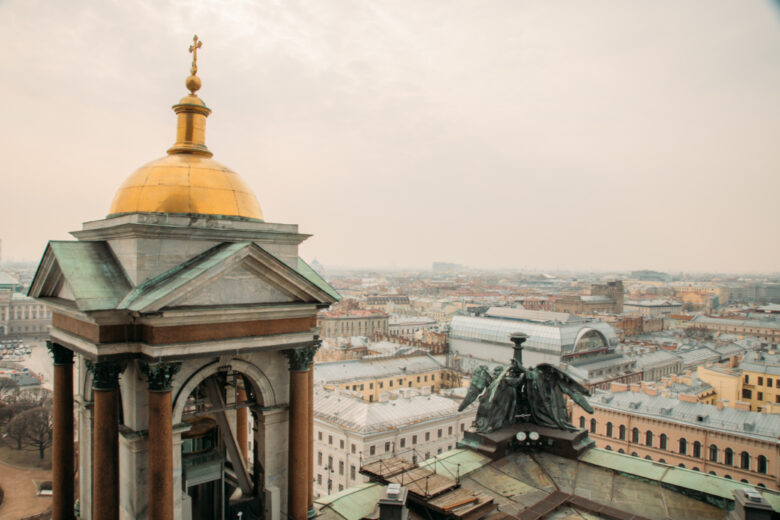 Tips for Visiting St. Isaac's Cathedral
Getting Your Tickets
There is a ticket kiosk just outside the cathedral (there is also an information booth) – just look for the sign that says "касса." Here, you can buy your ticket to climb to the top of the colonnade for 150 rubles. (They accept both credit card and cash.) You can also buy your tickets online, here.
Once you get your tickets, you will go to the entrance of the cathedral and scan your ticket. If you are facing the entrance, go to the 2 ticket scanners that are furthest to your righthand side. The staircase will be just to your right after you pass through.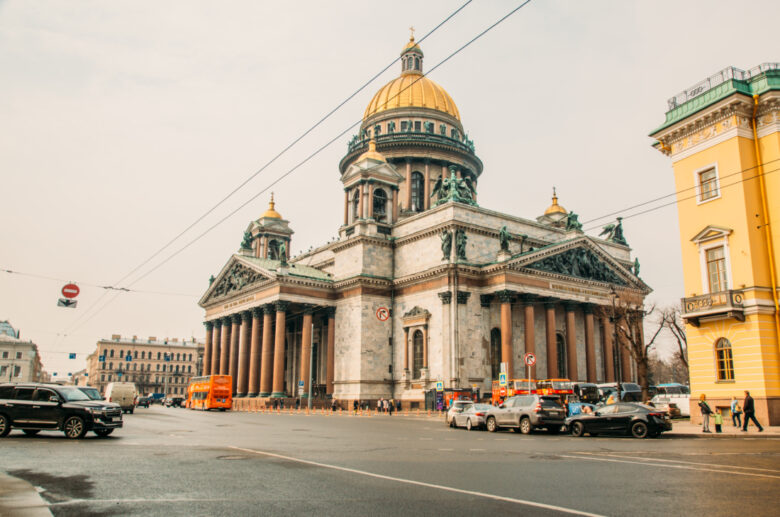 Climbing the Stairs
It's not a race – so take your time! The stairs are old and not terribly even, so be careful not to trip. And, of course, wear some comfy shoes! (Leave the high heels at home!)
My roomie and I are in good health, and I'd say it took us around 10 minutes to make the climb up to St. Isaac's colonnade. There weren't too many crowds, though, as we had gone right when it opened that morning (and it also was a dreary rainy morning).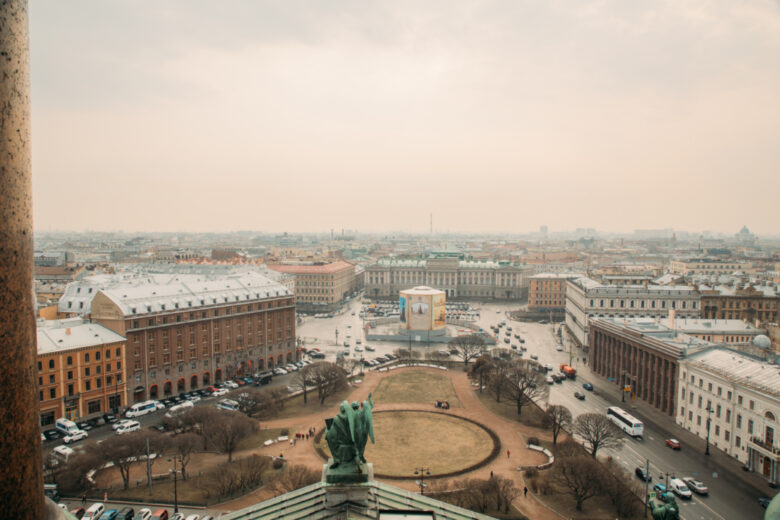 Be Sure to Visit the Interior of St. Isaac's Cathedral, Too!
You're already here…so, why not venture inside this beautiful cathedral? (The ticket price to enter is 250 rubles.) Its interiors are adorned with gorgeous mosaics that can withstand the cold, damp weather here.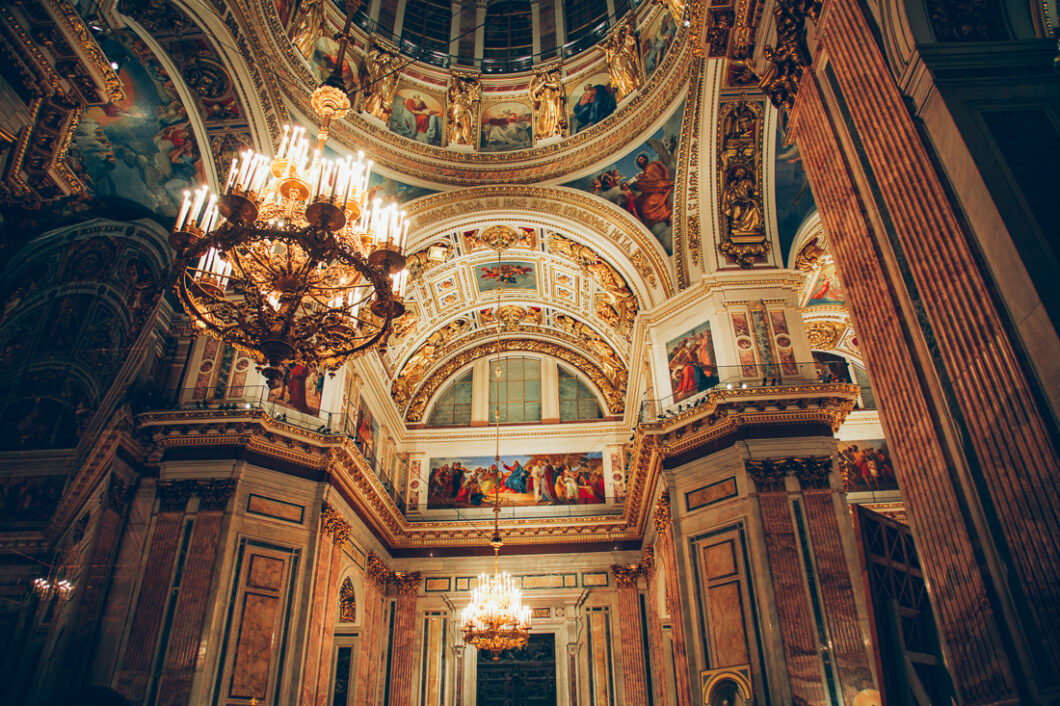 Where to Stay Near St. Isaac's Cathedral
We stayed at the Renaissance Baltic Hotel because we were able to use our Marriott vouchers there. It was a fantastic hotel with a really good breakfast spread…and you could even see St. Isaac's Cathedral from our hotel room window.
Curious to learn even more about this cathedral? Check out my blog post "The Top 5 Cathedrals Worth Seeing in St. Petersburg, Russia."
If you've been to St. Petersburg – did you make the climb up St. Isaac's Colonnade? And if not, would you? Let me know in the comments!
Travel Insurance
It's a good idea, no matter where your adventure takes you, to have travel insurance. You never know what might happen! Whether you get sick before your trip and can't go, or you become sick or injured while on your adventure – being covered with travel insurance is a must. Some credit card companies do provide this service (check with yours), or you can get a quote from companies such as Squaremouth to find the best plan for you and your adventure. (This is the company I, personally, use. They are even recommended by Forbes!) To get a free quote, click here.
Visa Requirements
To check if your country requires a Visa for traveling to Russia, click here.
This post is now available as a self-guided walking tour on GPS my city. Click here to download it!
Need some more info for your trip to St. Petersburg, Russia? Check out all of my blog posts for visiting!
*Click here to see my post, "12 Things to Know Before Visiting Catherine Palace."
*Click here to see my post, "Pavlovsk Palace – Is it Worth Adding to Your St. Petersburg Itinerary?"
*Click here to see my post, "What to Know Before Touring the State Hermitage Museum."
*Click here to see my post, "Is it Worth Adding the Fabergé Museum to Your St. Petersburg, Russia Itinerary?"
*Click here to see my post, "How to Spend 2 Days in St. Petersburg During the Winter."
*Click here to see all of my posts from Russia.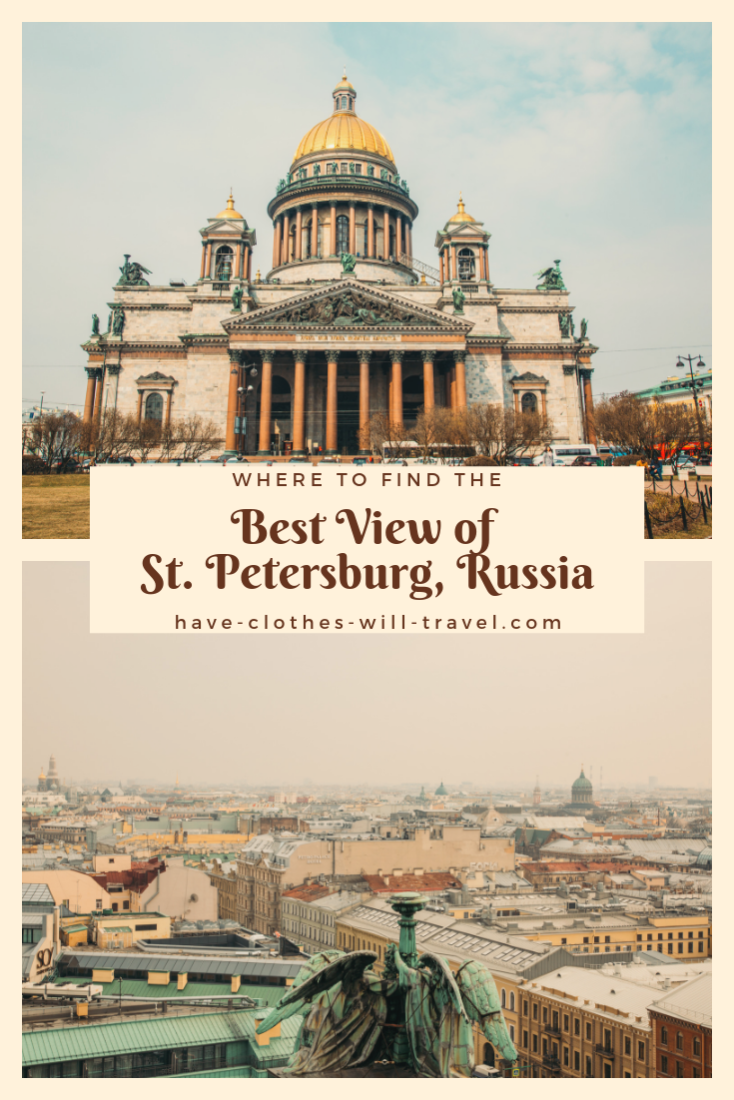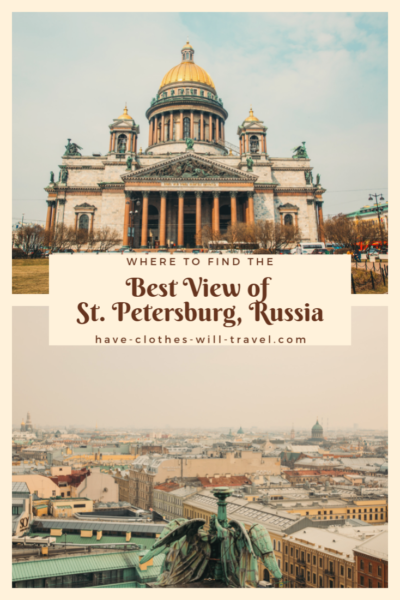 Disclosure: some of the links in this post are affiliate links. Meaning, if you click a link and make a purchase, Have Clothes, Will Travel gets a very small commission. Thank you for supporting the brands that make this blog possible!