7 Crazy & Unusual Things to Do in Moscow, Russia – Written by a Local
I'm sharing 7 of the craziest and most unusual things you can do in Moscow in this post. If you're looking for a list of the top tourist attractions in Moscow (Red Square, the Bolshoi, the Kremlin, yada, yada) – this isn't the list for you! (But if that's the list you're looking for, I have a post on popular things to do in Russia here.)
Now, some of these things I have done myself while living in Moscow, and can recommend them. Some are completely out of my price range, but I still think it's cool that they're an option, and will be sharing them.
7 Crazy & Unusual Things to Do in Moscow, Russia
Without further ado, here are 7 crazy and unusual things you can do in Moscow.
1.) Visit Bunker-42 Cold War Museum (It's 200+ Feet Underground!)
Bunker-42 was once a top-secret Soviet military complex. Stalin had commissioned it to be made after the United States created a nuclear bomb. 65 meters (or about 213 feet) underground was the desired depth to protect Russia's top officials from a nuclear attack.
It became operational in 1954. Fortunately, it was never needed for its true purpose and was instead used as the command center of strategic bombers for nearly 30 years in Moscow. Now, it is a museum dedicated to the Cold War. It is a truly unique experience!
You can tour Bunker-42 with a guide, or you can simply eat/grab a drink at its underground restaurant. (I, personally recommend doing the tour and just grabbing a drink here – in my experience, the food has been pretty bad.)
---
2.) Ride a Real Soviet Tank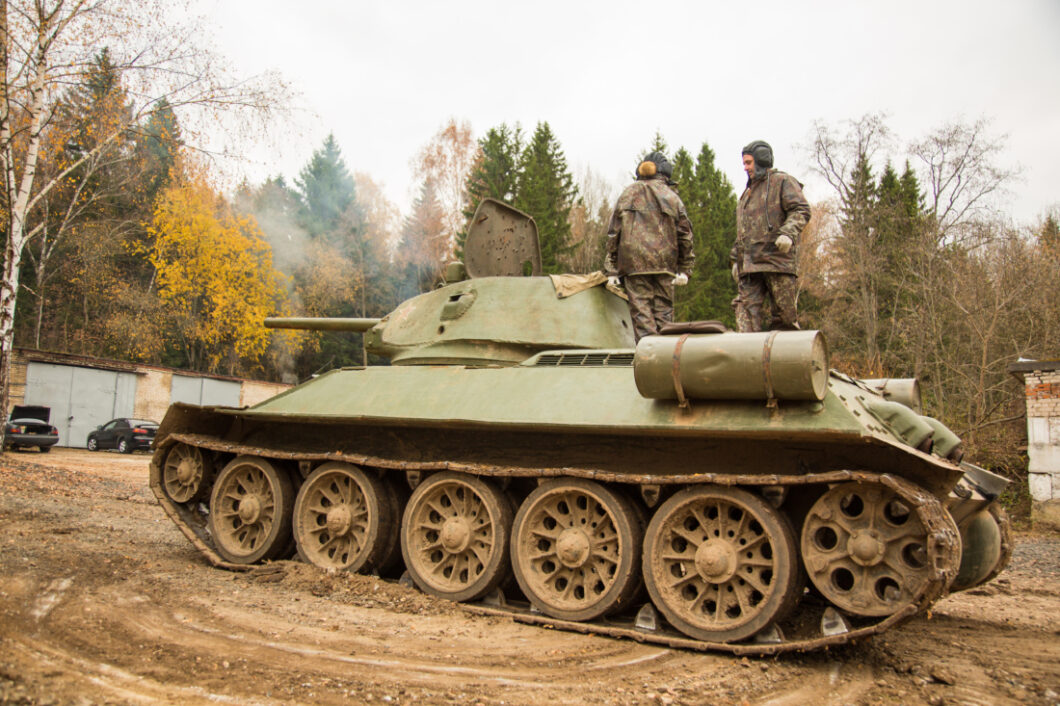 There are several different tour operators in Moscow that will take you just outside the city… where you can ride in or on real Soviet tanks. I, personally, did the T-34 tank ride, which also included shooting 10 blank shots from the Soviet gun of your choice… along with taking shots of vodka. Only in Russia!
---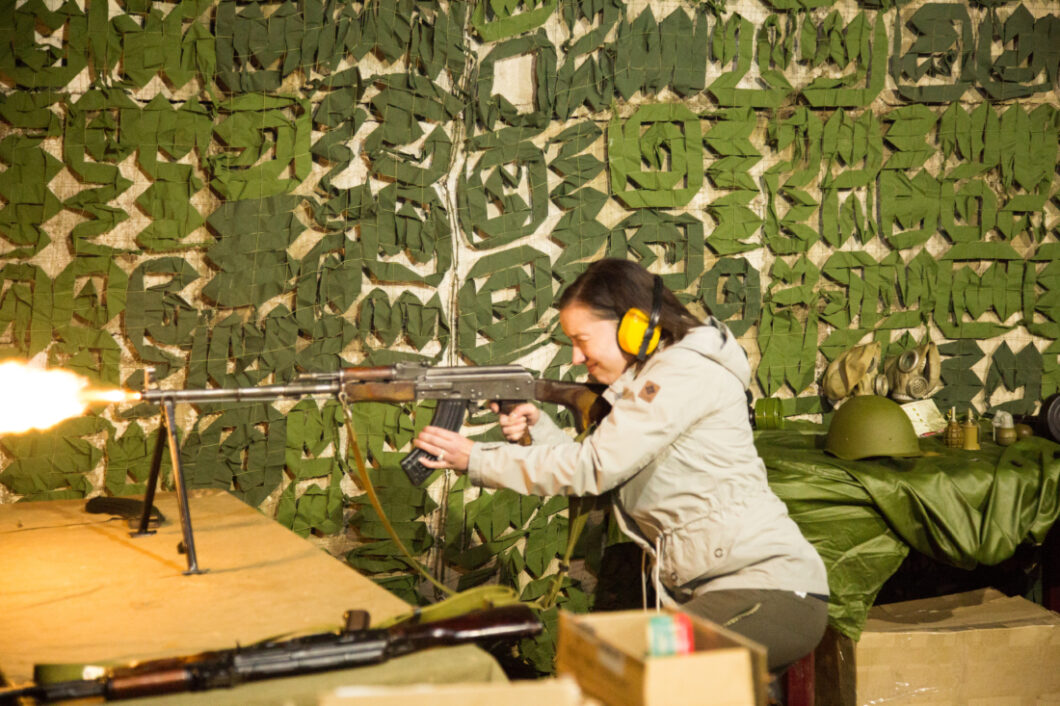 3.) Shoot an AK-47
If shooting blanks from an AK-47 during the tank experience sounded disappointing to you – fret not! You can shoot real ammunition from any gun of your choice (including the AK-47) at Labyrith Shooting Range. They also have an archery range and knife and ax throwing.
I recommend calling ahead to book the time you want to go – the underground range is not the friendliest place to sit and wait for your shooting time. (Although there are many nice restaurants and bars nearby.)
Must be over the age of 18 and bring your passport too! No photos are allowed during the shooting – but you get to keep your target as a souvenir.
4.) Take a MiG 29 Edge of Space Flight… and See the Curvature of the Earth!
Care to take a ride on a MiG 29, break the sound barrier, and see the curvature of the earth? You can honest-to-god do just that in Moscow. Check out the experience in the video above, Granted, it costs a fortune (17,500 Euros!). But hey, if you have the money and can handle the G force – this would be quite the bucket list adventure!
---
5.) Visit Star City – Take a Zero Gravity Flight or a Spin in the Centrifuge!
Now, if you've been reading my blog, you've heard me talk about Star City – which is the facility where the cosmonauts train. Until the early 90s, it was a top-secret location, but now, you can tour Star City. That is cool in and of itself (in my opinion), but the fun doesn't stop there!
Did you know you can also pay to take a Zero Gravity Flight from here?! Or how about taking a spin in the world's largest centrifuge while here?! Or trying on a real cosmonaut suit? Granted, all of these things are insanely expensive too, and I would have had to sell both kidneys to afford to do them – but if you have the money, how cool would that be?
---
6.) See the First Space Dogs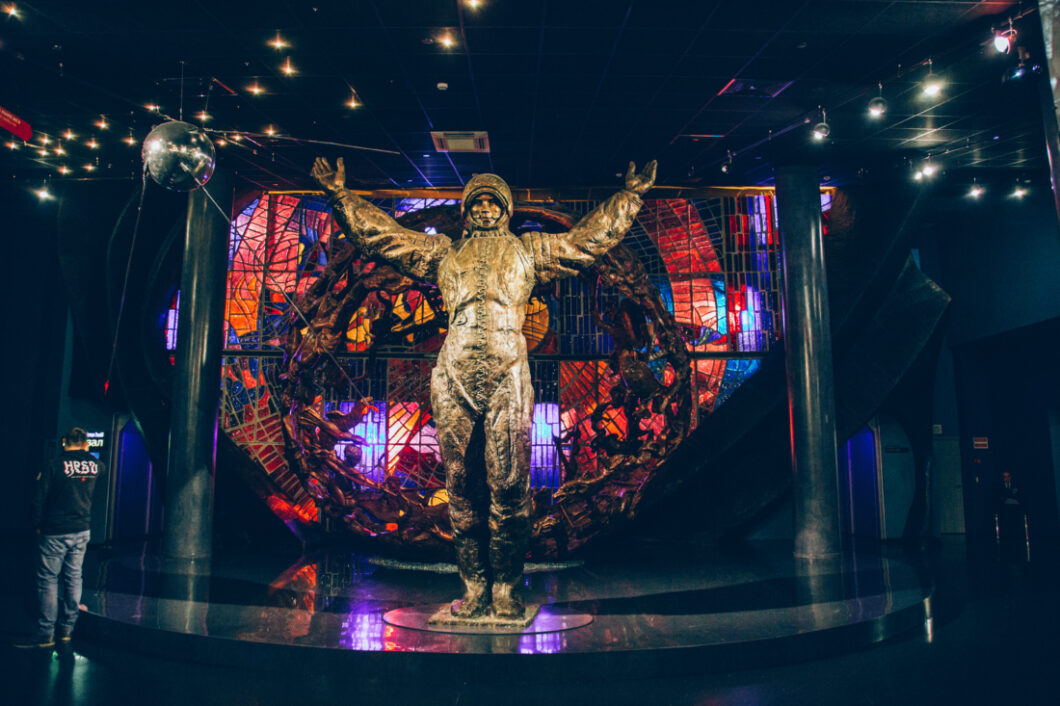 If you're interested in space exploration but a more budget-friendly option – head over to the Museum of Cosmonautics. Here, you can see a museum dedicated to space exploration that charts the history of the Russian space race and famous Russian astronauts and has an impressive variety of space equipment, suits, lets you sample space food…and even see some famous taxidermied dogs.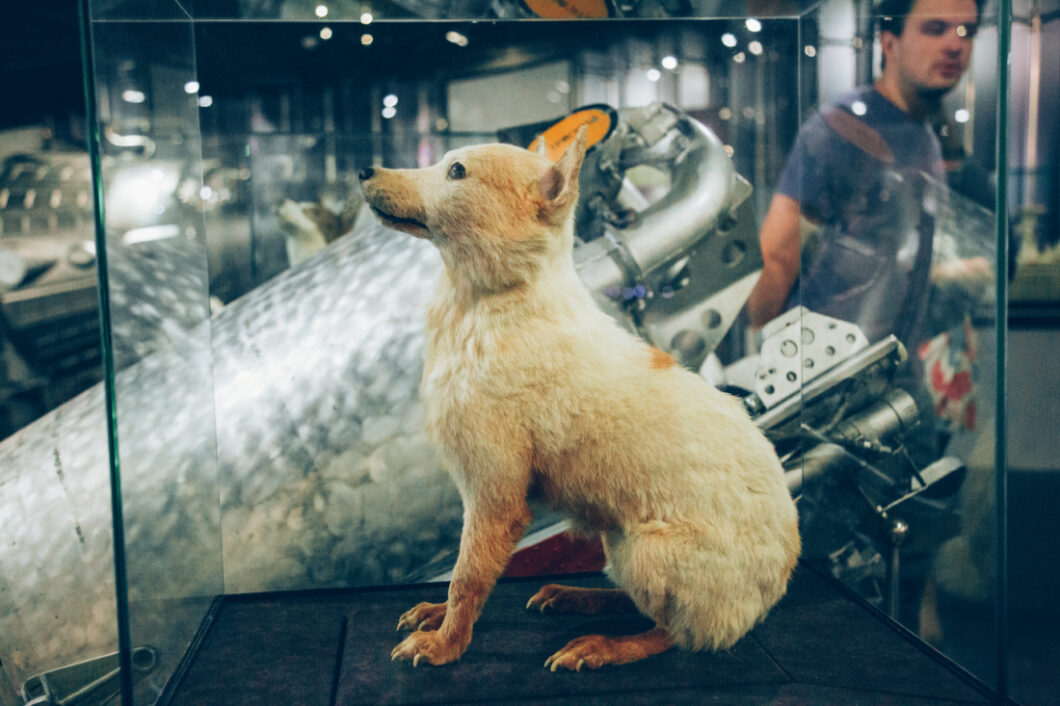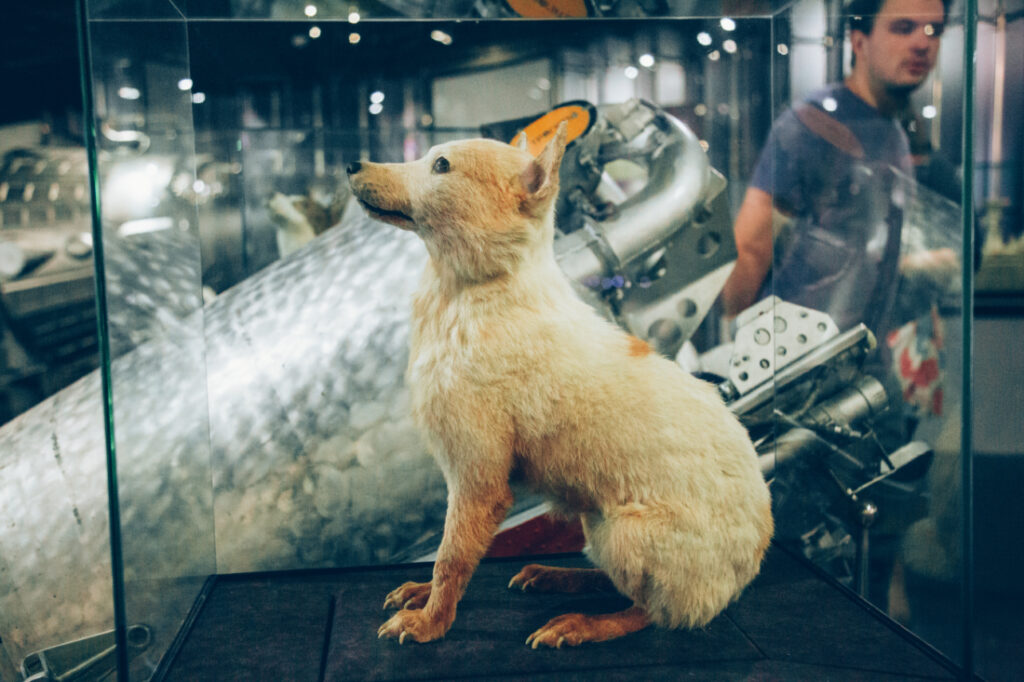 Oh yes, likely the first exhibits you'll notice when walking in the museum will feature two taxidermied dogs. These are "Strelka" & "Belka' and they are the first dogs to ever go to space and return. Strelka went on to have 6 puppies, one of which was given to President John F. Kennedy. This dog ended up having puppies with the Kennedy's dog, Charlie. JFK jokingly called the pups "pupniks." (I thought that was funny, personally!)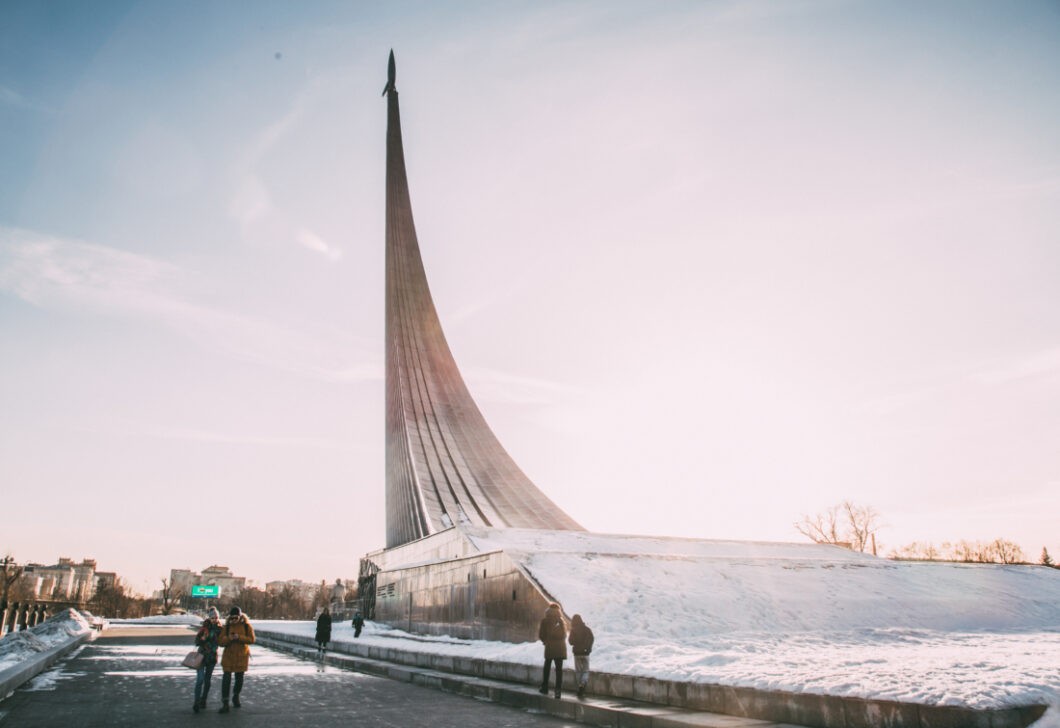 The museum itself is also located at the base of the monument "To the Conquerors of Space," which is a 100-meter titanium obelisk erected in 1964 to celebrate the achievements of the Soviet people in space exploration. (Pictured above.)
---
7.) Lenin's Mausoleum
Welp, and while we're on the subject of preserving dead historical figures… you might as well head over to see Lenin's perfectly preserved body!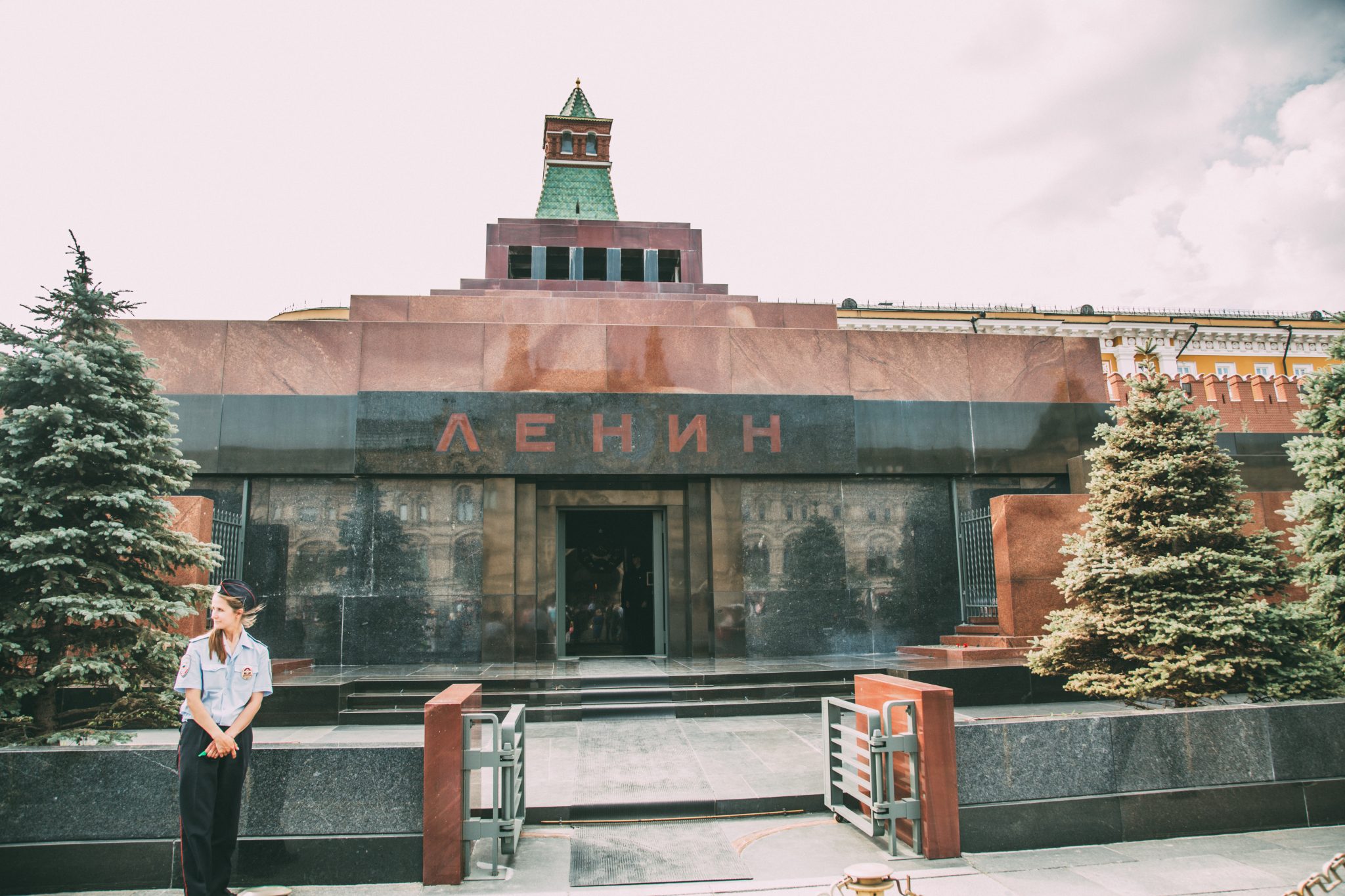 Lenin's Mausoleum, also known as Lenin's Tomb, is located in Red Square. It's a mausoleum that currently serves as the resting place of Soviet leader Vladimir Lenin. His preserved body has been on public display there since shortly after his death in 1924.
Photos are not permitted (that one of his body above is an embed from Flickr, and not mine), and the guards will keep you moving at a quick pace through the tomb. Lenin resembles more of a wax figure than a well-preserved body.
The tomb is free to visit, but it's only open from 10 am – 1 pm, Tuesday – Saturday.
---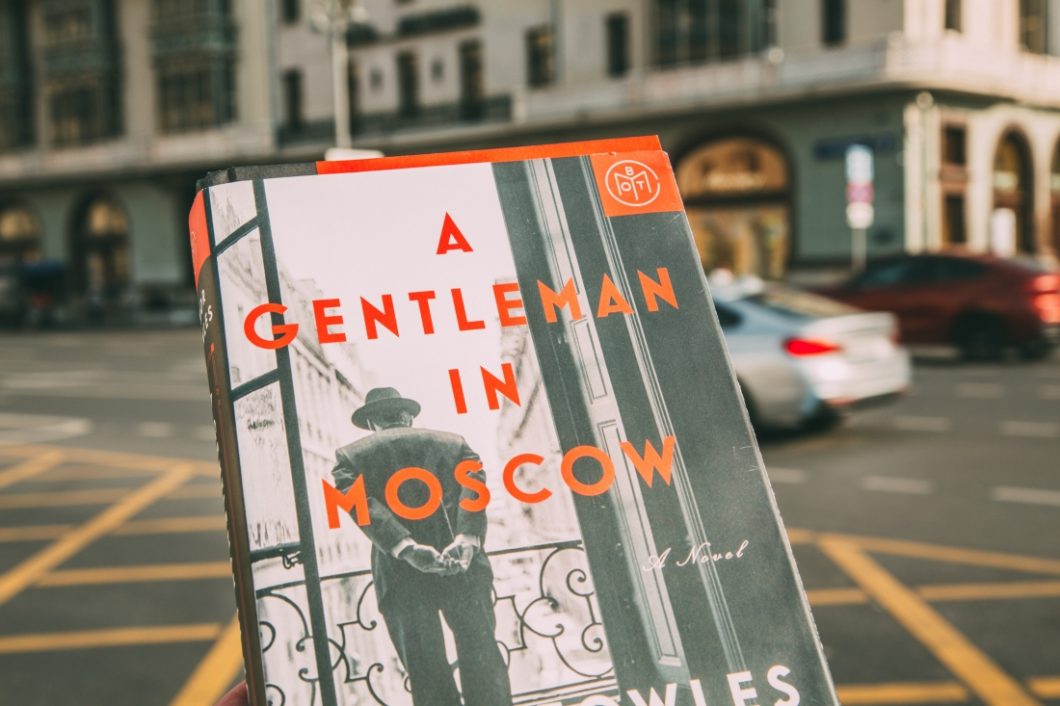 Bonus: A few normal yet unique things I also recommend you do in Moscow:
I'm curious, which of these weird and wacky things to do in Moscow sounds the most appealing to you? Let me know in the comments! I'm also happy to answer any questions you have about visiting Moscow in the comments too.
Click here to see all of my blog posts from Russia.
Travel Insurance
It's a good idea, no matter where your adventure takes you, to have travel insurance. You never know what might happen! Whether you get sick before your trip and can't go, or you become sick or injured while on your adventure – being covered with travel insurance is a must. Some credit card companies do provide this service (check with yours), or you can get a quote from companies such as Squaremouth to find the best plan for you and your adventure. (This is the company I, personally, use. They are even recommended by Forbes!) To get a free quote, click here.
Visa Requirements
To check if your country requires a Visa for traveling to Russia, click here.
*Disclosure: some of these links are affiliate links. Meaning, if you click a link and make a purchase, Have Clothes, Will Travel gets a very small commission at no extra cost to you. Thank you for supporting the brands that make this blog possible! I am also a participant in the Amazon Services LLC Associates Program, an affiliate advertising program designed to provide a means for us to earn fees by linking to Amazon.com and affiliated sites.