Tips for Visiting Izmailovsky Market in Moscow, Russia
The best place to buy souvenirs in Moscow, Russia is easily Izmailovsky Market. It's located just outside the city center and is easy to get to via the metro. The prices here are a fraction of what you'll pay on Arbat Street for the same souvenirs… and you can barter!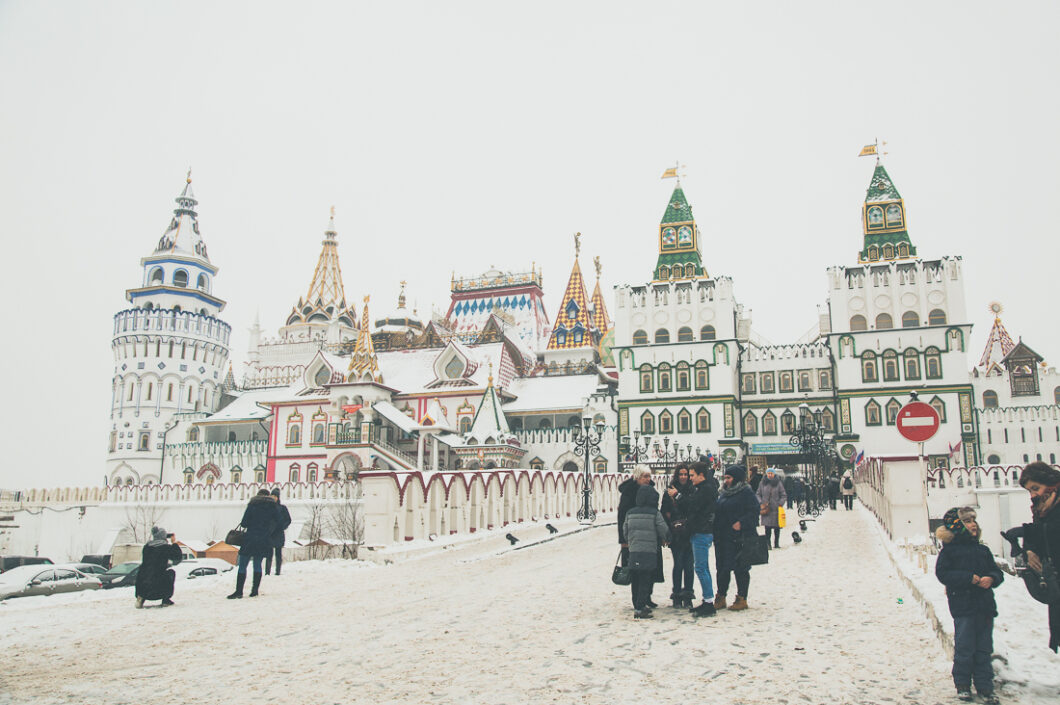 My husband and I went here countless times to buy souvenirs for friends and family members. We also took anyone who visited us in Moscow to this market to show them what it's all about! Because even if you aren't looking to purchase souvenirs, Izmailovsky Market is a fun way to spend a few hours exploring on a weekend. There is a lot to see and also eat here!
This post is breaking down what to know before you go…and explaining why you must visit Izmailovsky Market if you're visiting Moscow.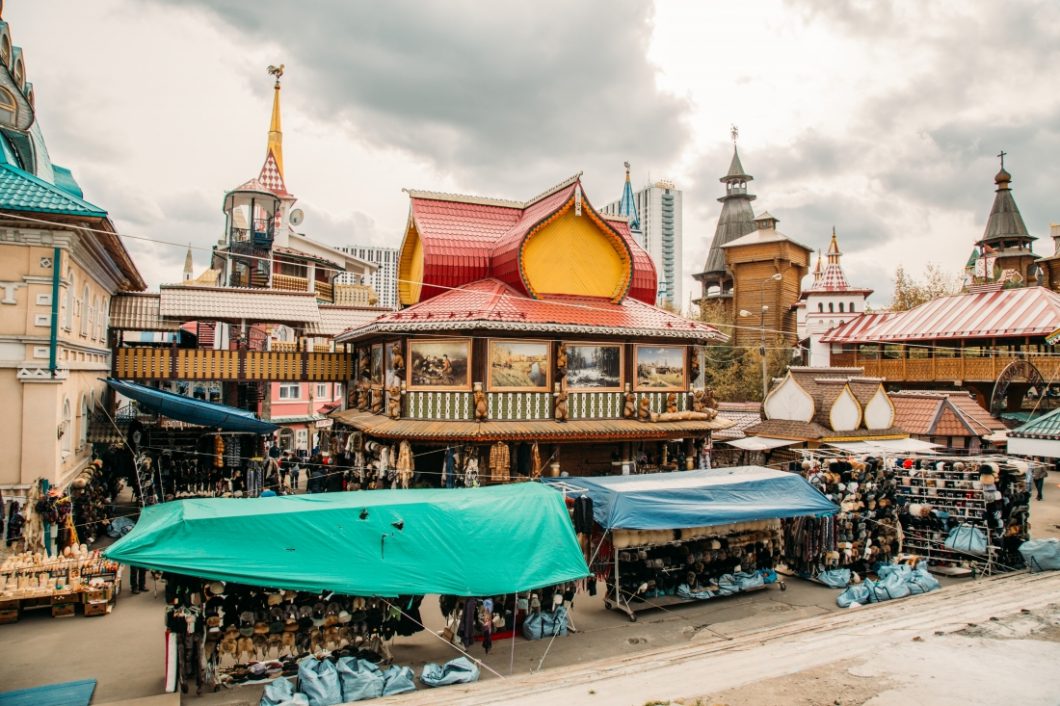 How to Get to Izmailovsky Market
The Metro
The quickest (usually) and most cost-effective way to get to Izmailovsky Market is by taking the metro. If you're a new visitor to Moscow, I know the metro can sound intimidating. However, you MUST try out the metro while here – as it's seriously as beautiful as a museum. (Click here for more tips about taking the metro in Moscow.)
For example, from Red Square, you can get on the metro at Ploschad' Revolyutsii and take it to Partizanskaya stop. This will take about 30 minutes and cost 55 rubles (less than $1 USD.) You can purchase one-way tickets at the metro station or you could also purchase a Troika card if you plan on using the metro more than a couple of times while in Moscow. (This is a reusable card you can put money on for the metro.)
When you exit the metro station – it may seem a little confusing. However, just follow the crowds! The vast majority of people getting off at this station are going to the market. And you'll be able to see the fairytale-looking buildings (that you should head towards) as you get closer to the road.
Google Maps is getting better in Moscow… however, Yandex Metro is still the best app to use for figuring out which metros to take in Moscow.
Taxi
Another option is to use the Gett or Yandex Taxi Apps to take a cab. The last time I went from the city center to Izmailovsky Market via taxi, it came out to about $5 or $6 USD. This does take longer than the metro, though. This will take at least 40 minutes of driving and sometimes more if the traffic or weather is bad.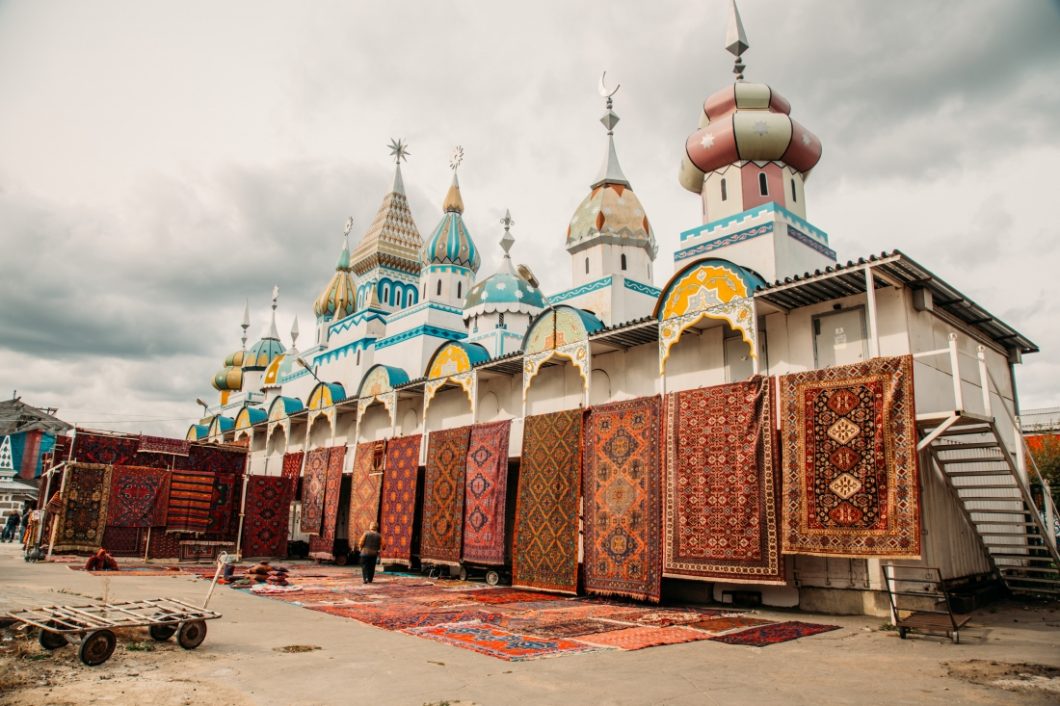 When to Visit Izmailovsky Market
Technically the market is open every day from 10 am to 6 pm. However, during the week many of the vendors are not there.
The best time to visit is on either a Saturday or Sunday between 11 am and 4 pm. (If you get there too early or too late, you'll find some stalls aren't set up yet or they're already closed for the day.)
If visiting on a weekend is impossible for your schedule, the next best day to visit is on a Wednesday.
You'll Need Cash!
Except for a few stalls, cash is the only way you'll be able to pay for anything here! If you end up running out of cash (which may or may not have happened to me on occasion), the best spot to take more cash out is an ATM inside the lobby of Izmailovo Beta Hotel, which is just across from the Izmailovsky Market. You can also take out very large sums of money at this ATM – if you end up finding A LOT of goodies at the market!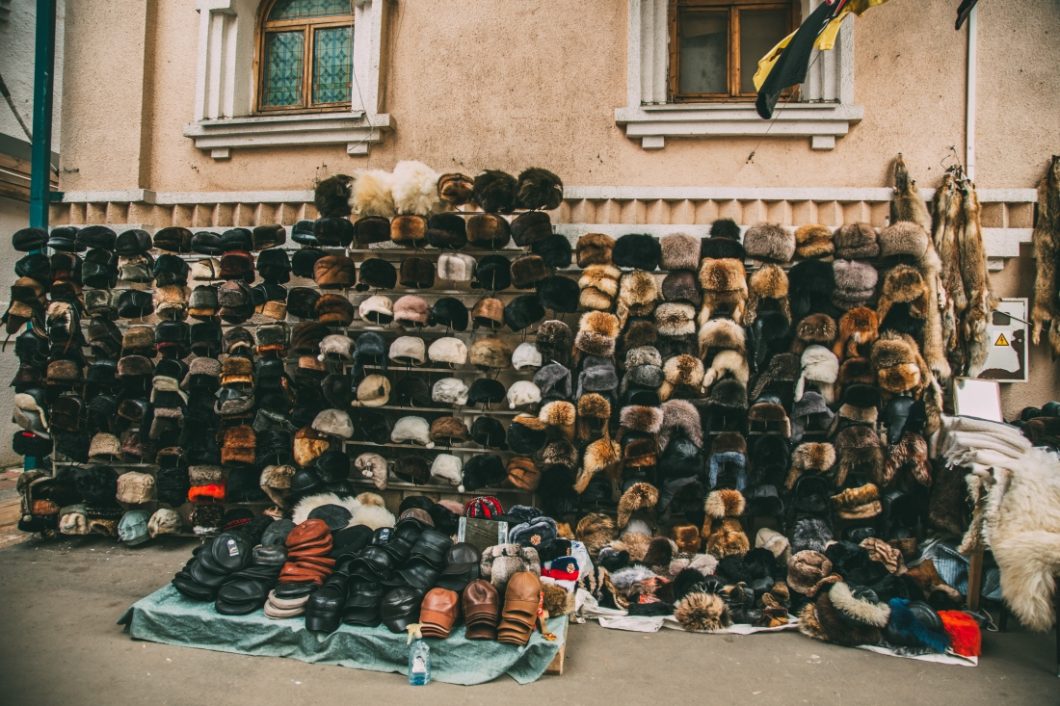 You Can Barter Here
Izmailovsky Market is one of the only places you'll be able to barter for your souvenirs. So be prepared to haggle a bit! (Most stall owners speak multiple languages or will use a calculator to haggle prices.) For example, the stalls selling fur hats (pictured above) can sometimes start as high as 3,000 – 4,000 rubles for a hat. However, we generally bought them for 1,000 – 1,200 rubles. (They were really popular Christmas gifts for family members last year, haha!)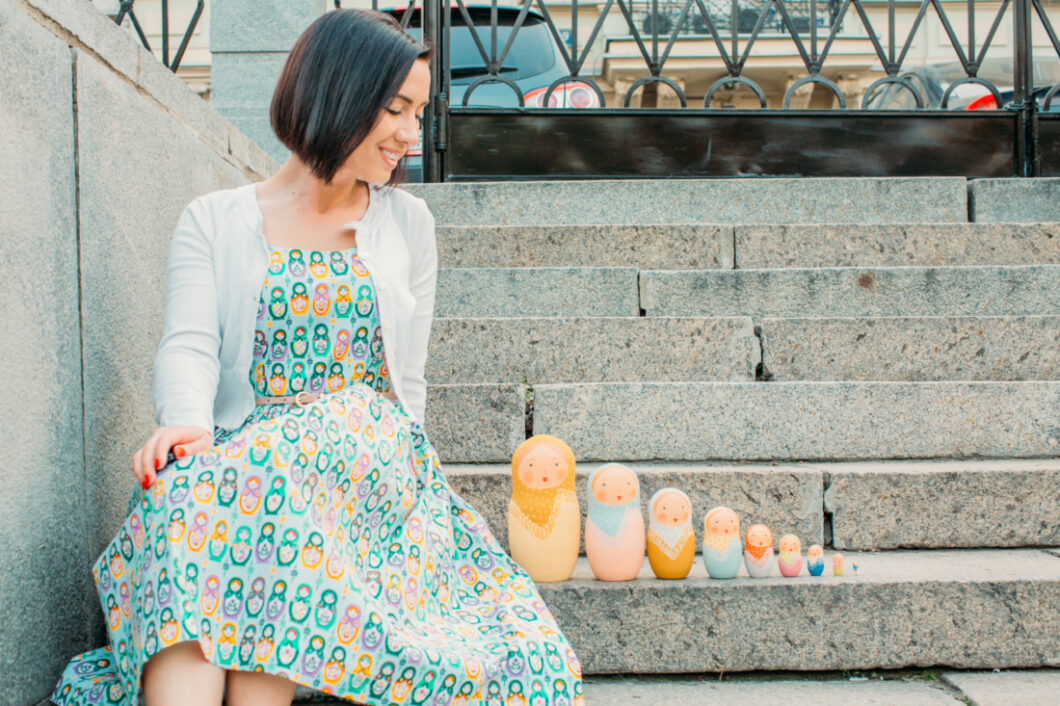 Not every single stall will be willing to barter, though. My favorite stall sells handmade Matryoshka dolls (pictured above), and she generally did not budge on her prices as they were already fairly priced and all of her things are handmade. (Her stall is on the end across from the stairs leading up to the area where rugs are for sale.)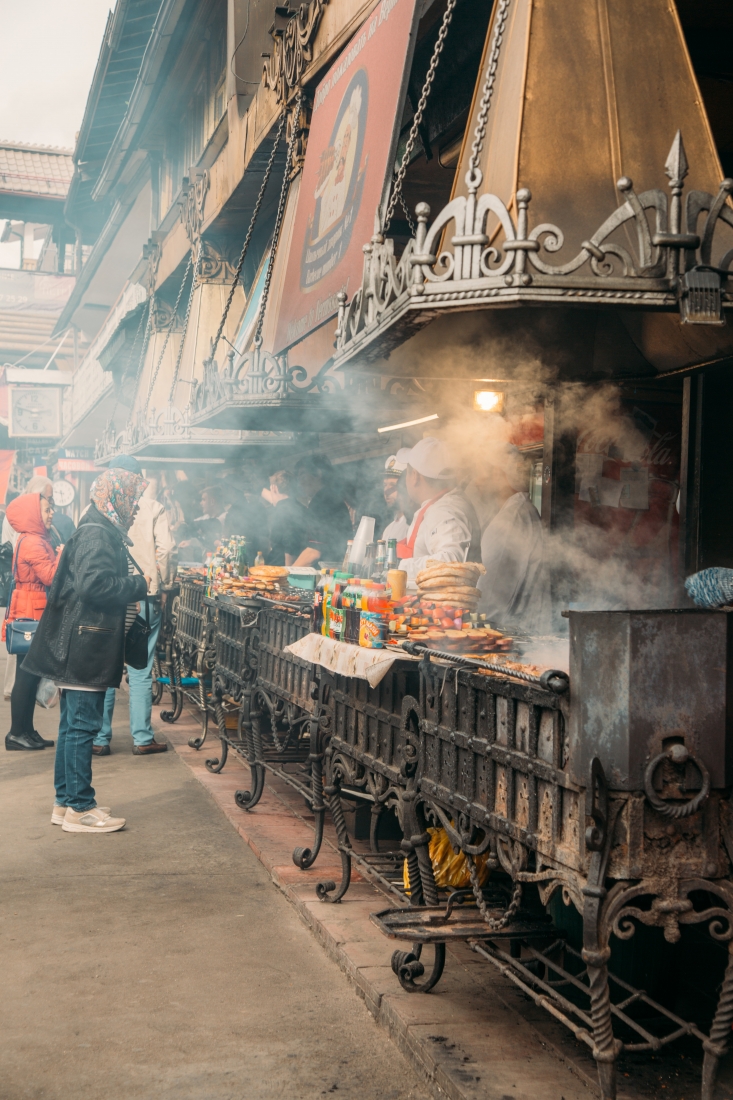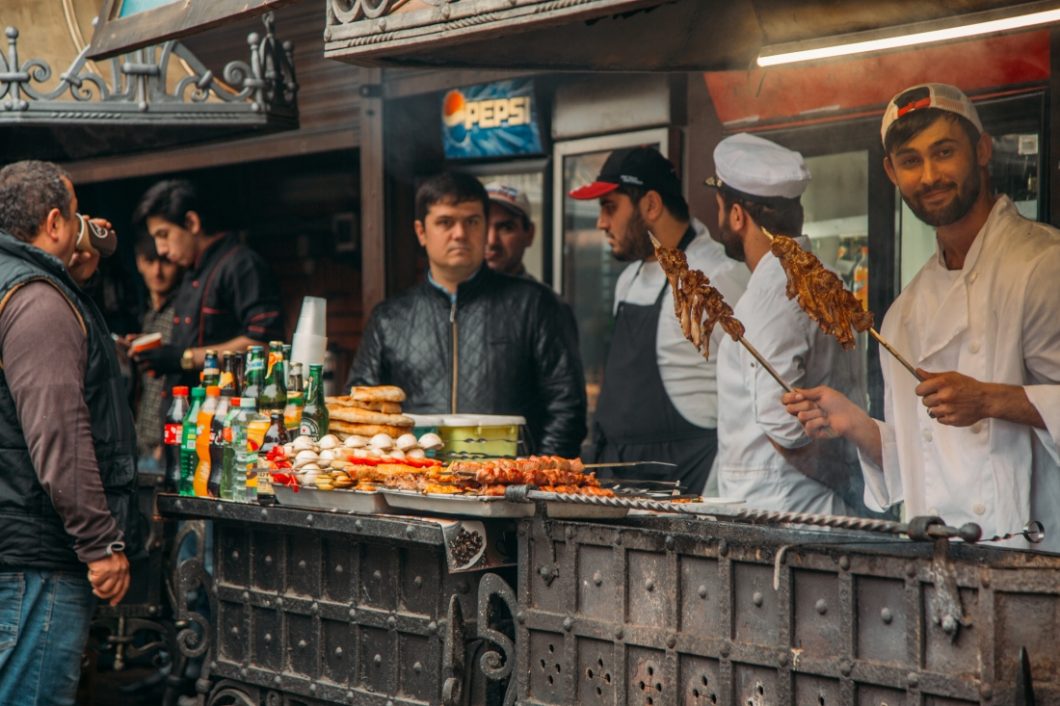 There Are Food Stands
You can come hungry to Izmailovsky Market as there are food stand selling kebabs, hot dogs and various goodies. You can also buy drinks and even alcohol here. The stands pictured above mainly sell kebabs, but there are more options as you move toward the museum area of the market (follow signs for the Vodka Museum and you'll see more food options). There are also food and drink carts being pushed around the market.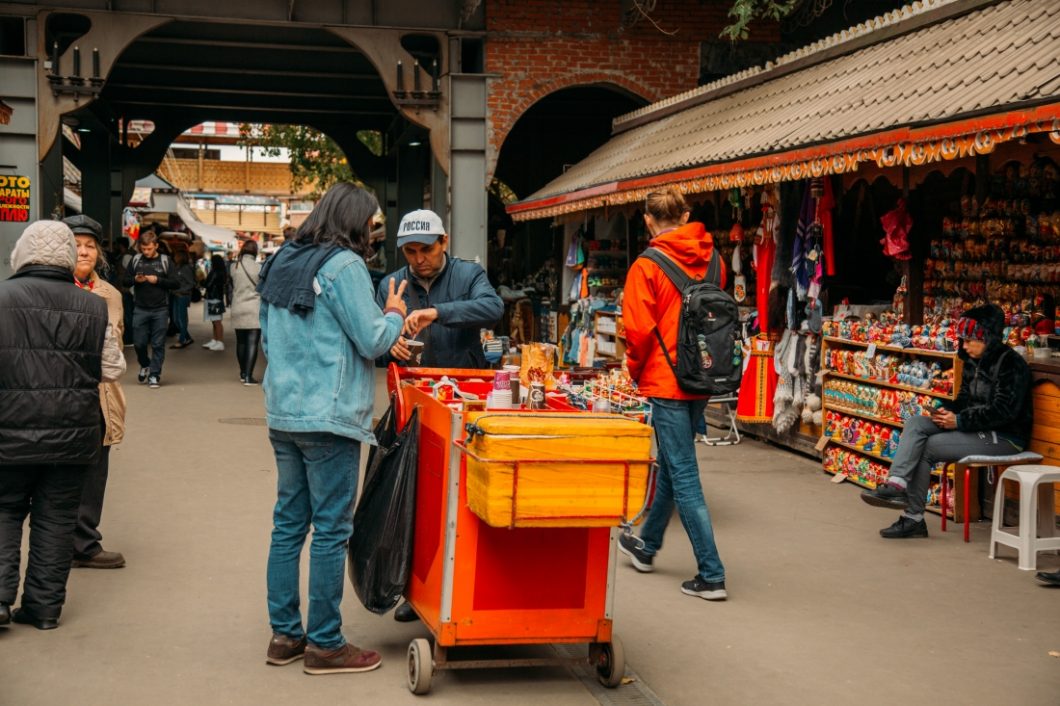 … and Also Museums!
There are also a bunch of little museums inside the market. Frankly, anytime I came to the market I was usually on a mission to buy something, so the only museum we've ever actually gone into is the Vodka Museum. It's not the most exciting museum in the world… but it's an interesting way to spend an hour or so. Plus, you can also sample different vodkas (and there are some fun beer options too if you're not a vodka drinker). Click here for more information.
Vodka Museum Photos
Be Sure to Dress Comfortably!
You will be on your feet a lot while at this market, and it can get rather muddy and slushy depending on the time of year you are visiting. Be sure to wear appropriate footwear. This is almost all outdoors, so be prepared and dress VERY warmly if you go in winter. (I usually would wear boots, thick socks, long underwear, a thick sweater and a puffy winter coat and hat and gloves anytime I went in winter). Click here for all of my tips for what to wear to Russia in the winter!
Best Souvenirs to Buy at Izmailovsky Market
Please find my complete Russian souvenir list with average pricing, here. I've also included a few of the most popular souvenirs to buy, below.
Matryoshka dolls (nesting dolls)
Fur hats (or faux fur hats)
Podstakanniks (tea glass holders)
Amber jewelry
Traditional clothes
Fabergé egg replicas
Few More Things to Note:
If you're looking for some colorful "Instragrammable Places" to take photos – Izmailovsky has you covered! The area by the main entrance, and where the museums are, has a lot of colorful walls and buildings that make for fun photos.
A LOT of the vendors do not want you taking photos of their stalls – this is because (at least some of them) are selling handmade things that they do not want people replicating. If you're unsure ask. (Or also, look for signs – many stalls will have signs that indicate they do not want photos taken.)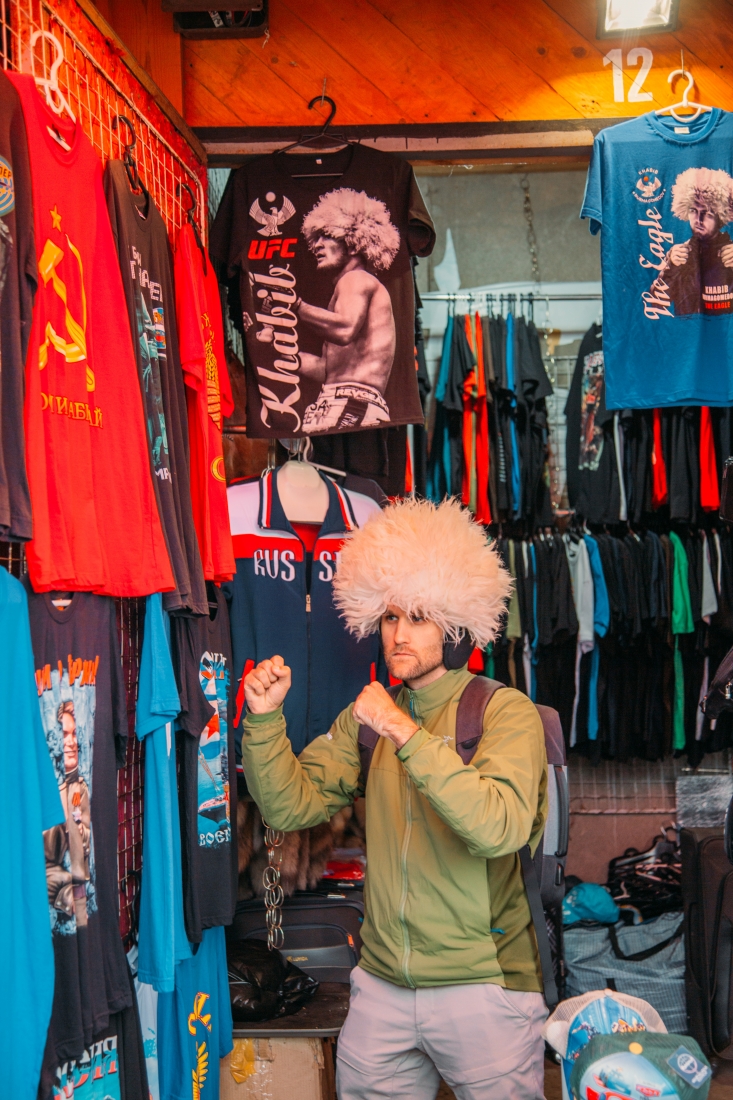 While there are tons of souvenirs to choose from here… there is also a section of the market that is essentially a big "garage sale." This is where locals bring in antiques or just old junk to sell. I know nothing about antiques – so, I never bought any, but there is a TON to choose from!
There are also stalls selling bear skin rugs and other various animal furs. While they are quite reasonably priced for such things – be sure you know your country's laws for importing animal furs/skins if you buy something like this! You may have some paperwork or hefty fines to pay if you don't do your homework…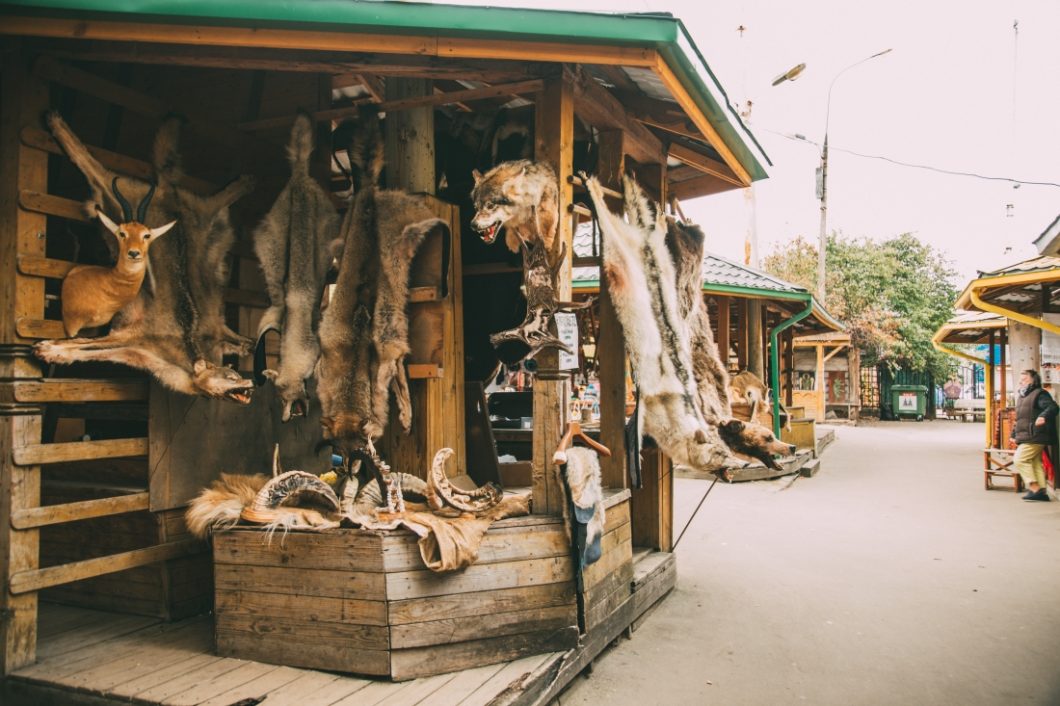 Please feel free to ask any questions you may have about visiting in the comments section at the end of the post. I'll do my best to answer them all!
Visa Requirements
To check if your country requires a Visa for traveling to Russia, click here.
Travel Insurance
It's a good idea, no matter where your adventure takes you, to have travel insurance. You never know what might happen! Whether you get sick before your trip and can't go, or you become sick or injured while on your adventure – being covered with travel insurance is a must. Some credit card companies do provide this service (check with yours), or you can get a quote from companies such as Squaremouth to find the best plan for you and your adventure. (This is the company I, personally, use. They are even recommended by Forbes!) To get a free quote, click here.
More photos of Izmailovsky Market, below.