What to Pack for a Trip to Russia in Winter
Wondering what to pack for a trip to Russia in the winter? This post is here to help with packing tips for both men and women.
Russia is cold and snowy in the winter, there is no doubt about that. However, this shouldn't discourage you from visiting! Russia is even more beautiful in winter, in my opinion. After living here for a little over a year, I've figured out how to dress appropriately for the conditions. And this post will share my tips for what clothing you should pack to ensure you have a fabulous time exploring in this winter wonderland!
The average temperature in Russia in winter can range from 10 degrees Fahrenheit to 32 Fahrenheit.
This post is geared toward someone who will be touring St. Petersburg and Moscow. If you are touring outside of major cities that involve winter activities (such as snowmobiling), this is not the packing list for you.
Is There a Dress Code for Tourists in Russia in the Winter?
What is the dress code for tourists in Russia? This is a question that I get asked frequently enough that I figured I should address it before we get too far into this packing list! Unlike other places I've traveled to, such as Egypt and Jordan, there is NO dress code for tourists (or anyone, really) in Russia. You can wear whatever you want!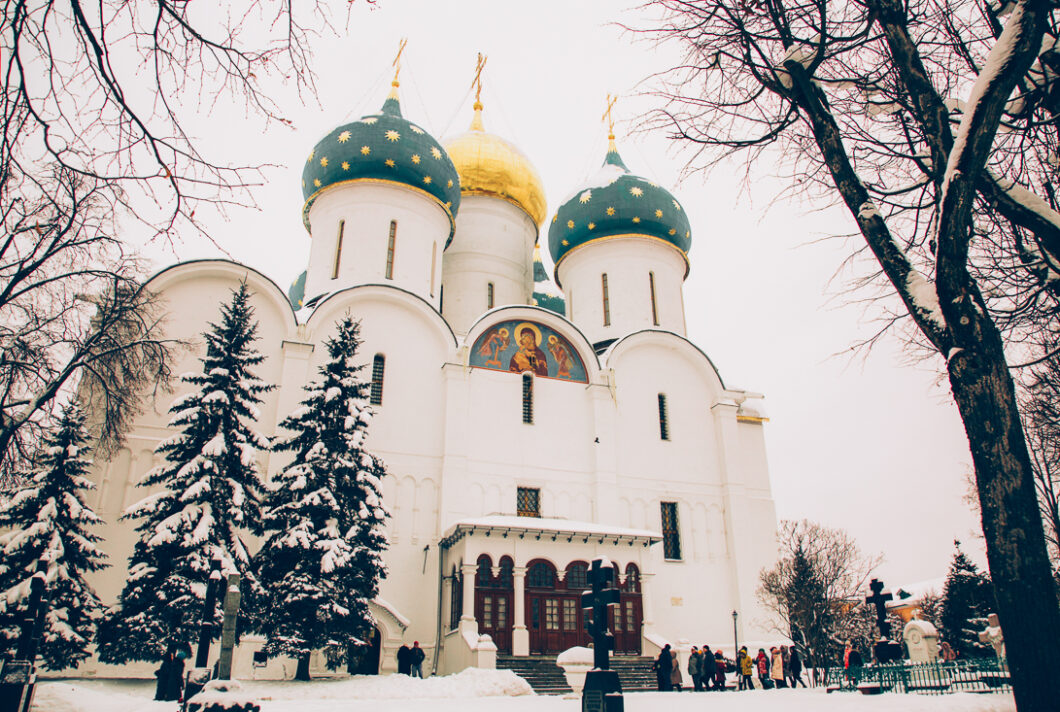 That being said, though, if you plan to visit any Orthodox cathedrals (which I do recommend doing – the cathedrals in this country are spectacular), you are supposed to have your knees and shoulders covered for both men and women. So, no shorts (which is not a problem in winter). And women should have their hair covered (any scarf or hat suffices – I've even used my jacket hood when I had forgotten my scarf, and it worked).
I'll offer a few tips for how to dress so you blend in a little better with the Russians and don't stick out like a sore thumb while you're here! But, again, you definitely don't need to adhere to any specific dress code while in Russia.
What to Pack for a Trip to Russia in Winter (Tips for Men and Women)
I typically write exactly what it is that I pack for my trips when I do these packing posts. However, I've lived in Moscow for a little over a year… so my packing list will look a little more extensive than the average traveler! I did, however, help friends and family pack for winter trips to visit us, so I'll share roughly what they packed for their trips – with a condensed list at the end of the post. (On average, friends and family stayed in Russia for around 10 days.)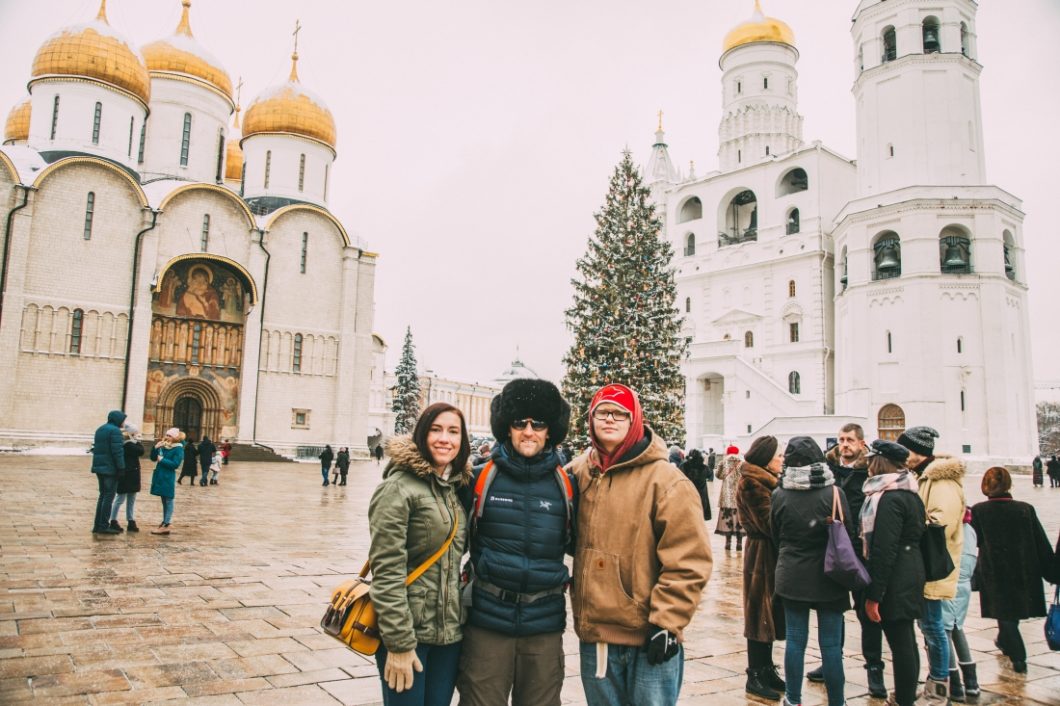 Exploring Outfits
For a day of sightseeing… whether it be exploring the Kremlin or the palaces in St. Petersburg, you're going to want to bundle up!
Water-Resistant/Comfortable Boots
The most important thing you can pack for this trip is a pair of water-resistant and warm boots. Nothing will ruin your day quicker than wet socks and cold feet!
However, be careful not to wear boots that are too warm, as they can get bulky and be difficult to walk in. Plus, having sweaty feet isn't any fun, either. I don't think it's necessary for you to pack heavy snow boots for a day of exploring in the cities.
The hiking boots above were essentially my winter boots for all of last winter in Moscow (and for exploring in St. Petersburg). They're water-resistant and lined, so they kept my feet toasty. The extra little heel they have also helped to keep me above the slush, so my feet were never wet. That extra heel also helped to keep my toes from getting too cold when walking on cement streets all day. (I made the mistake of wearing flat "fashion" boots a few times that didn't have much padding and my feet FROZE.)
My husband and family members also wore some variation of hiking boots while they were in Russia. My brother-in-law especially liked wearing his Timberlands while he was here.
The streets in Moscow and St. Petersburg will be plowed on a regular basis, so you don't have to worry about snow being much over your ankles.
Thick Socks
Depending on how warm your boots are, it's a good idea to also pack some wool socks. Now, I personally never wore much more than a thin pair of socks with my boots, as my boots were plenty warm. (And I also run pretty warm, too.) However, my husband would wear wool socks, as he is always freezing.
Warm Winter Coat
The next most important thing you can pack is a warm winter coat, preferably one with a hood. I wouldn't say you need to run out and buy a crazy expensive winter coat just for your trip to Russia…unless you want to!
The key things to keep in mind when buying a winter coat for this trip, though, are:
Length – something a little longer is nice, as it will help keep your bum and legs warm too! Many ladies in Russia wear the long puffer jackets with fur-lined hoods for everyday wear in the winter. (Like this Eddie Bauer Women's Down coat.)
Hood – a coat with a hood is a good idea. It gets especially windy in St. Petersburg, you'll be thankful to have an extra layer over your noggin and neck. I also recommend a hood that is lined with fur or faux fur. It's nice to have another layer of protection against the wind and snow when you have your fur hood up!
Pockets – extra spots to hide your phone and valuables are also a good idea. It's also nice if you have a spot to put your hands. Even if I'm wearing gloves, I still like to be able to put my hands in my pockets when I'm walking in the middle of winter.
Water-resistant – this is also a good idea, as the snow can get wet and sloppy at times.
Big enough to fit extra layers under it – as long as you have extra room to layer under your winter coat, you'll be just fine.
Obviously, a coat that is thick and indeed a winter coat – don't be bringing your thin spring/fall coats!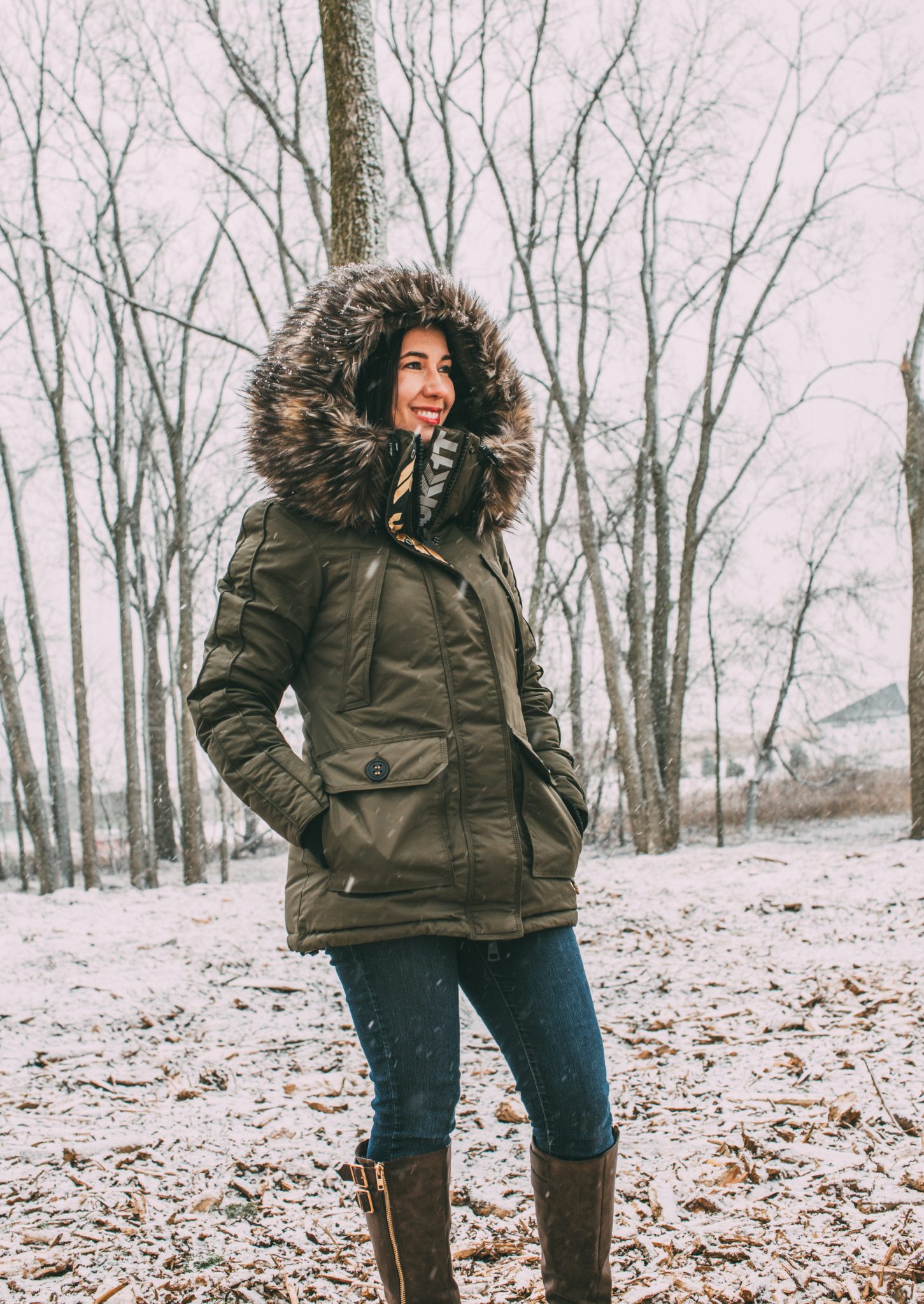 Here are a few more of my favorite options for women:

Here are a few of my favorite options for men.

My husband wears the coat below in the winter – it is especially nice as it's very warm yet lightweight and can be rolled and packed into a tiny little cube! It's rather pricey, though… and not an absolute necessity.
Hat
Hats are, of course, always a good idea. I really am not a hat person, and wear my hood more often than not. (I have a huge head and hats tend to give me a headache.) My husband, however, wears his fur hat he bought at the Izmailovsky market every chance he gets. It is VERY warm.
Jeans or Wind-Resistant Pants
Any type of bottom that will cut the wind will be your best friend! I personally like wearing thicker jeggings, as they are beyond comfortable to wear and they help keep me warm. I also like wearing my travel jeans.
Sweater
You should pack sweaters that are warm, but a little looser. This way you can layer under it. That crazy dinosaur sweater is my favorite for that reason – I can easily layer under it!


Baselayer
I do recommend packing a base layer, such as compression tights and a compression shirt. I, personally, only wear a base layer, though, if I am going to be outdoors for hours on end. This really only happens when I go to the Izmailovsky market. Otherwise, I wouldn't wear a base layer as I, personally, get too sweaty. This is a personal preference, though, and your tolerance to cold. (I grew up in Wisconsin before coming to Russia!) You may want a base layer for any time you're outdoors for more than a few minutes if you grew up in a warmer climate.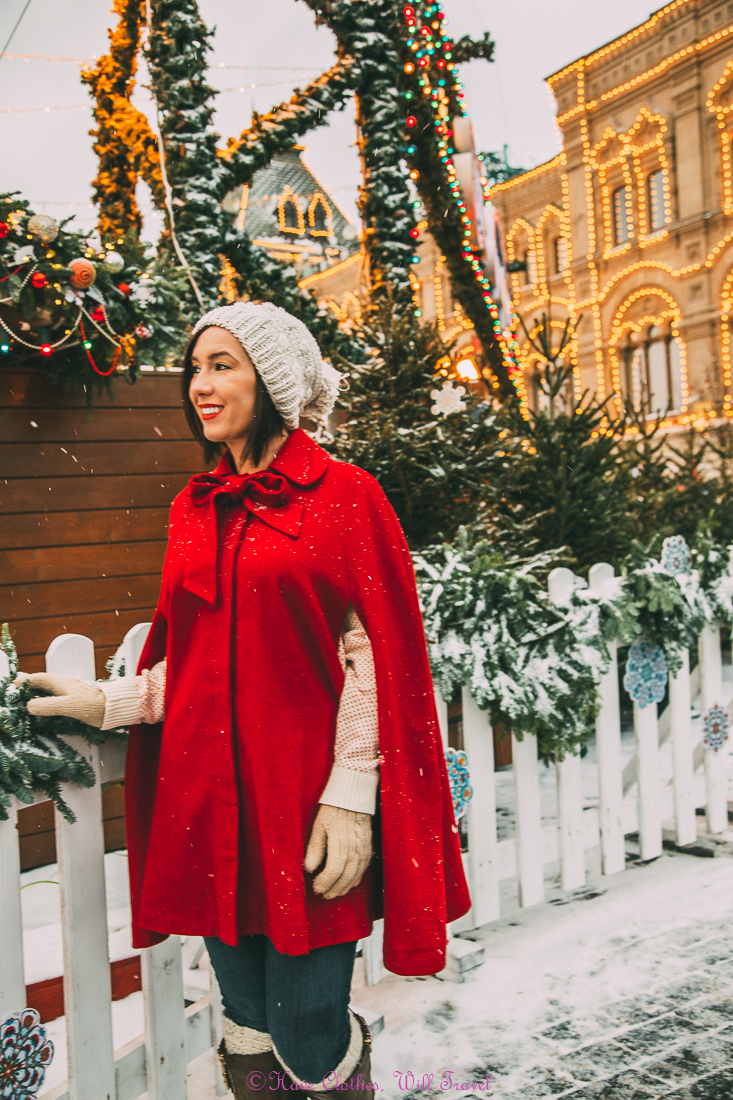 Thick Gloves
Be sure to pack thick gloves as well. Thin mittens are pretty much useless in Russian winters! I wouldn't say you need to pack your ski gloves… but somewhere in between the two.
I wore these touchscreen-compatible winter gloves all last winter, and my husband wore these men's touchscreen-compatible winter gloves. But again, we're accustomed to the cold. If you're not, I would suggest getting an even thicker pair of gloves, like these women's winter ski mittens.
Scarf
For guys and gals, wearing a scarf is a good idea. Anything that's a little thicker will be fine. I especially love a warm handknit scarf from Etsy, as it keeps me warm and fits with my coat.
Sunglasses
Now, I think we had roughly 3 sunny days all last winter in Moscow. (I'm exaggerating, but only a little bit!). However, I still liked to wear my Kalani sunglasses from Maui Jim to protect my eyes from the wind and snow if I could. (Obviously, regular glasses will help with protection too.)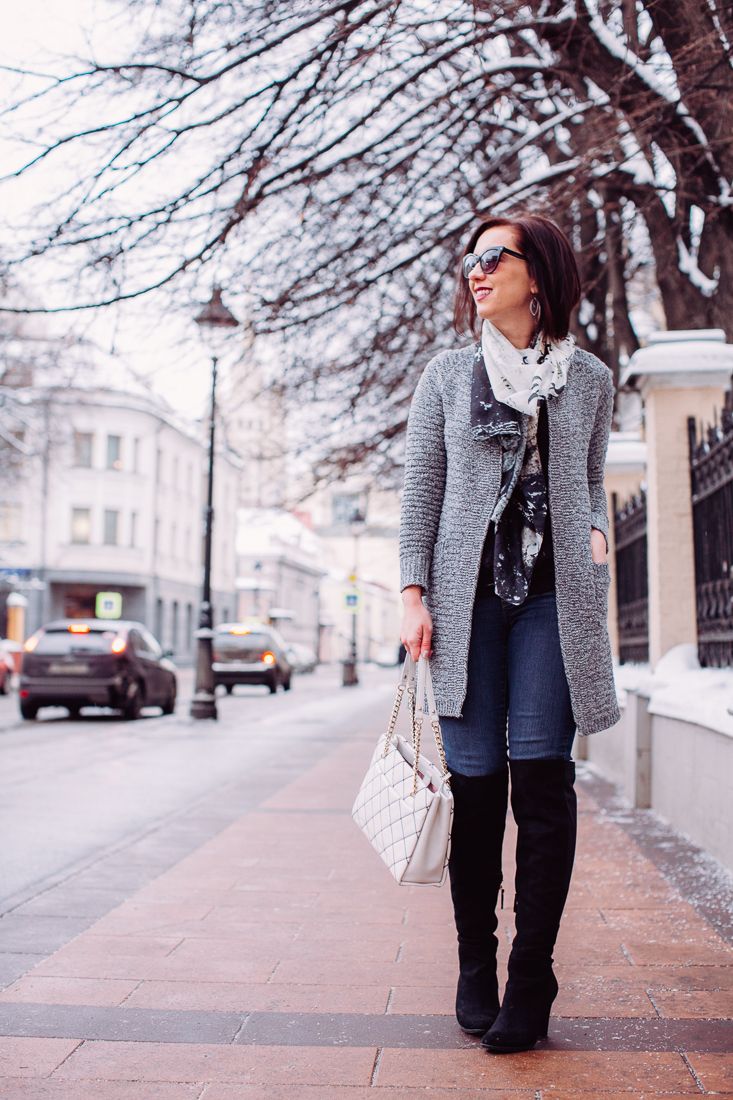 Dinner Outfits
Now, this will obviously vary by where you are eating. However, for the most part, in Moscow and St. Petersburg, the locals look very smart when they go out.
If you wear the same outfit you wore all day exploring, you'd be fine. You would likely stand out as a tourist, though. (Which, if that doesn't bother you then you're fine! I can't imagine you'd have any issues either.)
If you do want to blend in with the locals a little better, though. I also recommend the following for dinner at night.
Find all the details of my cozy "after the holidays" outfit here and my comfy, cozy, and chic sightseeing outfit here.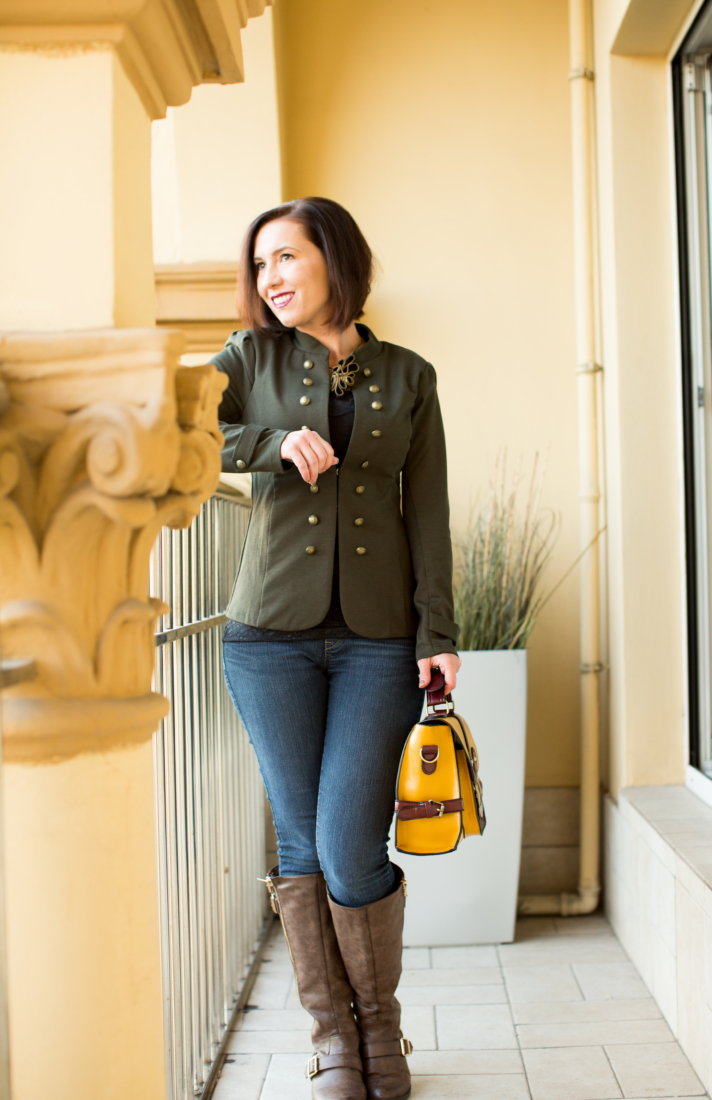 Nice Top/Sweater
Bringing a nice sweater for dinner at night is also a good idea for both men and women. I also would wear a blazer, like the one above, quite frequently too. I would then wear my coat over it for walking to the restaurant. (That blazer outfit can be found here.)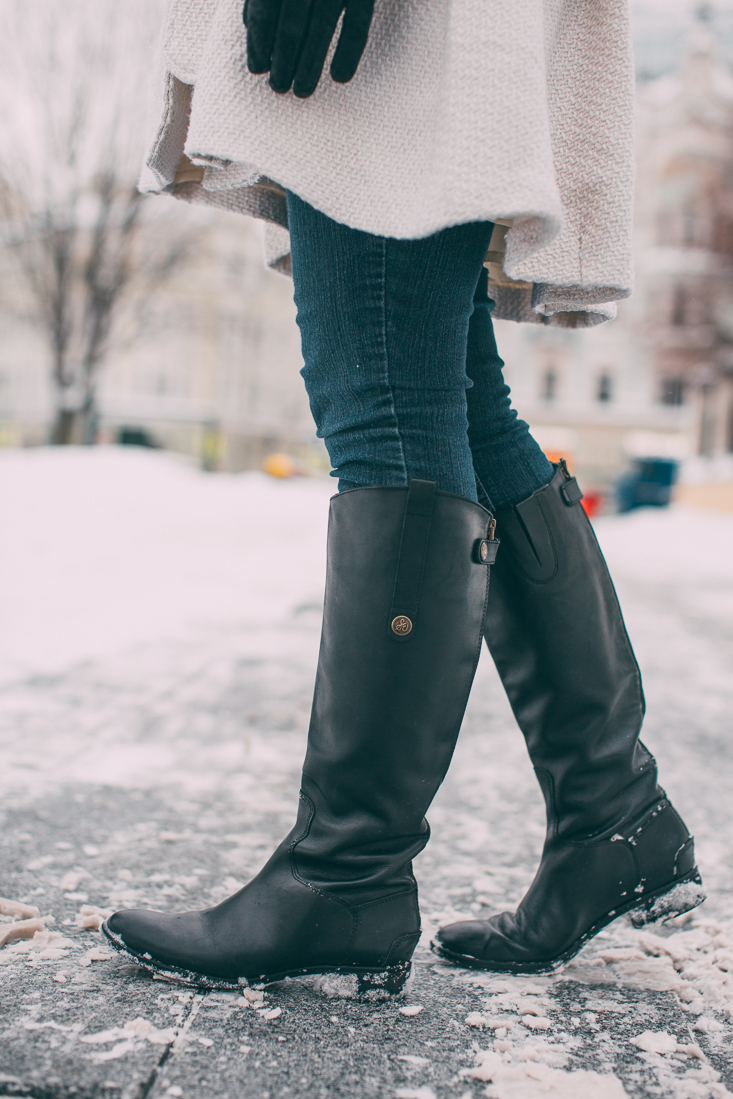 "Dressy" Boots
Boots are still a good idea to wear. I would advise bringing a lighter "fashion" pair for both the ladies and the guys. I would wear the ones above (shop the Sam Edelman boots here). My husband would wear boots like the ones below.

Jeans/Pants
Nice bottoms that aren't holey or stained. You don't have to get too crazy here, though!
Dresses
Ladies, you won't stand out if you wear a dress to dinner. That being said, be sure to wear appropriate footwear, though, so you don't get wet feet walking to the restaurant! (The shoes pictured above only worked because there wasn't much snow that day!)
Find all the details of my flannel dress outfit in this post here.
Going to a Show Outfit
Now, if you are going to a ballet, opera, play, etc… then you're going to need to pack an extra nice outfit! I've written a couple of blog posts specifically for how to dress for these events, below.
The Ultimate Sample Packing List for 10 Days in Russia
---
Using a VPN When Traveling to Russia
VPN is short for "virtual private network." A VPN (like IPVanish) sets up a private connection between your device and whatever network you are connected to – so, no one can see your browsing data. It is important to use a VPN anytime you are connected to public Wifi (such as at a restaurant, resort, hotel, cafe, airport, etc.). This is because when you connect to a public network no matter where you are, you run the risk of a hacker grabbing your unencrypted data. Trust me, speaking from experience here…this can put a real damper on your trip if your banking, phone or email get hacked while you're traveling!
You are also likely going to need a VPN to access many websites while you are in Russia – as Russian IP addresses tend to be blocked! (Again, speaking from experience.)
VPNs can also help you save on domestic flights, watch Netflix shows around the world and more! You can read more about using a VPN in my post "Why I Use a VPN When Traveling and at Home (And You Should Too)."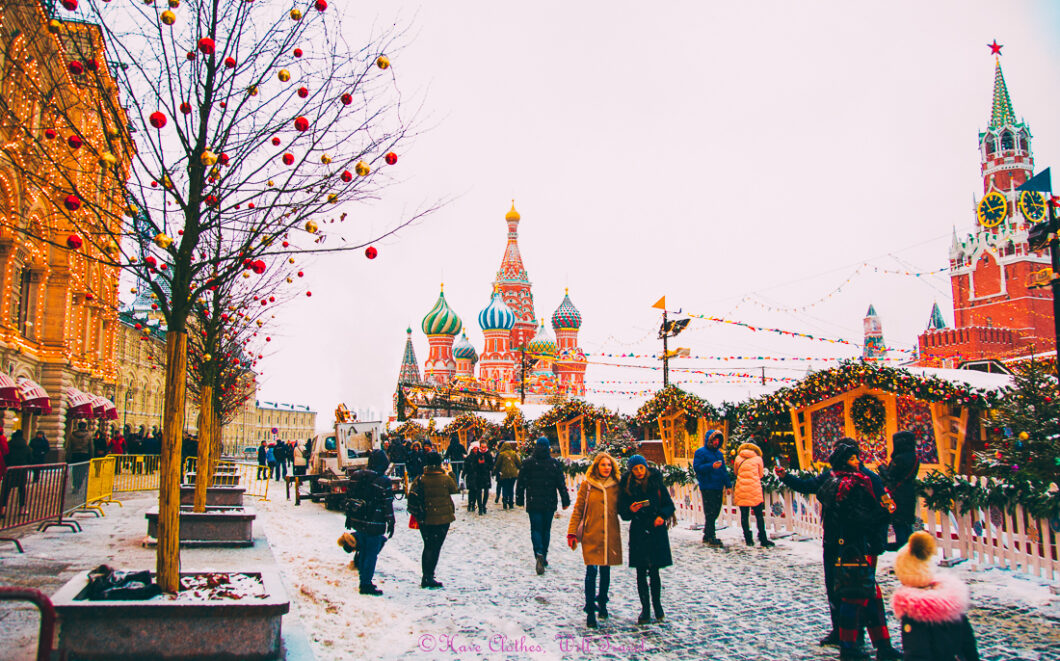 If you have any questions at all about traveling to Russia, don't hesitate to reach out in the comments section or send me an email at [email protected]
Click here to see all of my blog posts from Russia.
Travel Insurance
---
As of 2021, many destinations require having travel medical insurance that covers COVID-19. Squaremouth is the only site that currently lets you filter travel insurance policies for COVID-19 coverage. I, personally, use Squaremouth for finding the best insurance policies for my travels, and I have already used them for trips planned in 2021. They're also recommended by Forbes! You can click here to get your free travel insurance quote or enter your information via the widget below.
!function(t){var e=document.createElement("script");e.type="text/javascript",e.className="js-sqm-affiliate-search-widget",e.setAttribute("data-widget-settings",JSON.stringify(t)),e.src="https://www.squaremouth.com/affiliates/22565/affiliate_search_widget_loader.js",document.write(e.outerHTML)}({
"carrier": "",
"filters": {},
"background-color": "",
"background-image": "",
"border-color": "",
"border-top-color": "",
"button-color": "",
"slope-bottom-color": "",
"slope-top-color": "",
"style": "compact",
"text-color": ""
});
Visa Requirements
To check if your country requires a Visa for traveling to Russia, click here.
*Disclosure: some of these links are affiliate links. Meaning, if you click a link and make a purchase, Have Clothes, Will Travel gets a very small commission at no extra cost to you. Thank you for supporting the brands that make this blog possible! I am also a participant in the Amazon Services LLC Associates Program, an affiliate advertising program designed to provide a means for us to earn fees by linking to Amazon.com and affiliated sites.
*c/o = courtesy of, meaning the company gave me the product to be used on my blog, and I did not pay for it. All opinions are my own, and I am not being compensated for a positive review.