Comfy, Cozy & Chic Outfit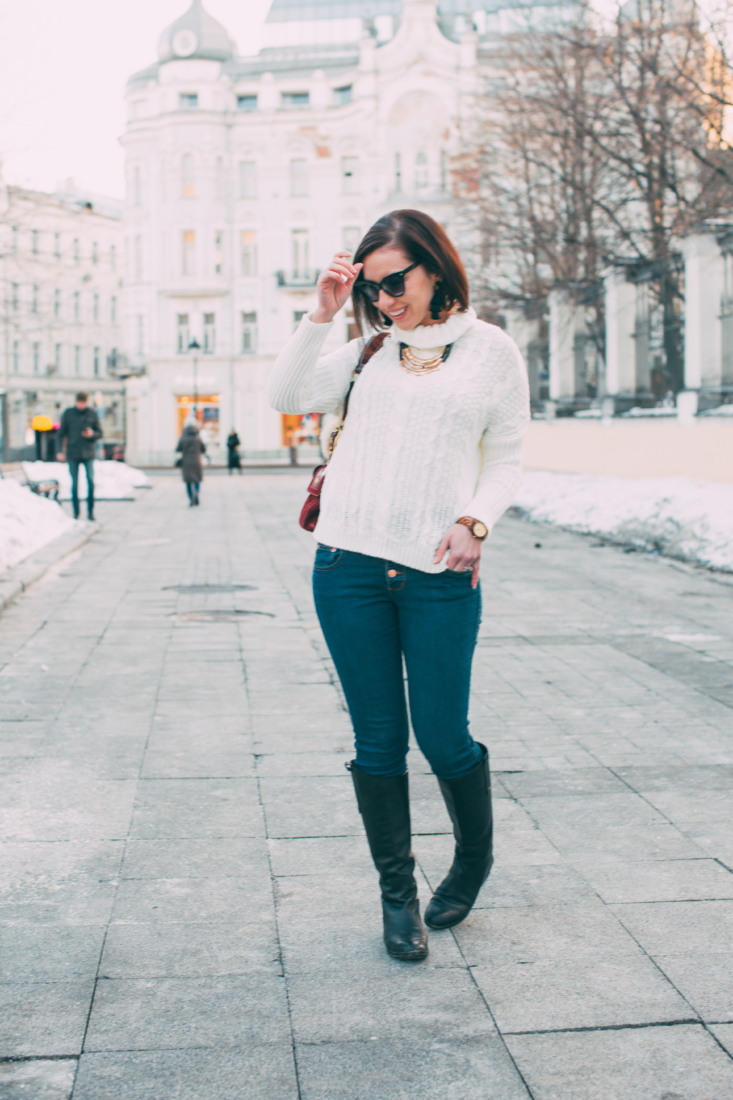 Sweater c/o* | Boots | Jeans | Bag | Necklace | Earrings | Sunglasses
Golly, would you look at that…an outfit post! It's been a while. This is mainly due to me wanting to start showing spring outfits, but not yet having spring weather. It is COLD and snowy in Russia. Shocking, right?
So, I'm still featuring comfy, cozy, winter outfits. However, this sweater is not nearly as warm as I thought it was going to be. If I wear it in this chilly of weather again (15-20 degrees Fahrenheit), I'm putting a long-sleeved shirt under it, not just a cami. This is actually a good thing, though, for me. This means I'll be able to get a lot of wear out of it yet this year, as I won't be sweating to death if I wear it in spring temps too.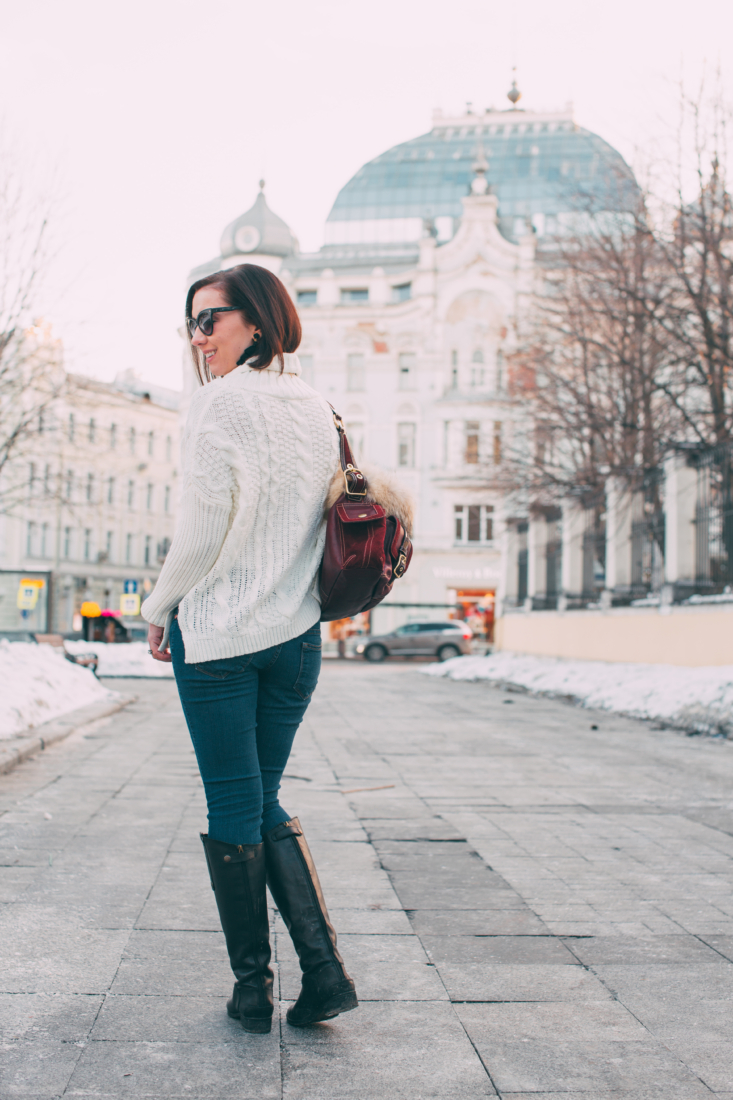 I also like the fit of this cozy sweater. It's unusual, but it works for me. I can see how some people might now like it though – so, beware! This is not your average fitting sweater. It's fitted around the wrists and then very loose through the shoulders, armpit/upper arm area. I love this because I tend to get rather sweaty (no matter how cold the weather is), so wearing something loose fitting through my armpits is really comfy (for me). It's also sheer, so you will have to wear something underneath it.
If you order this sweater or anything else from this website, you will get an extra 10% off your order of $60+ if you use code Q1puls10. This code expires on March 31, 2019.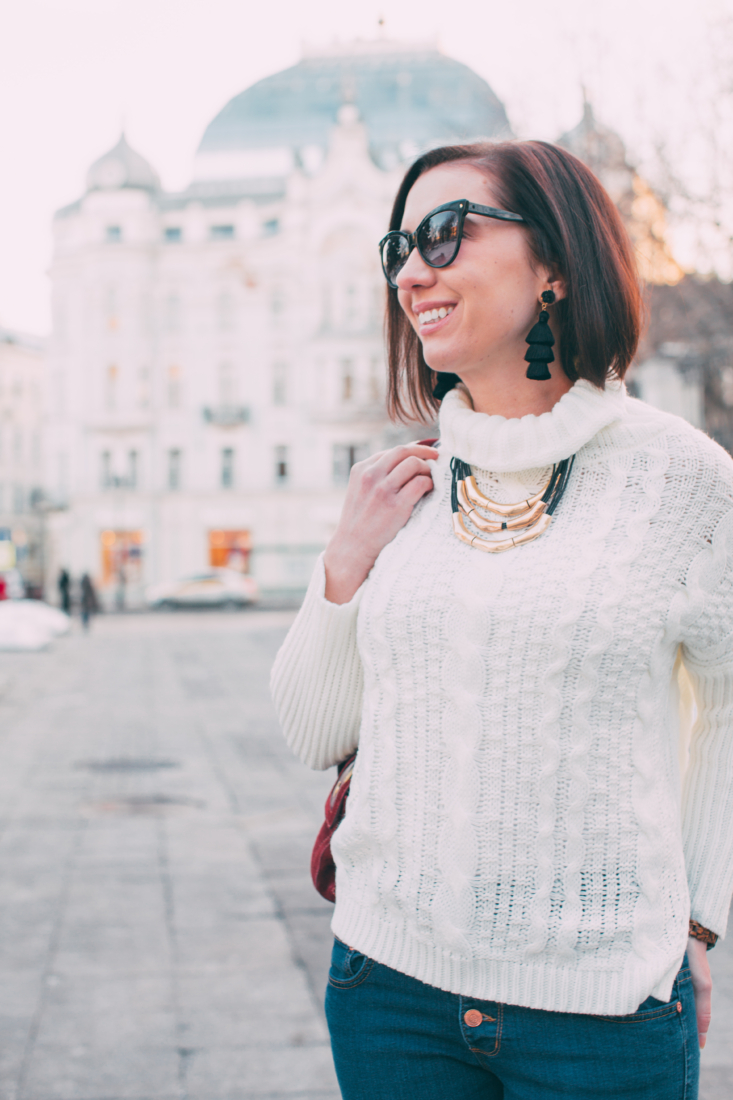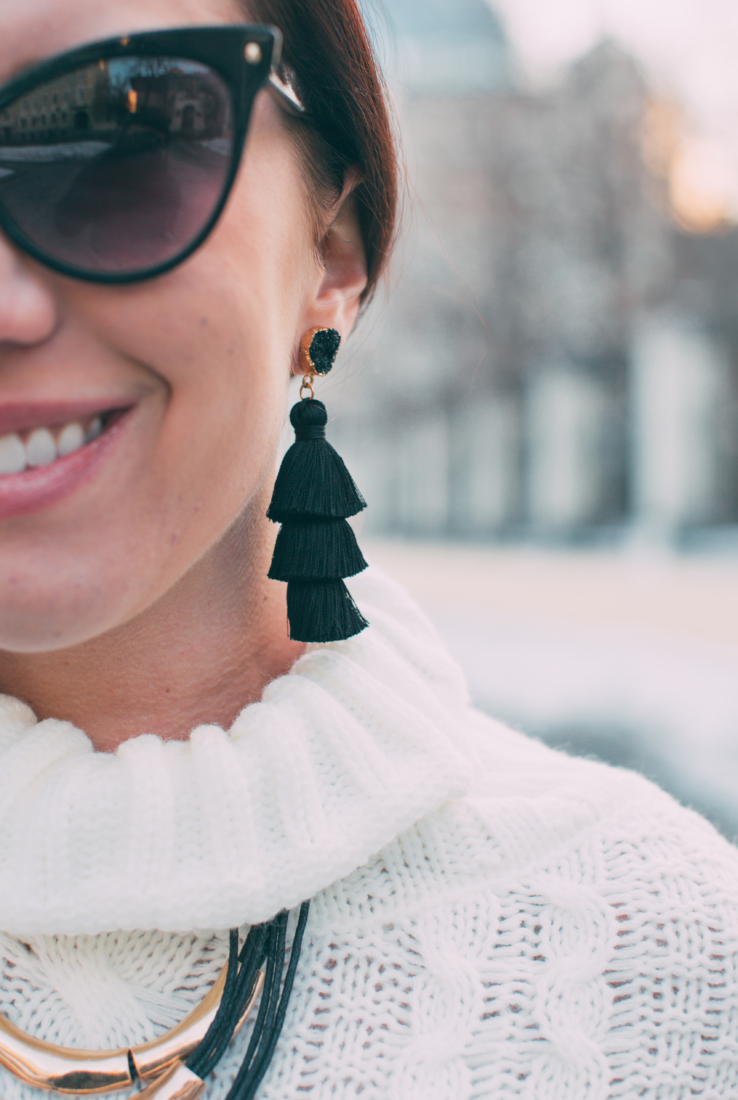 This sweater was also the perfect time to break out my new jewelry! I'm FINALLY embracing the tassel earrings trend (if it even is a trend any more). These earrings are fantastic, though! I don't know why it took me so long to get on board with this look. They're super lightweight, and I think they look pretty spiffy.
I've also been on quite the black and gold jewelry kick the last couple years, so I couldn't resist this necklace as well. It looks way more expensive than it actually is, and I've gotten a ton of compliments on it already.
Despite Russia still being in the throes of winter, Israel will have some lovely spring weather waiting for me at the end of this week! So, prepare yourselves! There will be spring outfit posts coming soon. I'm heading to Tel Aviv on Thursday, if anyone is interested in following along, you can click here to see my live updates in my InstaStories.
How is the weather by you? Has spring started to make an appearance? Or is it still freezing by you as well? Let me know in the comments!
Where to find it:
Sweater: c/o* Shein (Get an extra 10% off your order of $60+ if you use code Q1puls10)
Jeans: ModCloth
Boots: Sam Edelman (Size up a half size)
Bag: Coach
Necklace: Amazon
Earrings: Amazon
Sunglasses: Old (Similar here)

*Disclosure: some of these links are affiliate links. Meaning, if you click a link and make a purchase, Have Clothes, Will Travel gets a very small commission at no extra cost to you. Thank you for supporting the brands that make this blog possible! I am also a participant in the Amazon Services LLC Associates Program, an affiliate advertising program designed to provide a means for us to earn fees by linking to Amazon.com and affiliated sites.
*c/o = courtesy of, meaning the company gave me the product to be used on my blog, and I did not pay for it. All opinions are my own, and I am not being compensated for a positive review.