Wearing "Pride & Prejudice"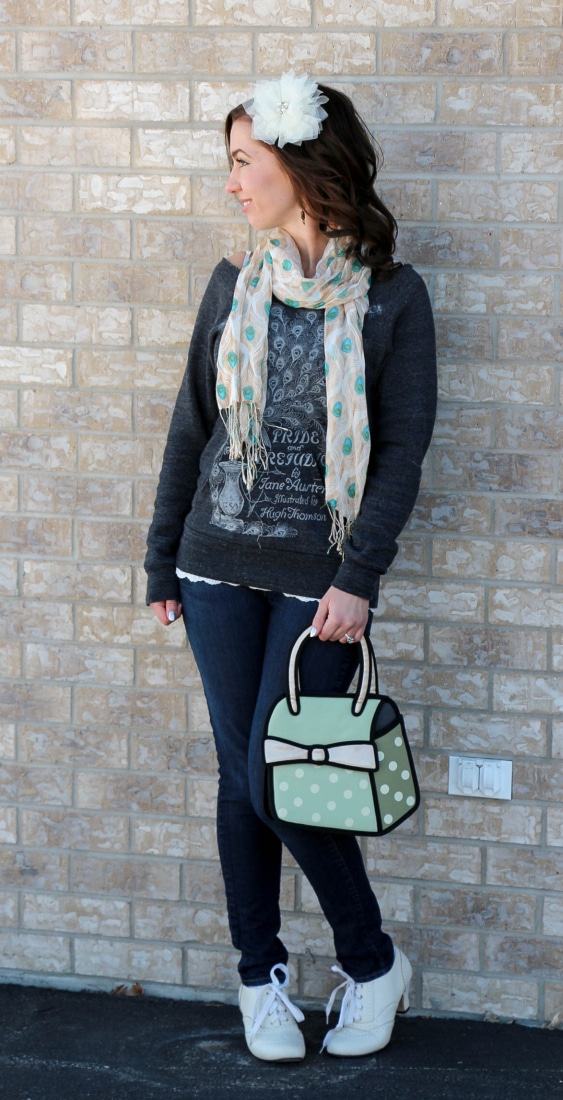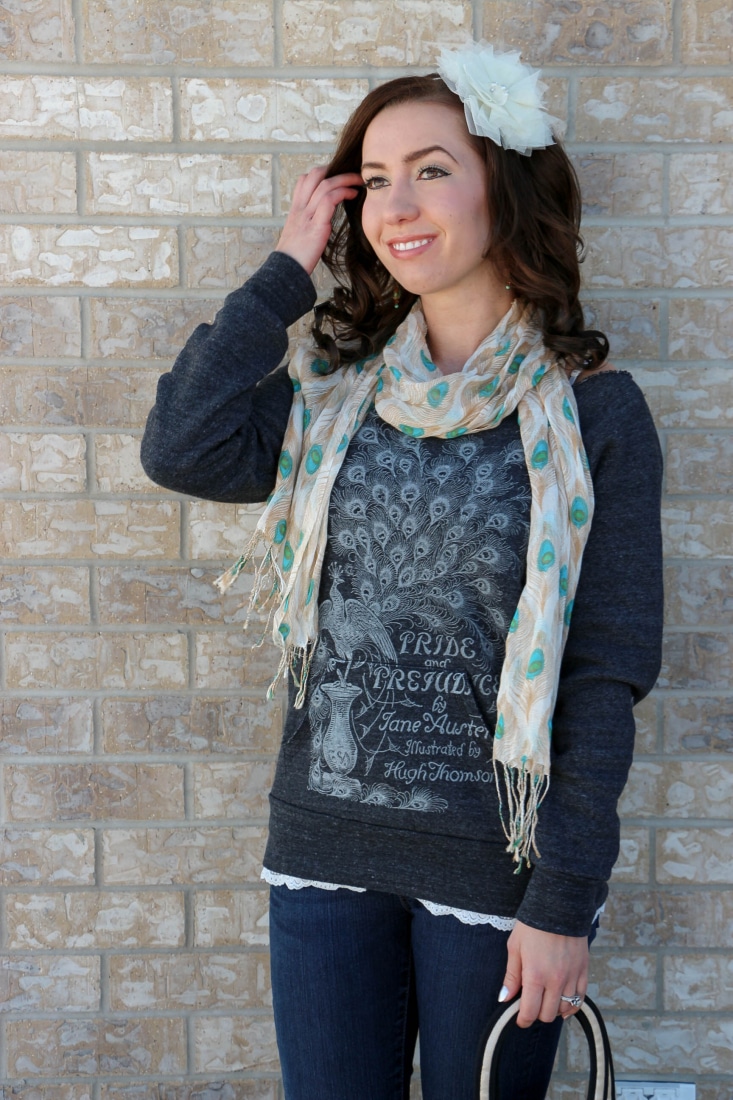 Shop the look:

It is a truth universally acknowledged that Pride & Prejudice is one of the best books ever written. I have been re-reading it at least once a year for about the past 12 years. I am a really big Jane Austen fan, let's just say.
Pride & Prejudice is indeed my favorite book. And just like with my favorite movies, if I can find clothes that allow me to show off this love…you better believe I am going to snap them up. I am excited that I can show off my obsession with Pride & Prejudice in a really comfortable sweatshirt. And I love that it is made by Out of Print (I also have a Great Gatsby sweatshirt from them). For every piece of clothing Out of Print sells, they send a book to a community in need. That's pretty neat in my book.
This sweatshirt is also so soft and snuggly. I love that the sleeves are nice and long, too. My only complaint about this sweatshirt is the neckline. The pictures on ModCloth's website clearly showed that it was a cutoff boatneck, so there really wasn't any surprise there. I was just hoping that I would be able to get over my personal dislike of that particular neckline (I'm not a fan of having my shoulders exposed). It's just not as comfortable to me, as say, a crew neck. But that's just my personal preference.
My peacock scarf is one of my favorites. I actually bought it specifically to go with this sweatshirt (because it helps cover my shoulders and it's peacock!). However, I have found myself pairing it with a ton of different outfits. I haven't had this scarf on the blog in a while, just because it isn't the warmest scarf for winter. It's better worn in fall or spring…and I am so ready for spring!
I also would like to point out my jewelry is made by C&A Leather. I have mentioned this company on my blog before, (click here to read more about it) and it won't be the last time you hear me mention them. I am such a big fan of their jewelry. I love handmade, unique pieces, so, C&A Leather is right up my alley. This bracelet is one of maybe two bracelets you will ever see me wearing. That's because I have freakishly small wrists and bracelets never fit me. However, C&A Leather was able to custom-make it to fit my weird wrists. It's awesome!
And yes, my Jump From Paper bag is making yet another appearance. It's just so fun and goes with so many outfits! I will be using it until it falls apart. And given the awesome quality, that will probably be a REALLY long time.
*On a completely unrelated note, I would like to take a second to ask you, my dear readers, to do me a big favor. As you may have noticed, I have a rating widget at the top of my articles…so you can rate my posts based on what you think of them. I noticed that someone went through last week and rated several of them as "awful." And that's completely fine! It's there to give me feedback, good or bad. However, it would be super helpful if you feel a post is awful to give me a little more feedback. Did you not like the outfit, the pictures, the makeup/hair, the writing? If you could please let me know in the comments or send me a personal message by clicking here, it would be greatly appreciated! I am still pretty new to the blogging game and want to learn what my readers enjoy and what they don't. Any constructive criticism is truly appreciated! Thank you!
Where to find it:
Pride & Prejudice Sweatshirt: ModCloth or Amazon
Peacock Scarf: ModCloth
Earrings and Bracelet: C&A Leather (This is their Facebook page. You can comment on pieces you like, or PM them if you need something made-to-order.)
Purse: Jump From Paper
Shoes: ModCloth (similar)
Headband: Icing (similar)
Lacy Cami: Maurices
Jeans: Target (similar)