Featured Fashionistas is a new section I've added to Have Clothes, Will Travel that will highlight one lovely, fashionable lady each month. The Featured Fashionista can have a business, blog, etc. they would like to share with my readers, or just a love of fashion, or all of the above! I will spend some time putting together a highlight of the Fashionista, and if they happen to live close to me, I will also do a photo shoot with their favorite outfit. If the Fashionista does not live nearby, they can send me pictures they took of their fab outfit. If you would like to be my next Featured Fashionista click here, and tell me a little about yourself.
C&A Leather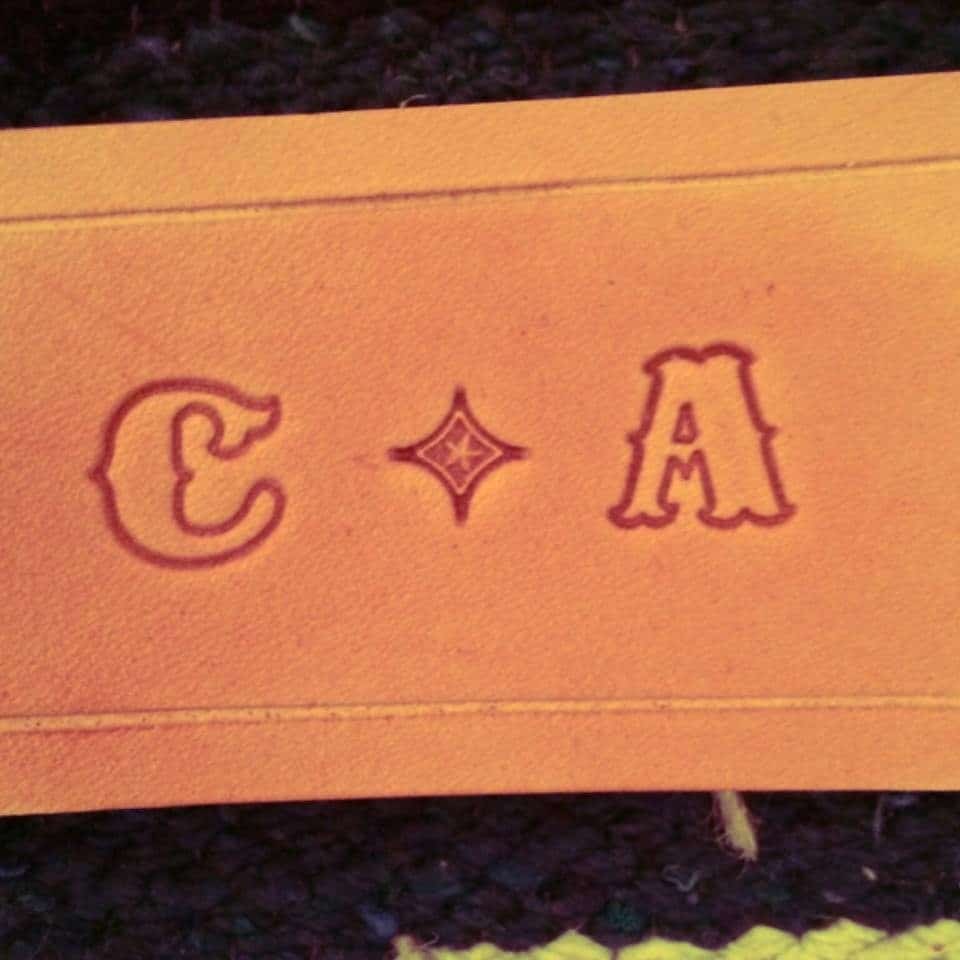 Caitlin Jonet, from C&A Leather, is my first ever Featured Fashionista! C&A Leather is an accessories and leather-making business that Caitlin and her boyfriend Andrew started together. They make everything from jewelry to gear bags to purses and chaps, all out of their Colorado home.
Caitlin says the inspiration for starting C&A Leather came from Andrew. "He grew up on a ranch in South Dakota and had been making chaps and gear bags for family and friends for a while, before I came along. But one night, we were both sitting in our spare bedroom trying to figure out what we could make out of leather next. That night was when the first wrap around cuff was made! And the saga began…"
Q&A With Caitlin
What does C&A stand for?
Caitlin: C&A stands for Caitlin & Andrew. We wanted something that involved both of us, but did not want to spell out our whole names. C&A Leather was short and sweet.

Do you and your boyfriend work on pieces together? If so, how does that work?
Caitlin: We do collaborate on a lot of pieces together, most of the full leather cuffs are designed by me, and then brought to life by Andrew. In all honesty, I can't sew on a sewing machine, anything that is sewn is done by him. We have two tables that are side-by-side and we are always passing pieces back and forth, and bouncing ideas off of each other. Andrew really is the muscle behind C&A, where I stick to most of the jewelry making.
If you had to describe the style of C&A Leather what would it be and why?
Caitlin: It's hard to say. I feel like we hit on many different styles, from Western to Boho to Classic. We are always gathering inspiration when we travel and thinking of new ideas to try.
Are you happy with how business is going so far? And what is your overall goal for the business?
Caitlin: We are definitely happy with how things have gone so far! Our page on Facebook is gaining likes all of the time. It's a blast! And we are officially an LLC, legally titled C&A Leather LLC. This next year will be a big one for us, we are planning on teaming up with Blessed and Beautiful and having some booths at rodeos, holding some open houses, and continuing online sales with our own website. It'd be great if someday we took off and were a household name like "Coach," but really our biggest goal is to have a booth at the NFR in Vegas, and possibly a boutique.
Do you plan to run any promotional events for the business?
Caitlin: Sales will definitely be in the future! And we have already planned on sponsoring some events. We are currently sponsoring our friend Kyla Roth, with a gear bag. She just made the USA women's rugby team.
Anything else you would like to add about C&A Leather?
Caitlin: We just want to thank everyone for all the likes, comments and shares we have received so far (on Facebook)! It's really great being able to team up together and have fun creating pieces for our customers.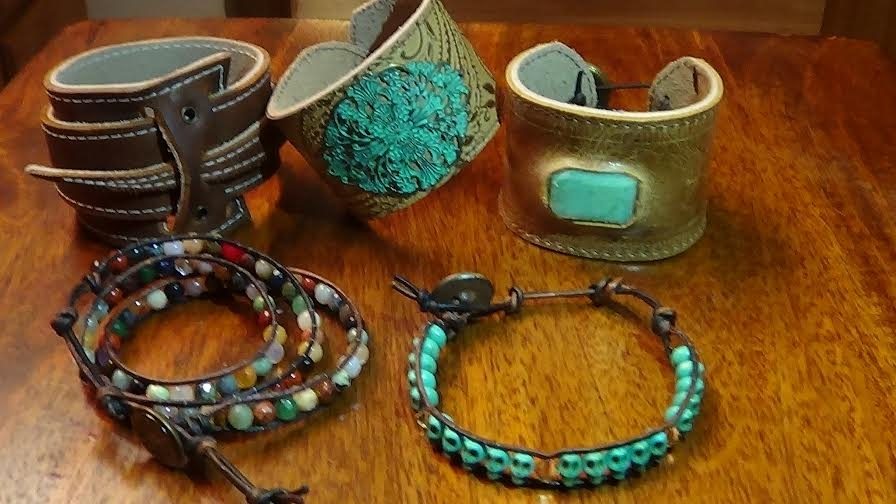 Caitlin's Outfit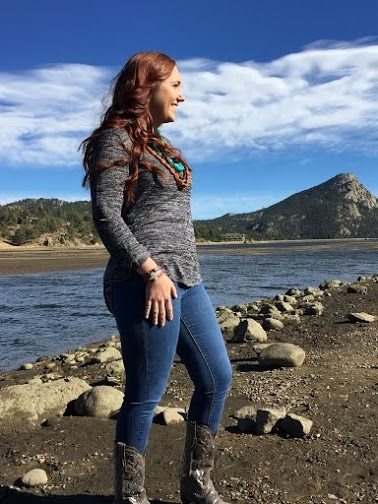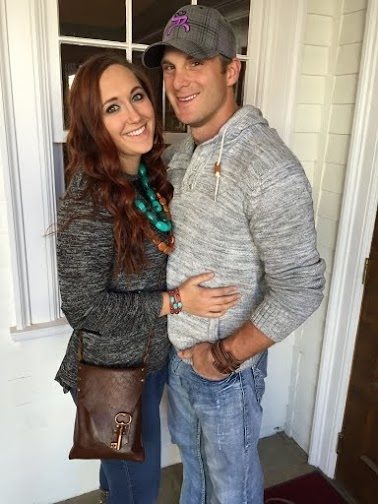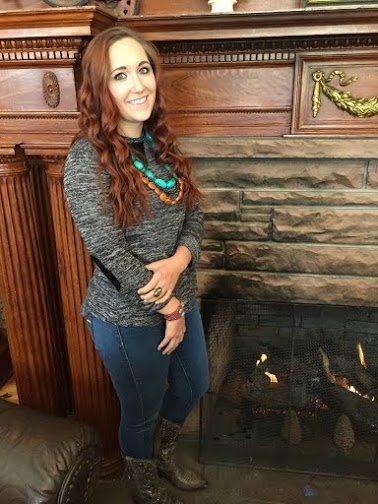 Can you tell me a little about your outfit of choice?
Caitlin: I have been searching forever for a shirt with elbow pads! I think they are great! I purchased the shirt from Ross for Less, I'm so in love with it! It's not very thick, so I do have to wear a tank top underneath, but I usually have one on anyway.
The jeggings are my absolute favorite, and my go-to item in my closet. I purchased them from American Eagle a few years ago, and they have lasted, and are still going strong. They are the most comfortable pair of pants I own, and definitely worth the money!
These boots are Luccese. I purchased them from Hills Western Outfitters out of Brookings, South Dakota. Merry Hill was the one who convinced me to buy them. Although, it wasn't too hard because I had been thinking about them for quite some time. The Hill's are great people to purchase from, they travel with their trailer to sell at many different events. These boots are surprisingly comfortable, and flashy, which I love!
My necklace was made by Britney, the owner of Blessed and Beautiful. She makes great statement pieces to go with anything! I love this necklace, it looks great with layers, or alone.
The bracelet I'm wearing is one I designed. It's made with a red leather that we love to work with. It wraps around, with genuine turquoise, and studs. I'll be selling it at our open house events coming up!
How would you describe your personal style?
Caitlin: That's a tough one for me. I wear whatever I feel comfortable in usually. I love greys and blacks. I do like to add a pop of color here and there. Boots are an obsession for me, and I love scarves in the colder months. I have a plethora of handmade scarves from my mom, Kathy. Mostly, I go for the classic look, but you will find me venturing out of the box often.
Where were your outfit pictures taken?
Caitlin: The pictures outside are in Estes Park, Colorado. It is always windy up there! But it was a gorgeous day.
The other pictures are taken at the
Stanley Hotel
. We have been there before to participate in a ghost tour, apparently, there are a few non-living things that hang out there. It is the hotel that inspired Stephen King to write "The Shining." It is also where part of "Dumb and Dumber" was filmed. Apparently, Jim Carey had an experience there and left the room he was staying in three hours after he checked in, and would only come back to film. He hasn't told anyone what happened to him. Even though it has an eerie history, it's a beautiful hotel set against the mountains.
Where to find Caitlin's outfit:
Sweater: Ross for Less
Jeggings: American Eagle (similar)
Necklace: Blessed and Beautiful
Bracelet: C&A Leather
Boots: Luccese (From Hills Western Outfitters)
*Be sure to check out C&A Leather's Facebook page to see their latest creations (you can comment on pictures or send them a personal message if you are interested in purchasing something).
*I also have an outfit post featuring C&A Leather jewelry, click here to see it!