A Complete Guide to Dressing for the Bolshoi Theatre (for Both Men & Women)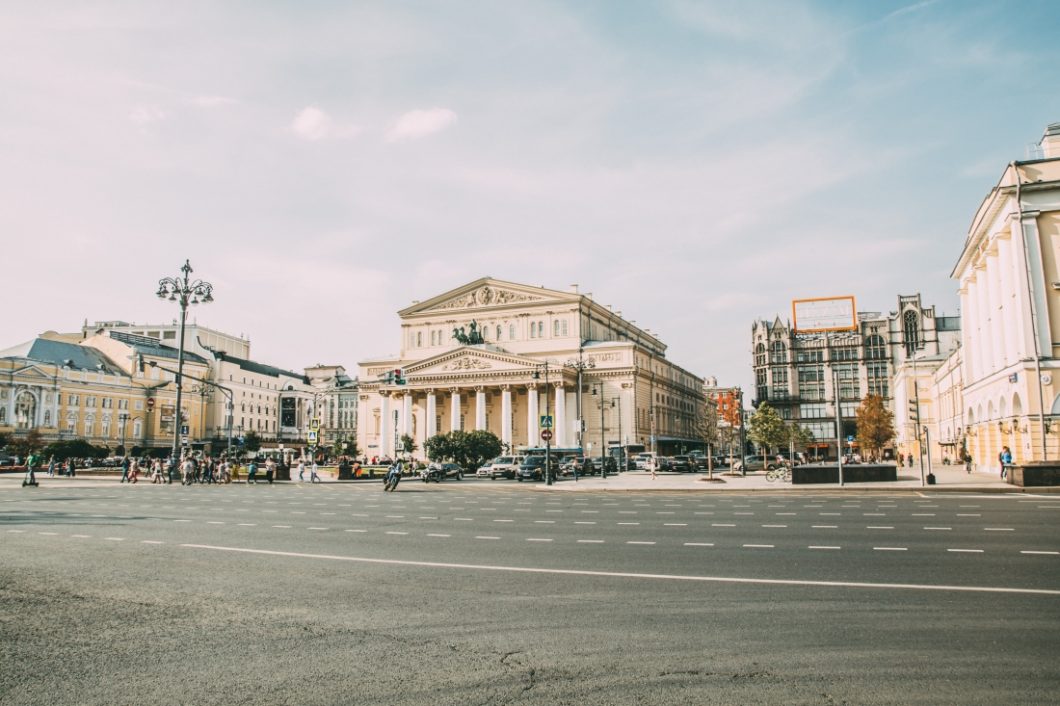 What to Wear to the Bolshoi Theatre: A Guide for Women
Seeing a performance at the Bolshoi Theatre in Moscow should be at the top of your Russia bucket list! This historic theatre holds some of the world's best ballet and opera performances. Dressing the part for this grand theatre is at the top of many theatre-goers' minds, too. Should you wear a gown? A suit coat? Are jeans acceptable? This post is here to explain how to dress for the Bolshoi Theatre for both men and women – featuring both the Historic Stage and the New Stage. I am also showing examples of what I wore (and what my husband wore) for each performance we attended.
What to Wear to a Performance at The New Stage of the Bolshoi Theater (for Women)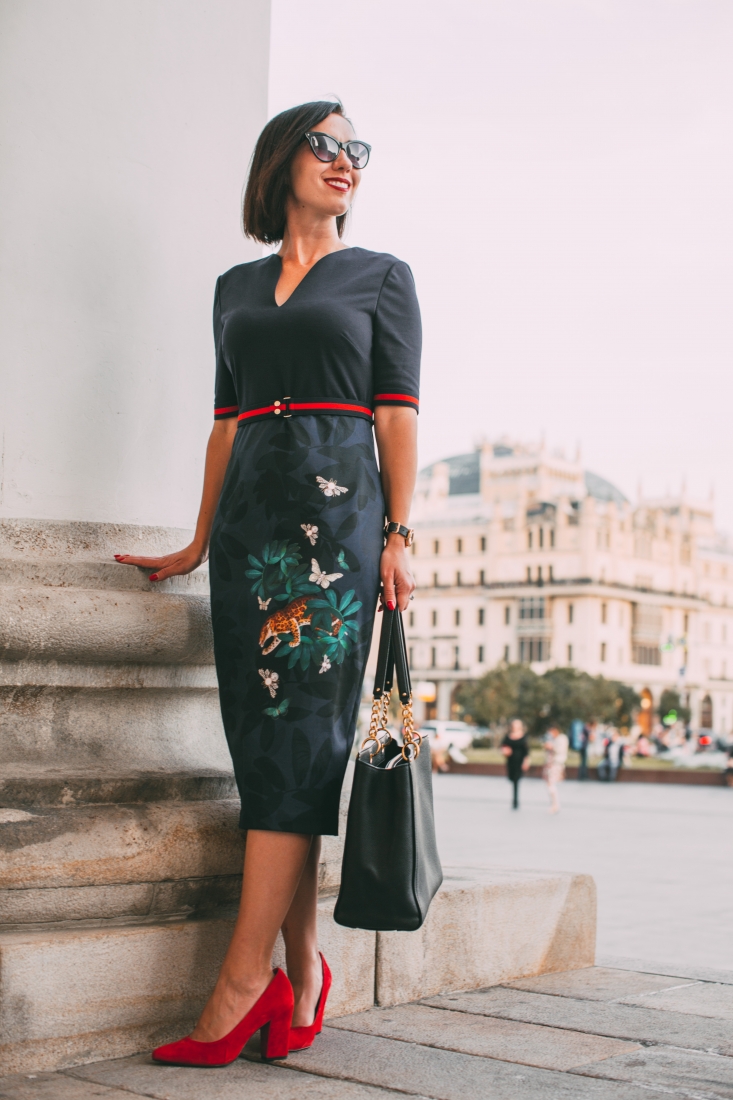 The photo above is from the most recent performance I attended at the Bolshoi Theatre. We went to the "Creation of the World" ballet performance, which was performed on the New Stage.
This was my first time attending a performance on this stage. We had wanted to see one last performance at the Bolshoi before we left Moscow, and the Historic Theatre has a summer break from the end of July until the end of September. (Keep that in mind when planning your trips to Moscow!)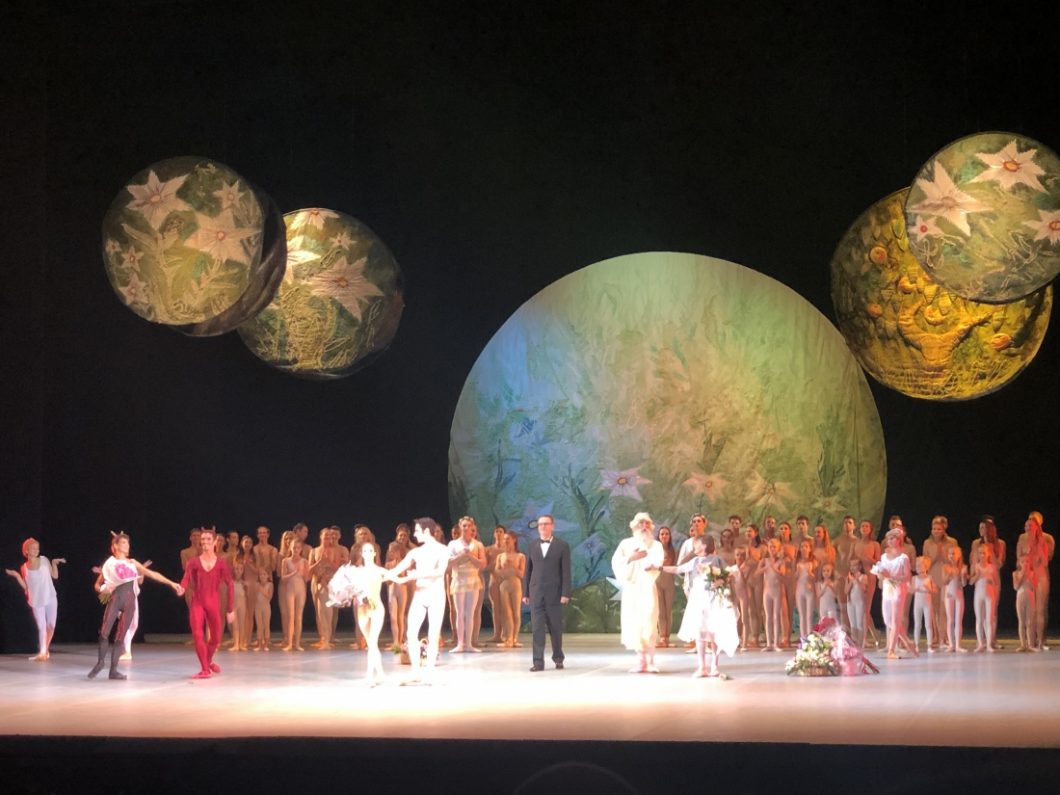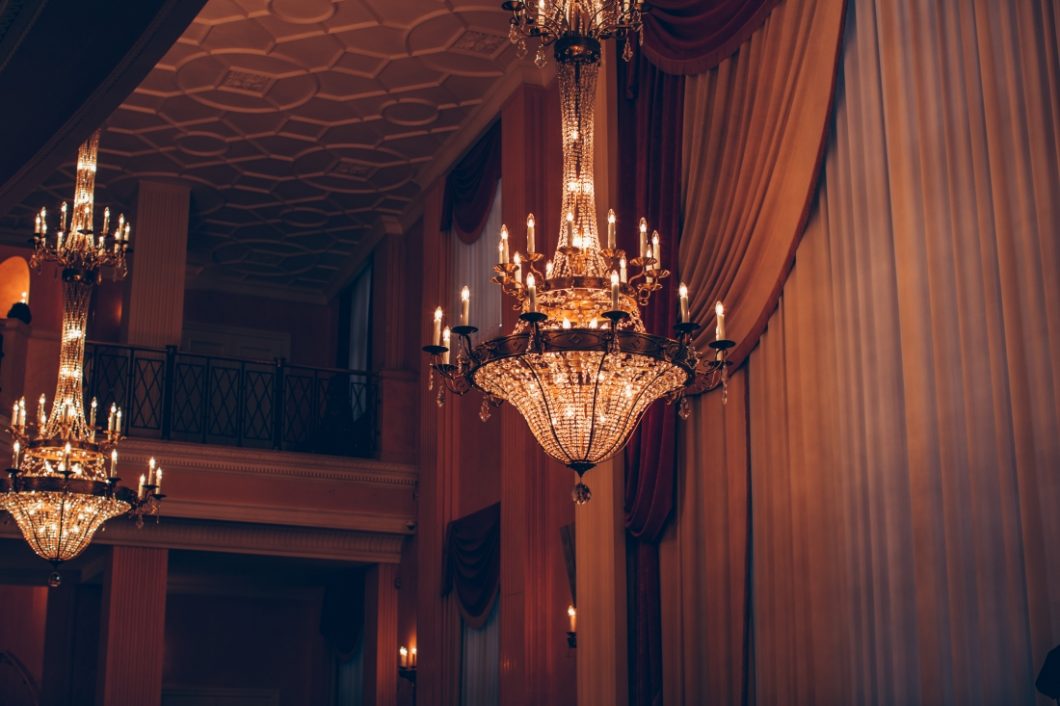 The New Stage is in a separate building from the Historic Theatre (literally right next door to it, though). It's still gorgeous, and the ballet performance was superb. The tickets were also far less expensive than what you pay for the Historic Theatre.
Seeing a performance at this stage seemed to be a good mix of locals just getting off work (it was a Thursday evening performance) and tourists who wanted to see a performance while on their trip (there were so many different languages being spoken all around us!). So, the vast majority of women were not overly dressed up for this event. They were either wearing dresses similar to mine (as they were likely just coming from work), or they were wearing slacks with nice blouses…and there were even some ladies wearing jeans.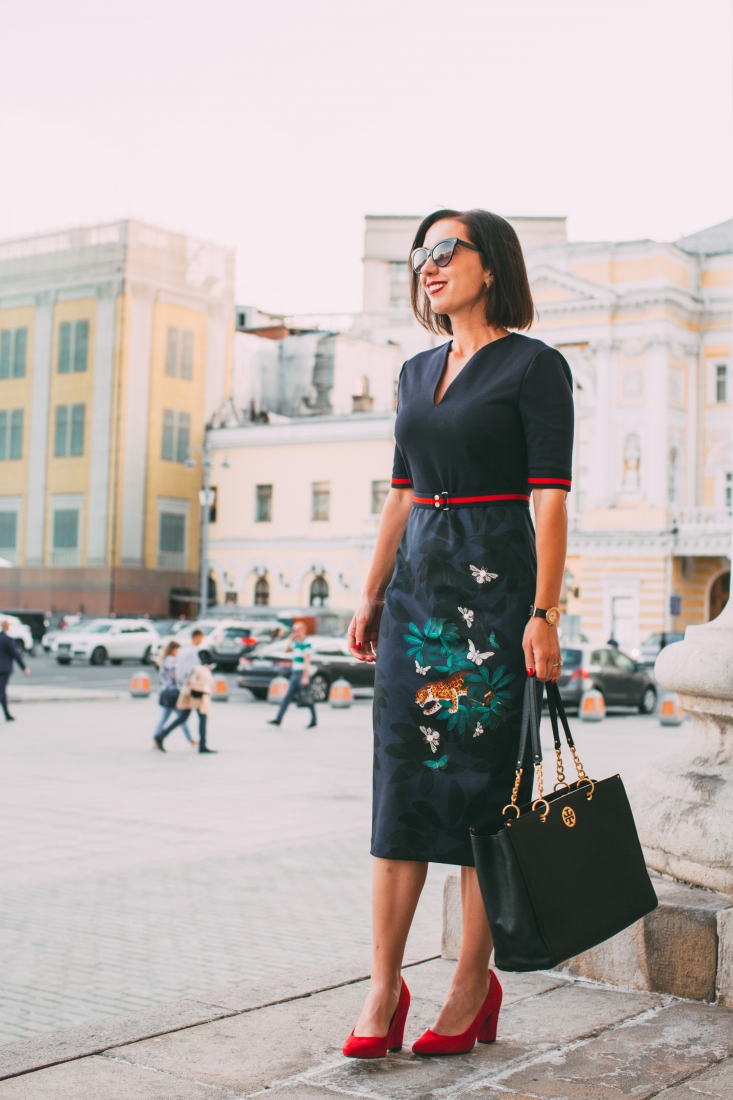 My first outfit post from the Bolshoi had received a lot of comments and messages from people who had attended the Bolshoi and were appalled that people were wearing jeans! So, I wanted to point out that the New Stage would likely be a less dressy affair, and not to be shocked if people are wearing quite casual clothing. (And if you wanted to wear more casual clothing – you would be fine.)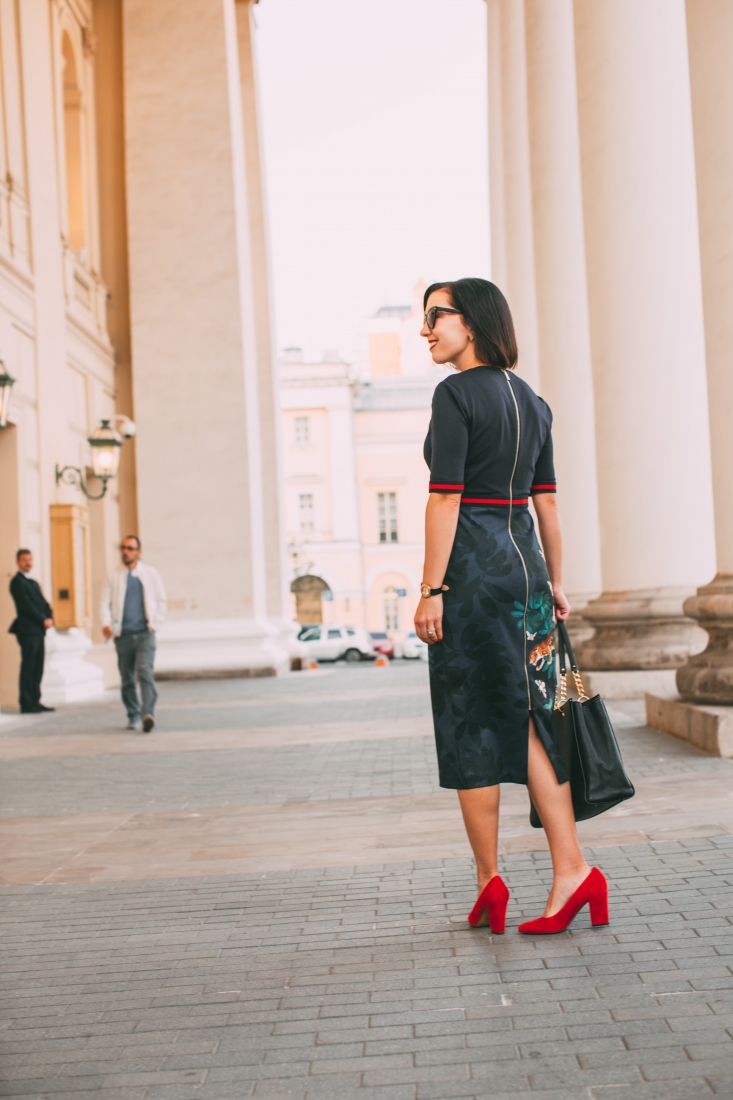 There isn't a strict dress code for either of these theatres. However, the Bolshoi website does state this as a dress code:
"A man in shorts will not be allowed into the auditorium and women, in our view should keep to a decent dress style, bearing in mind that they may well be sitting next to people in full evening dress."
(I can attest that I've never seen a man in shorts…and I've never noticed anyone wearing sandals/flip flops to the Bolshoi. However, I have seen some people wearing sneakers and jeans.)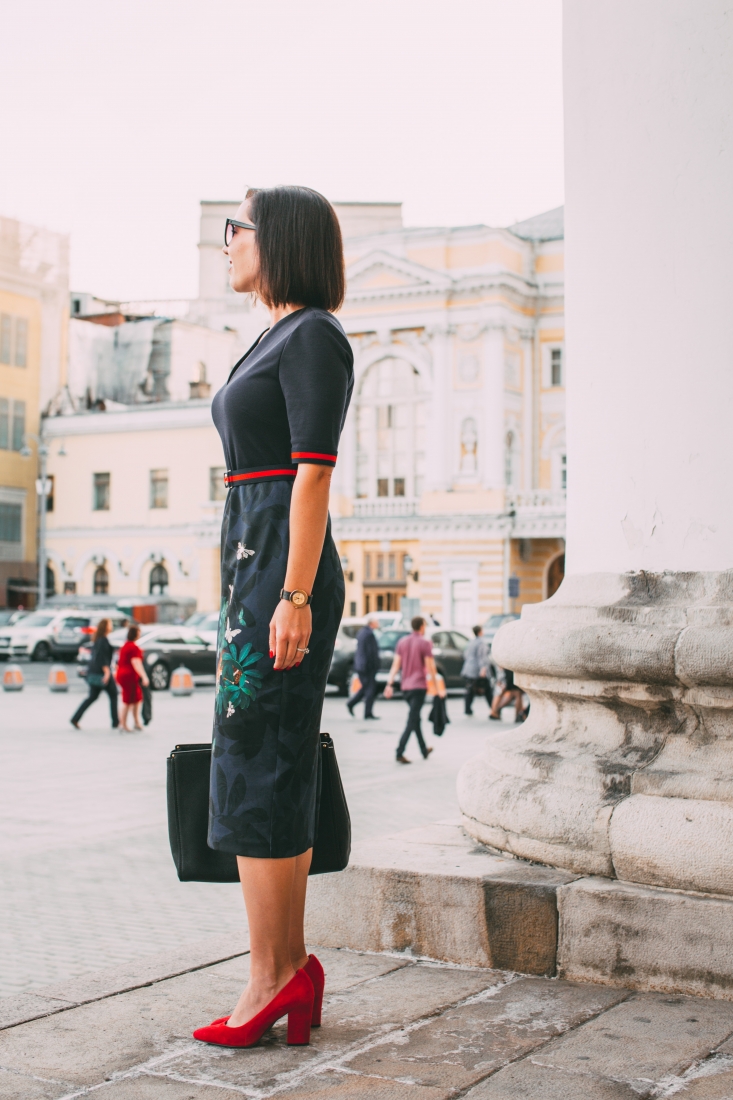 The Dress: A Classy Evening Dress by Ted Baker
I, personally felt this outfit was appropriate for the night and blended in well with the mix of different outfits for this performance. It's a classy and unique dress but not an over-the-top, sparkly ball gown. This is the Bolshoi, after all, so why not have a little fun with how you look? (I also wore this dress again this weekend for a company party my husband's company had hosted in Dallas.)
The dress is by Ted Baker, and I've come to really love his clothing as it's incredibly versatile and beautiful. I've received many compliments on it! (You can opt to shop Ted Baker via Nordstrom, Ted Baker US, Ted Baker UK, or Ted Baker Australia.)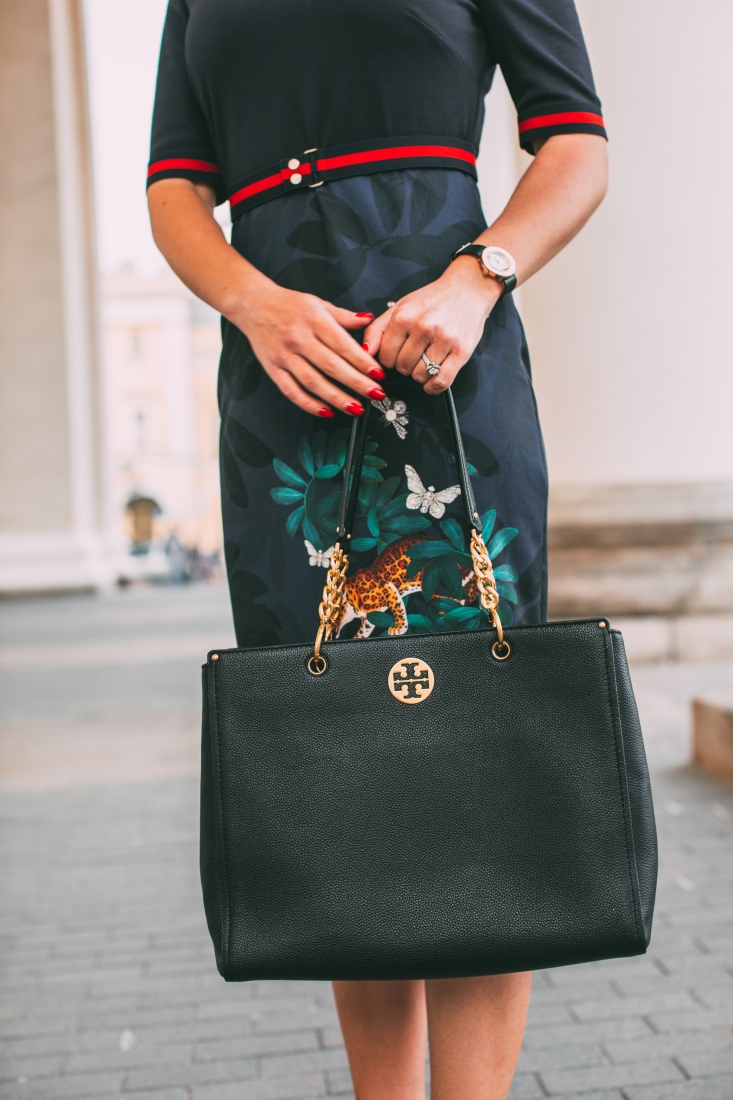 The Bag: Chelsea Leather Tote by Tory Burch
I brought along this behemoth of a tote bag because I wanted to bring my DSLR camera for photos for this post. While photos are absolutely not allowed during the performance, you can bring your camera along and snap some photos before the performance gets underway! Your bag will be searched before entering the Bolshoi, but it's for safety… to make sure you aren't bringing any weapons inside with you. (Shop for this leather tote.)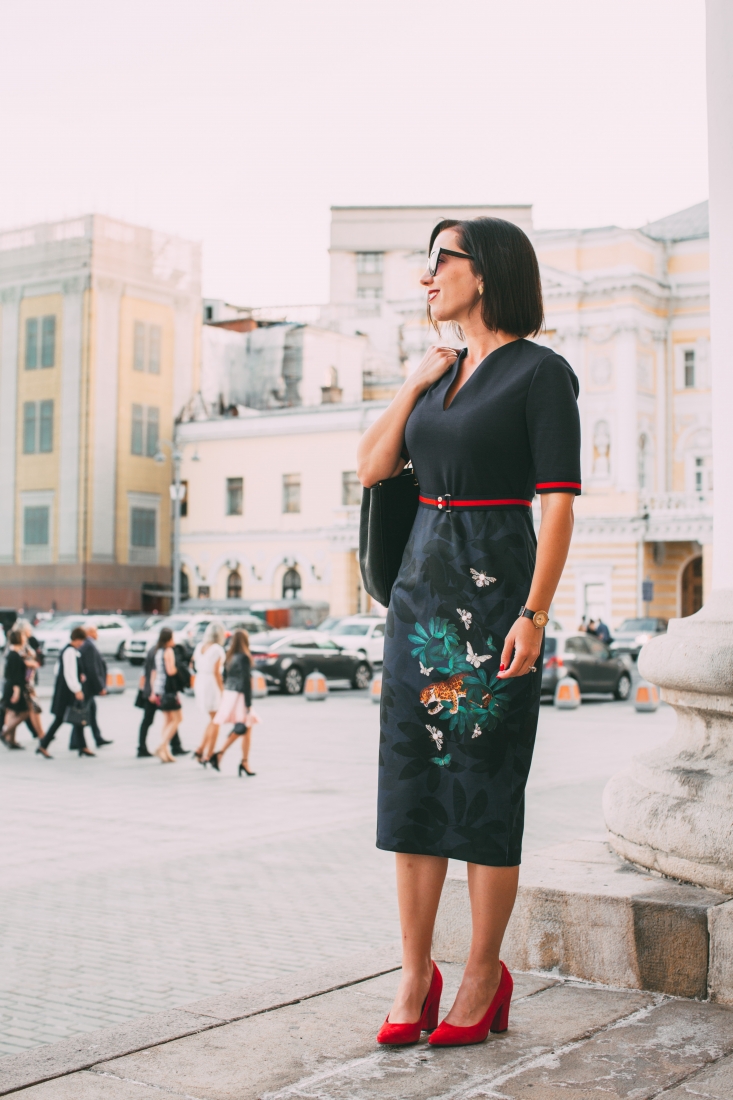 The Shoes: Bella Vita Dress Pump in Red
I would say to avoid wearing sandals or flip-flops to the Bolshoi – but beyond that, any shoe will be acceptable. I personally enjoy wearing heels, especially for nights like this. I would say it is important to wear heels you can walk in, though, as you'll have a bit of a walk to the New Stage from the road (if you arrive by cab) + there are some stairs to climb. I LOVE these pumps because they are easy to walk in, plus they actually fit my wide feet. (Shop for my pumps.)
Shop My Complete New Stage Bolshoi Theater Look!

What to Wear for a Performance at the Historic Stage at the Bolshoi Theater (for Women)
I was very fortunate to attend a performance of The Nutcracker on the Historic Stage over Christmas. This was hands down one of the best performances I have ever seen in my life. Seeing The Nutcracker at the Bolshoi is seriously one of the coolest experiences of my life, and I would honestly recommend planning a winter trip to Russia so you can see it! (Also, check out my photos of Russia during Christmas! It's SO magical.)
Now, The Nutcracker is an event I would say you could take your outfit to the next level. It will be happening over the holidays – so, sparkly cocktail dresses will be everywhere, + it seems the historic theatre, in general, is just a dressier affair (at least in my personal experience).
Wearing a sparkly dress, such as the one I wore above, would look absolutely normal for seeing The Nutcracker. Many women had donned fancy frocks adorned in sequins and lace. Heels were also worn by the majority of women, despite the snow. (I hadn't noticed any jeans or sneakers for this performance.)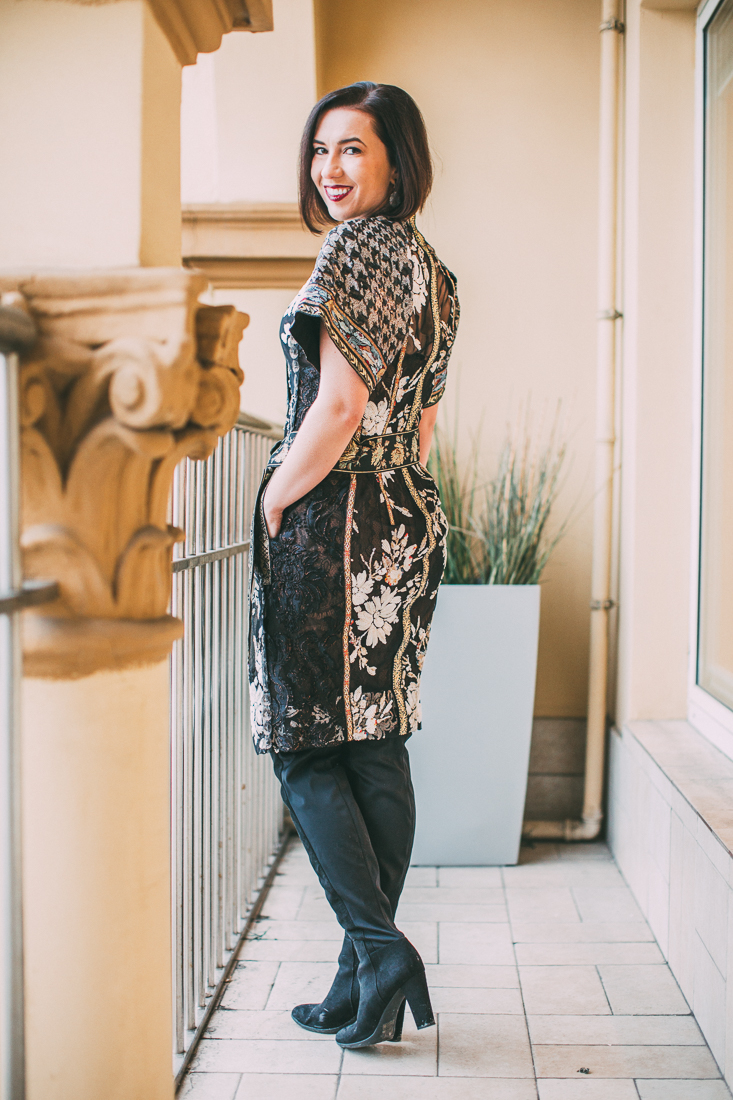 *Read the entire post featuring this outfit for the performance of the Nutcracker at the Bolshoi Theatre.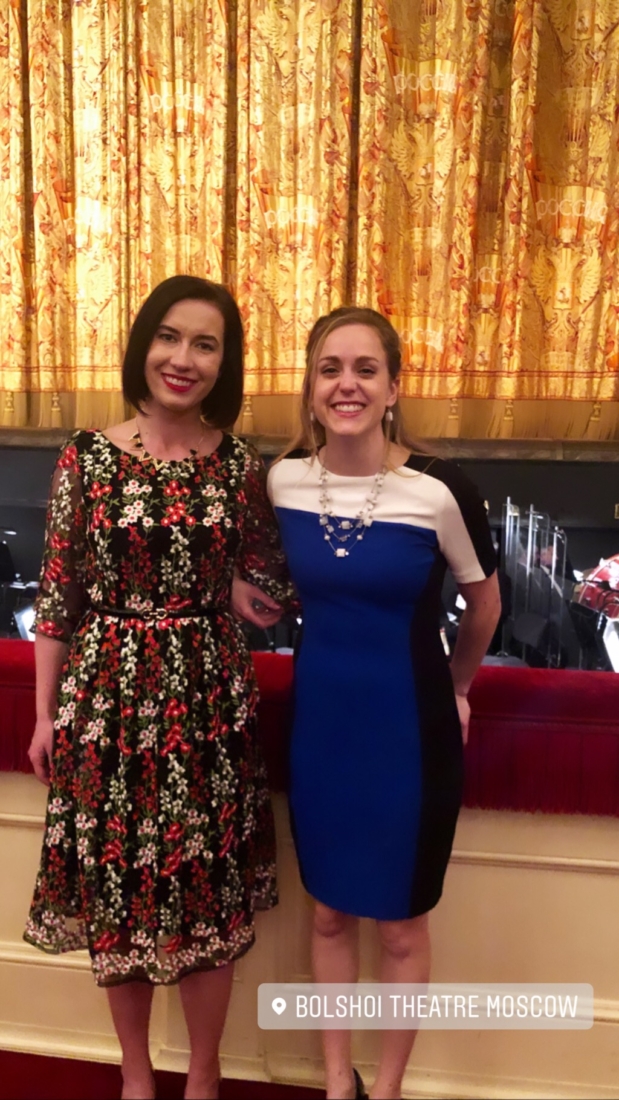 Given that Swan Lake was also born at the Bolshoi – seeing it performed on this historic stage is quite a special night for Russians and tourists alike! I personally enjoyed the Nutcracker performance more, but Swan Lake was still superb and a once-in-a-lifetime performance to see.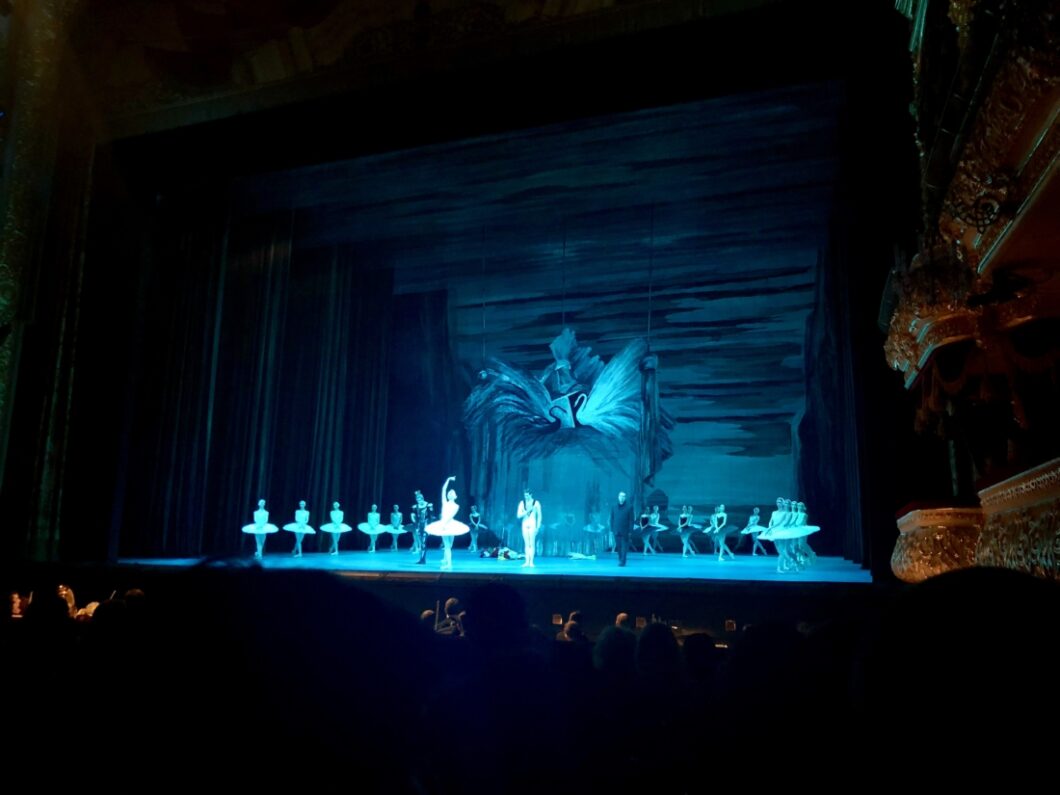 Again, this event had everyone in nice clothing, despite it happening on a Tuesday night. I suppose many women were maybe coming straight from work and wearing the dresses or skirts they had worn to the office. (There weren't as many sequined numbers to be seen on this night.) It was still, a very smartly dressed crowd.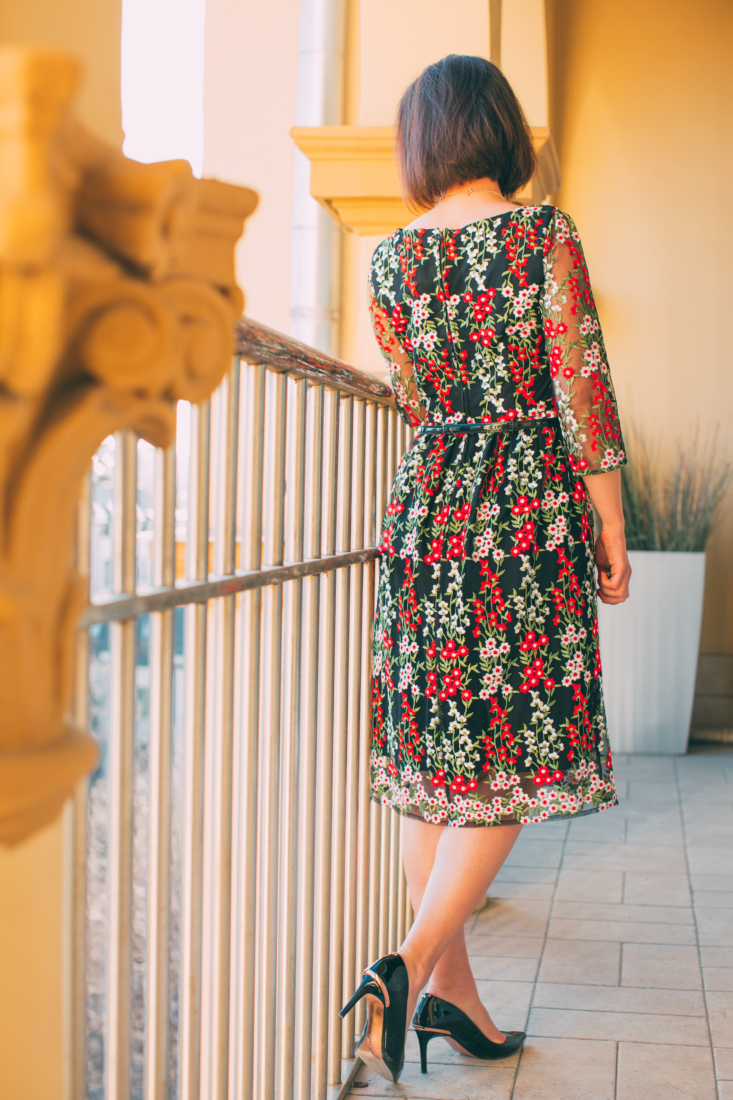 Wearing a cocktail dress with a nice pair of heels was perfect for a performance at the Bolshoi's Historic Stage for a Swan Lake performance.
What to Wear to the Bolshoi Theatre: A Guide for Men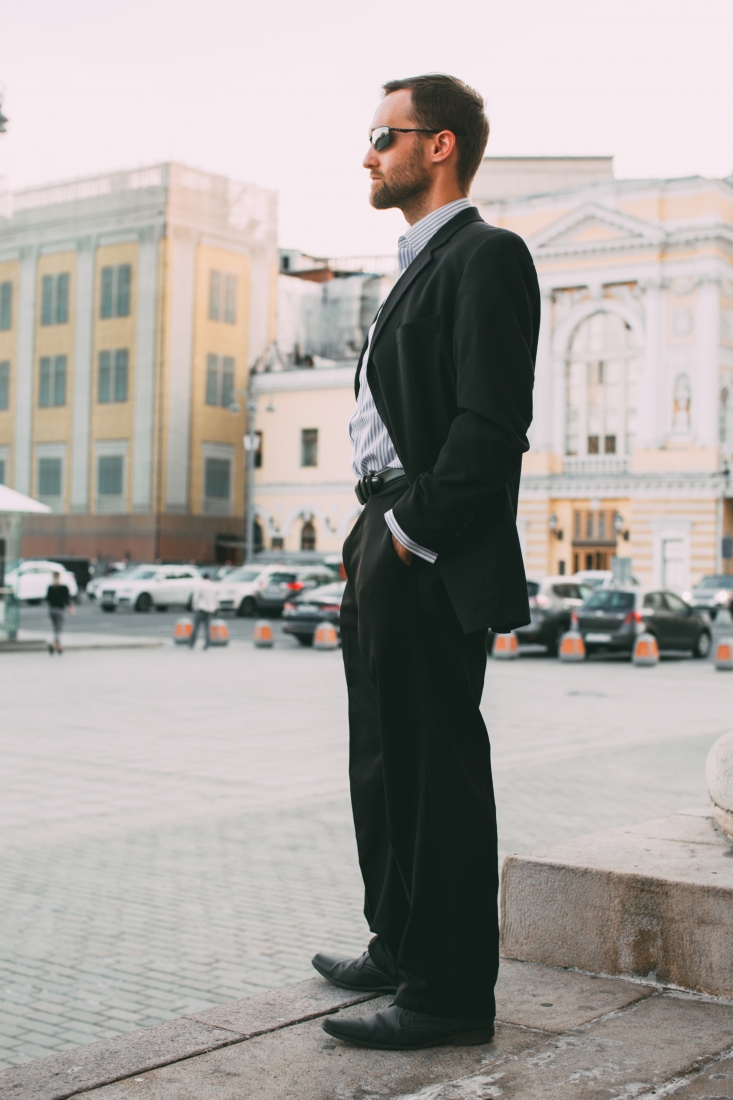 My husband was usually one of those people rushing from work to make it a performance at the Bolshoi. He would usually wear what he had worn to the office – which is dress pants, dress shirt, and dress shoes, plus a suit coat.
He wore a variation of this outfit for all the performances we had attended. He didn't wear a tie for the night we attended a performance at the New Stage. He did wear a tie and also a vest when we attended our performances at the Historic Stage.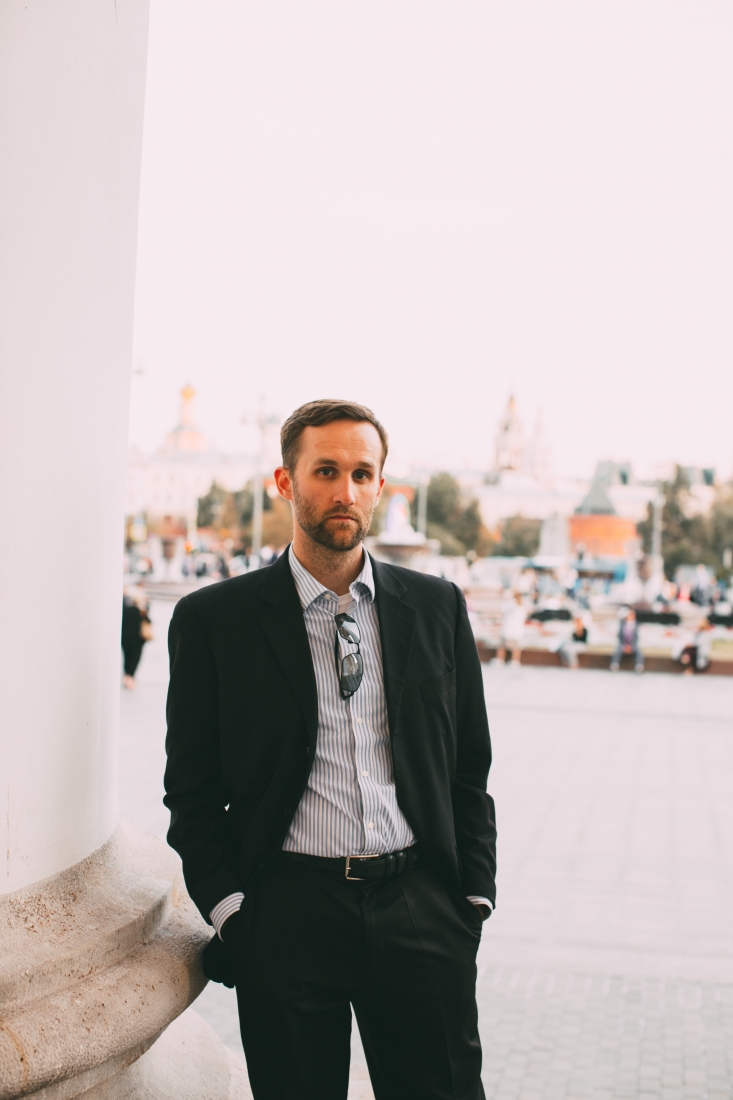 He also wanted me to point out, though, that this outfit does not fit him very well. (He has lost some weight over the last few months.) We ended up going shopping for new dress clothes for him the next night, haha. Most men in Moscow are dressed quite smartly and their clothes fit very well (according to my husband – he says most men "look very GQ").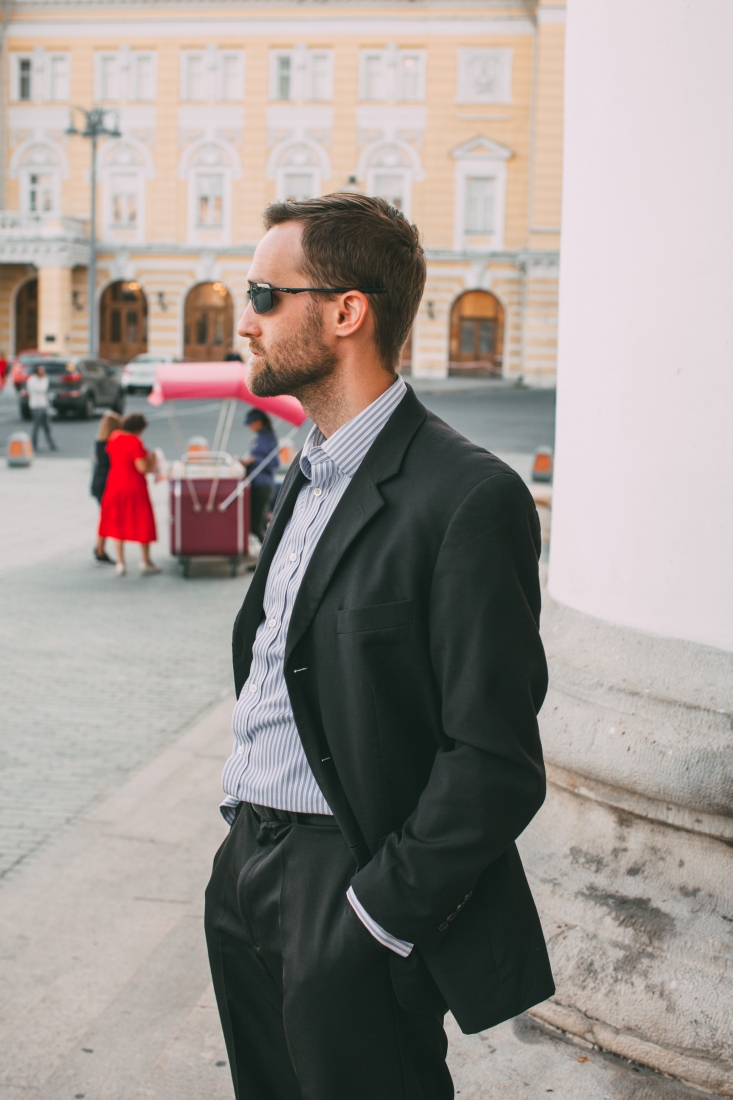 Outfits for men varied greatly – my husband was on the dressier end of the spectrum. Men would, on average, be wearing nice slacks and a button-up shirt or perhaps a nice sweater with dress shoes or loafers.
For performances at the New Stage – quite a few men were indeed wearing jeans and polos. For performances at the Historic Stage, though, many men were wearing nicer dress clothes that consisted of dress pants and dress shirts – and suit coats were seen on a good portion of the audience. (Again, though, as long as you aren't wearing shorts – you would technically be more than fine.) My husband feels the most comfortable in dressier clothing like this, as he has to wear it for work.
Men's Outfit Links for a Bolshoi Theater New Stage Performance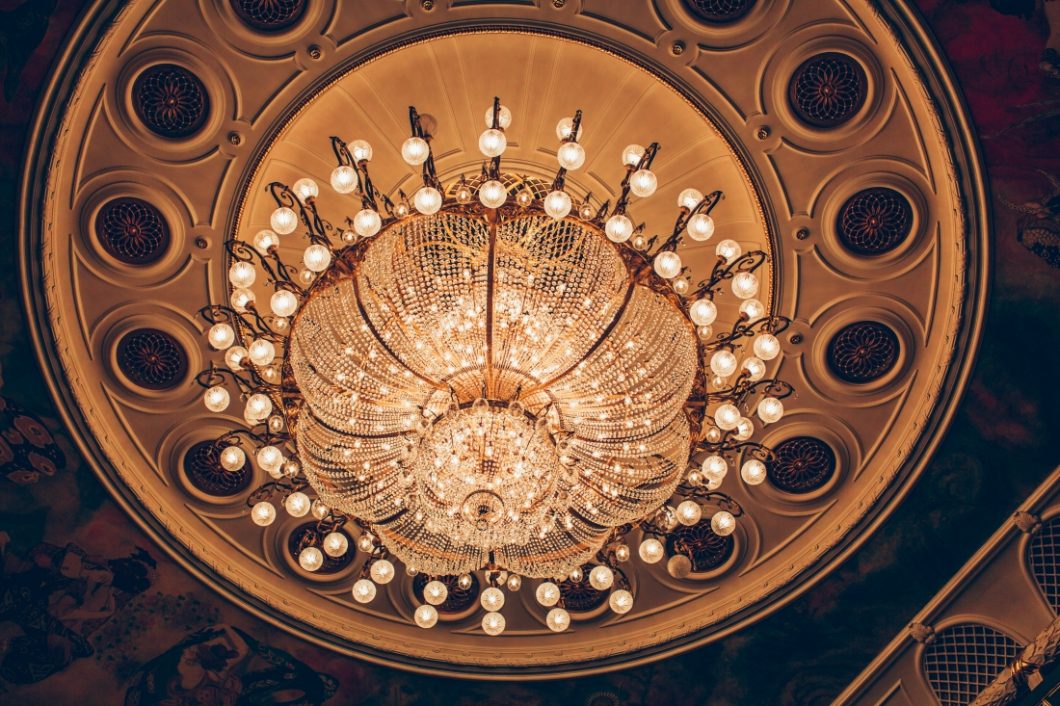 I would not say you need to run out and spend hundreds or thousands of dollars on new attire to attend a performance at the Bolshoi Theatre. It's a fun night to dress up, if you want to, but as long as you stay away from clothing that you would also wear to the beach…you will be just fine. We both felt comfortable in all the outfits featured above.

If you have any questions about attending a performance at the Bolshoi Theatre – I'm happy to answer them in the comments section at the end of the post!
Travel Insurance
It's a good idea, no matter where your adventure takes you, to have travel insurance. You never know what might happen! Whether you get sick before your trip and can't go, or you become sick or injured while on your adventure – being covered with travel insurance is a must. Some credit card companies do provide this service (check with yours), or you can get a quote from companies such as Squaremouth to find the best plan for you and your adventure. (This is the company I, personally, use. They are even recommended by Forbes!) To get a free travel insurance quote here.
Visa Requirements
To check if your country requires a Visa for traveling to Russia.
*Disclosure: some of these links are affiliate links. Meaning, if you click a link and make a purchase, Have Clothes, Will Travel gets a very small commission at no extra cost to you. Thank you for supporting the brands that make this blog possible! I am also a participant in the Amazon Services LLC Associates Program, an affiliate advertising program designed to provide a means for us to earn fees by linking to Amazon.com and affiliated sites.
*c/o = courtesy of, meaning the company gave me the product to be used on my blog, and I did not pay for it. All opinions are my own, and I am not being compensated for a positive review.