20 of the Best Restaurants in Moscow, Russia by a Local
Moscow has many wonderful and unique dining options. And fortunately, many of the best restaurants in Moscow are not too far from the Kremlin, Bolshoi Theatre or St. Basil's Cathedral.
All of the restaurants on this list will also be able to accommodate an English-speaker. While the English spoken may not be perfect – the staff will be willing to help and most of the restaurants will even be able to provide an English menu if you ask.
This list will have a little bit of everything… from breakfast and brunch to fine dining and Russian fast food! I'm going to start out this list with my absolute favorite restaurants in Moscow, and then work my way down. (I've lived in Moscow for nearly 2 years.) Enjoy!
*If you have eaten at any of these restaurants recently (within the past few weeks) and something has changed – please feel free to reach out in the comments section. I want to keep this list as up-to-date and accurate as possible!
20 of the Best Restaurants in Moscow, Russia Written by a Local
1.) Mari Vanna ($$ | Traditional Russian Food | Casual)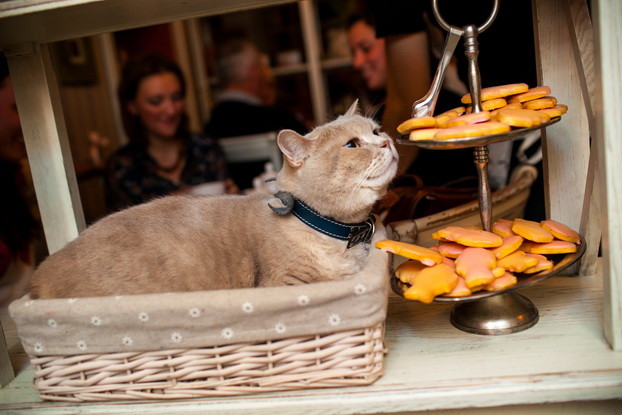 Mari Vanna is a restaurant that is cozy and relaxed and modeled after an old Russian home. (They even have the cutest cat named Benjamin who will come out to say hello to the guests! He's pictured above.) The staff is always friendly and helpful too. It's worth getting a reservation here, as the wait can sometimes be up to an hour for a table.
I recommend getting the Borscht, Beef Stroganoff and their pelmeni (dumplings).
2.) Винотека Grape – ($$-$$$ | European | Dressy Casual)
I may be a bit biased on this one, as I used to live directly above this restaurant and loved how close to home it was, haha. But they really do have some of the best food in Moscow, and the service and atmosphere here are phenomenal. They also have an incredible wine selection.
From the outside, this restaurant looks tiny and cramped, but all of the dining is downstairs in an upscale wine cellar. In the summer it's also nice because they set up a little outdoor patio area (pictured above). It's a really lovely spot for a date night or a special night out. We especially like dining here before going to a show at the Bolshoi, as the restaurant is upscale, and they are generally not overbooked and can accommodate to make sure we leave on time for our show.
I never once had anything here that I didn't like, but my favorites are the veel cheeks, duck breast and tuna. I also love their pumpkin soup and Thai shrimp soup. Their appetizer of stewed pear in wine with gorgonzola cheese and buckwheat popcorn is out-of-this-world delicious! And save room for dessert – all of their options are amazing!
3.) CHOICE ($$ | European, Healthy, Vegan Options | Casual)
And right next door to Grape is this wonderful restaurant – CHOICE! It took months of living above this restaurant before I convinced my husband to try it with me. We always thought it was "expensive" and only served vegan food. That was not the case at all! The food is incredibly affordable – on average a dish is 500 – 900 rubles (about $8 – $15 USD).
They have many healthy and delicious options (and yes they do have vegetarian and vegan dishes, but there is meat available too). It's a great spot for lunch or dinner and has a very hip yet relaxed vibe. It's an interesting restaurant! The waitstaff here is some of the best we've had in Moscow too. They are really attentive and friendly.
Again, I think we've had everything on the menu and loved it. However, our favorites are the salmon sliders, assorted "snack tray," bruschetta and every single salad on the menu! They also make fantastic lemonades.
4.) Lucky Izakaya Bar ($$-$$$ | Asian Fusion | Casual – Trendy)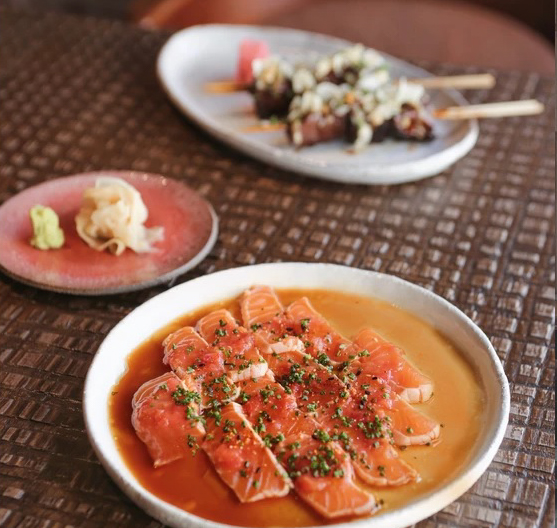 While an Izakaya is a casual Japanese drinking house, that is not what you'll find at "Lucky Izakaya Bar" in Moscow. This is an upscale dining experience that serves phenomenal fusion food in a wonderful atmosphere. (Not that they don't have a wonderful wine and drink selection, though!) The window tables provide some great people watching as well…
This is one of my favorite restaurants in Moscow by far. Just be sure to make a reservation if you go on the weekend – as they are usually jampacked!
I especially love their roast avocado, prawn mandu dumplings, Chargrilled beef sirloin with Japanese mustard and green tea mochi.
5.) Zotman Pizza Pie ($-$$ | Pizza! | Casual)
This is hands down the best pizza I've had while in Moscow. Heck, this is some of the best pizza I've had anywhere – period! I especially love coming here in the winter as the atmosphere is so cozy, and you can sit near the wood fire pizza ovens for extra warmth. If you're visiting in summer or on a weekend, I do advise calling ahead for a table as this place is always busy.
Their best pizza is their "pumpkin, chorizo and truffle honey pizza". This is a seasonal pizza, though, and is not always available (usually late summer through fall it's there). If they don't have it – our other favorite pizzas are their chicken, broccoli and cream cheese pizza and also the lamb kebab with cumin and onion pizza. They also have fantastic homemade lemonades!
6.) Buba by Sumosan ($$-$$$ | Sushi | Casual)
Out of all the restaurants on this list, I'm pretty sure we've eaten at Buba's the most. They are consistently amazing, and we've never had to wait for a table here. They also have the best sushi in Moscow by far, and the waitstaff is always very friendly.
While the sushi is great – I love their king crab with salmon and tuna salsa roll especially – I really recommend trying the wasabi shrimp. It's an appetizer size, but it is SO good. Be sure to save room for mochi too!
7.) Masters & Margaritas ($$-$$$ | European | Casual)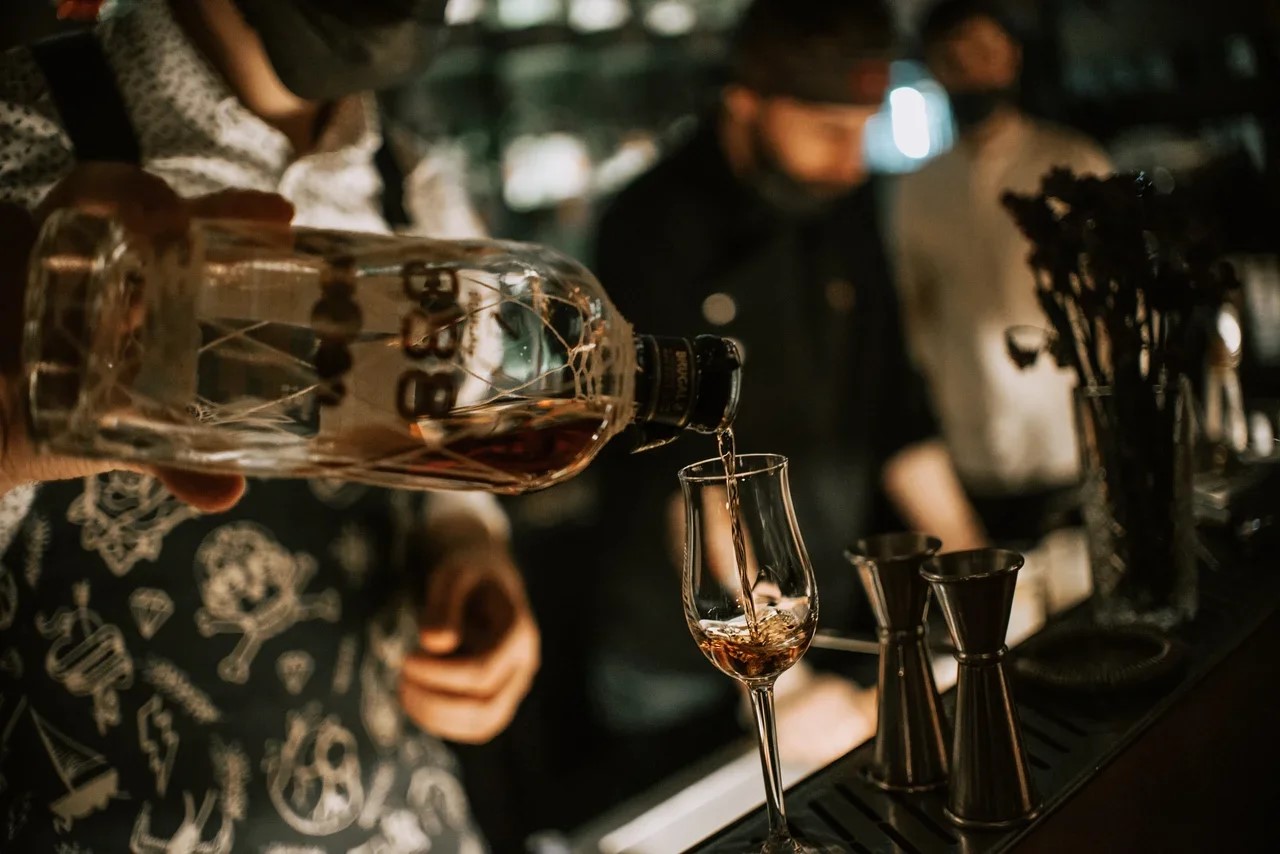 We stopped here numerous times for drinks before we finally tried their food – and we were really missing out! The food is just as tasty as the cocktails. I really love coming to Masters & Margaritas for their inventive margaritas, though. The atmosphere here is also one of my favorites in Moscow. It's very cozy and "hipster"… which I mean that in the best possible way. The decor is unique…and so are the beverages and food!
They also have AMAZING wasabi shrimp as an appetizer, and I enjoy their shrimp risotto. Obviously, try a margarita here, too! I like their mango margarita and blood orange, but their seasonal ones are especially fun – from pumpkin margaritas to hibiscus and more!
8.) Beluga ($$$$ | Russian | Dressy)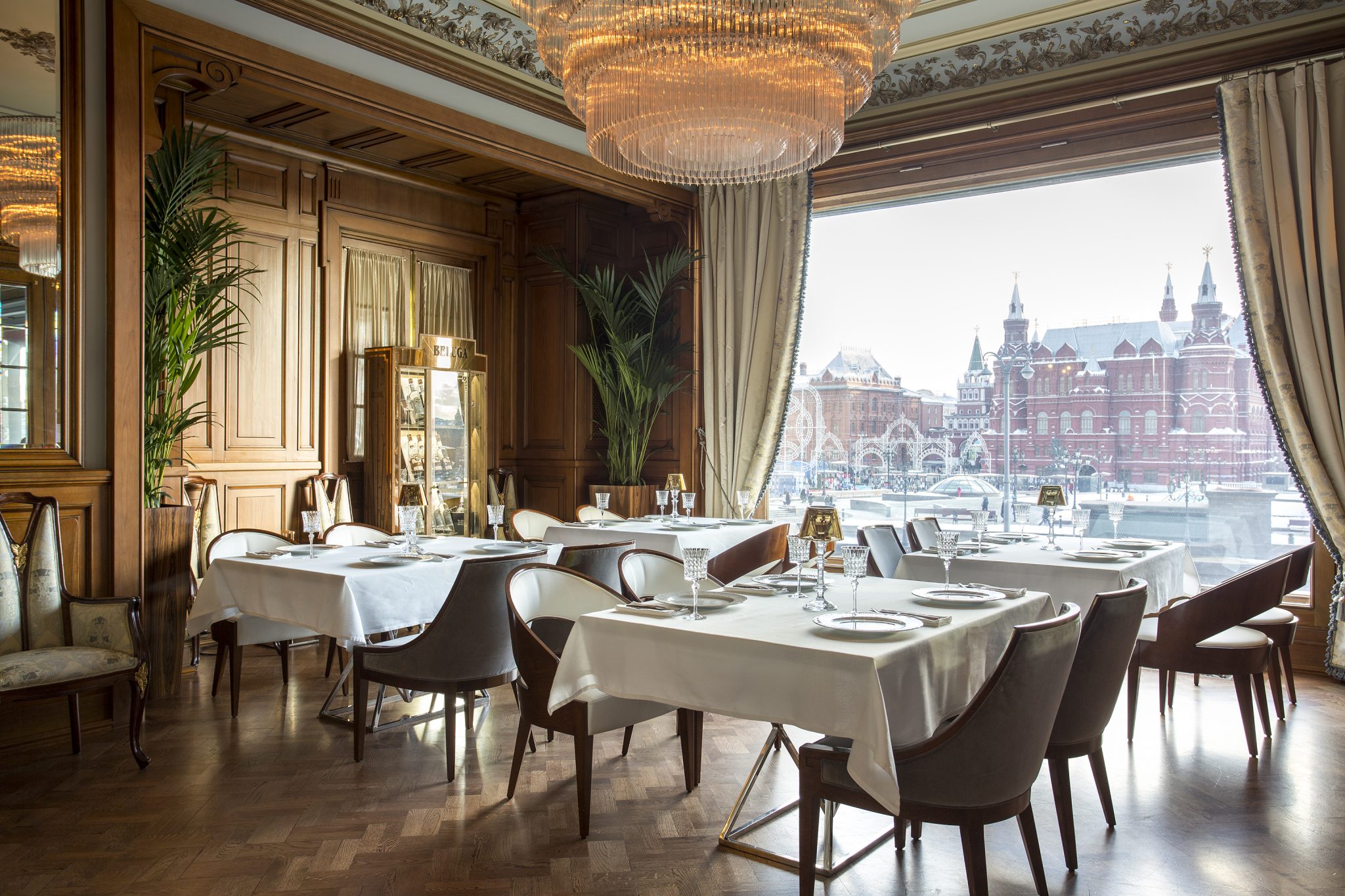 Beluga has arguably some of the best views in Moscow. It's directly across the road from the Kremlin – so you'll have a view of that and St. Basil's Cathedral while you dine! The waitstaff here is beyond amazing too. They are so kind. We didn't know a darn thing about caviar the first time we came here, and they didn't make us feel like idiots…but instead educated us about the different kinds of caviar, what to eat it with and made some great recommendations for entrees and drinks as well! It was such a fantastic experience.
*Note: there is a Beluga Caviar Bar inside the GUM mall. That is different than this restaurant! I honestly haven't tried that place yet and can't attest to it.
Definitely come here to do a caviar tasting! We also enjoyed the scallop pasta and tenderloin. They also have some of the best Kvass (a fermented beverage) that we've had in Moscow.
9.) Turandot ($$$$ | Contemporary | Dressy)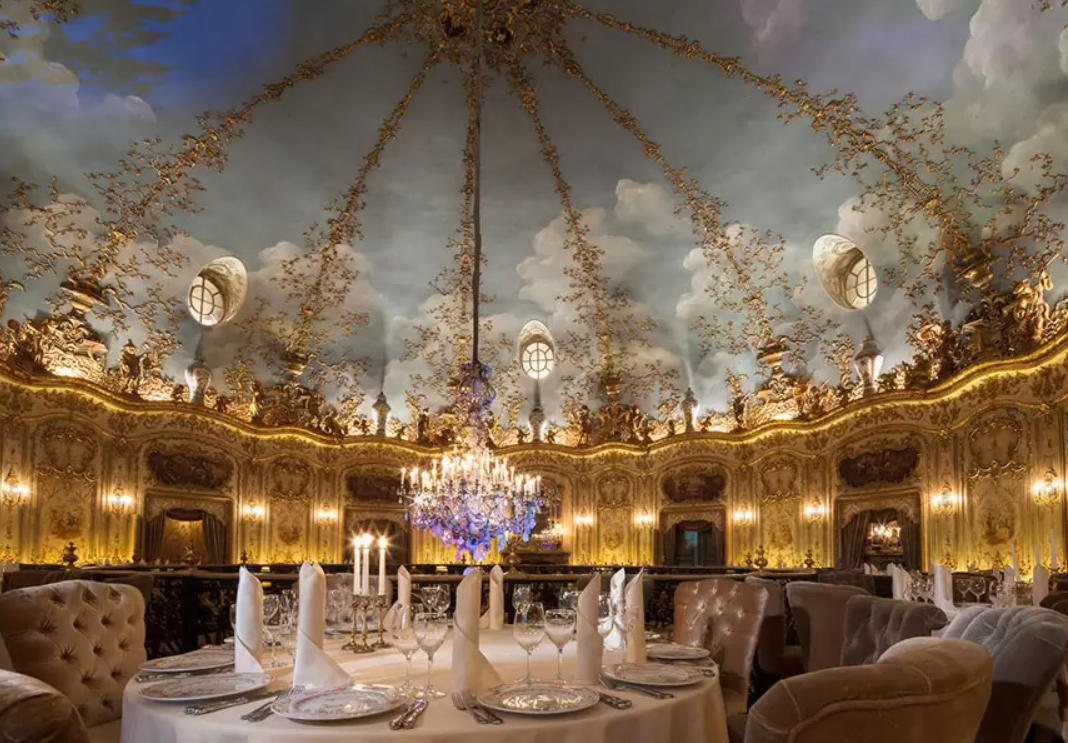 I'm putting Turandot on this list because it is easily the most extravagant restaurant I've ever dined in. The baroque decor inside this restaurant is beyond gorgeous, and it's quite the experience to dine in such a lavish setting! We reserved coming here only on a couple of special occasions, as it is on the pricey end of the spectrum. But if you only have a set amount of time in Moscow – why not go all out?!
Things to note, though, while this restaurant is impressive… the interior is better than the food. The food is good, don't get me wrong, but not as good as one would think with this extravagant of a setting. And the service here is some of the worst I've experienced in Moscow. The waitstaff is not attentive or friendly or helpful at all… Going into this restaurant though, with the expectation that the waitstaff won't be amazing, helped us to enjoy it more the last time we were there.
I recommend doing their special "set menu" options. These are dishes predetermined by the chef, and I do feel you get the best "bang for your buck" doing this option. We did the "modern" set last time with a wine pairing and really enjoyed it.
10.) Severyane ($$-$$$ | European | Casual)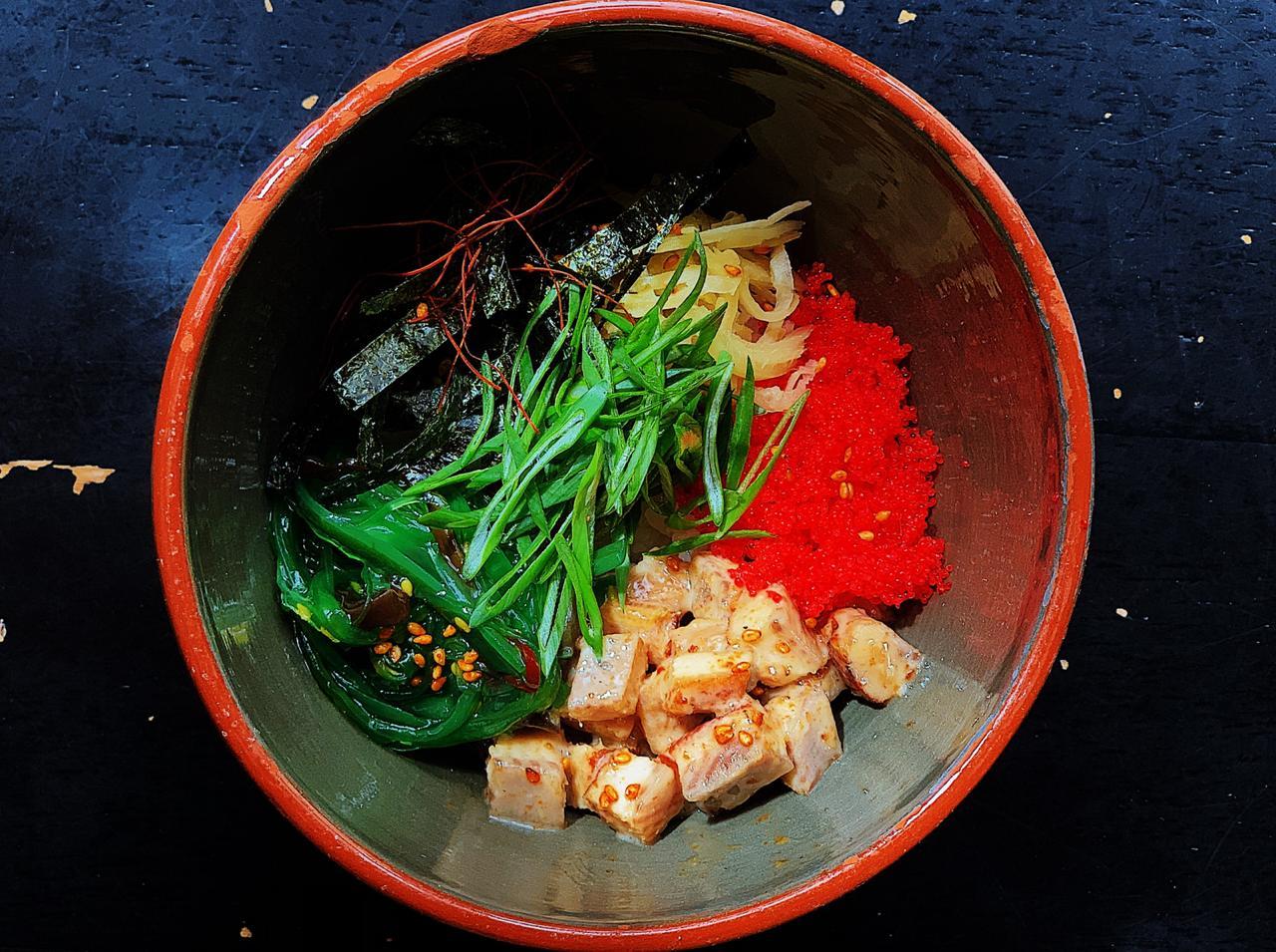 I love Severyane in the summer because they'll open the large window in the front of the restaurant and allow some seating outside. It's a great atmosphere that is a little loud yet cozy. (And there is some great people-watching here!) The food is great, but what really sets this restaurant apart is its ambiance.
Anything off the grill is fantastic. Be aware that the portion sizes will be smaller and many times this restaurant is "cash only."
11.) LavkaLavka ($$-$$$ | Contemporary Russian, Farm-to-Table | Casual)

LavkaLavka is great in the summer as well – as they have plenty of comfortable outdoor seating. They serve their food with the freshest of ingredients, and the staff here are all phenomenal! This was actually one of the first restaurants my husband and I ever dined at while in Moscow. Our realtor had recommended it to us and it set the bar VERY high for future restaurant endeavors.
I like the halibut here, but it's one of the only restaurants that I've ever seen serve things like "deer heart with mashed celery, rosemary
crumble & cowberry sorbet." My husband loves venison and trying weird food, so he had to try the deer heart. He said it was one of the most interesting dishes he's ever tasted. (Not sure if he feels the need to get it again – but he's glad he tried it!)
12.) Simple Things ($$ | European, Wine Bar | Casual)

Simple Things is just as the name describes – it's a nice, simple restaurant with a simple and fresh menu. I come here specifically for their rabbit. The portions are smaller, so you may also want an appetizer or dessert to fill you up!
Note: this restaurant is the nicest to dine at in the summer with its outdoor seating. The indoor setup is a little odd, and if you are not seated in the room with the bar the atmosphere is pretty awful.
Again, I really like their rabbit and their selection of wine is fantastic and reasonably priced.
13.) Varenichnaya №1 ($$ | Russian | Casual)
So, this is actually a chain of restaurants in Russia that are decorated to look like an old Soviet home. They are scattered all over the city. However, I recommend this being the first restaurant you try when you get to Moscow! This is because it will be the easiest to navigate – the menu literally has photos. And it does have really good Russian food! Our Russian friends have all brought us here at one point or another. Our friends very much enjoy their "Russian salads." I really am not a fan of "Russian salads" – the photo above of the cake looking dish is actually a "salad." I much prefer the different pelmeni and vareniki. But, hey, when in Russia…
Try a little bit of everything here! And the Varenichnaya №1 by the Metropol Hotel has a fantastic view of the Bolshoi and some really nice outdoor seating.
14.) Friends Forever Cafe / Breakfast Cafe / Conversation ($-$$ | American, Breakfast/Brunch | Casual)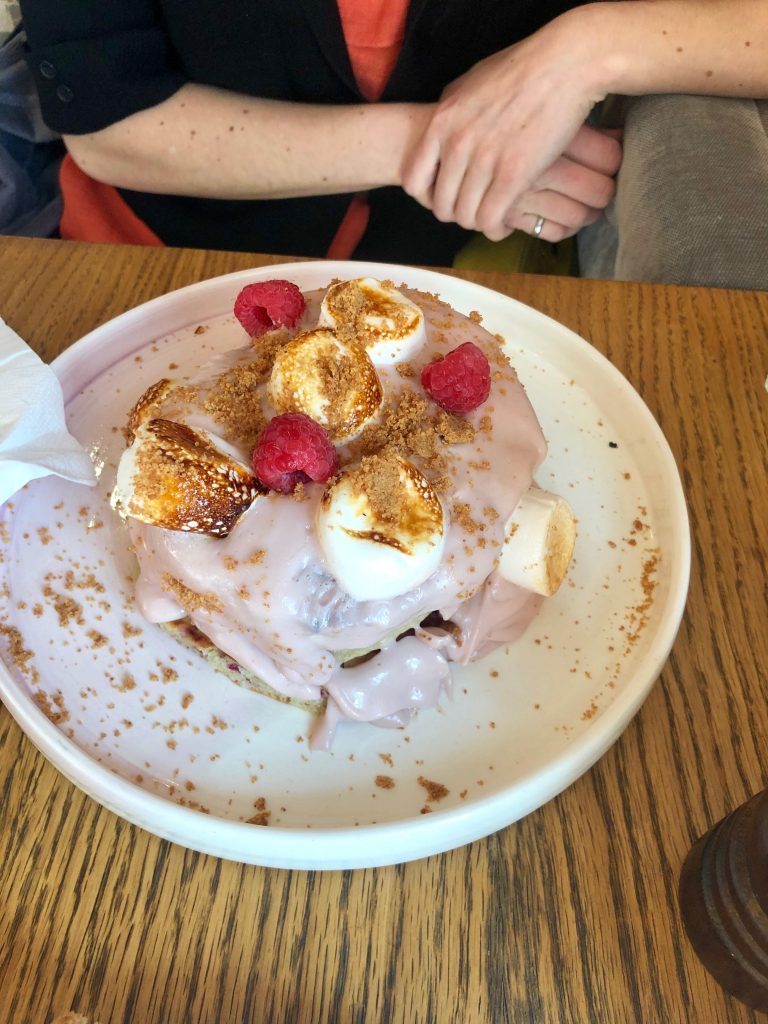 Likewise, Friends Forever Cafe, Breakfast Cafe and Conversation are all chain restaurants in Moscow. However, they have some really great breakfast and brunch food! My mouth is watering just thinking about their waffles and eggs! Each of these places will have a slightly different menu.
The photo above is of the raspberry pancakes at Friends Forever Cafe on Malaya Nikitskaya. That's enough for 2 people, haha! They're so good!
15.) Expedition ($$$$ | Russian/Siberian | Casual)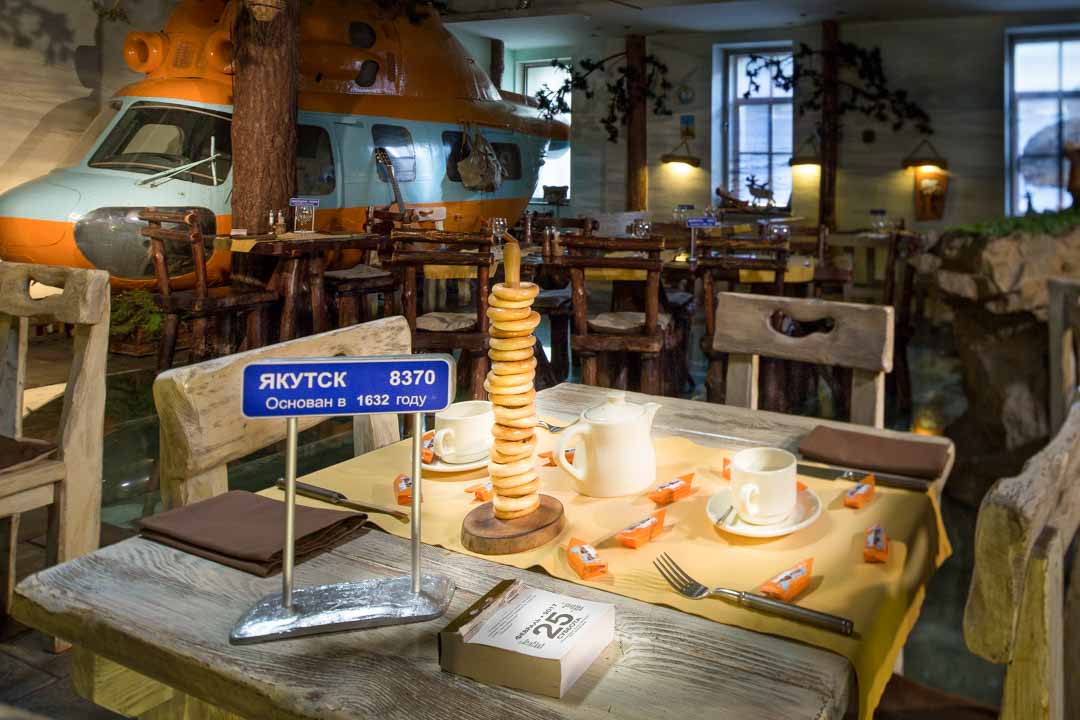 This restaurant is a bit touristy – but it's quite the experience! They have a replica helicopter in the dining area and the theme of the restaurant is centered around expeditions in Siberia. They also will have live music playing at times. You can sample a ton of crazy meat from Siberia. They even have a meat sampler platter that includes Reindeer tongue and heart, grouse, moose, etc.
Interestingly enough… this place also has a private Siberian banya service. I never did get a chance to try it – as it was usually booked up for any weekend we were looking to go. (They by far have the most expensive banya prices I've seen in Moscow, but I was curious if their banya lived up to all the hype! One day!)
Note: This place takes the cake for the most expensive dinner bill we've had while in Moscow too. It's a pricey place!
I much prefer the fish they serve to all the other crazy wildlife you can eat here. However, it is an experience to try wild game meat from Siberia.
16.) Cafe Pushkin ($$$ | Russian + International | Dressy)
Cafe Pushkin is an antique-filled dining room of a nobleman's house, with formal service & a typical Russian menu. It's a fun experience with some of the best service I have experienced in Moscow! (It's seriously worth it to come here just for the decor and the service.) I do advise making a reservation a day or two in advance, as it can get very busy (at least on weekends).
I really loved the food the first couple times we dined here with friends (the stroganoff was especially tasty). However, we were there a few months ago, and it really was not that great as far as food quality. Which was disappointing, as it is generally one of the most recommended restaurants in Moscow. I've been hesitant to take any friends back here! I do hope it is changing, though…I will still keep this restaurant on this list, though, as it is a Moscow legend and I believe they may have just been going through a rough patch the last time we dined here.
17.) Strelka ($$-$$$ | Bar food | Casual)
Strelka has a nice selection of appetizers and salads… plus, they make some fabulous cocktails. The real reason you come to Bar Strelka, though, is for the view of the Cathedral of Christ the Saviour. It's amazing! And during the summer, the outdoor seating is fantastic and even has misting fans for those hot summer days! (But it can be ridiculously crowded.) All of the profits made at Bar Strelka also support the Strelka Institute (the university that the bar is located on).
Come here for appetizers and drinks and to enjoy the view. I don't especially love the food, here, though.
18.) Borrachitos Bar ($ | Mexican | Casual)
Borrachitos has the most authentic Mexican food in Moscow. And I'm talking real Mexican food… not Tex-Mex. They also have an extensive craft beer selection on tap. Don't let its simple decor and hidden location put you off – the food and the service here are fantastic!
Come here for their tacos and get the pulled pork. It's so tasty! (Expect it to get a bit messy, though, as they use corn tortillas.)
19.) White Rabbit ($$$$ | Contemporary | Dressy)
So, I'm a bit embarrassed to say… but I have yet to actually eat at this restaurant. However, the White Rabbit is one that continues to be recommended to me. And it also has some of the best views of the city. The reason I have yet to make it here is that every time we think about going… we call to make a reservation and they're booked! So, if the White Rabbit is on your list of restaurants to eat at while in Moscow, I would recommend making a reservation at least 2 weeks in advance!
20.) Grand Cafe Dr. Zhivago ($$-$$$ | Russian | Dressy)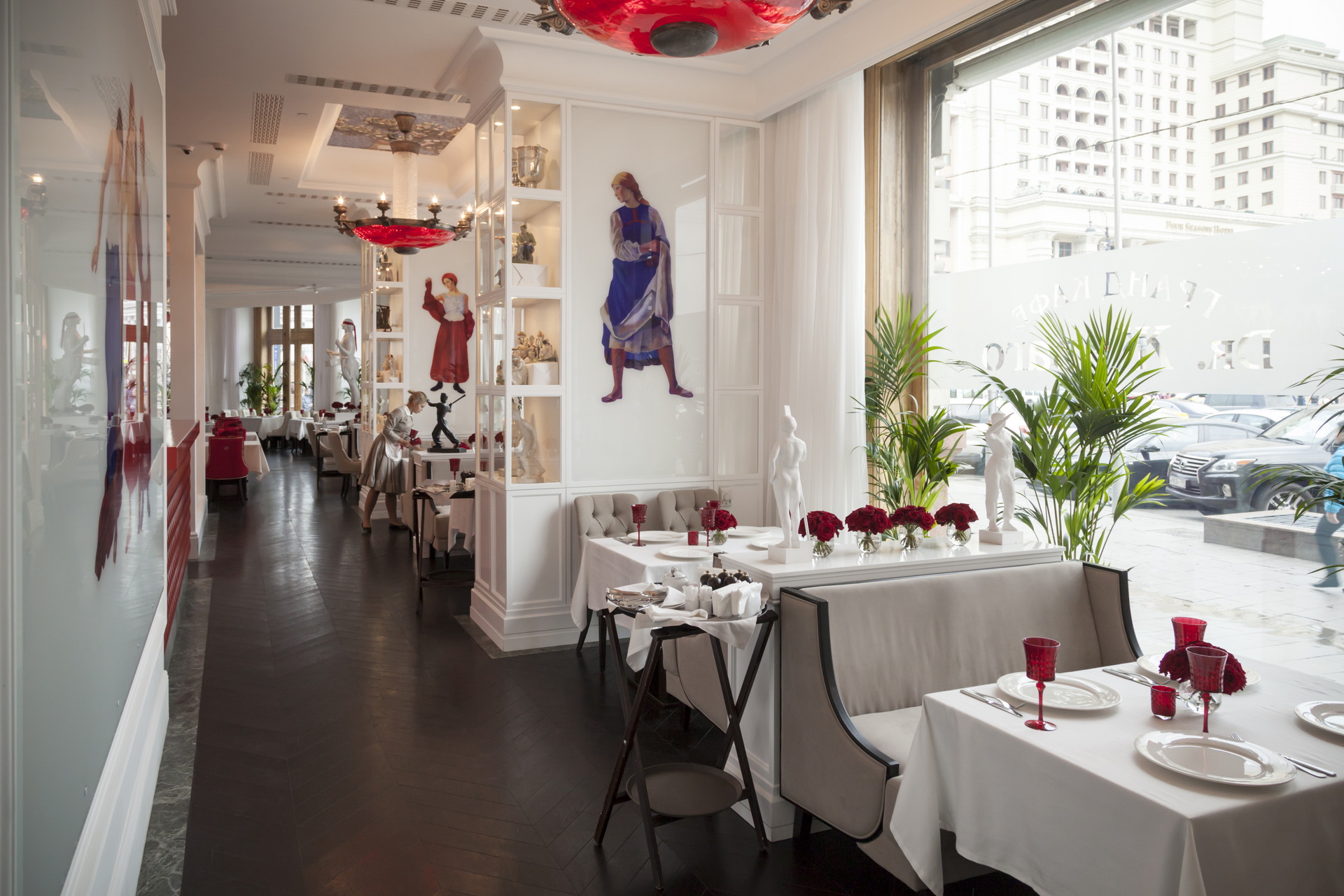 Dr. Zhivago is another restaurant where you'll want to make your reservation at least 2 weeks in advance! It's a very popular spot. While it has some of the best food in the city… it also has a relatively affordable menu. (It's also located just below Beluga, so it's right across the road from the Kremlin!)
The reason I don't have this restaurant higher on the list is we were so turned off initially by the service here. We came for my birthday, and it was ridiculous how rude the waitstaff was… we had also made a reservation several weeks in advance, and were set at a table that was very small and literally in the main walkway of the restaurant (so, every time someone walked by, we were bumped… and having a conversation was impossible). Needless to say, it took my husband throwing a little hissy fit for us to get a normal table…and a new waitress. The new waitress was phenomenal, as was the food…but the first impression of this place did leave a bit of a bad taste. Therefore, I've been a bit hesitant to give this restaurant a glowing review.
**NEW ADD: Кафе Студии Артемия Лебедева ($ | Breakfast | Casual)
Кафе Студии Артемия Лебедева is a wonderful little cafe on Bol'shaya Nikitskaya Ulitsa. I love coming here for their scrambled eggs with all the fixings (pictured above) and also their tea! They have some of the best fruit tea concoctions. Their sandwiches are also wonderful – they're simple but fresh and always hit the spot. The service here is generally quite fast and very friendly – I enjoy coming here when I don't have a ton of time to spend eating.
What are some of your favorite restaurants in Moscow? Let me know in the comments!
Click here to see all of my travel tips for Russia!
Using a VPN When Traveling to Russia
---
VPN is short for "virtual private network." A VPN (like IPVanish) sets up a private connection between your device and whatever network you are connected to – so, no one can see your browsing data. It is important to use a VPN anytime you are connected to public Wifi (such as at a restaurant, resort, hotel, cafe, airport, etc.). This is because when you connect to a public network no matter where you are, you run the risk of a hacker grabbing your unencrypted data. Trust me, speaking from experience here…this can put a real damper on your trip if your banking, phone or email get hacked while you're traveling!
You are also likely going to need a VPN to access many websites while you are in Russia – as Russian IP addresses tend to be blocked!
VPNs can also help you save on domestic flights, help you watch Netflix shows around the world and more! You can read more about using a VPN in my post "Why I Use a VPN When Traveling and at Home (And You Should Too)."
Travel Insurance
---
As of 2022, many destinations require having travel medical insurance that covers COVID-19. Squaremouth is the only site that currently lets you filter travel insurance policies for COVID-19 coverage. I, personally, use Squaremouth for finding the best insurance policies for my travels, and I have already used them for trips planned in 2022. They're also recommended by Forbes! You can click here to get your free travel insurance quote or enter your information via the widget below.
Visa Requirements
To check if your country requires a Visa for traveling to Russia, click here.