How to Get a Russian Tourist Visa as an American
As far as tourist visa applications go, the visa application that Americans need to fill out in order to visit Russia is the most complicated one I have ever done! It is 100% worth the headache and time to do, though. Russia is an absolutely amazing country to visit!
I have been meaning to put together a post for the last year about how to fill this visa application out as painlessly as possible, but with COVID, I've kept pushing it off. For more information on visiting Russia amidst COVID and the new entry requirements, click here.
Now, if you are from a country that is not the United States, this process won't be quite as complicated because Russia is beginning to roll out some fancy new e-visas that are very quick and simple to apply for online.
However, for us Americans, this is still a rather tedious process. This post is meant to clear up some of the confusion surrounding this visa application process. I've helped family and friends obtain their visas and learned a few things along the way! Please also feel free to reach out in the comments with any questions.
How to Get a Russian Tourist Visa as an American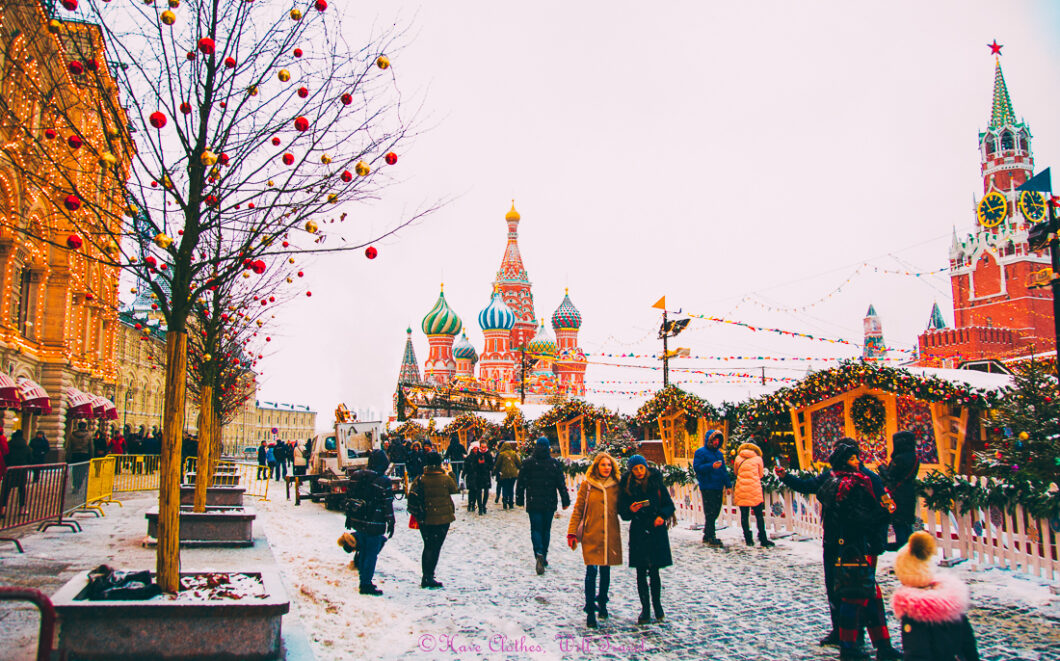 NOTE: Before starting this application it is a good idea to have your flights to Russia booked. If you overstay your visa for ANY reason, this will land you in hot water with the Russian government. It's also good to have at least a rough idea of where you are going to be staying and touring – more on that next.
1.) Get a Visa Invitation Letter from a Tour Operator.
First things first, you're going to need to apply for an "invitation letter" from a tour operator. These typically cost around $20 and should be emailed to you within 24 hours. You need this document in order to apply for your visa. It is supposed to show that you are invited to Russia "by an accredited Russian travel company or a hotel."
This application may ask you to list the dates you are visiting and cities, and the hotels you are staying in, etc. It is OK if hotels and tours change after you apply (but not your entry and exit dates – those cannot change).
2.) Fill out the Electronic Visa Application Form.
Now, the website is going to recommend you get a "3-year multiple entry tourist visa." If there is a chance you are going to be returning to Russia within 3 years – then this is worth it. Otherwise, the single-entry is all that you need. (You would need a double-entry visa if you plan to travel to Russia twice within 30 days.)
Click here to begin filling out the Russian Visa Application Form.
The first couple of pages are going to be fairly straightforward. The application will ask for your address, employer address, passport information (your passport should be valid at least 6 months after your Russian visa will expire and contain at least two clear pages – for the visa and the migration card.), etc. It gets weirdly in-depth, though, as you go on and will also ask for your parents' names, your schooling information, past employers, etc.
You CAN save the application and come back to finish it at a later time.
Other notes about this application:
A potentially confusing part is when it asks what "institution" you will be visiting. This is where you fill in the information from your tourist invitation letter, mentioned in point #1.
It is also important to note that if you are staying with friends or family while in Russia, you will need to list a hotel address in the application! You can't list a private address. I have confirmed this with several visa agencies. When we had friends or family coming to our apartment in Moscow, we would have them use the Moscow Marriott Hotel Novy's address as their Moscow address – NOT our apartment.
It is OK as well if your hotel and tour plans change after you apply but you CAN'T change the entry and exit dates. I have had agencies also recommend giving yourself a "buffer" – meaning adding a couple extra days onto your application in case the flight you booked gets delayed or canceled for some reason. You WILL be in trouble if you overstay your visa.
When it asks for your "medical insurance" – this where you can put your travel insurance information. For US citizens, it not required to have insurance, but it is strongly recommended.

If you do not yet have travel insurance, click here.

It will ask you for which visa application center you will be submitting to, pick one that is within driving distance. But if you are mailing your documents and not submitting them in-person, it doesn't matter which you use. We always used the Houston center, as they had the shortest wait time.
A single-entry visa, as of 2020, costs $160 + fees for mailing it (if you are not submitting it in-person). Please note, this is subject to change without notice by the Russian government.
3.) Print and Sign the Application
Print your invitation letter and the completed visa application form.
4.) Mail Your Documents (or submit in-person if you live near a visa application center)
The documents you will need to mail to your selected visa processing center are:
Your visa invitation letter
Your original, signed passport with at least 2 blank pages and that is valid for at least 6 months after your visa expires.
Your printed visa application form.
1 standard passport-style photograph with a light background, a clear view of your face without glasses, jewelry, hats, etc. – glue this to the designated spot on your application.
I highly recommend using FedEx to mail your documents.
5.) Wait for Your Passport/Visa to be Mailed Back to You
The wait is always the worst when it comes to applying for a visa! Prior to COVID, our friends were typically receiving their visas within 10 days. (However, it can also take up to 30 days depending on how busy they are.)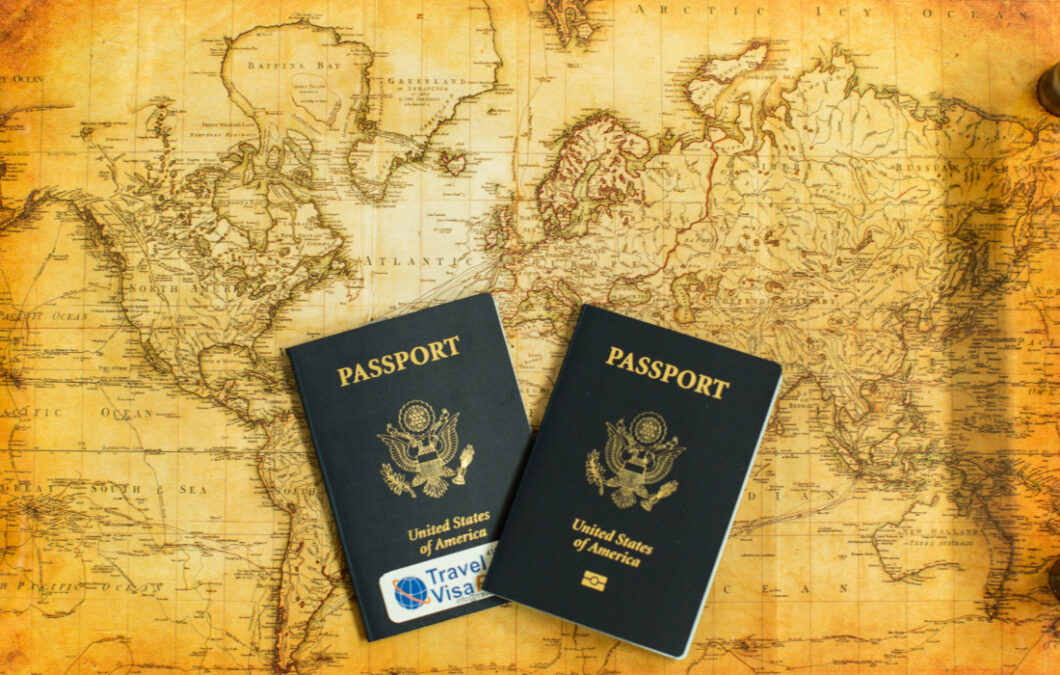 Entering Russia with a Visa
You have your passport/visa in hand and landed in Russia! Here's what to expect…
Do NOT lose your Migration Card
When you enter Russia, the immigration officer will ask you to fill out a migration card in duplicate, listing your name, passport number, and other details. The officer will stamp both parts of the card and keep one. Don't lose the other half — it must be presented when you leave the country. I repeat, DO NOT LOSE your migration card.
Once you arrive in Russia, register your passport and visa with the local authorities.
Your hotel will take care of this for you — they'll just need a copy of your passport. You'll then receive a confirmation slip, which you may need to show when you leave Russia. (This only needs to be done once – not at every hotel you stay at!)
This step is required only for stays of more than seven business days, if you don't register, when you depart, you may be asked to show proof (such as hotel receipts) that you were in Russia for less than a week.
If you are staying with friends and not staying at a hotel at any point during your time in Russia, you will need to register at a post office or police station. Again, this is if your stay is over 7 business days.
Because our friends would also go to St. Petersburg for a few days when visiting us, we would just have them register at their hotel in St. Petersburg and not go through the hassle of registering with the post office by our apartment in Moscow.
While in Russia, you are required to carry your original passport (not just a copy) with you at all times. Police in Russia can stop you at any time and ask to see your documents. This never happened to me in the nearly 2 years I was in Russia, but it's better to be safe than sorry!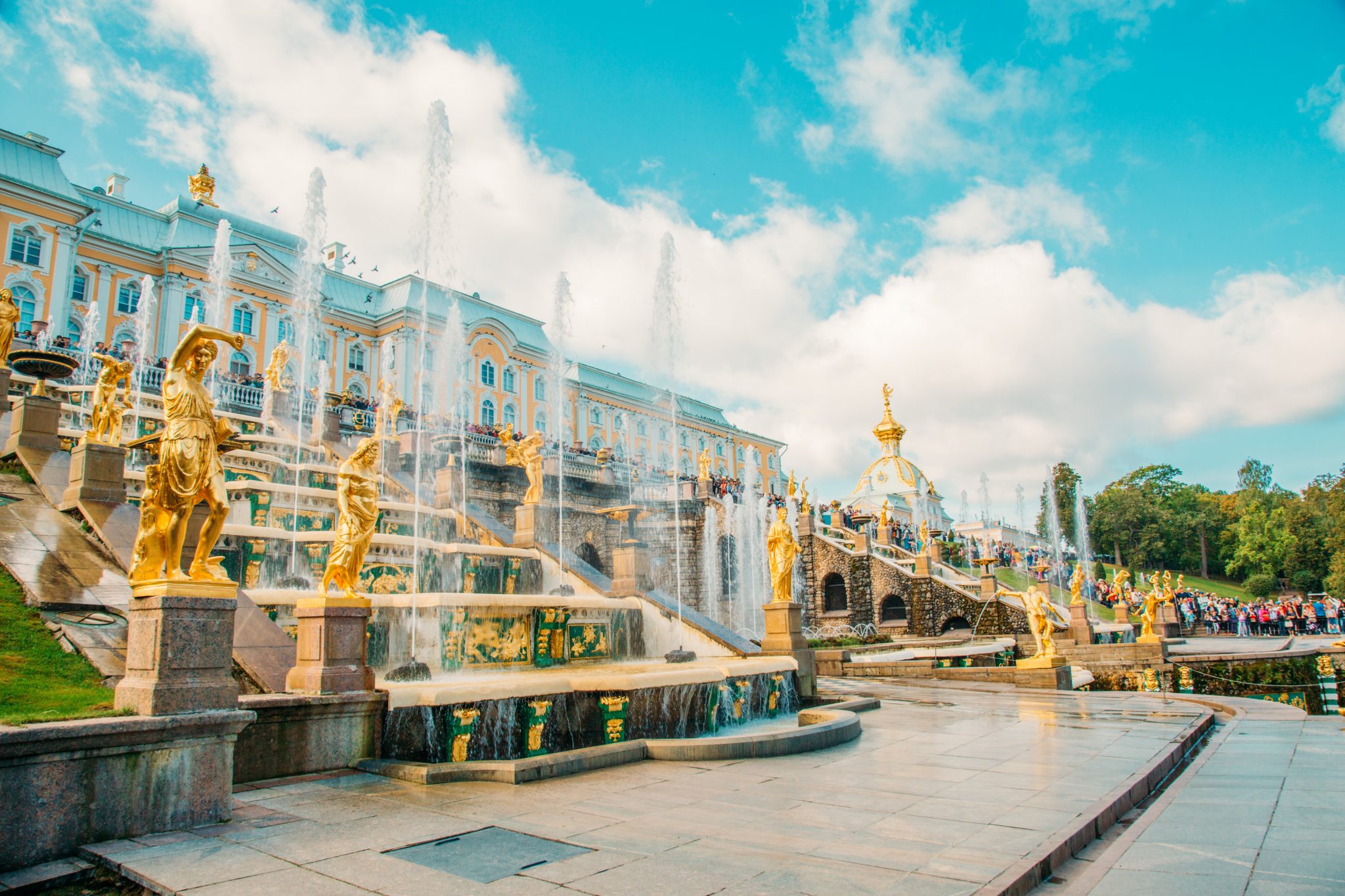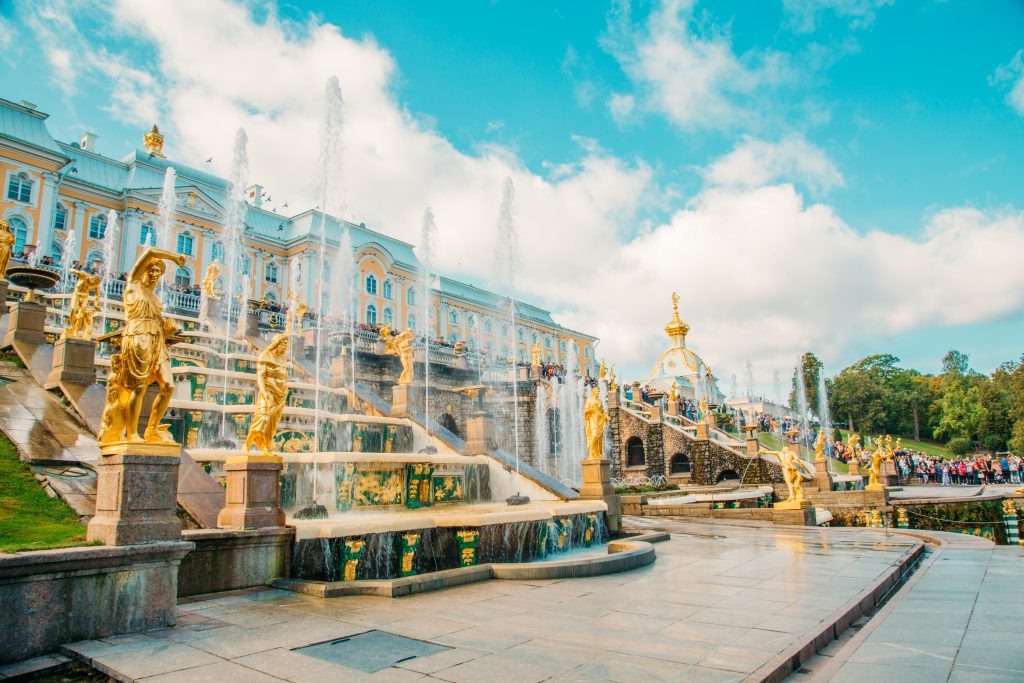 I know this sounds intimidating, but don't let it scare you off! Russia is an incredible country to visit! I am also more than happy to answer any questions in the comments at the end of this post.
If you liked it – Pin it!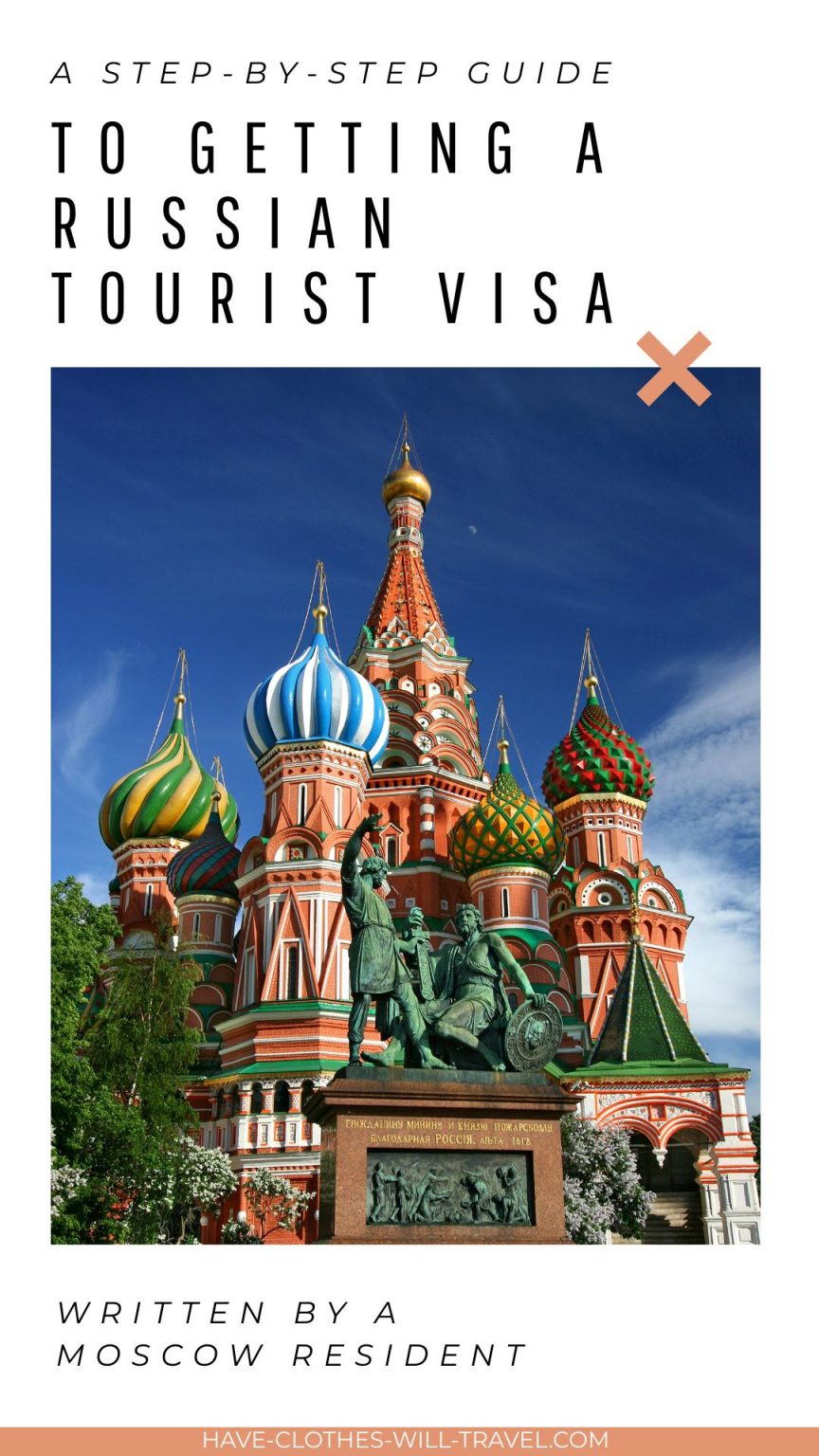 *Disclosure: some of these links are affiliate links. Meaning, if you click a link and make a purchase, Have Clothes, Will Travel gets a very small commission at no extra cost to you. Thank you for supporting the brands that make this blog possible! I am also a participant in the Amazon Services LLC Associates Program, an affiliate advertising program designed to provide a means for us to earn fees by linking to Amazon.com and affiliated sites.