What I Wore to Moscow, Russia's Bolshoi Theatre for a Swan Lake Performance
Wondering what to wear to the Bolshoi Theatre in Moscow, Russia? This post is here to help!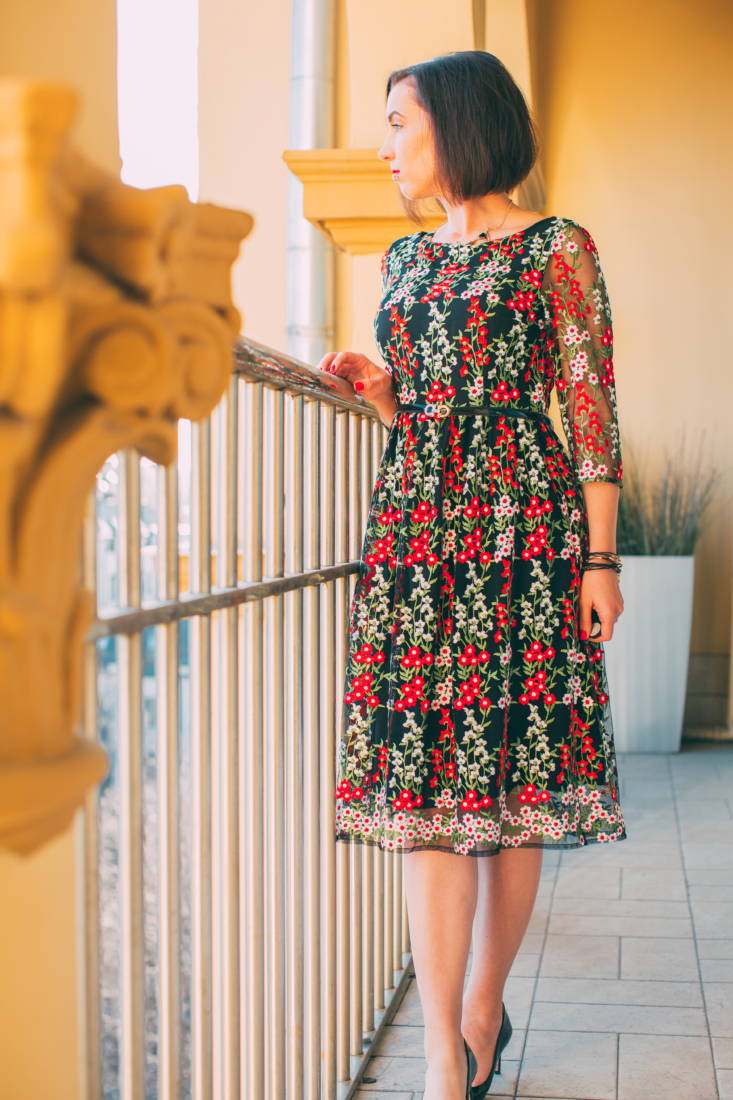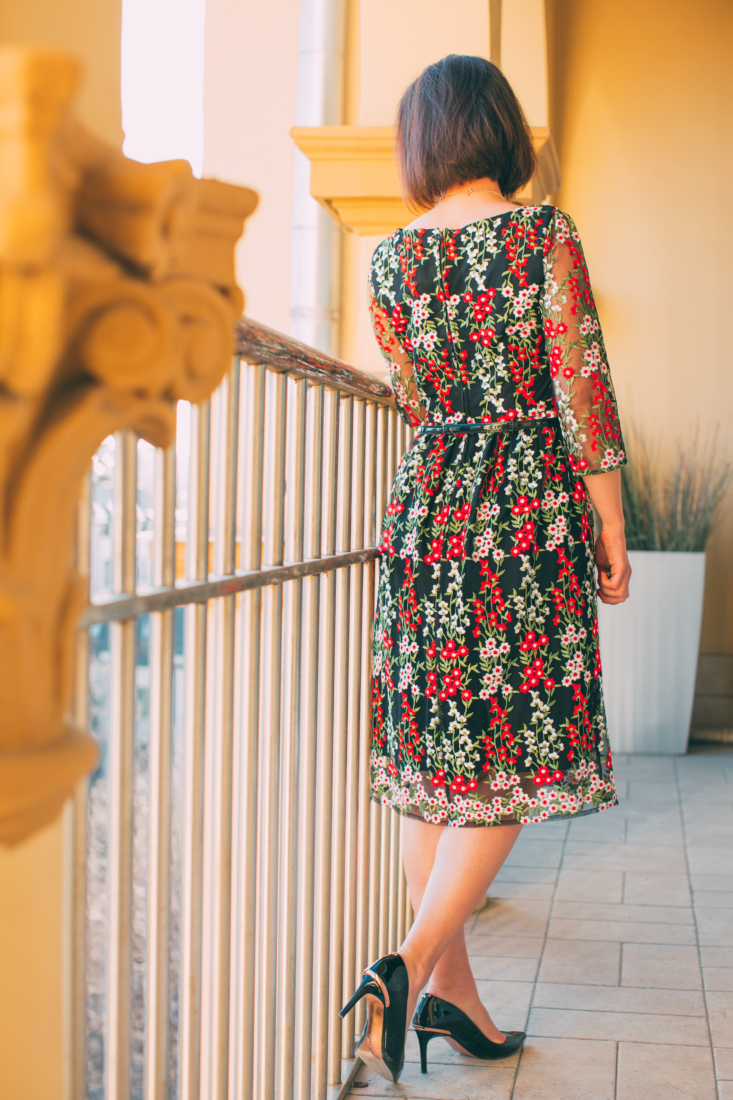 Dress c/o* (Similar here) | Pumps | Belt | Bracelet c/o* (On sale!) | Necklace (Similar)
The Bolshoi is a historic theatre in Moscow that opened in 1856. (Pictures of it are at the end of this post.) One of the most famous ballet performances to see at the Bolshoi is Swan Lake. This is because Swan Lake was composed by Pyotr Ilyich Tchaikovsky, who is a famous Russian composer, and it originally premiered at the Bolshoi in 1877.
My college roommate came all the way to Moscow to visit me these last couple weeks, and it worked out perfectly that a performance of Swan Lake coincided with her visit! So, I managed to snag us tickets (online via the Bolshoi website). I couldn't believe our luck! (Swan Lake tickets usually sell out REALLY quickly.)
Figuring out what to wear to the Bolshoi for such a performance was great fun..at least it was for me! This also wasn't my first time seeing a performance at the Bolshoi. I was fortunate enough to have seen The Nutcracker there over Christmas. (Here is the outfit I wore for that one.)
The Dress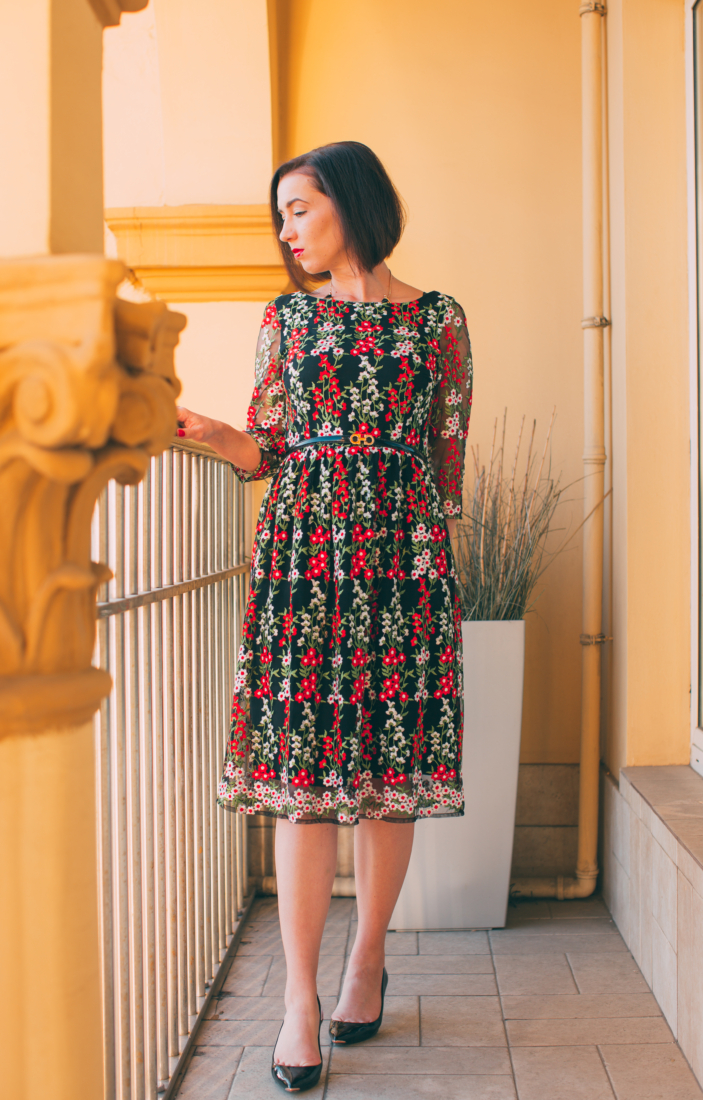 There is no such thing as being too dressy at a theatre this grand! However, there isn't a dress code to enter a performance here. So, you can wear whatever you feel comfortable in. For a Russian performance of this nature, most of the ladies are wearing cocktail dresses and the men are in suits. I chose this lovely little number because it became weirdly warm in Moscow last week when we went to the performance…dare I say, it's starting to feel like spring? So, I broke out this floral dress and went sans fleece-lined tights!
This isn't the first time this floral dress has made an appearance on my blog either. I also wore it over Christmas, here. This is one of the highest-quality dresses in my closet! The embroidery detail is exquisite. I love breaking it out for fancier events.
The price tag on this dress reflects that, though. But, fortunately, it's on sale right now! And don't fret, if it isn't in your size. You can select the size you want and click the "Need it" button. Then, you'll get an email once it's back in stock!
Note: I found this dress to be true-to-size, but I do feel it needs a belt paired with it. The waist looks too baggy otherwise for my taste.
The Shoes
I actually bought these pumps specifically for going to the Bolshoi Theatre over Christmas. I was excited to get to break them out again! They're easily the "fanciest" shoes in my closet, and I find myself not wearing them because I want to keep them "nice." (And I wreak havoc on my heels here, as we do a lot of walking to get places!)
I absolutely love the rose-gold metallic details on these pumps. It gives it such a unique and expensive look! That being said, though, these aren't the most comfortable shoes for those of us with uber wide feet. If your feet are normal or narrow width, you'll love these pumps (and I wouldn't size up, as the website suggests).
My feet have been really swollen, though, since I returned to Moscow. I'm blaming this 100 percent on my awful diet (gotta show my roomie all the traditional Russian food and drinks around here!) and all the walking we've been doing the past couple weeks! I'm hoping the next time I wear these pumps it'll be a more comfortable experience.
The Bracelet (Also, a Necklace!)
All of the gold and black accessories and accents means it was the perfect opportunity to also wear this lovely black and gold leather bracelet from Lizzy James. This bracelet is fantastic because when you order it, you order based on your wrist measurements. I have weirdly small wrists, so I almost never wear bracelets. This one fits me perfectly, though! It can also be transformed into a necklace – how cool is that? (Click here to see me wearing it as a necklace.)
Inside the Bolshoi Theatre!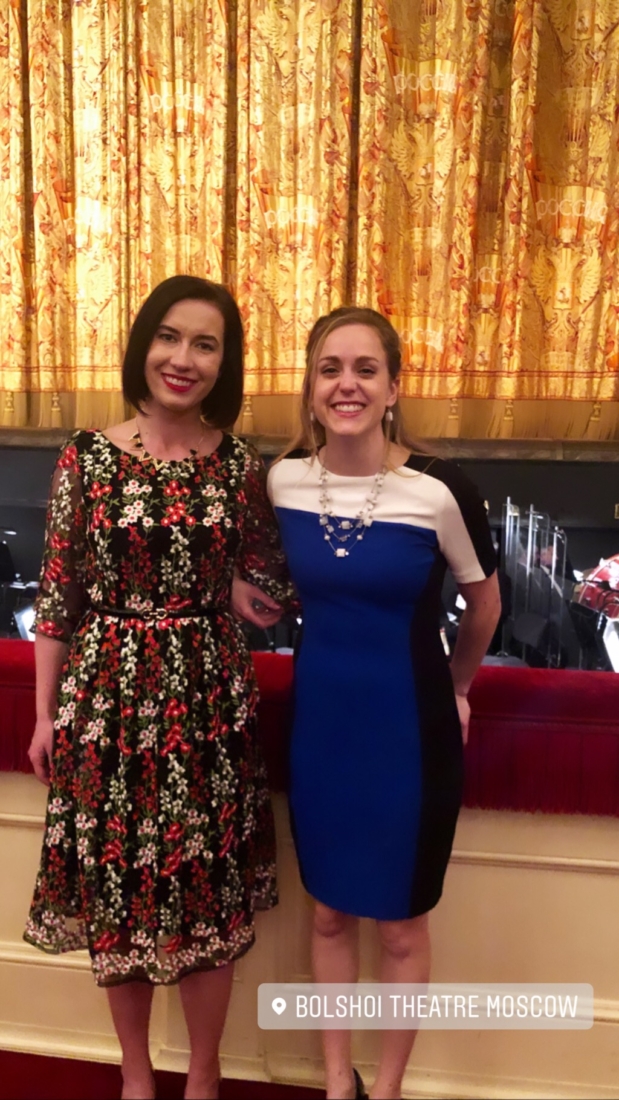 I'm still so excited my good friend Leah was able to share this experience with my husband and me! We've been living abroad for a few years now, but Russia is the first country we've ever had anyone from home come and see us! If you follow my Instagram stories (where the above photo is from), then you already knew Leah and I had been touring St. Petersburg and Moscow like crazy the last couple weeks (which is why I've been so quiet on here and social media – sorry about that!).
How fancy is this place? I want to go back and tour it properly one day!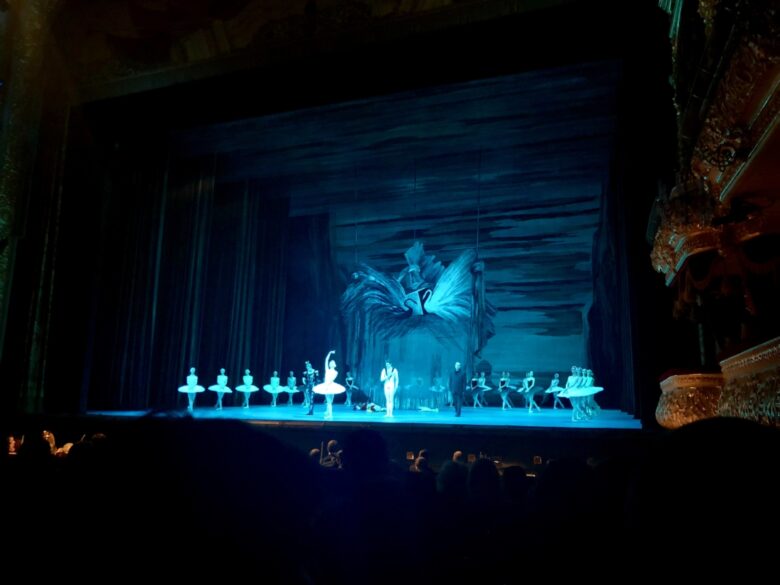 Photos aren't allowed during the performance, but I snapped this one at the end when everyone was applauding. It was quite the experience!
Do you enjoy the ballet? Is seeing a performance at the Bolshoi Theatre on anyone else's bucket list? Let me know in the comments!
Where to find it:
Dress: c/o* ModCloth (Similar here)
Pumps: Ted Baker (More color options here)
Belt: Amazon
Necklace: Gift (Similar here)
Bracelet: c/o* Lizzy James (Get 25% off your order with code HAVECLOTHESWILLTRAVEL)

Travel Insurance
It's a good idea, no matter where your adventure takes you, to have travel insurance. You never know what might happen! Whether you get sick before your trip and can't go, or you become sick or injured while on your adventure – being covered with travel insurance is a must. Some credit card companies do provide this service (check with yours), or you can get a quote from companies such as Squaremouth to find the best plan for you and your adventure. (This is the company I, personally, use. They are even recommended by Forbes!) To get a free quote, click here.
Visa Requirements
To check if your country requires a Visa for traveling to Russia, click here.
*Disclosure: some of these links are affiliate links. Meaning, if you click a link and make a purchase, Have Clothes, Will Travel gets a very small commission at no extra cost to you. Thank you for supporting the brands that make this blog possible! I am also a participant in the Amazon Services LLC Associates Program, an affiliate advertising program designed to provide a means for us to earn fees by linking to Amazon.com and affiliated sites.
*c/o = courtesy of, meaning the company gave me the product to be used on my blog, and I did not pay for it. All opinions are my own, and I am not being compensated for a positive review.