Wearing a Floral Dress for the Holidays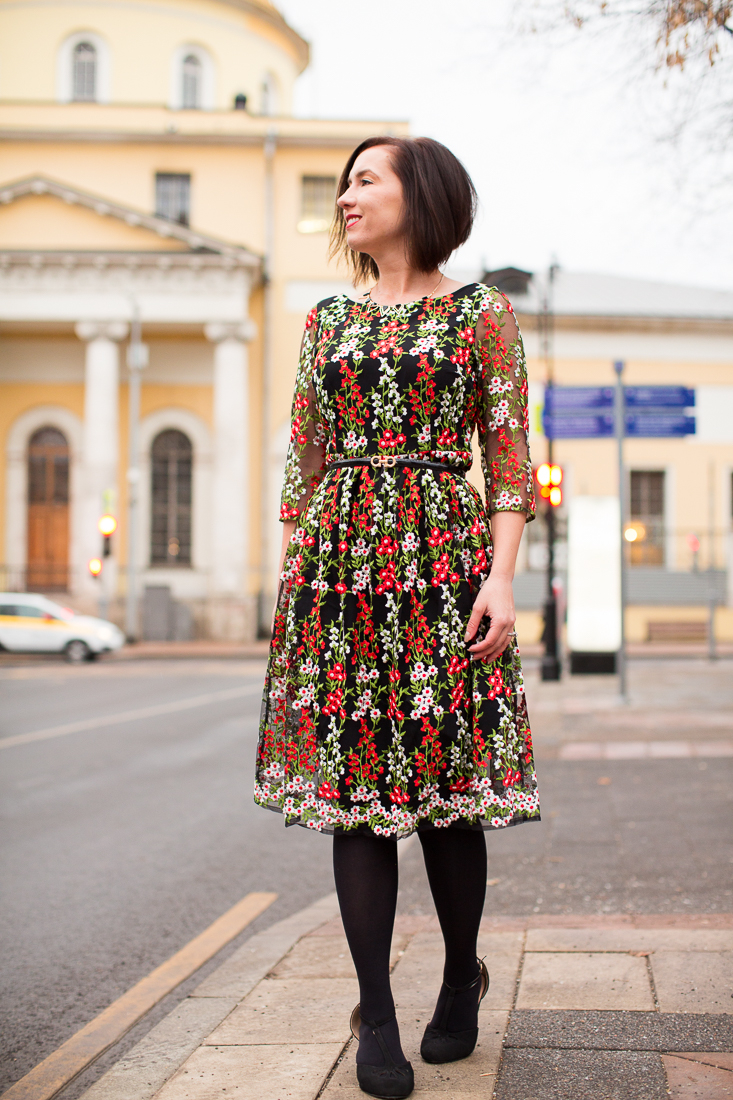 Dress c/o* (Similar here) | Cape c/o* (Also available, here) | Heels | Belt | Tights | Necklace (Similar) | Lipstick
Floral prints get a bit of a bad rap in terms of seasonal usage and all-around versatility. However, I'm still convinced you can wear a floral print no matter what time of year it is, and they work for a variety of different events…even holiday parties!
This particular floral print works well because the main color of the dress is black. Darker colors are easier to wear throughout the seasons, and black is a color that works well no matter what type of event you're going to. I'm personally thinking this might be my dress for NYE and also for a holiday party back home. I did wear it this past weekend for a date night with my husband to a nice restaurant here in Moscow. We were celebrating FINALLY not being sick anymore, haha. We've both had a series of flu bugs and colds ever since we got back from Turkey. But we're finally feeling like human beings again!
The Flowers are Red…Unlike the Photos on the Website…
When I first saw this dress online, I thought the flowers were a bit more orangey in color. However, I was pleasantly surprised to find they are a nice shade of red. I was mainly pleased with this because that meant this dress didn't clash with my new red cape, like I thought it would. It also means this dress works with my new favorite lipstick shade for the holidays – Beso Shimmer! (That lipstick seriously stays on ALL day long.)
This dress comes in sizes XS-4X, and I found it to be true to size. I personally thought it needed a belt of sorts, though. The waist just isn't fitted enough to get away without one. I also can't get over the detail on this dress! It's one of those dresses that photos just don't do justice. I really wasn't sure at all whether I would like it, judging by the photos online…but once it arrived in the mail – it was love at first sight.
Even my husband remarked on how pretty this dress looked (and he's immune to my clothing choices at this point, haha). He then said… "But boy, that dress looks expensive! How much did it cost?" And his judgment was spot on, this dress is not cheap. Fortunately, it does look like it's expensive…BUT it's part of an awesome Cyber Monday Sale, happening right now! So, if you're in the market for a new holiday dress – you can save a boatload of money by taking advantage of this sale!
The Cape Matches!
I didn't plan to feature my new cape in this post as well…but it actually matched this dress! So, put it on before we left for dinner, and figured it would be worth showing a few photos of as well! This cape is SO cool. I love the way it looks. It also comes with a belt, so you can cinch the waist, or wear it as a necktie. I thought it looked best without the belt for this outfit, though. I also found out the hard way that for a Russian winter…I'm definitely going to need to wear a thick sweater under it if I'm going to be outside for more than 2 minutes. I FROZE my rear end off waiting outside for my taxi (about 10 minutes) in just this dress & cape.
Lately, Russia is living up to its weather stereotypes of being freezing cold and dreary. I'm definitely going to need to dress a bit warmer, now! I'm also hoping for some snow…we haven't really had anything more than a light dusting so far. I want to take another outfit photo with this red cape and some snow…I think it'll look so beautiful against a snowy backdrop! (Heads up, this cape is almost sold out on ModCloth's website…but it's still available on Collectif's!)
Does anyone else have their holiday outfits all planned out? And if so, is anyone wearing a floral print? Let me know in the comments!
Where to find it:
Dress: c/o* ModCloth (Similar here.)
Cape: c/o* ModCloth (Also available here & in black!)
Heels: Amazon
Tights: Old (Similar here)
Belt: Amazon
Necklace: Gift (Similar here)
Lipstick: Stila Stay All Day in Beso Shimmer
Links à la Mode, December 13th, 2018
*Disclosure: some of these links are affiliate links. Meaning, if you click a link and make a purchase, Have Clothes, Will Travel gets a very small commission at no extra cost to you. Thank you for supporting the brands that make this blog possible! I am also a participant in the Amazon Services LLC Associates Program, an affiliate advertising program designed to provide a means for us to earn fees by linking to Amazon.com and affiliated sites.
*c/o = courtesy of, meaning the company gave me the product to be used on my blog, and I did not pay for it. All opinions are my own, and I am not being compensated for a positive review.