Here's What to Know Before Taking the Green Tour in Cappadocia, Turkey (with New Goreme Tours)
Heading to Cappadocia, Turkey? When you book your Green Tour of the area with New Goreme Tours, mention "Lindsey of Have Clothes, Will Travel" for 10% off your entire purchase with New Goreme Tours!
We've covered the "Red Tour" in Cappadocia, Turkey. So, now it's time to discuss what the Green Tour is! Out of the two tours, though, I have to say…if I had to pick a favorite, I'd have to say it's the Green Tour.
I also have to say, if you're only going to pay for one tour while in Cappadocia, I'd take this one. I'll explain why that is, and I'll also explain what the "green" tour even is, who I booked with, and what you'll all see on it!
What is the Green Tour in Cappadocia, Turkey?
(Sorry to repeat myself but for anyone first reading this…) There are 3 main tours to take in Cappadocia – the Red, Green and Blue Tour. The Red and Green Tours are the most popular of the three. (Click here if you missed my post on the Red Tour.) They essentially are referring to the regions of Cappadocia you'll be exploring. The green tour refers to a tour that takes you to the South West of Cappadocia and the Ihlara Canyon side.
Which Company Did You Book the Red Tour Through?
I worked with New Goreme Tours for both the Red & Green Tours. They are a wonderful, family-owned operation, and I really enjoyed working with them. (Their tours are also very affordably priced.) I had the same tour guide for both tours and she was also very enthusiastic and knowledgeable about the area and its history.
When you book your Green Tour of the area with New Goreme Tours, mention "Lindsey of Have Clothes, Will Travel" for 10% off your entire tour purchase with New Goreme Tours!
There is also only a maximum of 19 people allowed on these tours with New Goreme Tours. So, it's not a very large group you're traveling with by any means. You will also get picked up and dropped off at your hotel (or the city center – it's your choice). Lunch is also included. The tours begin pickup at 9:30 am, so there is plenty of time for this tour after a hot air balloon ride.
And if you are skeptical about taking the Green Tour, I'm here to tell you it's the easiest way to see all of the places I'll show you below….unless you rent a car. (All of these places are pretty far-flung locations, unlike the Red Tour!)
The Green Tour is the easiest way to see Derinkuyu Underground City, Ihlara Valley, Yaprakhisar and Selime Monastery…
Click here for more information.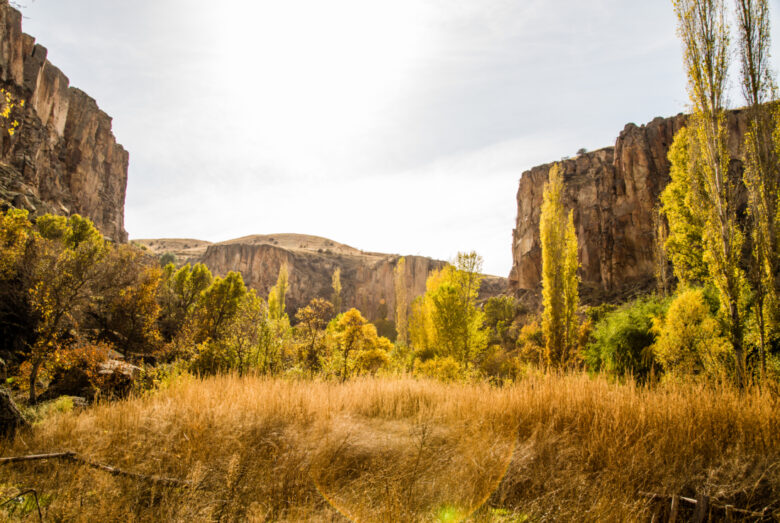 Does the Green Tour Require Much Walking?
Yes, it requires a fair amount of walking and going up and down stairs. I'm not saying this is a tour that requires you to be in tip-top physical condition. However, you will be walking up and down 8 flights of stairs (in intervals – you take a break at each level and explore them as you go). And you'll walk down quite a few stairs and then a few kilometers in the Ihlara Valley. Then, you'll do a little hiking up to see the Selime Monastery.
The Red Tour is pretty laid back. However, the Green Tour does require a bit more physical exertion. It's not too crazy, though! (Honestly, as I'm writing this, I realize I'm making it sound far worse than it actually is.) The biggest thing is to dress comfortably!
If you missed my post on how to dress for the Red & Green Tours in Cappadocia, Turkey, CLICK HERE.
So, What Can You Expect to See on the Green Tour with New Goreme Tours?
Every company will have a slight variation of what they'll show you on the Green Tour, but this is what New Goreme has to offer for their Green Tour itinerary:
• Derinkuyu Underground City
• Ihlara Valley
• Selime Monastery
• Pigeon Valley
• Onyx Demonstration (Jewelry Shop)
And here's a brief explanation of what each of these places is:
Derinkuyu Underground City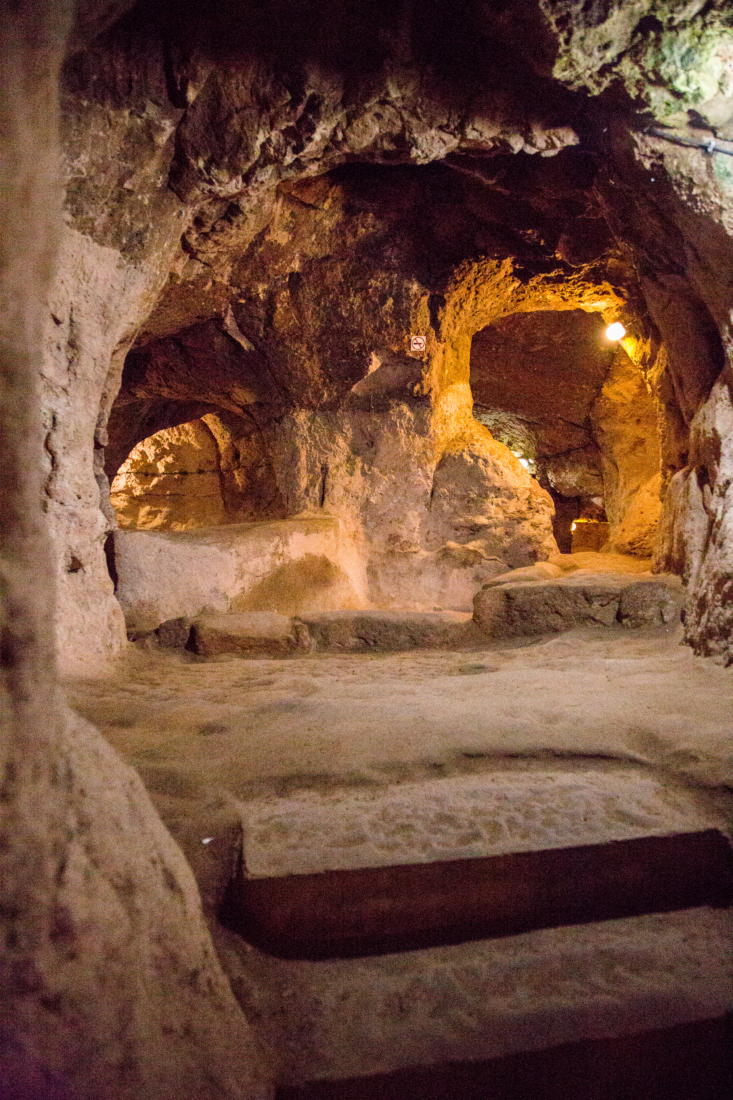 Derinkuyu Underground City is indeed an underground City! It is approximately 60 meters deep and it is large enough to have sheltered as many as 20,000 people together with their livestock and food stores. It is the largest excavated underground city in Turkey.
The city at Derinkuyu was fully formed in the Byzantine era. (780-1180) It was also used by Christians for hiding in the 14th century.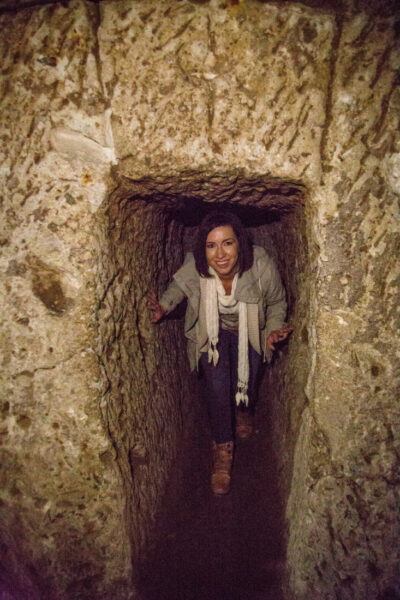 If you are claustrophobic, you don't need to panic about taking this tour! You will first go down one level, from here you can gauge how comfortable you feel, and if you are starting to feel the panic of claustrophobia set in, you can easily exit from this level in no time at all. The rest of the space will feel about the same as this first level.
I am claustrophobic, (I will never go scuba diving!) but, I did make it through this portion without any panic attacks. For me, this is because none of the tunnels were that terribly small. I could still move and breathe freely, and therefore I didn't panic. You have to crouch over a little going through some tunnels, but it's for such a short amount of time, that it never incited a panic attack in me. That photo above was me just posing for a photo, but that photo represents probably the worst 4 seconds of the entire tour, as far as the tunnels went.
However, my husband, who is not claustrophobic, even started to get panicky in the underground grave area (pictured above)! It wasn't so much that it was a terribly small area, it was just very hard to breathe in here. We both ran out of here immediately!
Overall, this was quite an interesting place to visit! It was a bit difficult to get much for photos, but I tried my best, haha. You can check them out, below.
Ihlara Valley
The Ihlara Valley is GORGEOUS! I loved this portion of the tour. I also enjoy hiking, though. Other than the initial descent down a rather impressive amount of stairs…the walk is pretty flat. So, don't worry! It won't be a very difficult hike.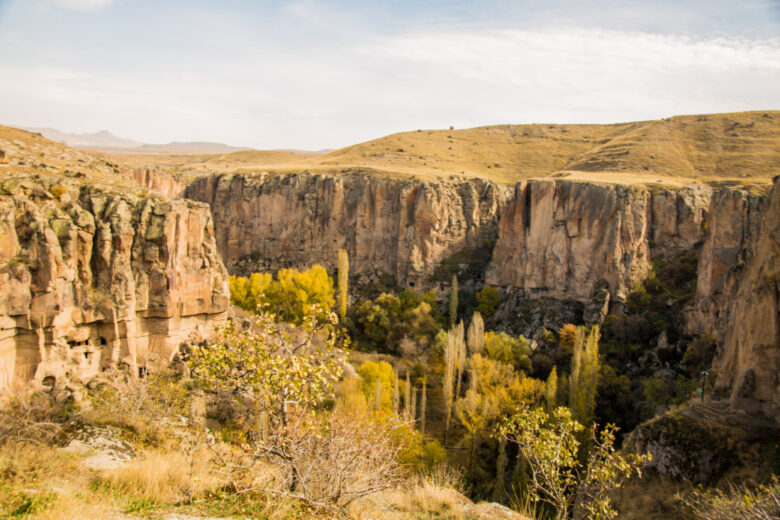 It's interesting because as you're walking along, the whole canyon is honeycombed with rock-cut underground dwellings and churches from the Byzantine period. It was one of the first places Christians, escaping from the Roman soldiers, had settled.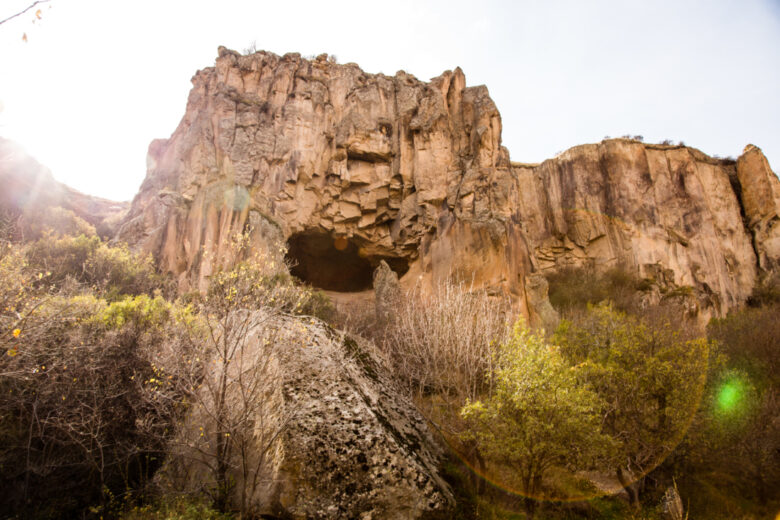 Pigeons were a big part of life at this time. Their droppings were used to fertilize the crops…and the droppings were also used to paint the impressive frescoes you see in the churches throughout Cappadocia. You'll actually get to go in one, and it's ok to take photos (below).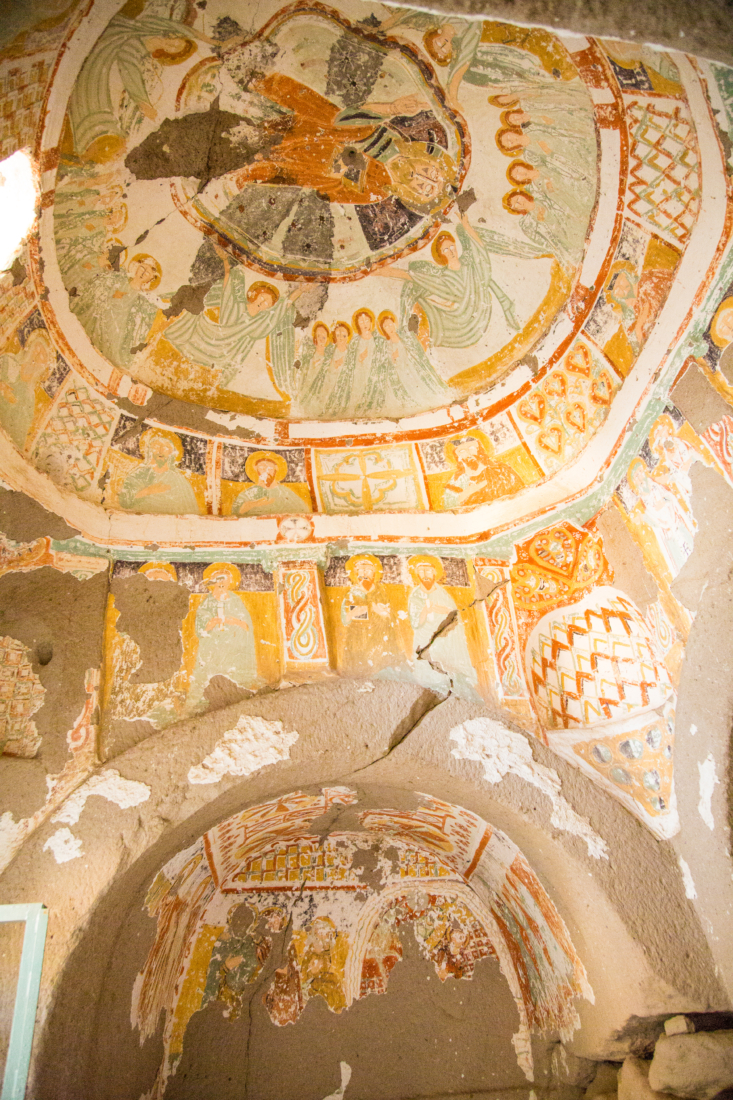 You'll also get to take a little break over halfway through your hike at a little outdoor vending area. It's really beautiful! (All the photos below are from that spot.) We had some sort of fruit juice, here to reenergize.
I went a little photo crazy, as it was SO pretty. Here are a few more photos of the hike, below.
Lunch
Once again, I didn't take any photos of my lunch! Sorry. But it was very good. You had a choice of chicken, beef, meatballs or fish. It also came with a salad and fruit. Once again, drinks were not included, though.
Selime Monastery
While I loved hiking through the valley…the Selime Monastery was the highlight for me. And I know this isn't a popular opinion, but I personally found the Selime Monastery to be more impressive than the Open Air Museum (on the Red Tour). It is a bit more difficult to get to, however. You're hiking in some rather tricky spots. It is absolutely worth the workout, though!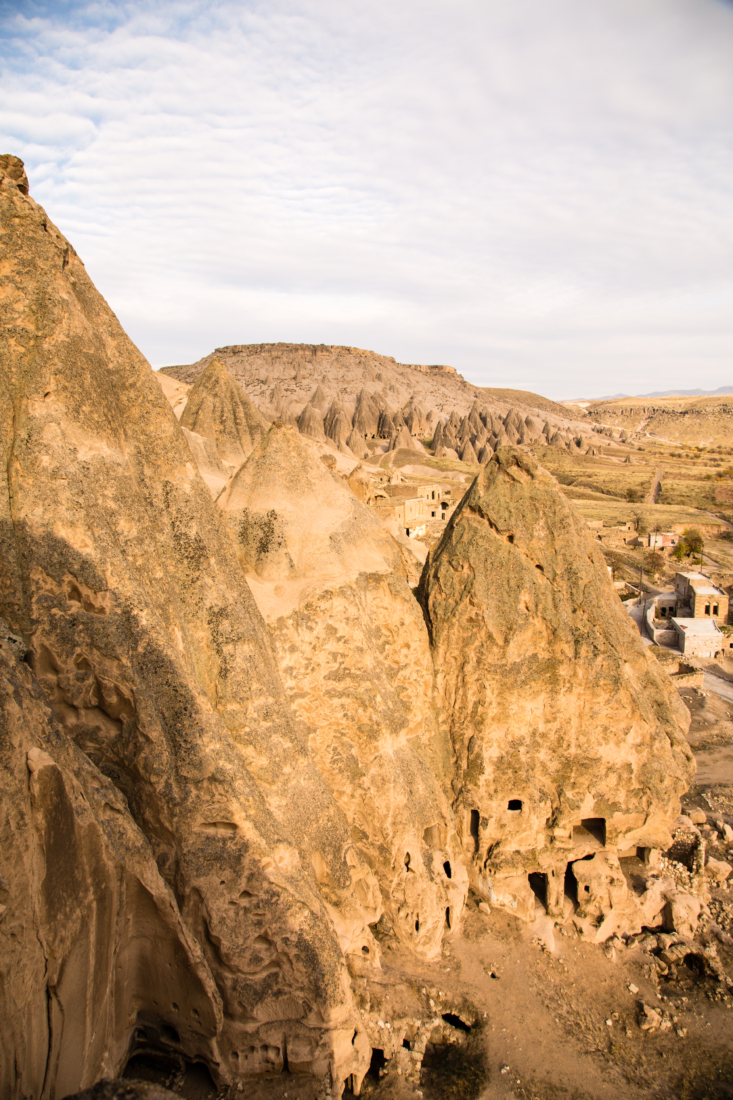 Selime Monastery is the biggest, rock-cut monastery in Cappadocia with a cathedral-sized church. It was carved by monks in the 13th century. The walls were once decorated with frescoes, however, there is not much left to them now.
Also, this area totally looks like the planet Tatooine…where the Sand People live. Haha. (Star Wars reference.) And contrary to what you may hear around Cappadocia, Tunisia is actually where that scene of Star Wars was shot. Allegedly, George Lucas had wanted to film in Cappadocia, but they were unable to get the proper approval to film in Turkey.
This place was also much less busy than the Open Air Museum. So, I went pretty photo crazy here as well! It was just so cool!
Jewelry Shop
I was pretty tired after all that walking around. So, by the time we got to the jewelry shop to learn about precious stones in Turkey…I really wasn't paying attention. And it was just a jewelry shop, so I didn't feel inclined to take any photos. No one was pressuring me to buy anything, but I really didn't care about this portion by the time we arrived. (Sorry!)
Pigeon Valley
And, unfortunately, the stop at the jewelry stop also meant we didn't get to see Pigeon Valley before it started to get dark. (I wish we could've switched these events!) So, I don't have any photos to show you from here. I did find some fun treats at a little gift store by Pigeon Valley, though. So, all was not lost! Haha.
You'll then be dropped off at your hotel or the city center. We didn't get back until after 6 pm. So, this is a jam-packed day with a lot of incredible things to see and experience…and a lot of walking!!
And despite not seeing absolutely everything on the day's itinerary, this was still my favorite day in Cappadocia. I highly recommend taking the Green Tour while you're here!
*Click here for the New Goreme Tours' website.
*Click here for all my posts on Turkey.
When you book your Green Tour of the area with New Goreme Tours, mention "Lindsey of Have Clothes, Will Travel" for 10% off your entire tour purchase with New Goreme Tours!
Has anyone else tried the Green Tour? What did you think? And if not, which highlight is your favorite from this post? Let me know in the comments!
Travel Insurance
It's a good idea, no matter where your adventure takes you, to have travel insurance. You never know what might happen! Whether you get sick before your trip and can't go, or you become sick or injured while on your adventure – being covered with travel insurance is a must. Some credit card companies do provide this service (check with yours), or you can get a quote from companies such as Squaremouth to find the best plan for you and your adventure. (This is the company I, personally, use. They are even recommended by Forbes!) To get a free quote, click here.
Visa Requirements
To check if your country requires a Visa for traveling to Turkey, click here.
*Disclosure: some of these links are affiliate links. Meaning, if you click a link and make a purchase, Have Clothes, Will Travel gets a very small commission at no extra cost to you. Thank you for supporting the brands that make this blog possible! I am also a participant in the Amazon Services LLC Associates Program, an affiliate advertising program designed to provide a means for us to earn fees by linking to Amazon.com and affiliated sites.
*Thank you to New Goreme Tours for partnering with me for this post. As always, all opinion are my own, and I am never compensated for a positive review.