What to Expect on the Red Tour in Cappadocia, Turkey with New Goreme Tours
Heading to Cappadocia, Turkey? When you book your Red Tour of the area with New Goreme Tours, mention "Lindsey of Have Clothes, Will Travel" for 10% off your entire tour purchase with New Goreme Tours!
There's more to the Cappadocia region of Turkey than just hot air balloons! From the Open Air Museum to "Love Valley"…there's an incredible amount of history and natural beauty to explore in Cappadocia.
For this post, I'll explain what the "Red Tour" is, what you need to know before you go and what you can expect to see on it with New Goreme Tours.
What is the Red Tour in Cappadocia?
There are 3 main tours to take in Cappadocia – the Red, Green and Blue Tour. The Red and Green Tours are the most popular of the three. They essentially are referring to the regions of Cappadocia you'll be exploring. The "Red Tour" is the northern part of Cappadocia. (Click here for my post on the Green Tour.)
Which Company Did You Book the Red Tour Through?
I worked with New Goreme Tours for both the Red & Green Tours. They are a wonderful, family-owned operation and were able to answer my 10 million questions about their services that I had prior to our trip to Turkey. (Their tours are also very affordably priced.) The tour guide I had was also very enthusiastic and knowledgeable about the area and its history.
When you book your Red Tour of the area with New Goreme Tours, mention "Lindsey of Have Clothes, Will Travel" for 10% off your entire tour purchase with New Goreme Tours!
There is also only a maximum of 19 people allowed on these tours with New Goreme Tours. So, it's not a very large group you're traveling with by any means. You will also get picked up and dropped off at your hotel (or the city center – it's your choice). Lunch is also included. The tours begin pickup at 9:30 am, so there is plenty of time for this tour after a hot air balloon ride.
Click here for more information.
Does the Red Tour Require Much Walking?
There is certainly enough walking to be done. However, it's honestly up to you how much you want to walk. The tour guide will give you a brief rundown of each spot. And then you're free to walk around and photograph from where ever you want. Out of the various tours in Cappadocia, this one is the least strenuous, in my opinion. You're going to do a little bit of walking at the Open Air Museum, but for the most part, you get to sit back and relax, as New Goreme Tours transports you from spot to spot. You'll stop, get out and take photos and move on to the next location.
If you missed my post on how to dress for the Red & Green Tours in Cappadocia, Turkey, CLICK HERE.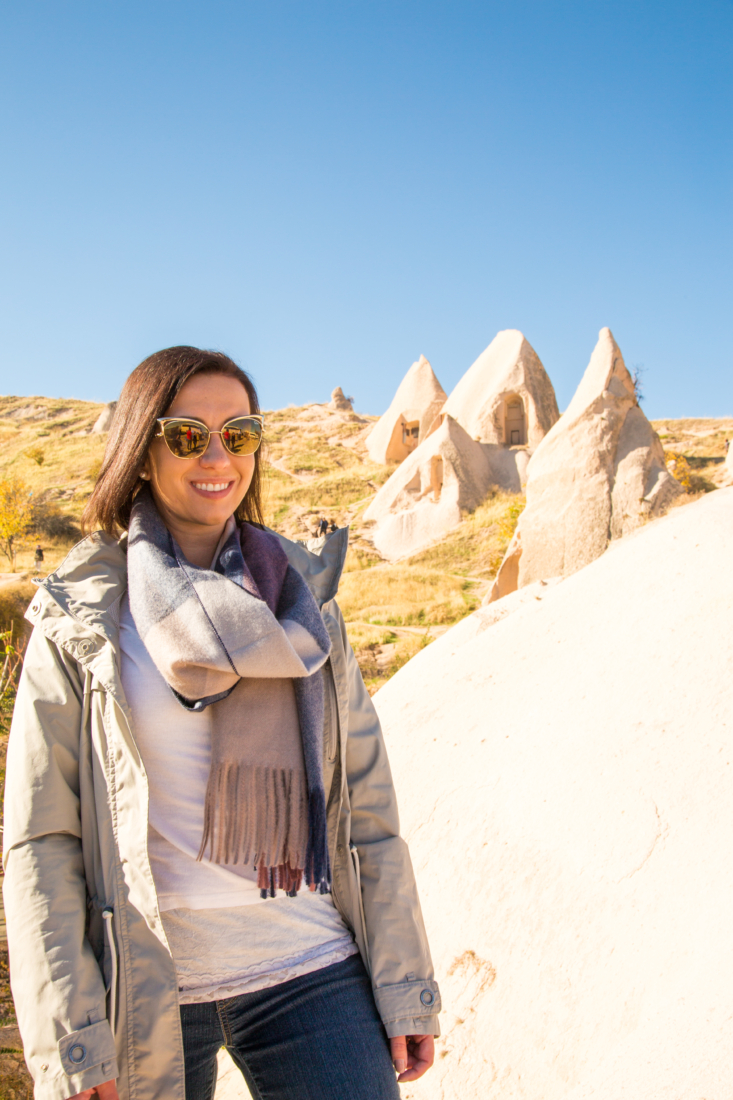 So, What Can You Expect to See on the Red Tour with New Goreme Tours?
Every company will have a slight variation of what they'll show you on the Red Tour, but this is what New Goreme has to offer for their Red Tour itinerary:
• Uchisar Panorama
• Goreme Open Air Museum
• Avanos (Pottery & rug making demonstrations)
• Lunch
• Pasabag Monks Valley
• Devrent Valley
• Love Valley
Don't worry, I'm going to offer a brief explanation + photos of these spots, now!
Uchisar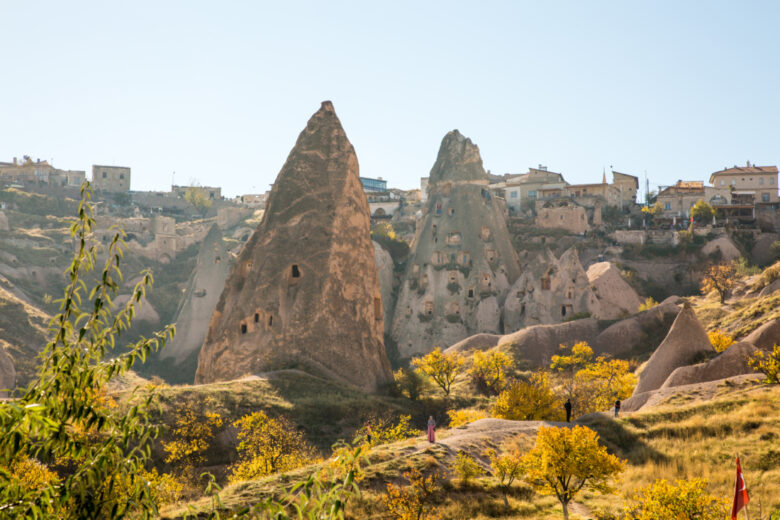 Uchisar is the highest point in Cappadocia. It provides a magnificent panorama of the surrounding area. I was pretty focused on photographing the carved stone dwellings surrounding this centuries-old citadel, though. (Whoops!)
Goreme Open Air Museum
This is the most important stop of the entire day! Goreme Open Air Museum is a must-do in Cappadocia. It was once a Byzantine monastic settlement that housed some 20 monks. It consists of rock-cut churches, chapels and monasteries. Most of the churches in Goreme Open Air Museum belong to the 10th, 11th and 12th centuries.
But note, the museum's highlight – the "Dark Church" – has an additional ₺10 entrance fee. It's called the dark church because it originally had very few windows. The frescoes inside this church are amazing, though! And I highly recommend going to see it. (No photos are allowed inside.)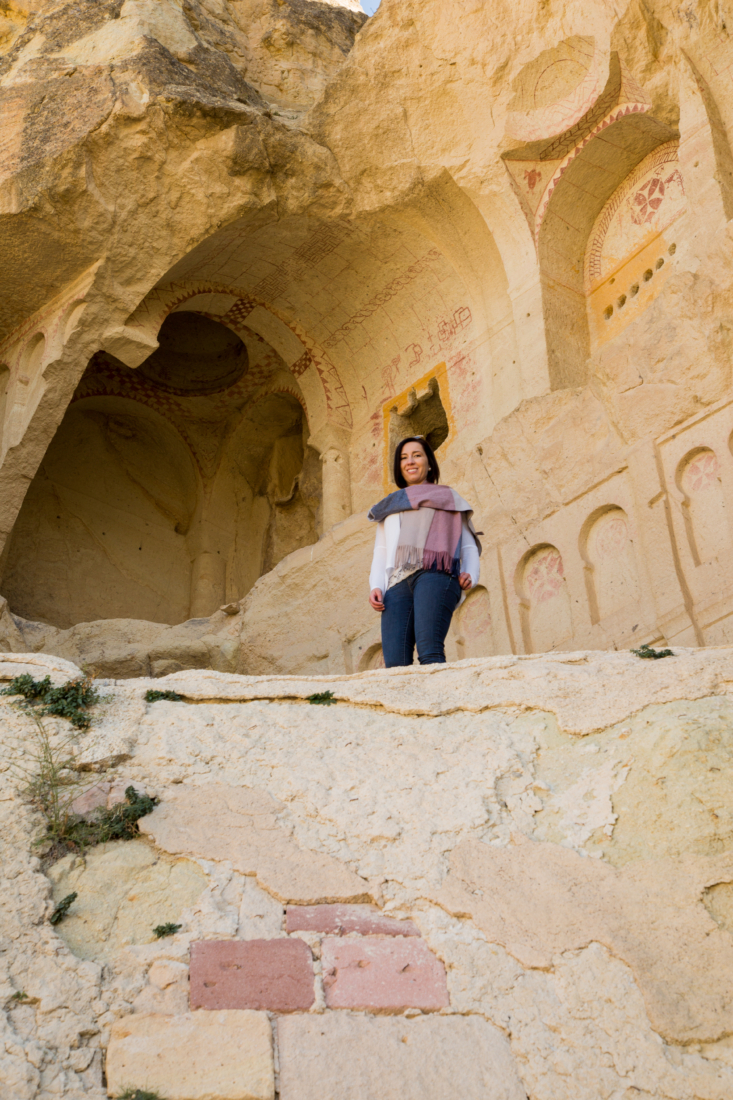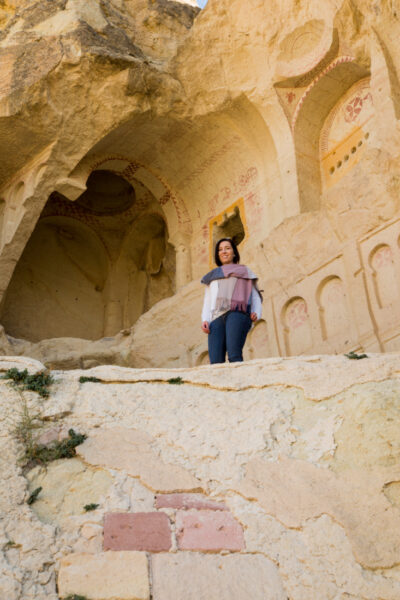 Interestingly enough, just after I left the Dark Church…Mehmet Ersoy and his entourage of 50 or so armed guards came up to tour it too! Mehmet Ersoy is a Turkish businessman and the current Minister of Culture and Tourism. They were filming some sort of promotion, which was interesting to see.
There was also a gentleman filming a music video while we were at the Open Air Museum. It was interesting to listen to as we walked from church to church! (The Open Air Museum was a happening spot the day we were there!)
You'll have about 1 hour at the Open Air Museum. So, be sure to move quickly through the stops, and also remember that in almost all of the churches, you are NOT allowed to take photos.
Avanos – Pottery & Rug Making Demonstrations
Heads up! You will be making a stop to see a rug making and then pottery making demonstration. Then, you'll have the choice to shop at these places. (I know some people are not fans of this, so be aware of this going in.) Both demonstrations were interesting…especially the rug making one, in my opinion. I am much more educated on quality rugs now! However, both of these places were way too expensive for my wallet. I did like a rug here, and when we asked how much it was, the guy said $5,000…USD! Eek. The rug guy also became quite rude after we said we weren't interested in his $5,000 rug. Needless to say, this was not the place to shop for us!
The pottery demonstration was also great, and there wasn't any pressure to buy here (like at the rug stop). So, overall this was fun. The sales guys were very funny too and kind. They even let one member of the tour try out the pottery wheel!
Lunch
I apologize, I never take a decent photo of my food! I always eat it by the time I think to photograph it. (Doh!) But, the lunch you have for this tour is great! You stop at a buffet-style restaurant and have your choice of tons of different Turkish foods and desserts. (There are so many desserts!) I was more than satisfied with the lunch. (But note, drinks are not included in your price. You pay extra for those.)
Devrent Valley a.k.a. Imaginary Valley or Pink Valley
I prefer to call this place "Imaginary Valley" because you can let your imagination run wild with all the various natural rock formations you'll see here! The most famous rock formations are "the camel" and "the hand."
There are also all kinds of fun photos you can take here! We had entirely too much fun trying to figure out how to pose with the formations…
Pasabag (Monks Valley)
Pasabag has some of the most striking fairy chimneys in Cappadocia with twin and even triple rock caps. This style is unique even for Cappadocia and these fairy chimneys are named mushroom-shaped fairy chimneys.
You'll get about 40 minutes to wander through these rock formations. There also quite a few vendors selling food…and camel rides, if you're interested.
"Love Valley"
We ended the day with a stop at a viewing area of "Love Valley." Love Valley got its name thanks to its "erect" volcanic ash that has eroded over the years…take a look below and tell me what you think that looks like.
Yes, the rock formations down there look very much like an erect penis. So, "Love Valley" it is!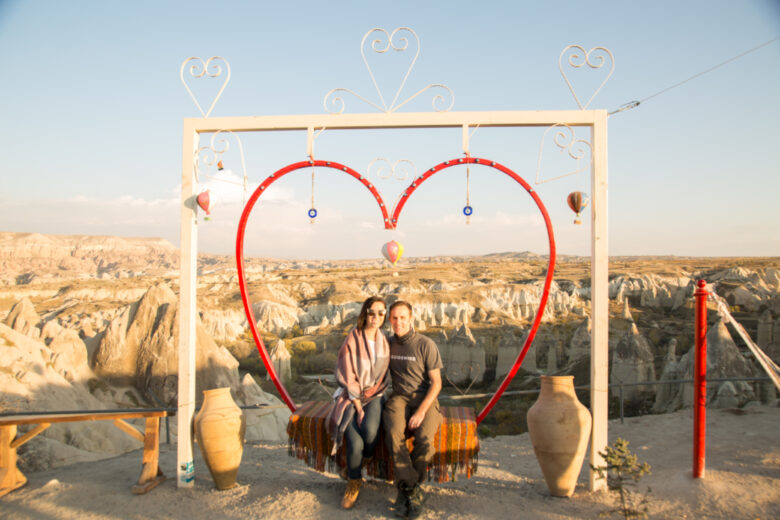 There are also a lot of photos op spots along the viewing area that play into the "love" theme.
You'll then be dropped off at your hotel or the city center around 5 pm that night! So, this is a jampacked day with a lot of incredible things to see and experience!
*Click here for the New Goreme Tours' website.
*Click here for all my posts on Turkey.
When you book your Red Tour of the area with New Goreme Tours, mention "Lindsey of Have Clothes, Will Travel" for 10% off your entire tour purchase with New Goreme Tours!
Has anyone else tried the Red Tour? What did you think? And if not, which highlight is your favorite from this post? Let me know in the comments!
Travel Insurance
It's a good idea, no matter where your adventure takes you, to have travel insurance. You never know what might happen! Whether you get sick before your trip and can't go, or you become sick or injured while on your adventure – being covered with travel insurance is a must. Some credit card companies do provide this service (check with yours), or you can get a quote from companies such as Squaremouth to find the best plan for you and your adventure. (This is the company I, personally, use. They are even recommended by Forbes!) To get a free quote, click here.
Visa Requirements
To check if your country requires a Visa for traveling to Turkey, click here.
*Disclosure: some of these links are affiliate links. Meaning, if you click a link and make a purchase, Have Clothes, Will Travel gets a very small commission at no extra cost to you. Thank you for supporting the brands that make this blog possible! I am also a participant in the Amazon Services LLC Associates Program, an affiliate advertising program designed to provide a means for us to earn fees by linking to Amazon.com and affiliated sites.
*Thank you to New Goreme Tours for partnering with me for this post. As always, all opinion are my own, and I am never compensated for a positive review.